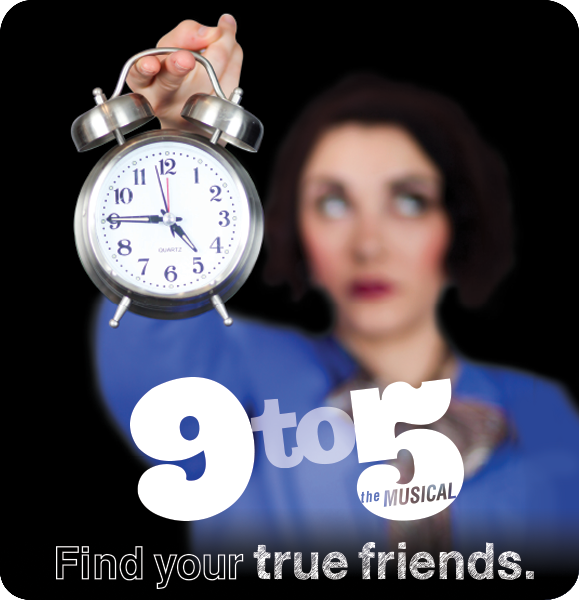 Contains bosses acting at their worst. Recommended for anyone who's ever had a job.
With music and lyrics by Dolly Parton and book by Patricia Resnick, 9 To 5: The Musical is a hilarious story of friendship and revenge set in the 1970s. Pushed to the boiling point, three female co-workers concoct a plan to get even with the sexist, egotistical, lying, hypocritical bigot they call their boss. In a funny turn of events, Violet, Judy and Doralee live out their wildest fantasy — giving their boss the boot! While Hart remains "otherwise engaged," the women give their workplace a dream makeover, taking control of the company that had always kept them down. Hey, a girl can scheme, can't she?
PRODUCTION SPONSORED BY BANK OF TESCOTT  | ORCHESTRA SPONSORED BY MOWERY CLINIC
[vc_cta_button2 h2="Purchase Tickets" style="rounded" txt_align="left" title="Text on the button" btn_style="rounded" color="blue" size="md" position="right" accent_color="rgba(255,255,255,0.06)"]
Click here to buy tickets and learn more about available show dates and times. Unless otherwise specified, children under 5 are not permitted at SCT productions.
BUY NOW
ATTENTION SEASON TICKET HOLDERS: The process for reserving seats for performances has changed. Please click here for current instructions.[/vc_cta_button2]
VIOLET:  Joanna Weinhold
DORALEE:  Zoe Rea
JUDY:  Elizabeth-Ali Schade
FRANK HART:  Alex Lankhorst
ROZ:  Vickee Spicer
JOE:  Jonathan Flores
DWAYNE:  Aaron Dix
JOSH:  Tristan Spicer
MISSY:  Lisa Sack
MARIA:  Madison Roths
DICK:  Jeff Ebel
KATHY:  Lauren Bertram
MARGARET:  Cathie Norris
TINSWORTHY:  Scott Price
ANITA:  Vicki Price
DAPHNE:  Shawna Carter
Braydon Boyer
Nelson Gutsch
Jennifer Kohart
Paul Minneman
Rebecca Winsky