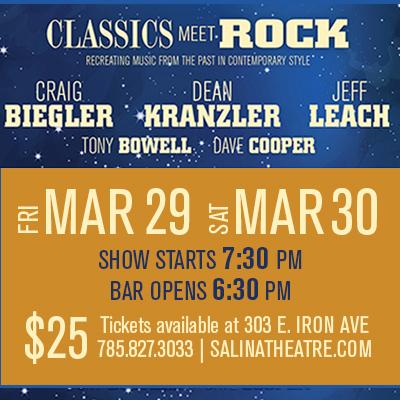 March 29 – 30, 2019 | 7:30 PM | $25
Sunflower Financial Theatre
---
The Classics Meet Rock
Rock music in the early 1970's found a few groups using classical music compositions as foundations for their album material, be it thematic material or entire classical compositions.  The standard Rock group instrumentation of guitar, bass, drums and keyboards was enhanced by the introduction of the Moog synthesizer.  The Rock ensemble leading the pack in this classic rock genre was 'Emerson, Lake, and Palmer'.  With other groups like 'Yes', 'Gentle Giant', 'Flock', and 'Nice' the musicians within raised the bar on technical prowess on their respective instruments.  More and more classically trained musicians were entering the realm of Rock and Roll.
'Emerson, Lake, Palmer' were able to perform more ambitious pieces within the classic rock genre.  Several of these compositions will be performed by a quintet of current and past residents of Salina.  Two of the performers are members of the Kansas Music Hall of Fame via their association with groups 'Friar Tuck and the Monks' and 'Plain Jane'.  Two performers are also current members of the Salina Symphony.
"The Classics Meet Rock" program includes:
'Promenade' from Mussorsky's "Pictures at an Exhibition"
Knifes Edge (based on the 1st movement of Janacek's "Sinfonietta")
The Barbarian (based on Bartok's piano solo "Allegro Barbaro")
'Hoedown' from Copeland's "Rodeo"
Nutrocker (based on the 2nd movement 'March' from Tchaikovsky's "Nutcracker Suite")
Central to the 'Classics Meet Rock' program will be the performance of 'Emerson, Lake, and Palmer's' multi-movement piece titled 'Tarkus'.  Though not based on a classical piece, this multi-movement piece has both diatonic and quatral harmonic tonalities with recurring thematic material as in many symphonic forms.  All of the above-mentioned selections can be found within the 'Emerson, Lake, and Palmer's' albums of the 70's.
An adaptation of Prokofiev's 2nd movement (Romance) from his "Lieutenant Kije Suite" as performed by 'Sting' titled 'Russians' from his first solo album "Dream of the Blue Turtles" completes the program.
Please join the contemporary rock ensemble of Craig Biegler – Keyboards, Dean Kranzler – Percussion, Jeff Leach – Bass, Tony Bowell – Vocals, and Dave Cooper – Keyboards and Accessory Percussion as they perform "The Classics Meet Rock"