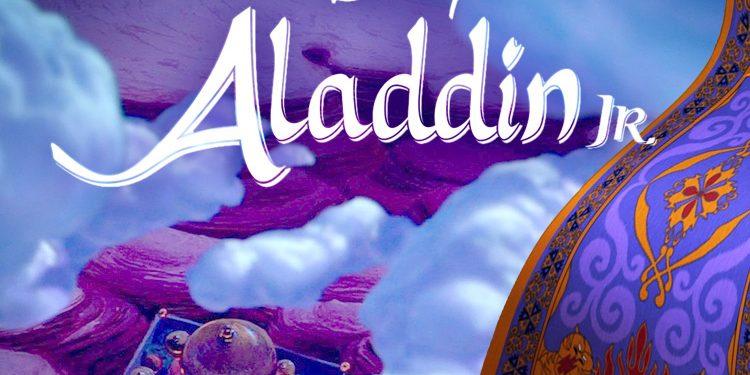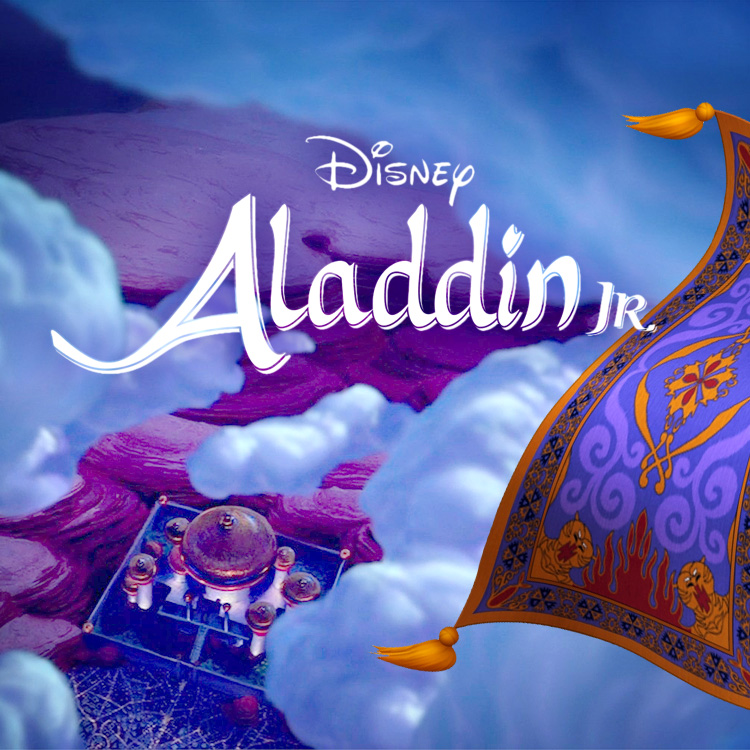 PUBLIC PERFORMANCE: JULY 10-12
GRADES 4-8
Music by Alan Menken  |  Lyrics by Howard Ashman and Tim Rice  |  Book Adapted and Additional Lyrics by Jim Luigs  |  Music Adapted and Arranged by Bryan Louiselle  |  Based on the 1992 Disney film Aladdin
Welcome to Agrabah, City of Enchantment and the fantastic tale of the street rat who became a prince!
All of your favorite characters from the hit Disney film — Aladdin, Jasmine, Iago, Jafar, the Genie, and more — are here in Disney's Aladdin Jr., a musical adventure filled with magic, mayhem, and flying carpet rides.
Disney's Aladdin Jr.'s tuneful, accessible Academy award-winning score, with songs by Alan Menken, Howard Ashman, and Tim Rice, including "A Whole New World" and "Friend Like Me," will send you soaring!
[vc_cta_button2 h2="Buy Tickets Now" style="rounded" txt_align="left" title="Text on the button" btn_style="rounded" color="orange" size="md" position="right" accent_color="rgba(255,255,255,0.06)"]
Click here to buy tickets and learn more about available show dates and times.
Go Now >[/vc_cta_button2]
Aladdin: Moses Brown
Baker: Audrey Burgoon
Genie: Madeline Paradis
Guards: Josh Warner, Isaac Morris
Harem Girls: Kieran Boeger, Nova Green Anna Ireton, Jenna Zamecnik
Iago: Ellie Flynn
Jafar: Sam Stone
Magic Carpet: Anna Gutierrez
Narrators: Kerrigan Hutton, Kylie Ratzlaff, Maddie Stack Annie Taggart, Tresilyn Tucker
Prince Baba of Ganoush: Treyton Sutton
Prince Dahdu' Rahn-Rahn: Will Ebel
(The) Prince Formerly Known as the Artist: Eli Starmer
Princess Jasmine: Bradyn Houltberg
Razoul: Chloe Pettijohn
Sultan: Nathan Weiss
Tech Student: Harper Johnston
"Arabian Nights"
Kieran Boeger
Audrey Burgoon
Nova Green
Anna Ireton
Madison Kaumans
Camille Morris
Carly Redding 
Jenna Zamecnik
Lauren Zimmerman
"One Jump Ahead"
Kamryn Arnold
Karlyn Brecheisen
Kate Brull
Jillian Coleman
Will Ebel
Eli Starmer
Savannah Sutton
Treyton Sutton
"Prince Ali"
Anlyn Arb
Eva Arb
Brookelyn Barnett
Chloe Highsmith
Audrey Jagodzinske
Mackayla Kingsolver
Aleah Shaw
Emily Streeter