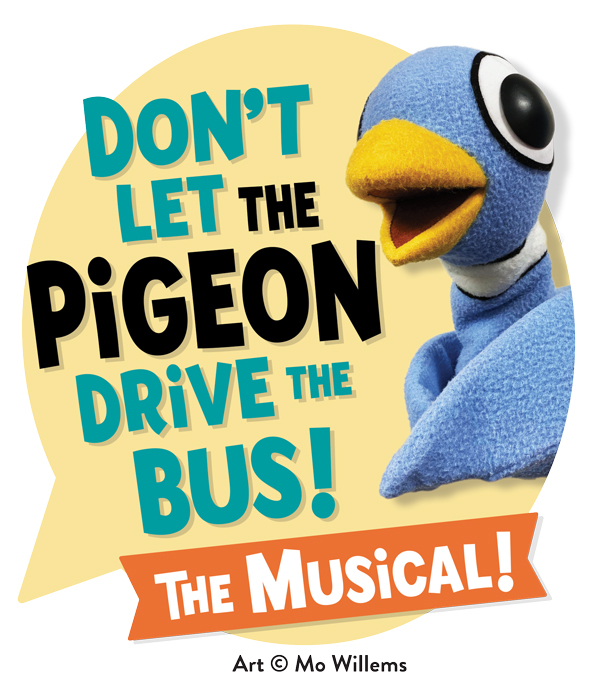 Theatre Salina's Center for Theatre Arts will be offering a Sensory Friendly performance on March 4th at 10 a.m.
For more information on this offering please email the Education Director at
Maggie@salinatheatre.com
School Performances: February 28 – March 3, 2023
Public Performance: March 4, 2023
Kephart Theatre
---
Don't Let the Pigeon Drive the Bus
The Musical

By Mo Willems and Mr. Warburton
Lyrics by Mo Willems
Music by Deborah Wicks La Puma
Whatever you do, don't let the Pigeon star in his own musical production! With a script written by Mo Willems, the creator of the #1 New York Times best-selling, Caldecott Honor award-winning "Pigeon" picture books, and featuring music by Deborah Wicks La Puma (Elephant & Piggie's We Are in a Play!), Don't Let the Pigeon Drive the Bus! The Musical! is even more fun than staying up late and having a hot dog party!
It's not easy being the Pigeon-you never get to do ANYTHING! But when the Bus Driver has a crisis that threatens to make her passengers (gasp!) late, maybe that wily bird CAN do something.
Featuring an innovative mix of songs, and feathers, Don't Let the Pigeon Drive the Bus! The Musical! is sure to get everyone's wings flapping.
Narrative by Music Theatre International
Pigeon – Erin Dolezal
Bus Driver – Aria Jagodzinske
Business Woman – Sloane Ryan
Teenager – Lily Leonard*
Bus Engine – Sam Reynolds
Little Old Lady – Camille Graber
Hot Dog Vendor – Nathaniel Reynolds
Bus Driver's Mom – Amelia Lund
Puppy – Molly Zuccarelli*
City Worker – Harper Riekhof*
Duckling – Caroline Hiatt
*Indicates first CTA production
NEXT TIME IT COULD BE YOU!
For more information visit our GET INVOLVED page and select "CTA Auditions"