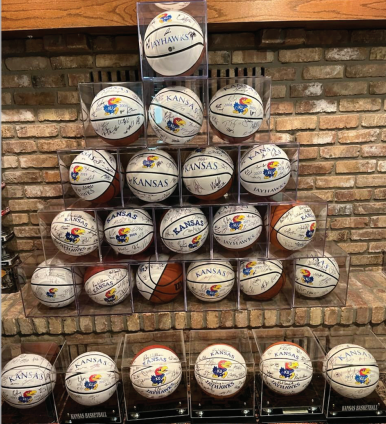 11th Annual Dancing with Salina Stars
Featured Item
---
KU Basketball Collection
Thank you to Robert and Pam Jones for their generous donation of 25 autographed KU mens' basketballs from

1996 – 2022 seasons.
2 Championship basketballs
4 Final Four basketballs
Signed by 13 players who are currently playing in the NBA.
Head Coach's signatures on each ball.
One or more balls signed by these players: Andrew Wiggins
won NBA championship w/ Golden State, Joel Embid runner-up to
last years MVP; Paul Pierce probable HOF selection when eligible.
Tickets are $100 for one ticket entry into raffle. The basketballs are on display in the lobby at Theatre Salina and will be on display for MainStage shows and events. We will kick off the raffle at DWSS 2022 and stop selling right before DWSS 2023, or when we reach 1,000 tickets.  Please fill out the form below and order your ticket(s) for a chance to win the entire collection!