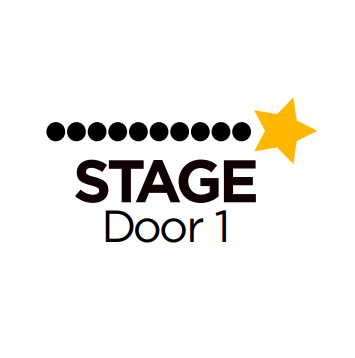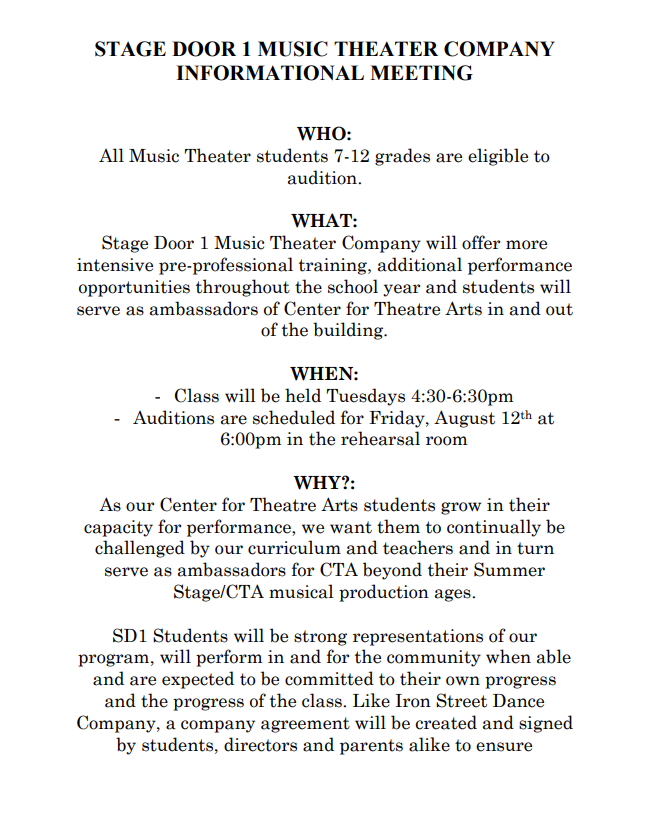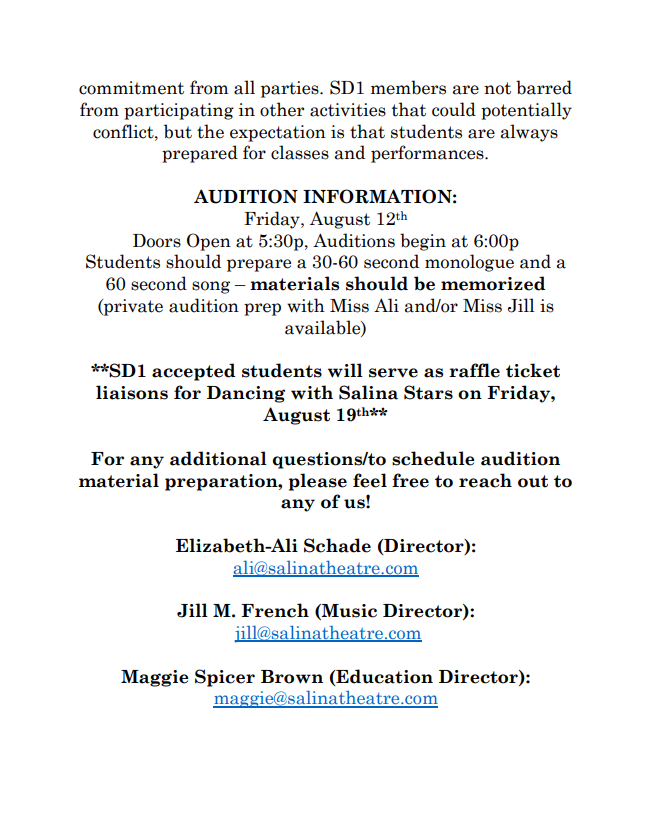 August 12th at 6:00 pm in the Theatre Salina Rehearsal room.
---
Stage Door 1
Music Theatre Company

AUDITIONS for CTA's newest company! Named after the infamous stage left entrance of Theatre Salina, which is used by performers for rehearsals and production. It seemed appropriate to name our new music theatre company after a door that carries so much meaning in our theatrical world. 
Here is a little about it from the Education Director:

Hello parents – 
As we have watched your music theatre students advance and evolve, we recognize that the program and opportunities within the program must evolve with them. 
We are very excited to announce that this fall we will be introducing STAGE DOOR 1 MUSIC THEATRE COMPANY, a new audition based elite music theatre class available to your students! This class will be led by Miss Ali Schade and Miss Jill French. 
DOES THIS MEAN MY CHILD MUST AUDITION FOR A SPOT IN THEIR MT CLASS? 
It does NOT! We recognize that not all students are able to make the full commitment during the school year to something of this nature, and those students are still able to enroll in Advanced MT which will take place on Monday evenings with John Hendrick and Bradyn Houltberg. 
THIS SOUNDS LIKE MUSIC THEATRE IRON STREET DANCE COMPANY!?
That's because it is! Previous Advanced MT classes have proven year after year that they are capable of strong work, and we want to keep their skill set fully challenged with more performance opportunities. \
IS THIS A BIGGER MONETARY COMMITMENT? 
Enrollment costs will remain the same!
DOES THIS MEAN MORE PERFORMANCE OPPORTUNITIES WITHIN CLASS? 
Yes! In the same vein that ISDC represents CTA in outside/additional opportunities within Theatre Salina, STAGE DOOR 1 would do the same! 
If you  would like information about class auditions please let me know!
-Maggie Spicer Brown