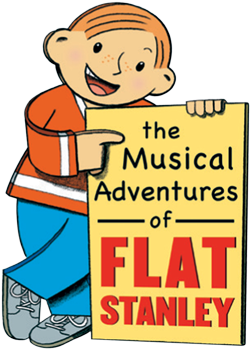 MARCH 4-8, 2014
GRADES 6-8
The beloved children's book written by Jeff Brown in 1964 has become a literary and pop cultural phenomenon — delighting readers and travelers all around the world.
Stanley Lambchop is your ordinary, every day, run-of-the-mill ten-year-old: normal mom and dad, normal little brother, normal life. That's just the problem…for Stanley, life is too normal. He wants to travel the world, do something amazing, something no one's ever seen before. Careful what you wish for, Stanley!
One night, the bulletin board on the wall above Stanley's bed comes loose and falls – right on top of Stanley! The next morning, Stanley Lambchop wakes up flat. Not just a little flat…really, REALLY flat! I n a whirlwind musical travelogue, Stanley – the ultimate exchange student – scours the globe for a solution to his unusual problem. He's stamped, posted and cancelled from Hollywood to France to Honolulu and beyond. And whether he's thwarting a robbery at the Louvre Museum in Paris, or 'hanging ten' off the coast of Hawaii, Stanley is closing in on his goal of being a three-dimensional boy once more.
Flat Stanley:  Nick Salem
Arthur:  Maddie Stack
Mr. Lambchop:  Moses Brown
Mrs. Lambchop:  Madeline Paradis
Ms. Cartero:  Carolyn Gutsch
Cousin Sophie/Hollywood Asst. 2:  Ellie Flynn
Bulletin Board:  Nathan Zimmerman
Doctor Danielle:  Annie Taggart
Hollywood Asst. 1:  McKenzi Tonne
Nurse Betty:  Bradyn Houltberg
Samantha:  Alicia DeHaan
King of the Cool Kids:  Nathan Weiss
Hollywood Agent:  Noah Endreshak
Various roles:  Kamryn Arnold, Audrey Burgoon, Kaylie Harmon, Kyle Dundas