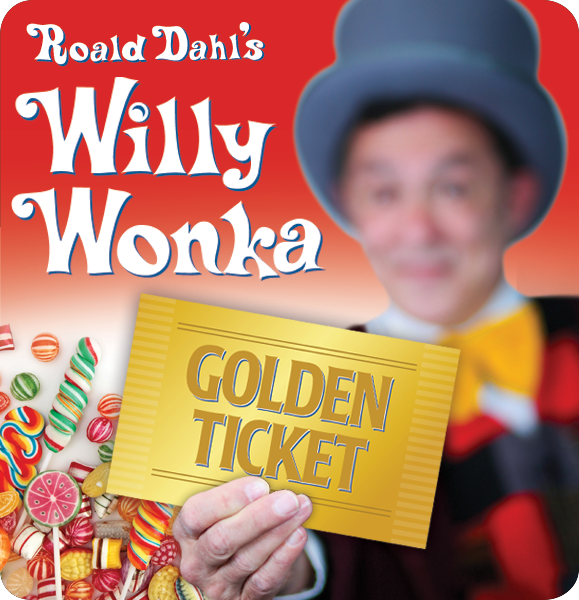 NOVEMBER 25-DECEMBER 11, 2016
5 MATINEE PERFORMANCES! Children age 3+ are welcome to attend this show provided they have a ticket and attend with a parent/guardian.
Roald Dahl's fantastical tale of the world-famous Willy Wonka and his quest for an heir comes to chocolate-covered life this holiday season!
Follow this enigmatic candy manufacturer as he stages a contest by hiding golden tickets in five of his scrumptious candy bars. Whoever comes up with these tickets will win a free tour of the Wonka factory, as well as a lifetime supply of candy. Four of the five winning children are insufferable brats, but the fifth is a likable young lad named Charlie Bucket, who takes the tour in the company of his equally amiable grandfather. The children must learn to follow Mr. Wonka's rules in the factory… or suffer the consequences.
PRODUCTION SPONSORED BY SUNFLOWER BANK  |  ORCHESTRA SPONSORED BY EDWARD JONES
Willy Wonka: Joe McMurray
Candy Man: Nelson Gutsch
Penelope Trout: Tonia Carr
Charlie Bucket: Karson Pihl
Mrs. Bucket: Elizabeth-Ali Schade
Mr. Bucket: John Hendrick
Grandma Josephine: Twila Schneiders
Grandma Georgina: Jean Boardman
Grandpa Joe: David Morris
Grandpa George: Bob Jones
Augustus Gloop: Treyton Sutton
Mrs. Gloop: Cathie Norris
Veruca Salt: Harper Johnston
Mr. Salt: Steve Stockham
Mike Teavee: Braeden Jackson
Mrs. Teavee: Pam Jones
Violet Beauregarde: Ellie Flynn
Mrs. Beauregarde: Kat Shaft
Avery Smith
Abby Russell
DJ Chaput
Moses Brown
Anna Gutierrez
Nelson Gutsch
Emma Kinkelaar
Madeline Paradis
Sheri Albright
Violet Arb
Alexia Berry
Kieran Boeger
Leighton Cline
Jeff Ebel
Will Ebel
Callan Hall
Camille Morris
Isaac Morris
Brynn Shaft
Libby Smith
Savannah Sutton