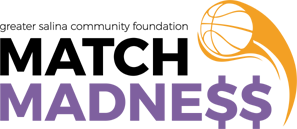 WHAT IS MATCH MADNESS?
Match Madness is a one-day event designed to generate new gifts to
the Salina Community Theatre endowment. Every gift made to Salina
Community Theatre during the event will be matched proportionally
up to 50%! The event will include giving opportunities, nonprofit booth
displays, free throw shooting contests for bonus grants and more!
When: Thursday, March 16, 2020
Where: Salina Fieldhouse, 140 N. 5th St.
Time:    7 a.m. to 7 p.m.
Donate online at http://www.matchmadnessgscf.org
All donations are tax-deductible