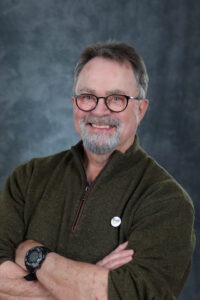 Executive Director – Michael Spicer
During the 24 years that Michael Spicer has been Executive Director, SCT has been the National Winner of AACT-Fest 2001 with its production of Wit, and in 2019 SCT's production of Silent Sky garnered 4 other national awards; also, SCT is the recipient of the Governor's Arts Award for organizational excellence, and the Twink Lynch Award. Michael is the recipient of the AACT David C. Bryant Outstanding Service Award, and most recently, the Art Cole Lifetime Achievement Award. He earned his Master of Fine Arts from the University of Virginia. He has directed and acted for theaters across the United States, and has taught workshops in various aspects of theatre for the American Theatre Association, the American Association of Community Theatres, the Southeastern Theatre Conference, the Southwestern Theatre Conference, the Texas Non-Profit Theatre Association, and the Association of Kansas Theatres. Michael has twice served on the board of the American Association of Community Theatres.
---
Contact: michael@salinatheatre.com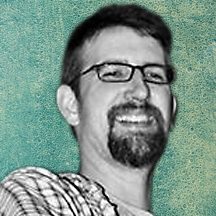 Technical Director / Scenic Designer – J.R. Lidgett
J. R. was born in Charleston, South Carolina, promptly moved to Denver, Colorado, until he was 10, then spent the rest of his years growing up in Wichita. At Goddard High School he found a love for the theatre and pursued a Bachelor's Degree in Theatre at Sterling College with a minor in Psychology. After Sterling, he obtained a Master's Degree in Theatre at Kansas State University. While studying at KSU, he took a summer internship at the Salina Community Theatre. After graduating, he started working full time at SCT and has been here ever since. He has received several awards from the American Association of Community Theatre for AACT Festivals, including Outstanding Achievement in Scenery & Lighting for the National Award Winning Wit in 2001. J. R. has a wife, Katie, and two daughters, Melissa and Dillen. You will most likely find him toiling away in the shop, playing in the booth, or feverishly searching the web for new lights he wants to buy.
---
Contact: jr@salinatheatre.com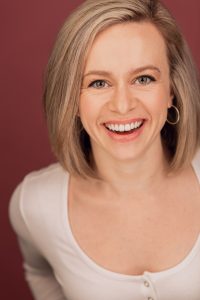 Education Director – Maggie Spicer Brown (she/her/hers)
Maggie Spicer Brown grew up in the Salina area, was very active with Theatre Salina, and graduated from Salina South High School in 2010. Maggie went on to receive her Bachelor's of Music from Oklahoma City University before moving to New York City, where she lived on and off for the better part of 7 years. During that time Maggie worked as a professional actor with favorite credits including Mamma Mia and Matilda at Casa Manana in Texas, Freaky Friday and A Little Night Music at Lyric Theatre of Oklahoma and the North American tour of The Wizard of Oz. Maggie has also been able to choreograph many musicals at Theatre Salina as well as pieces for the summer contemporary shows. In 2020, Maggie directed her first mainstage musical, Freaky Friday, and went on to direct 2021 Summer Stage production of Descendants, the 2021 fall opening musical of Fiddler on the Roof and Descendants at Casa Manana, a professional equity production house. Maggie has loved being a teacher for CTA and is very honored to be step into the role of Education Director!
---
Contact: maggie@salinatheatre.com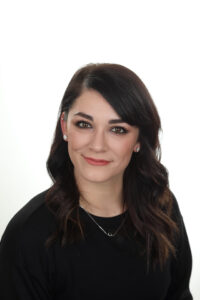 Director of Operations – Elizabeth-Ali Schade (she/her/hers)
Elizabeth-Ali was born in Anaheim, CA and raised in Riverside. She graduated from Salina High School Central and attended KWU where she studied Theatre. She earned her certificate for Grant Proposal Writing from Fort Hays State University and currently attends Kansas State University seeking a degree in Business Administration-Marketing, a minor in Gender, Women and Sexuality Studies, and is earning her Intercultural Competence Certificate. Elizabeth-Ali is an Intimacy Director and consultant whose focus is in introduction and education for a consent forward environment. She earned her Consent Forward Artist certificate from Intimacy Directors and Coordinators and her MHFA Certificate from the National Association for Mental Wellbeing. She is the Director of Stage Door 1, Music Theatre Company, and teaches hip hop and vocal at Center for Theatre Arts. She and her husband Erich Schade have a son, Oliver, and are proud to be a part of such a rich arts culture in Salina.
---
Contact: ali@salinatheatre.com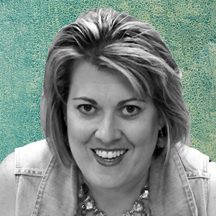 Office Manager – Daysha Sutton
Daysha was born and raised in rural Pratt County, while attending college at Washburn University in Topeka, she met her husband, Brad. She received her degree in Business Administration with an emphasis in Accounting in 1997, married Brad, and in late 1998, moved to Salina. She and her husband have two (almost adult) children, Treyton and Savannah, and live in rural Saline County by Assaria on some acreage with dogs, cats, chickens, guineas, and local wildlife. "We wouldn't have it any other way!" In her free time, she loves watching KC Royals baseball, OU softball, and all things her children participate (choir, band, softball, and cross country). At Theatre Salina, she takes care of all things financial related and assists in the box office and enrollment for Center for Theatre Arts, in which she also takes tap and jazz classes for fun.
---
Contact: daysha@salinatheatre.com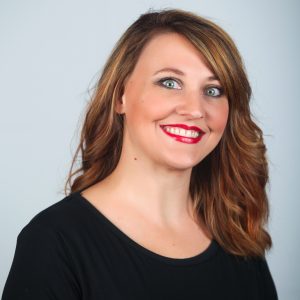 Costume Designer – Jenn Morris
Jenn was born and raised in Emporia, KS and attended Emporia State University where she studied Theatre Design and Business Management and graduated in 2001.  Jenn has been Designing with Salina Community Theatre since 2009, where she started as a designer for the Summer Jr. CTA Shows.  She joined SCT's full-time staff for the 2014-15 season and has been enjoying designing the season's shows since then.  Jenn has 3 children with husband Josh and enjoys spending time with them and extended family in her free time.  She also enjoys visiting art and history museums and researching historical clothing.
---
Contact: jenn@salinatheatre.com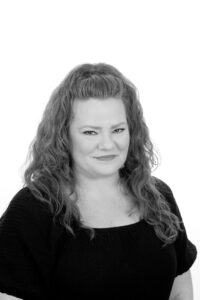 Director of Patron Services & Volunteer Coordinator – Jill M. French
Jill is a graduate of Fort Hays State University with a degree in Theatre & Communications and Minor in Music Performance. She is a native Kansan who, in 2008, moved back to Salina with her husband, Ross. She has many years of Theatre and Music performance experience under her belt. Her theatre experience started in middle school, performing as a Munchkin in The Wizard of Oz and continued through High School and College, performing in over 15 shows. She has performed in more than ten professional theatre shows spanning from Kansas to Ohio to Georgia to Alaska, giving her national tour experience. Jill and Ross welcomed their daughter, Larkin Rose, in April 2011 and two new fur babies in 2017, Doc and Odie.
---
Contact: jill@salinatheatre.com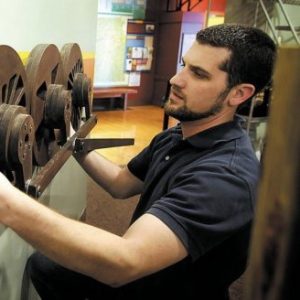 Scenic Designer – Josh Morris
Joshua was born in Lexington, KY, but grew up in Salina, KS. After graduating from Salina South High School, he attended Emporia State University where he received his B.F.A in Theatre and minored in Art. Upon graduation, he attended the University of Florida where he received his M.F.A. in Set Design. Shortly after leaving Florida he moved to Denver, CO where he worked as a designer for Stickley Furniture and as a freelance set designer. Wanting to return to his roots in Salina, Josh took a job as Curator of Exhibits at the Smoky Hill Museum in 2007. Shortly after, he also began designing the MainStage musicals for SCT. Josh is the husband to Jenn Morris, the costume designer at SCT and the father of three kids. Throughout his career he has been lucky enough to tackle a host of odd and exciting projects and has enjoyed living up to the old set designer adage, "jack of all trades…"
---
Contact: setandexhibits@gmail.com
2023 – 2024 Board of Directors
EXECUTIVE
Mandi Graber – President
Partrick Hoffman – Vice-President
Amy Schreiner Treasurer
—–
GUILD REP
Sue Holmes
—–
MEMBERS
Luci Larson
Carolyn Sichley
Marc Sheforgen
Gilda Alvarez
Robert Jones
Kelly Brown
Jeff Ebel
Alex Engelland
Matt Perry
Ashley Bower
Shawna Carter
William Brown
Michael Freeland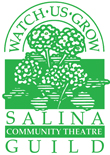 The Theatre Salina Guild is organized for the purpose of assisting the Board of Directors of Theatre Salina in the promotion and operation of the Theatre. The Guild accomplishes this mission in many ways. Guild members process advance reservations for season ticket members, and also serve as ushers and house managers for performances. The Guild awards a $1000 college scholarship to one or more graduating seniors from Saline County who plan to study theatre or musical theatre in college. The Guild also helps through annual contributions to the SCT Endowment and the Youth Theatre Endowment, and to the general operations of Youth Theatre. The Guild funds may also provide aid in the purchase theatrical equipment, such as new lighting and box office computerization. They are responsible for decorating the theatre for the holidays, too!
Executive Guild
President – Sue Holmes
Vice-President – Patti Breeding
Treasurer – Audrey Vaughn
Secretary – Joyce Eisenhour