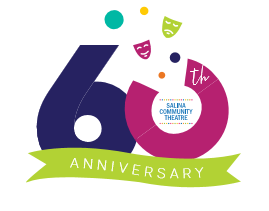 June 3, 2020
Dear Subscriber,
Undaunted by the chaos around us, SCT is moving forward with its 60th season of great productions. We invite you back for the following season of plays and musicals:
DISNEY'S FREAKY FRIDAY When a magic hourglass forces a mother and daughter to change personalities, they find that living each other's life isn't quite as easy as they thought. Great music and dancing throughout this exciting show.
THE THANKSGIVING PLAY This new comedy pokes great fun at theatre and political correctness as a zany group of actors try to please audiences with several odd plays about the holidays.
LITTLE WOMEN: THE MUSICAL This classic American family story is even more exciting with warm and wonderful music, the perfect show for the family at Christmas.
THE GAME'S AFOOT It is December 1936, and Broadway star William Gillette, admired the world over for his leading role in the play Sherlock Holmes, has invited his fellow cast members to his Connecticut castle for a weekend of revelry. But when one of the guests is stabbed to death, the festivities in this isolated house of tricks and mirrors quickly turn dangerous.
STEEL MAGNOLIAS This rich comedy about Southern women and their relationships revolves around everything that happens in Truvy's beauty salon. You'll laugh and cry throughout this play.
JOSEPH AND THE AMAZING TECHNICOLOR DREAMCOAT This musical regales us with the biblical tale of Joseph and his brothers, as they sell him into slavery in Egypt, and his redemption through his dream-solving gift. This is always a family and crowd-pleasing smash.
We are busy instituting many new protocols to ensure this highest level of cleaning between each use of the theatre far beyond previous cleaning. Our website will soon list all of the new procedures we will institute for everyone's peace of mind.
There is no experience like live theatre. When we're together, our heartbeats synchronize as one. We look forward to having them all beat together soon.
Michael Spicer
Executive Director