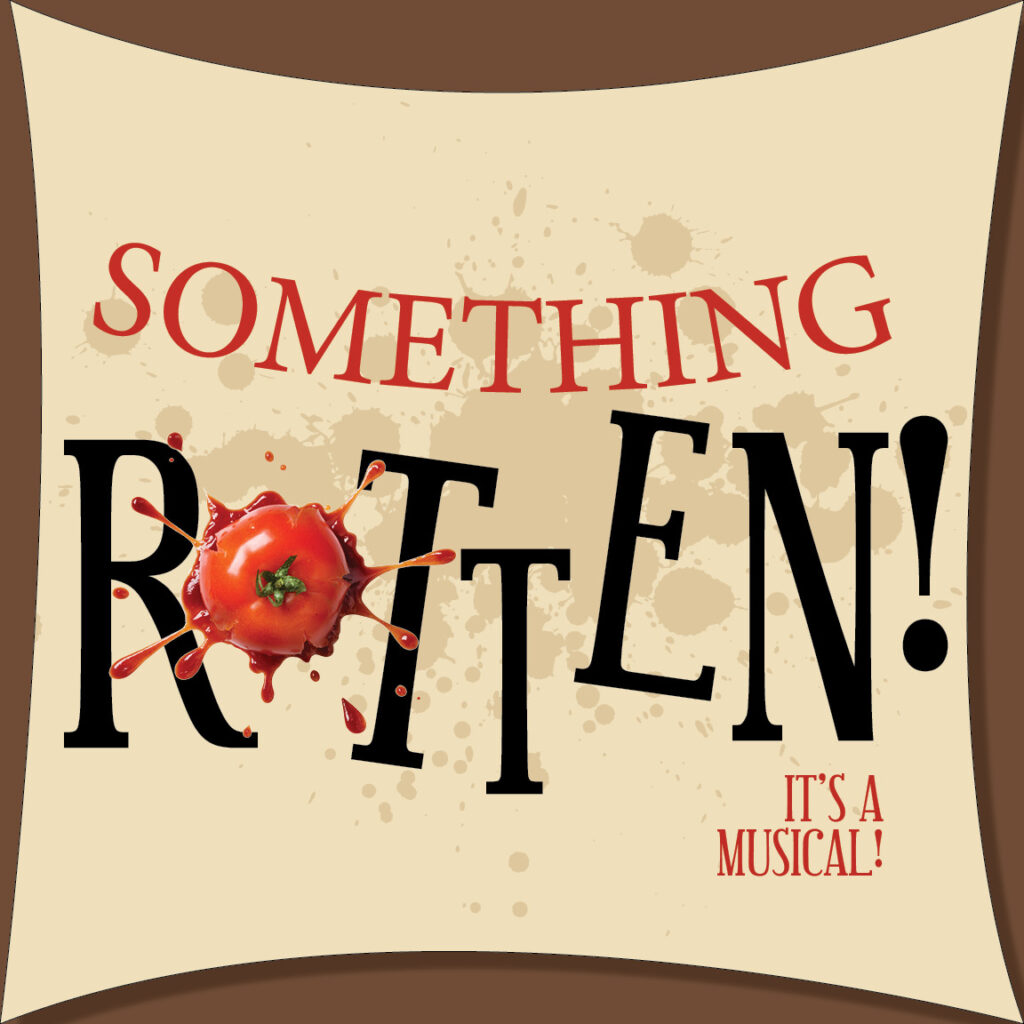 Thank you to our Corporate Partners!
Friday – Sunday
March 31 – April 15, 2023
No performance on Easter, Sunday April 9th.
Thursday night performance April 6, 2023
Kephart Theatre
---
Something Rotten!
Two brothers set out to write the world's first musical in this hilarious mash-up of sixteenth-century Shakespeare and twenty-first-century Broadway.
Book by Karey Kirkpatrick and John O'Farrell
Music and Lyrics by Karey Kirkpatrick and Wayne Kirkpatrick
Welcome to the Renaissance and the outrageous, crowd-pleasing musical farce, Something Rotten.  Created by Grammy Award-winning songwriter Wayne Kirkpatrick, and successful screenwriters Karey Kirkpatrick and John O'Farrell, Something Rotten was lauded by audience members and critics alike, receiving several Best Musical nominations and hailed by Time Out New York as "the funniest musical comedy in at least 400 years".
Set in the 1590s, brothers Nick and Nigel Bottom are desperate to write a hit play but are stuck in the shadow of that Renaissance rock star known as "The Bard." When a local soothsayer foretells that the future of theatre involves singing, dancing and acting at the same time, Nick and Nigel set out to write the world's very first musical. But amidst the scandalous excitement of opening night, the Bottom Brothers realize that reaching the top means being true to thine own self, and all that jazz.
Something Rotten features large song and dance numbers, and a wacky cast of over-the-top characters, each given his or her own special moment in the show to shine.  Throughout its Broadway run, the musical received a show-stopping standing ovation from audiences… in the beginning of the first act!  It's become clear that "nothing's as amazing as a musical," so don't miss your chance to bring this history-twisting tale to your stage.
Narrative by Music Theatre International
Nick Bottom – Christopher Graber
Nigel Bottom – Nick Rogers*
William Shakespeare – Alex Engelland
Beatrice "Bea" Bottom – Kathryn Shaft
Brother Jeremiah –  Timothy Burns
Portia – Matea Gregg
Shylock – Robert Jones
Minstrel/Troupe/Footman – Kurt Krupp
Lord Clapman/Master of Justice – Richard Groetzinger
Nostradamus – William Brown
Tom Snout – Jacob Brown *
Peter Quince –  Patrick Hoffman*
Robin – Tommy Flores
Francis Flute – Scott Snyder
Valet #1 – Andrew Graber
Valet #2 –  Camille Graber
Snug/Horatio/Foreman – Jeff Leger
Bard Boys
Andrew Graber
Hollis Murdock*
Annabella Jasper Carter*
Camille Graber
Ensemble
Abril Vazquez-Ortiz*
Mara Mondt*
Addilyn Jagodzinske 
Deanna Dhani Caldwell*
Elizabeth-Ali Schade
Claire Schmidt
Camille Morris
Mary King
Katie Morgan
*Indicates Theatre Salina mainstage debut
NEXT TIME IT COULD BE YOU!
Visit our Audition Page for more information!