Rise Up!
This lyric from Lin-Manuel Miranda's HAMILTON is used to encourage people to "Rise Up" to meet a challenge that's holding them back, to take a course of action that makes them better than they were before, to work to defeat a prejudice, to discover that there is another way to achieve their art, or to overcome a foe more powerful than you can imagine and to come out on the other side with justice.
Whenever we begin picking a new season, the challenge for us is to "Rise Up" and find great work to redraft, renew, or introduce to our audiences, and we have accomplished that again this year.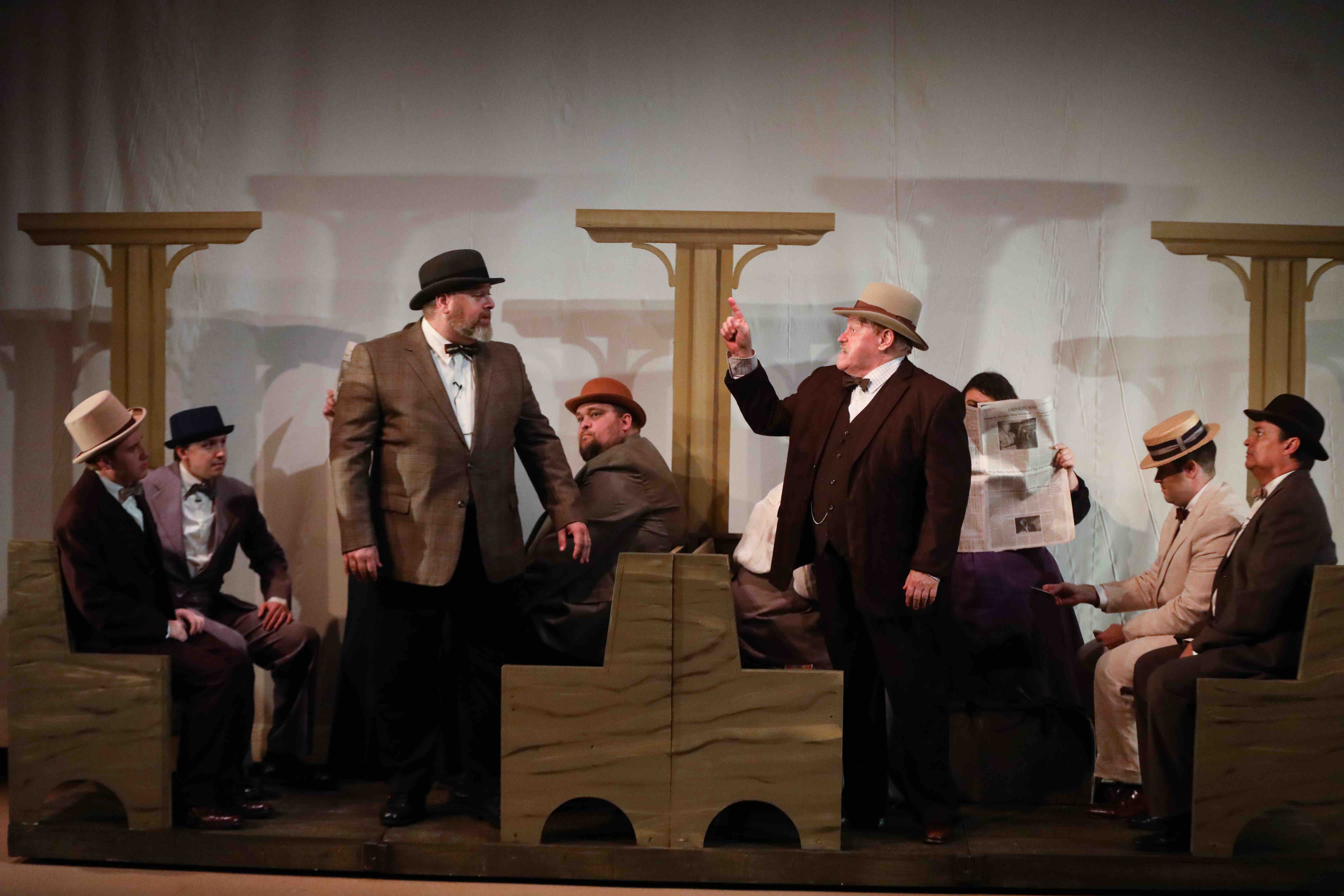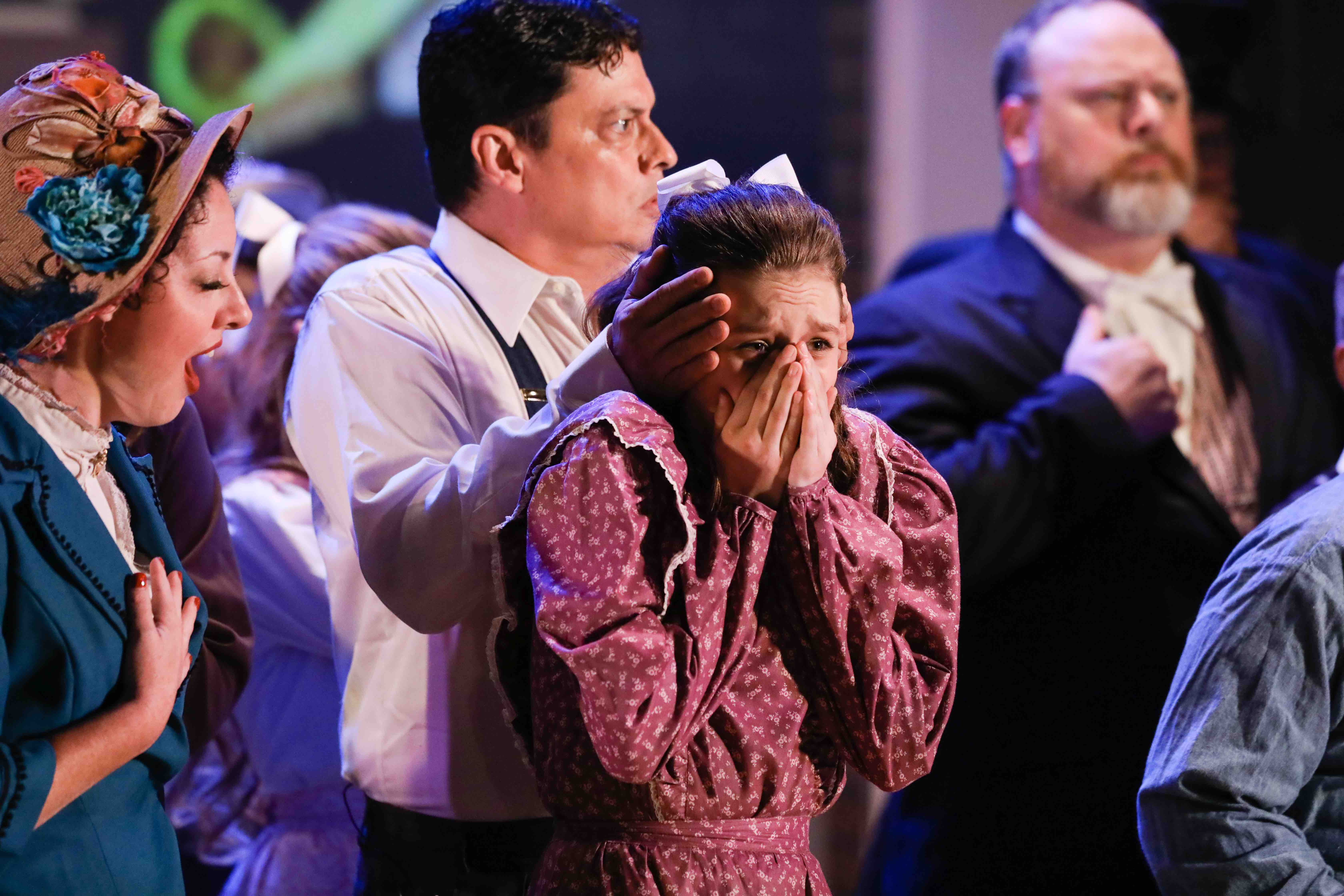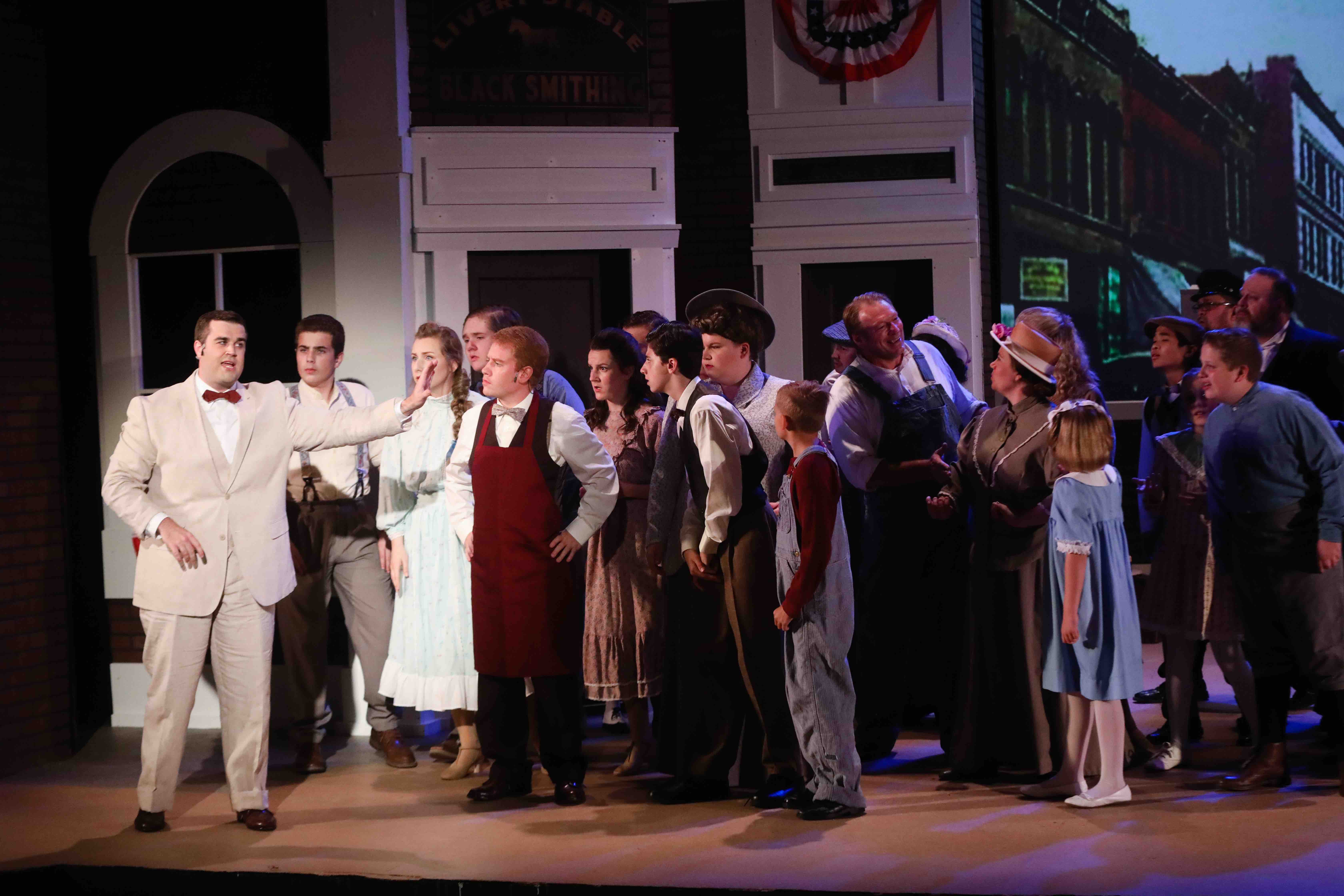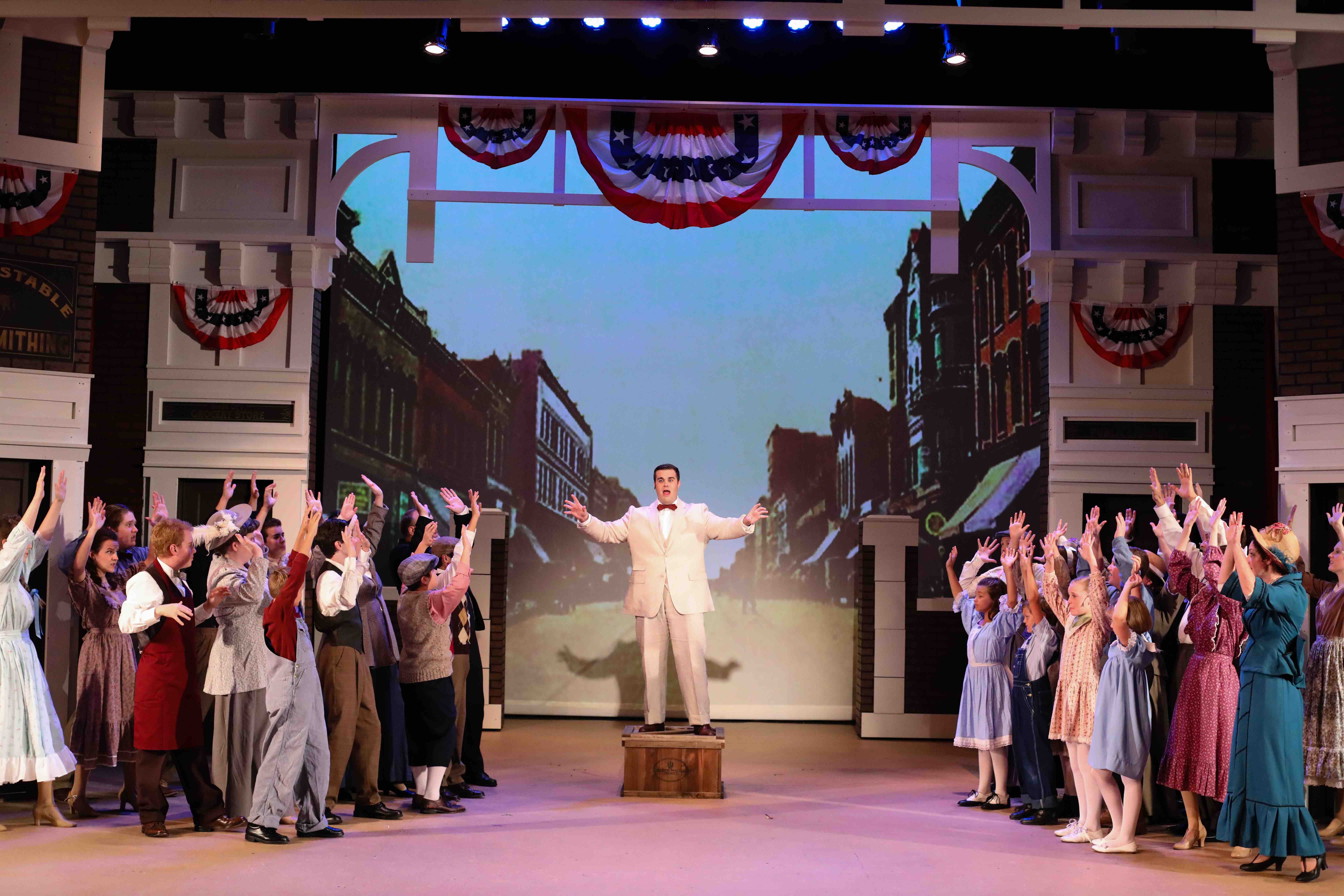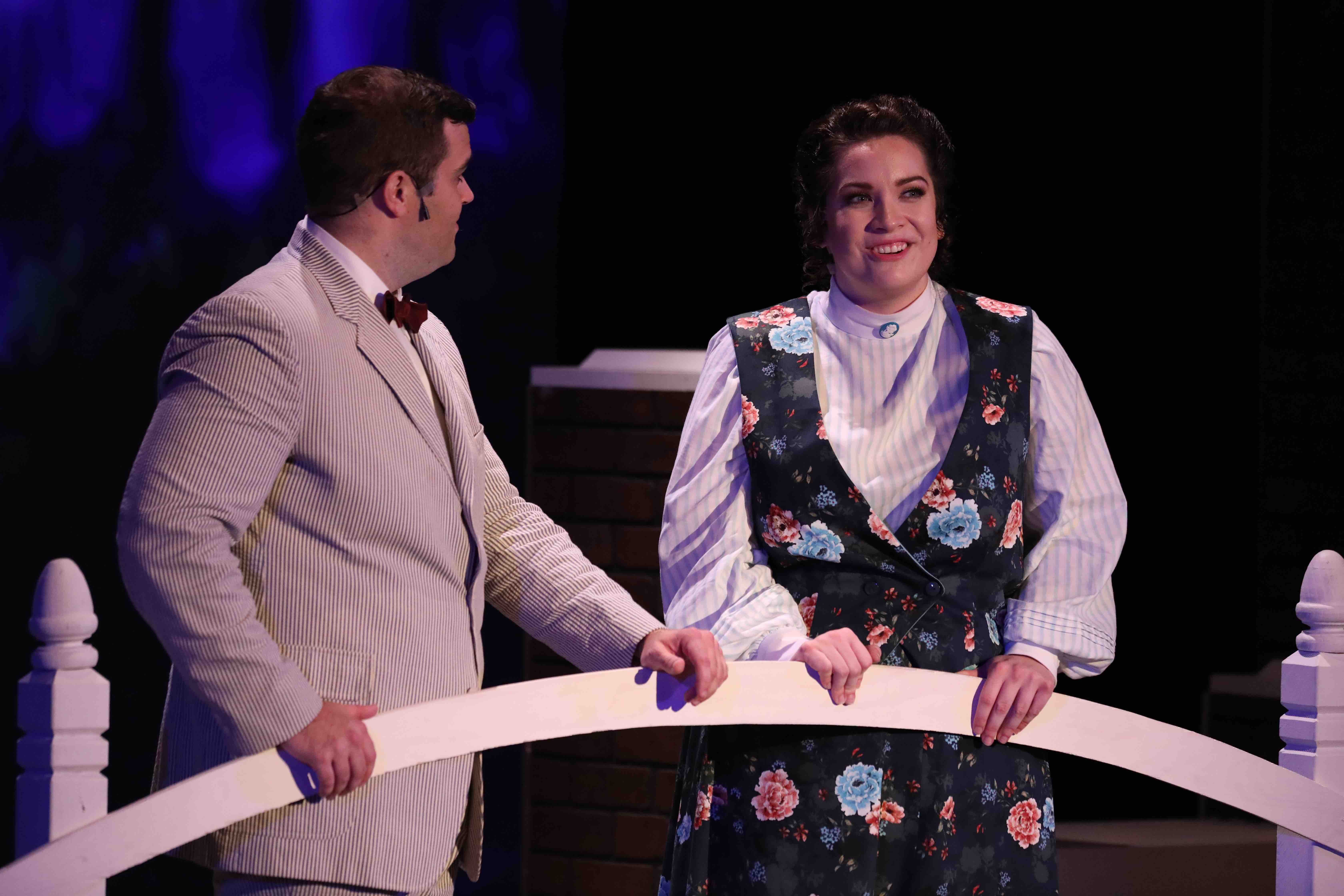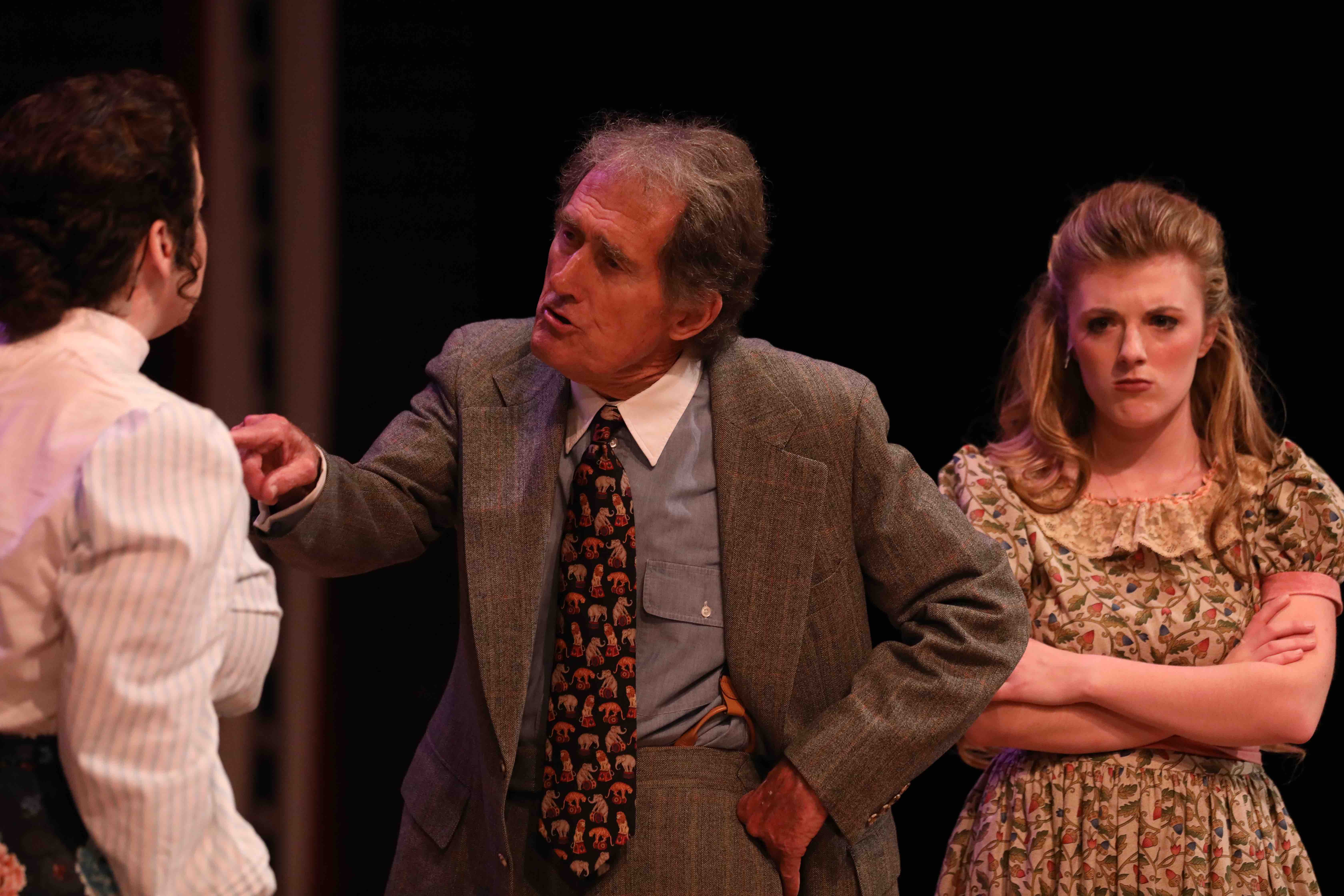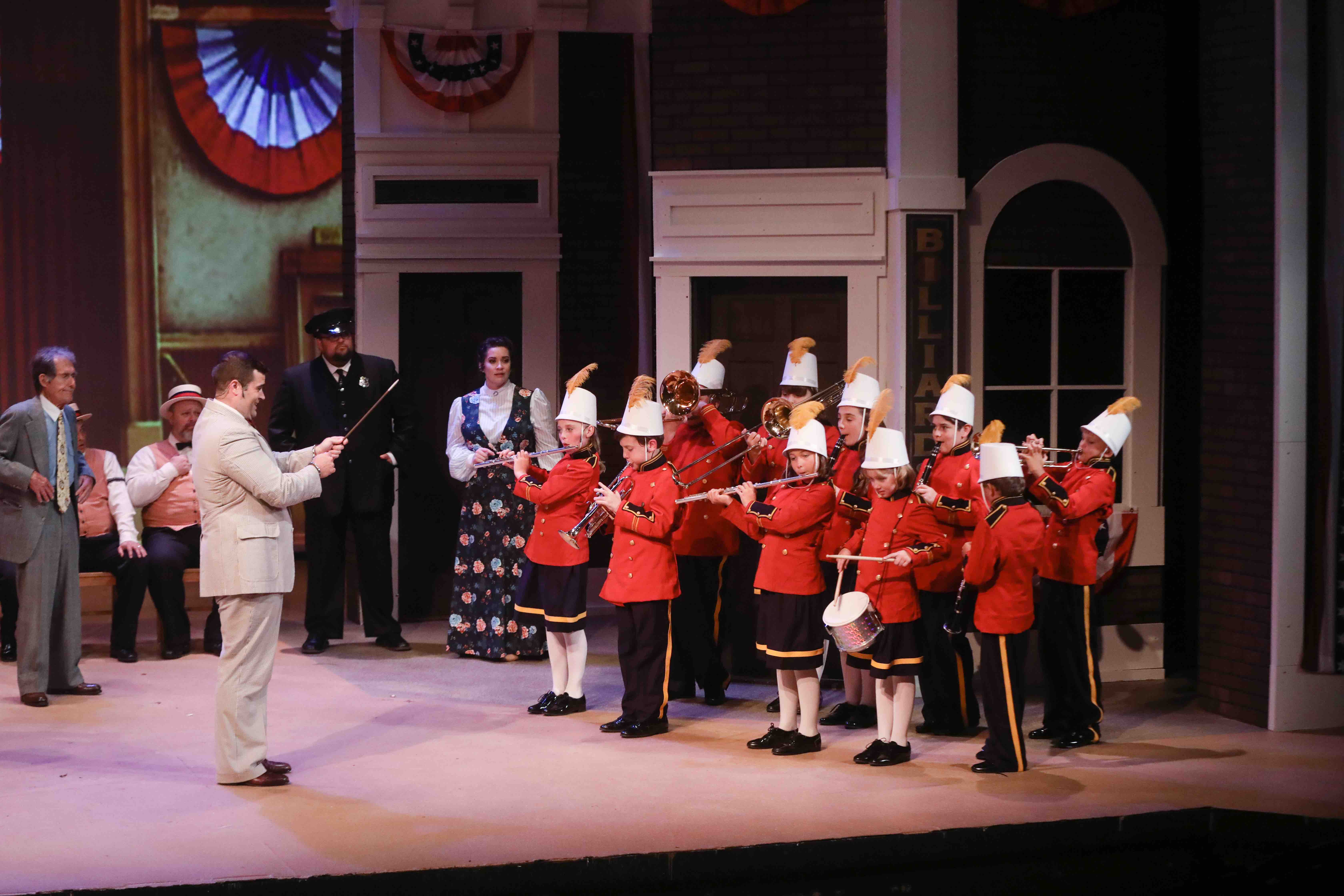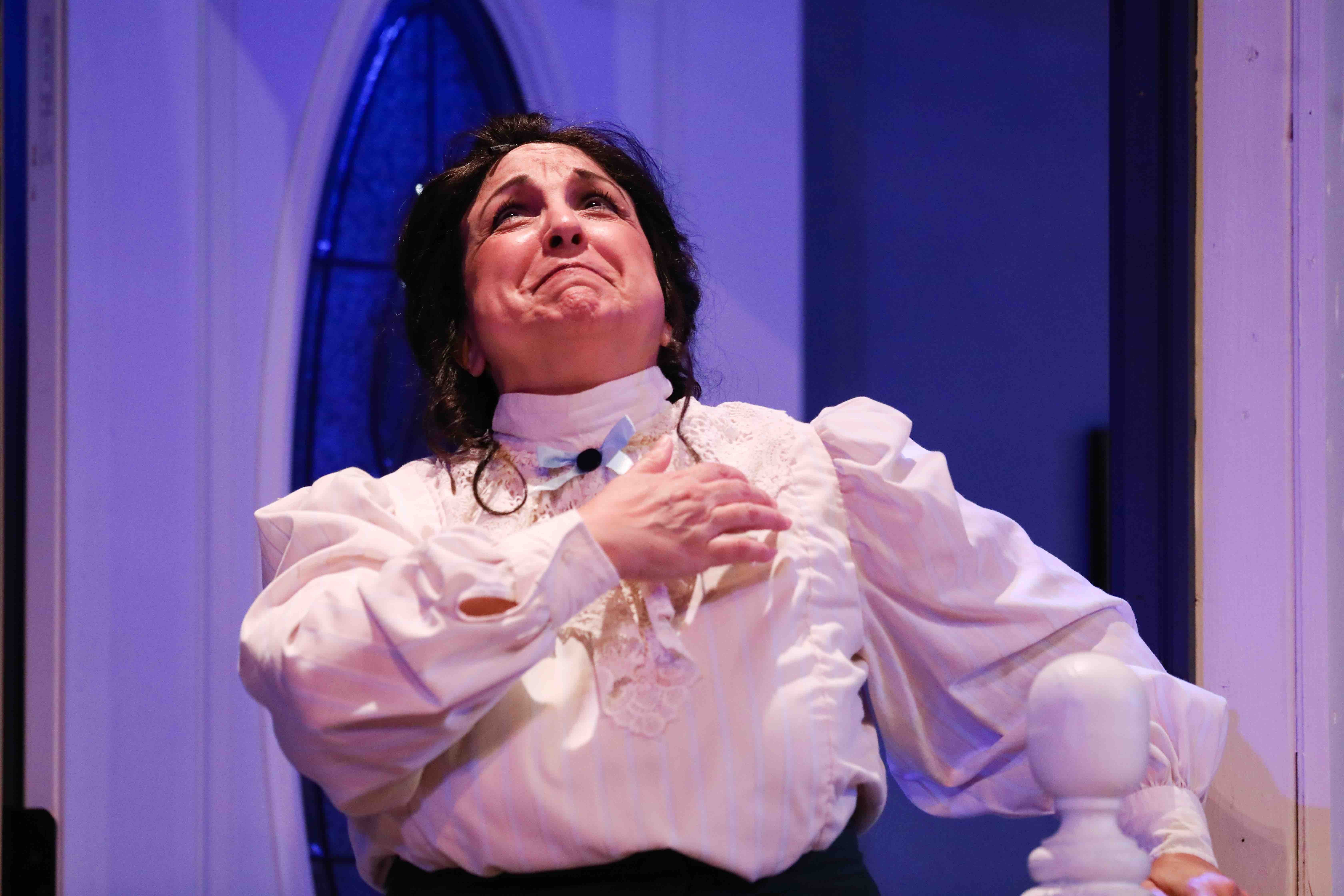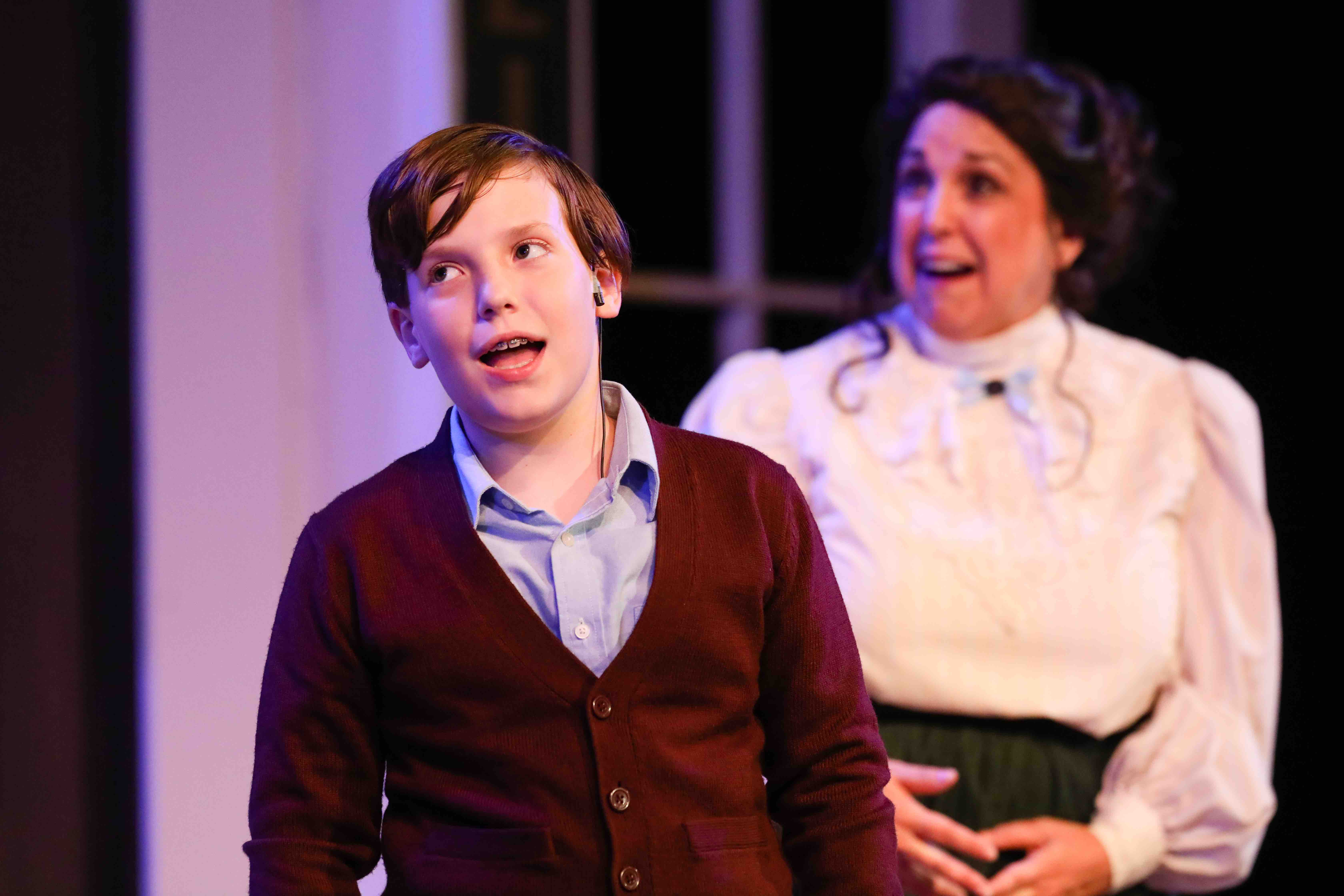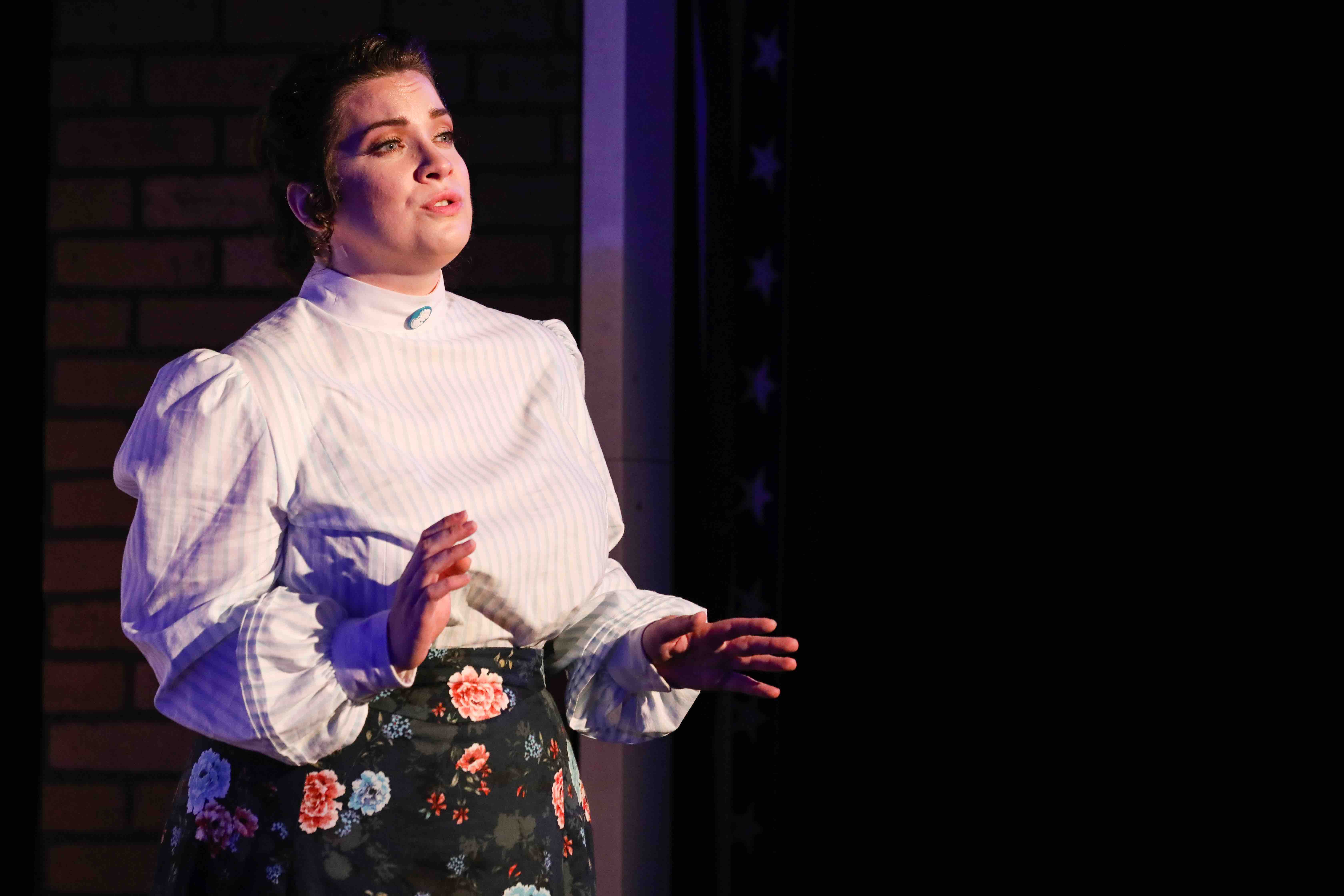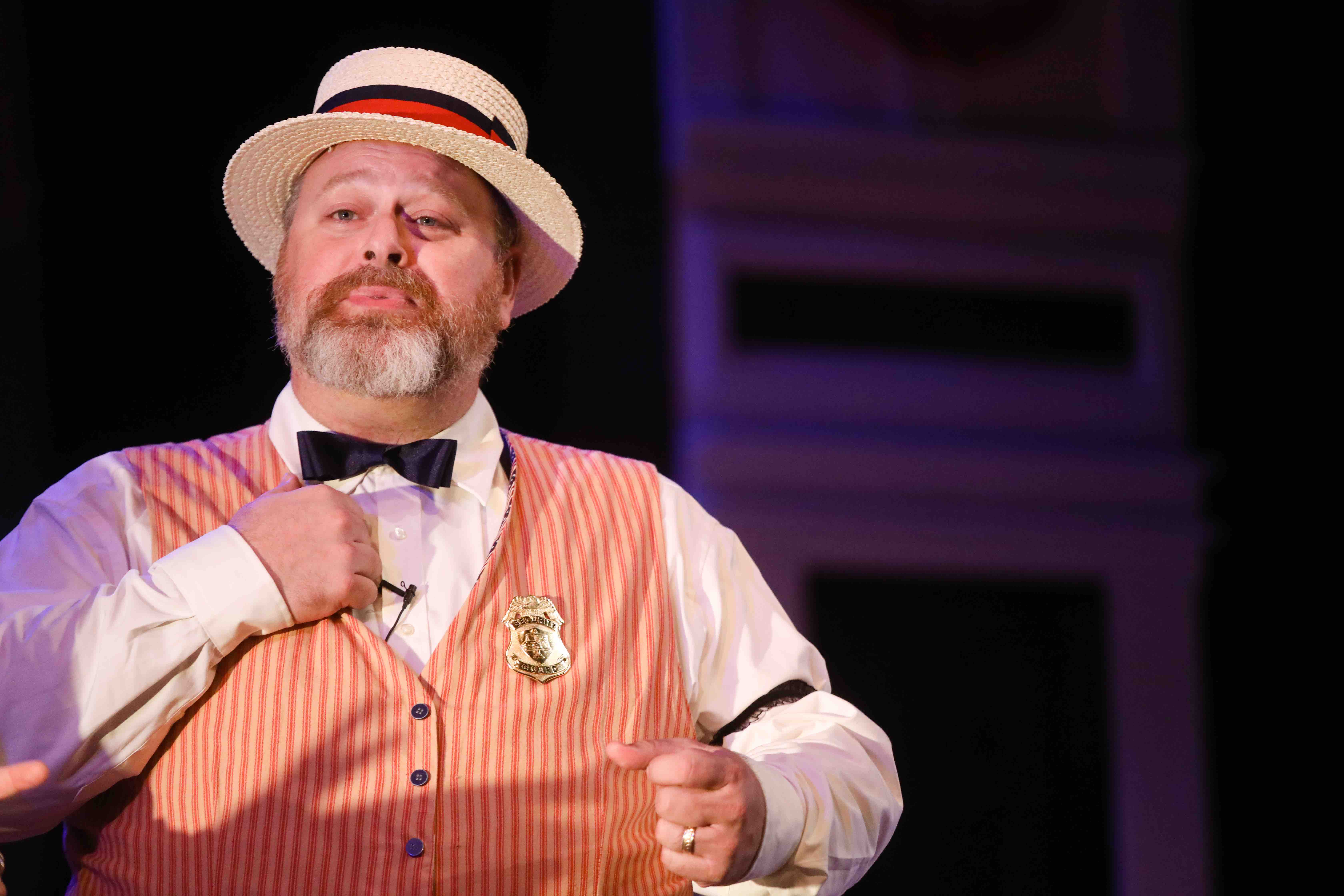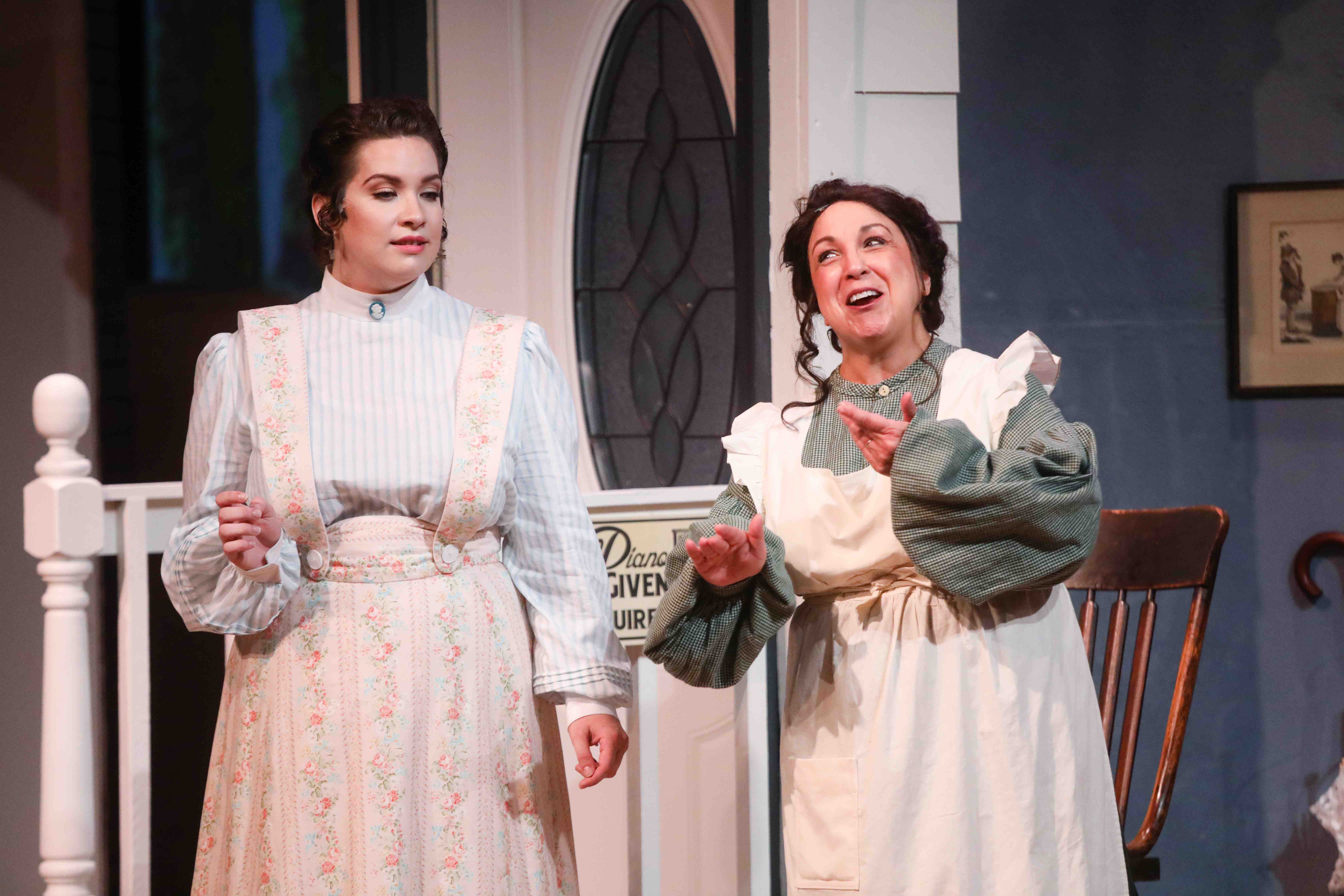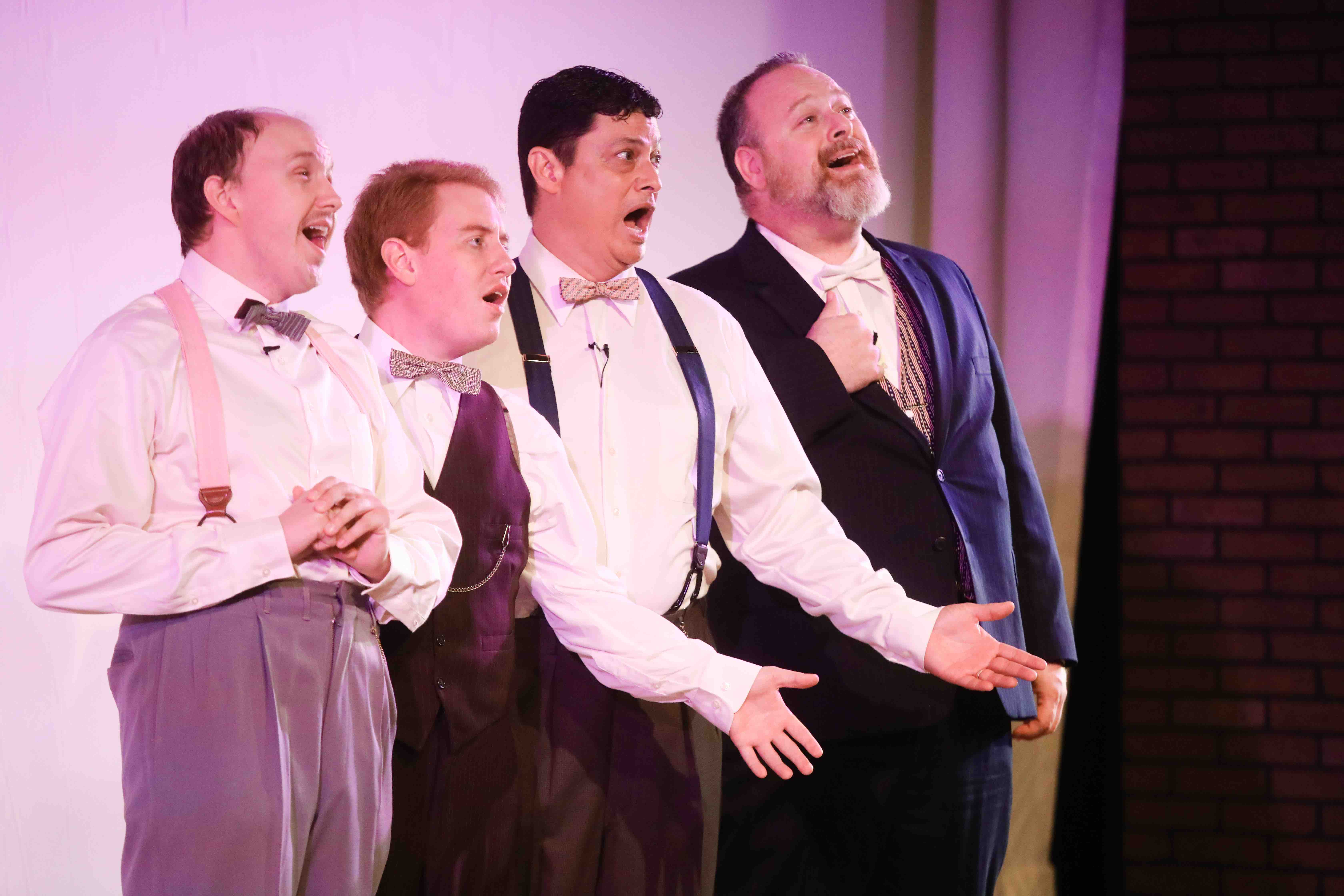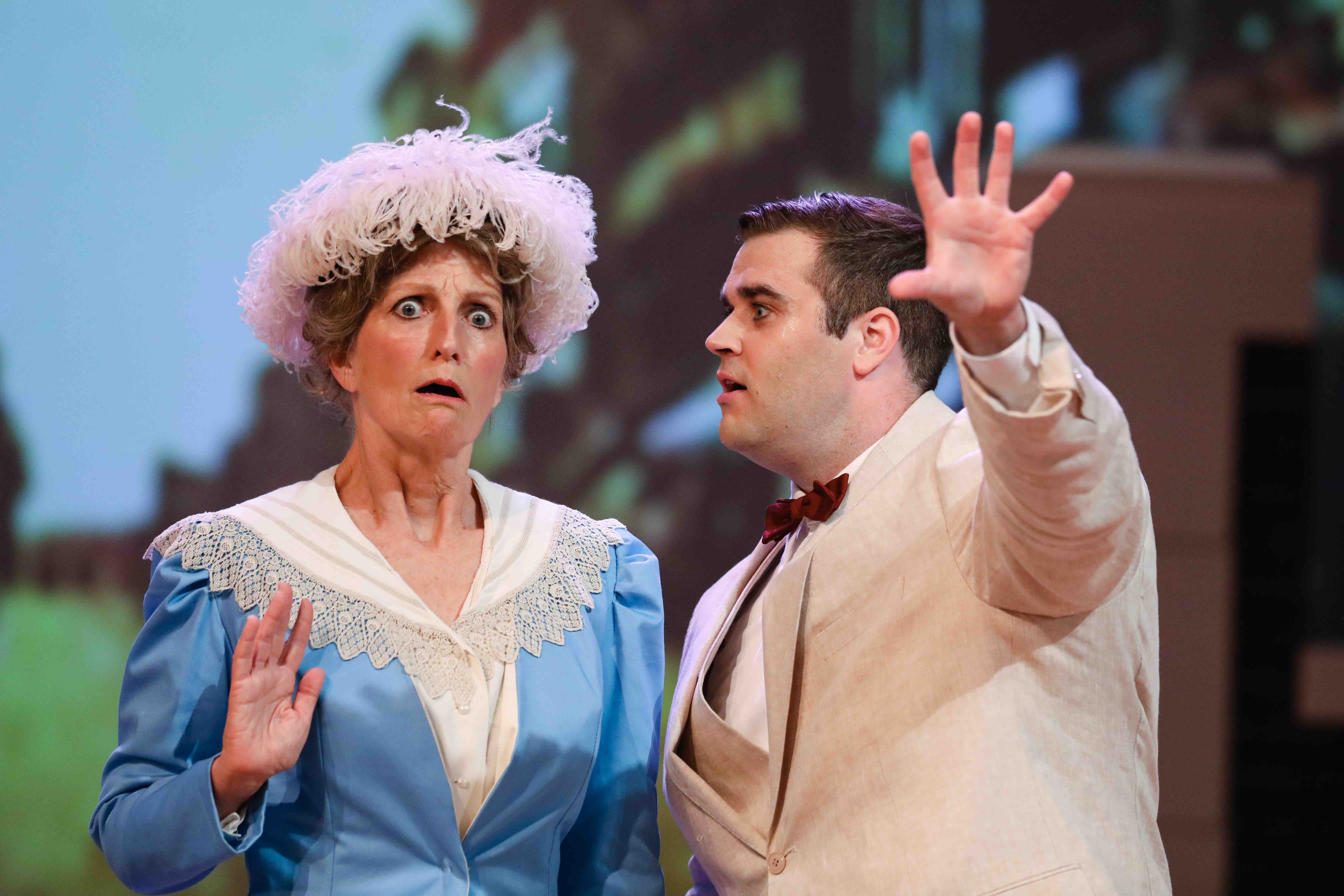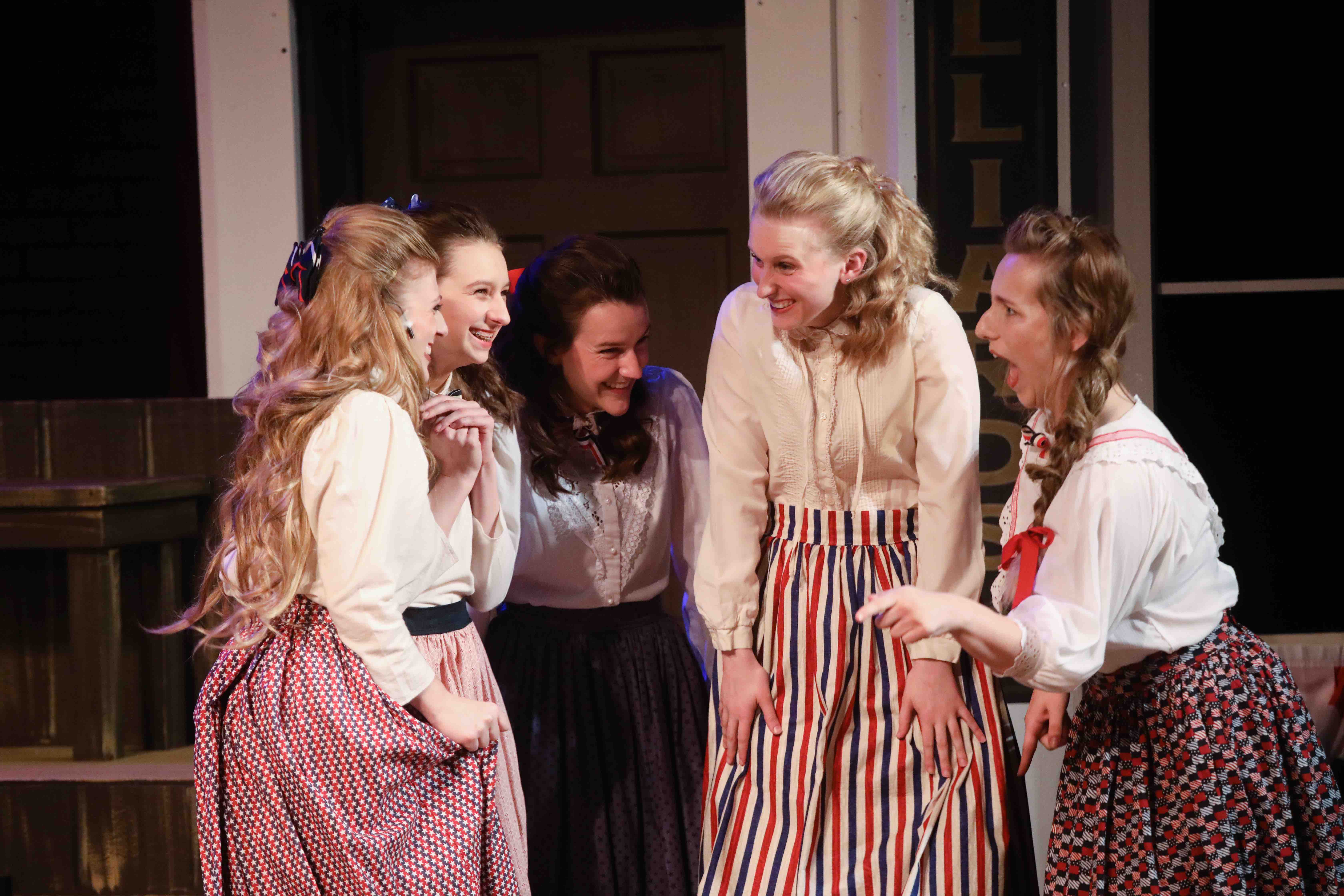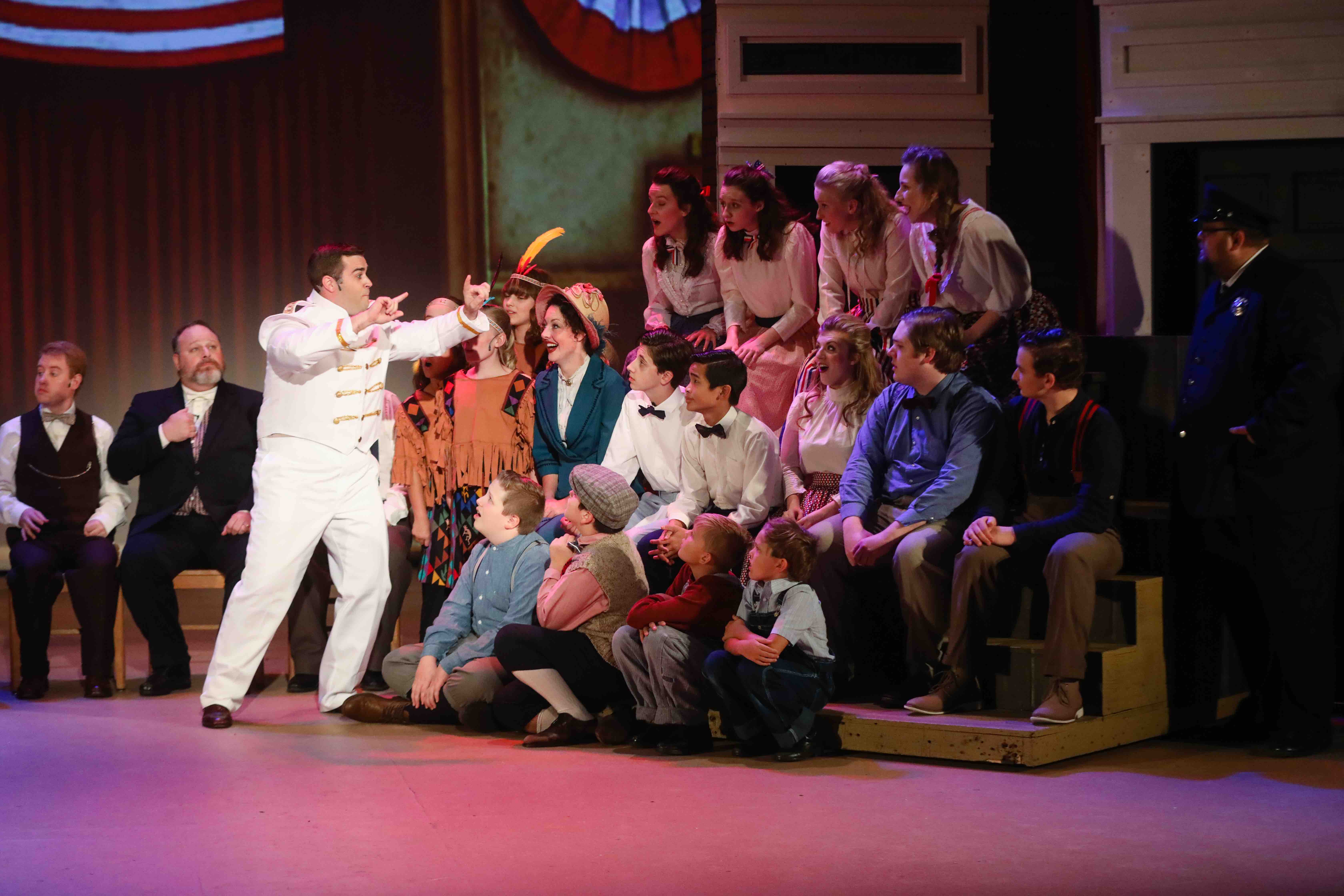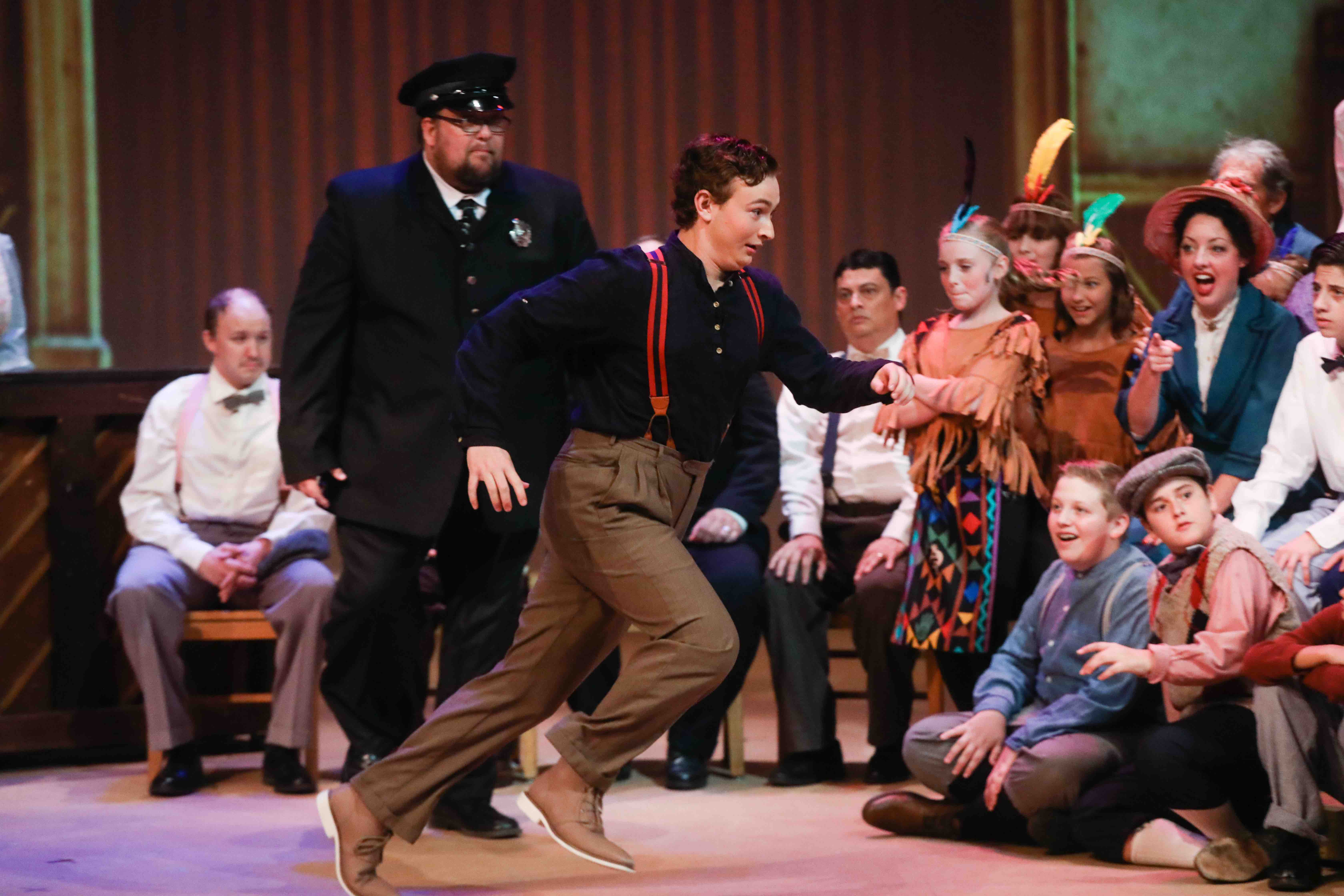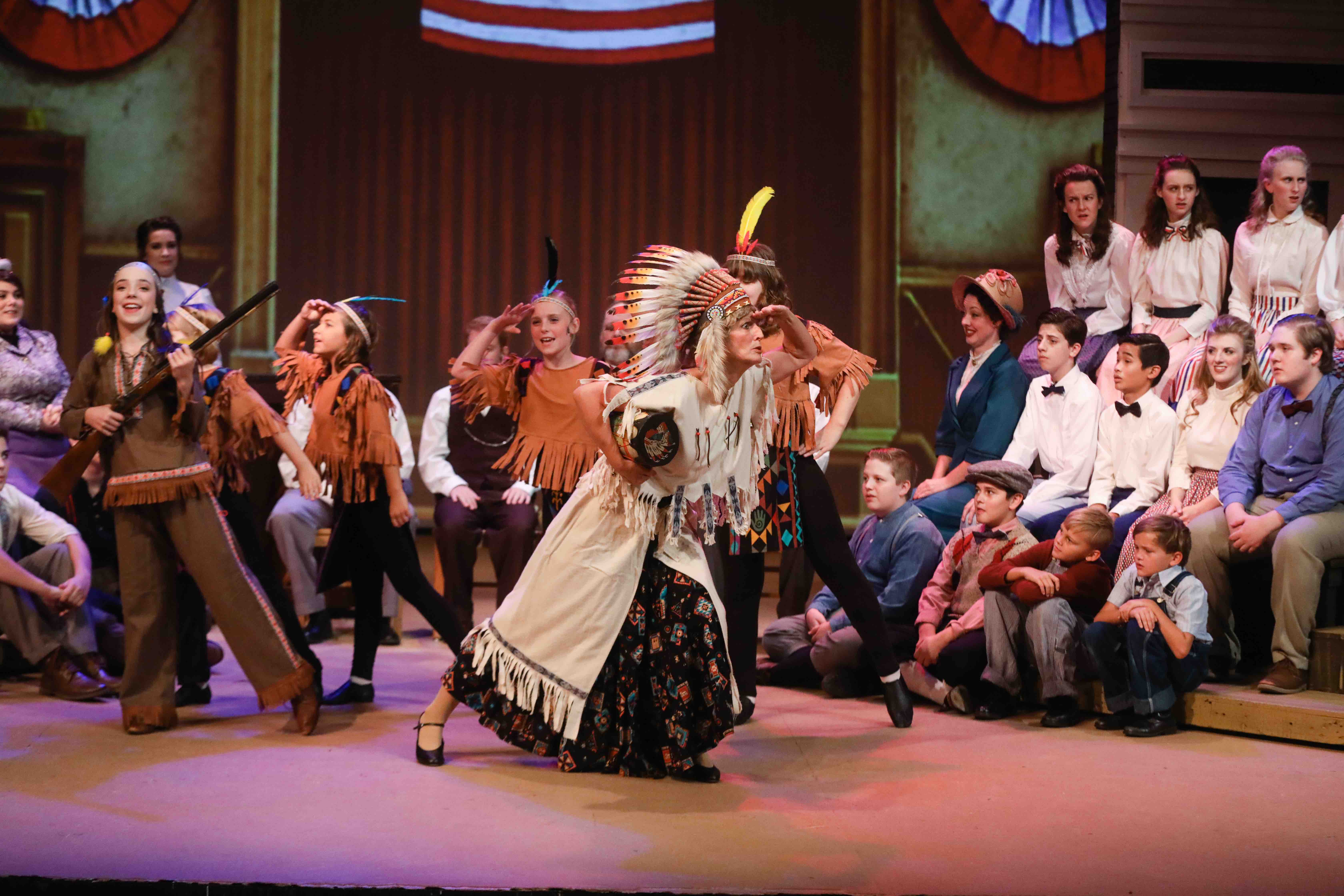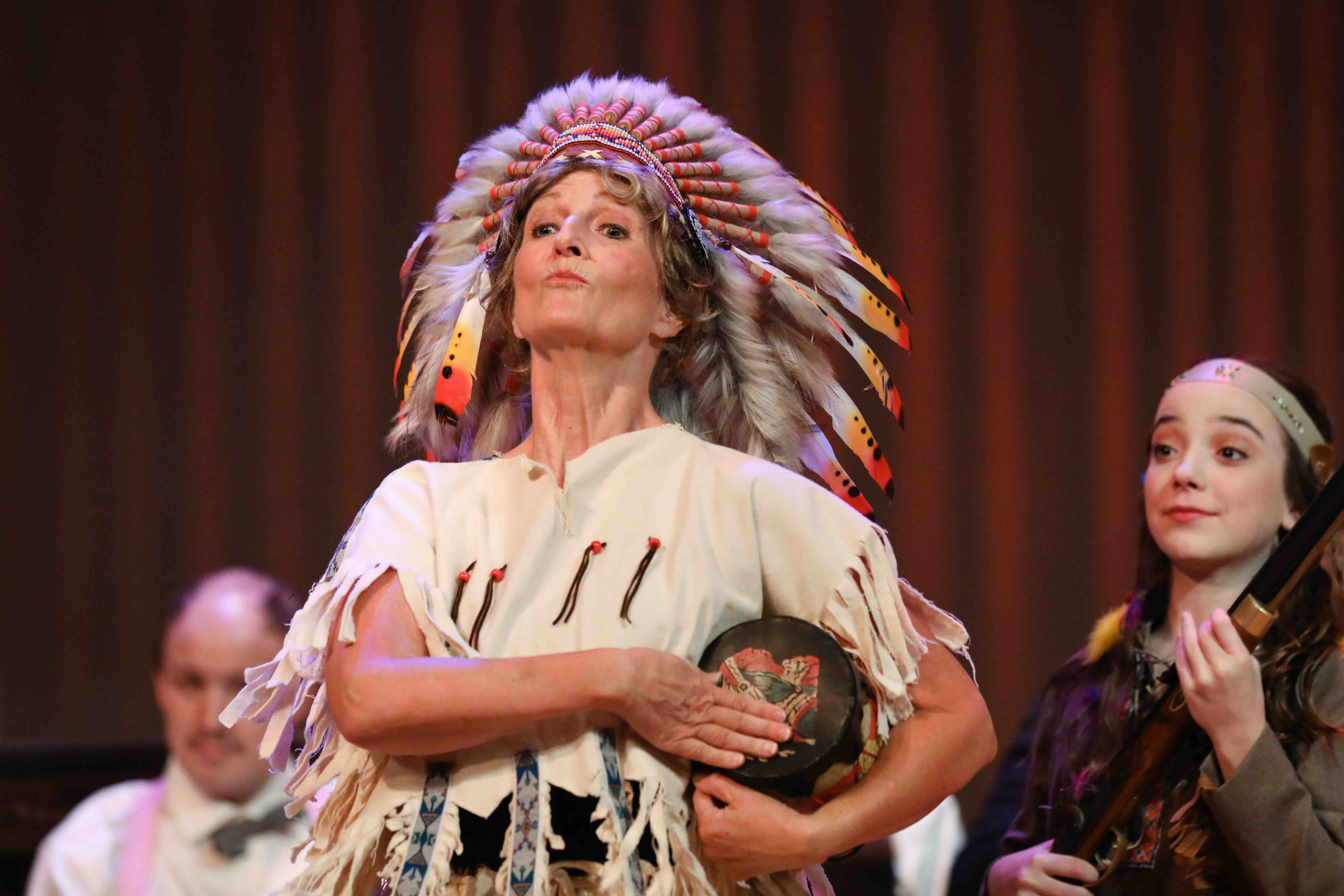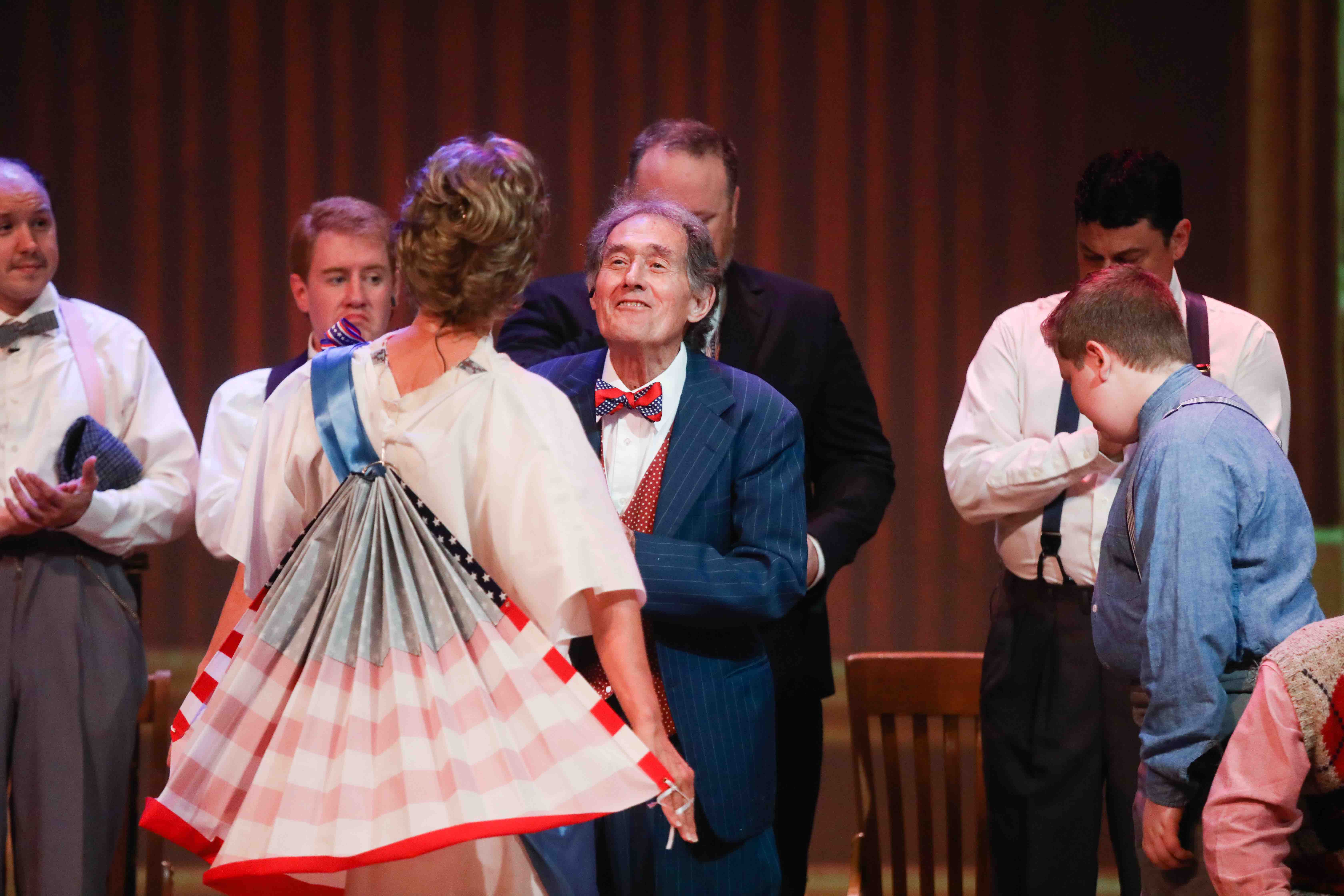 September 7-23, 2018
Kephart Theatre
---
The Music Man
By Meredith Willson
THE GREAT MIDWEST MUSICAL!
Slick con man Harold Hill is going to sucker River City into buying the idea of a boys' band. That is until he falls in love with the strong-willed, eccentric Marian, the librarian! You too will be caught up in his trap with songs like Til There Was You, Ya Got Trouble, and Seventy-Six Trombones.
Production sponsored by BANK VI
Orchestra sponsored by ALL SMILES DENTAL CARE
Harold Hill: Carl Rowles
Marian Paroo: Rachel Holder
Mayor Shinn: John Ryberg
Eulalie Mackecknie Shinn: Twila Schneiders
Marcellus Washburn: Loren Young
Mrs. Paroo: Luci Larson
Winthrop: Wyatt Angell
Amaryllis: Caroline Skye Stone
Ewart Dunlop/Salesman 1: Joshua Tackett
Jacey Squires/Salesman 4: Michael Tate
Oliver Hix/Salesman 2: Steve Hoekstra
Olin Britt/Salesman 5: Alex Lankhorst
Constable Locke/Salesman 3: Jeff Ebel
Tommy Dijilas: Nelson Gutsch
Zaneeta Shinn: Bradyn Houltberg
Gracie Shinn: Libby Kierscht
Alma Hix: Ellen Fixsen
Maud Dunlop: Anna Taylor
Ethel Toffelmier: Sylvia Kvacik
Mrs. Squires: Paula Rolph
Charlie Cowell: David Greiser
Brax Hecker
Lauren Zimmerman
Braedon Jackson
Ellie Flynn
Jacob Sweet
Anna Gutierrez
Isaac Morris
Courtney White
Anne Hoekstra
Thea Hoekstra
Chris Thompson
Harper Johnston
Corielle Schroeder
Will Ebel
Jacob Ebel
Blaise Alderson
Landon Woellhof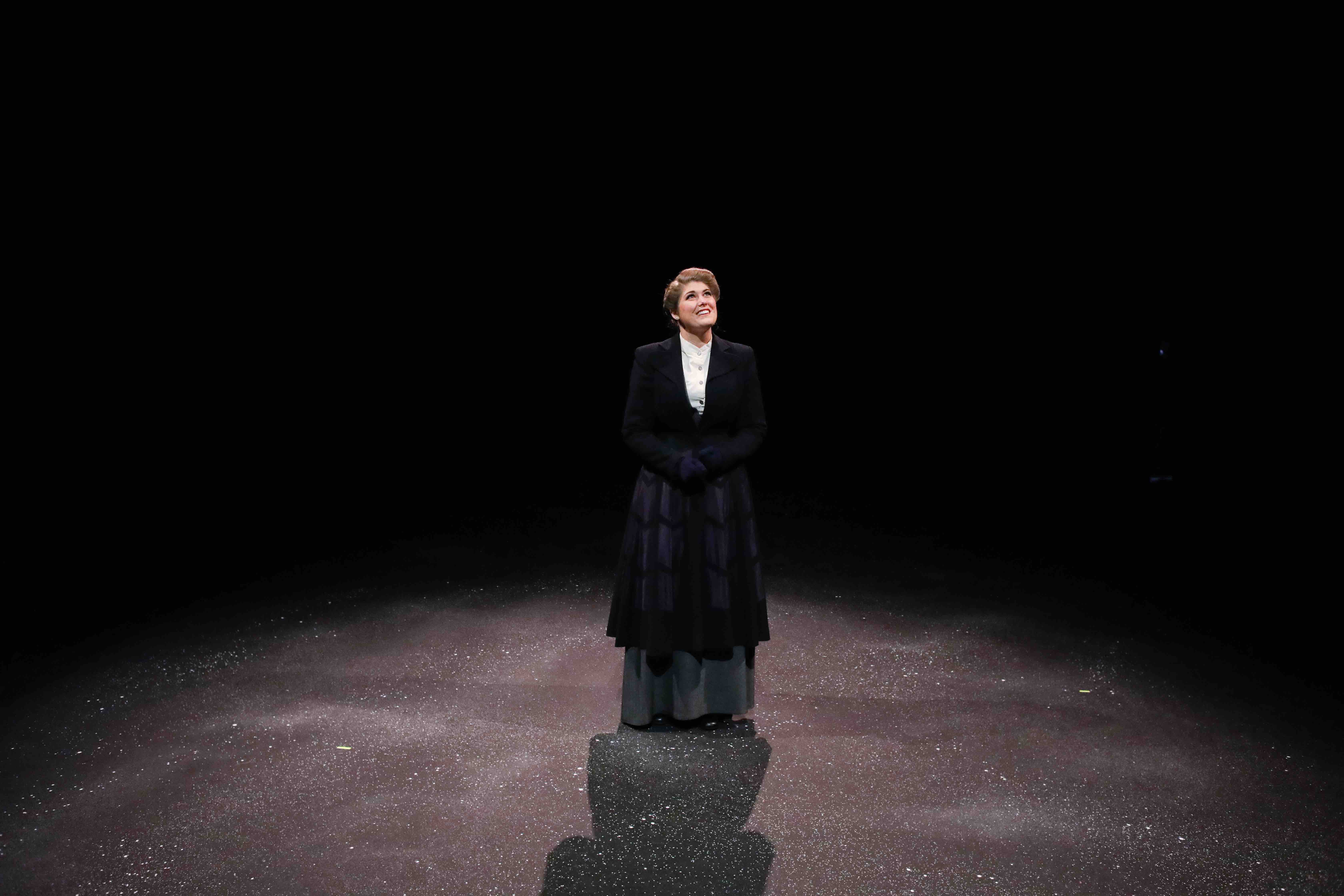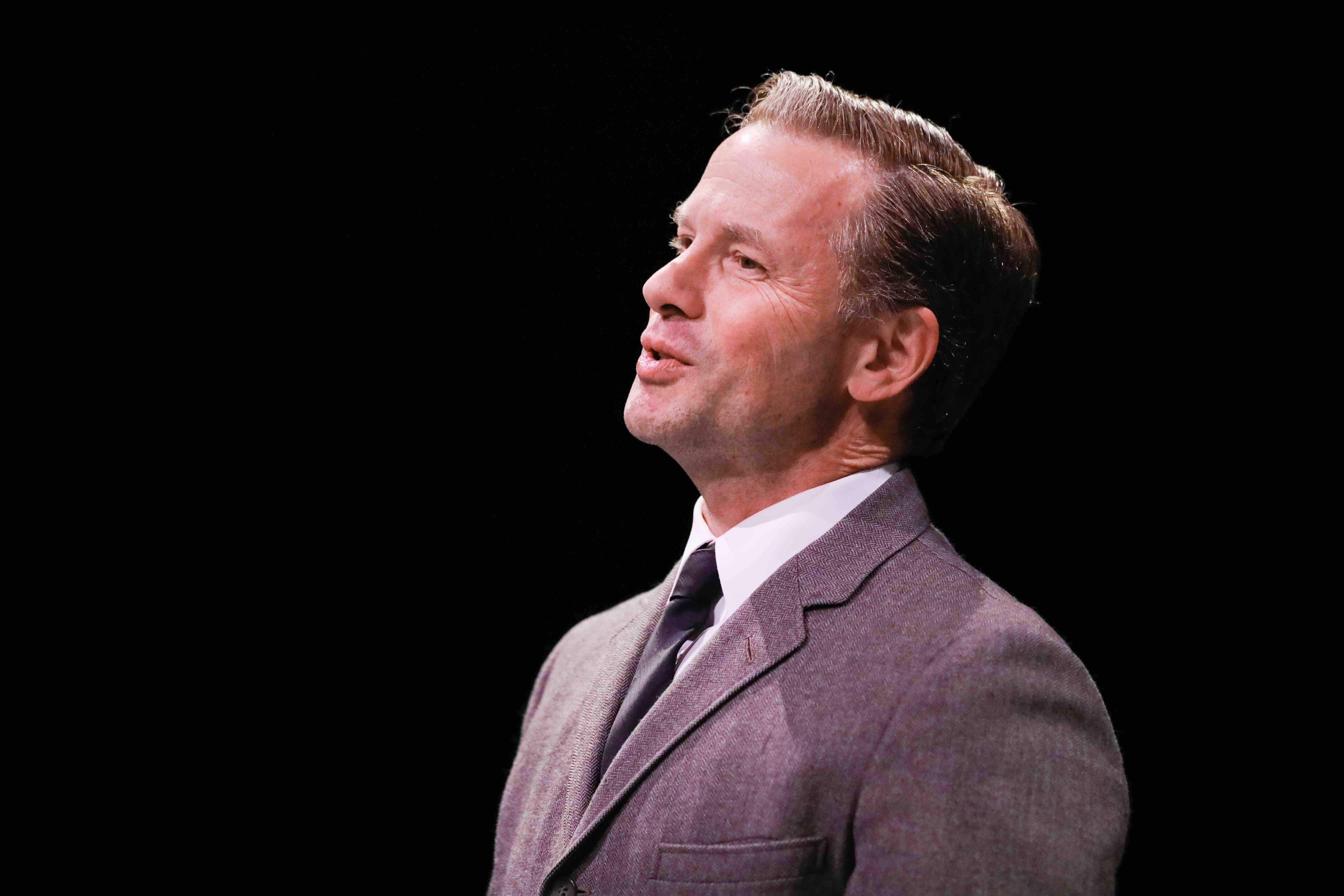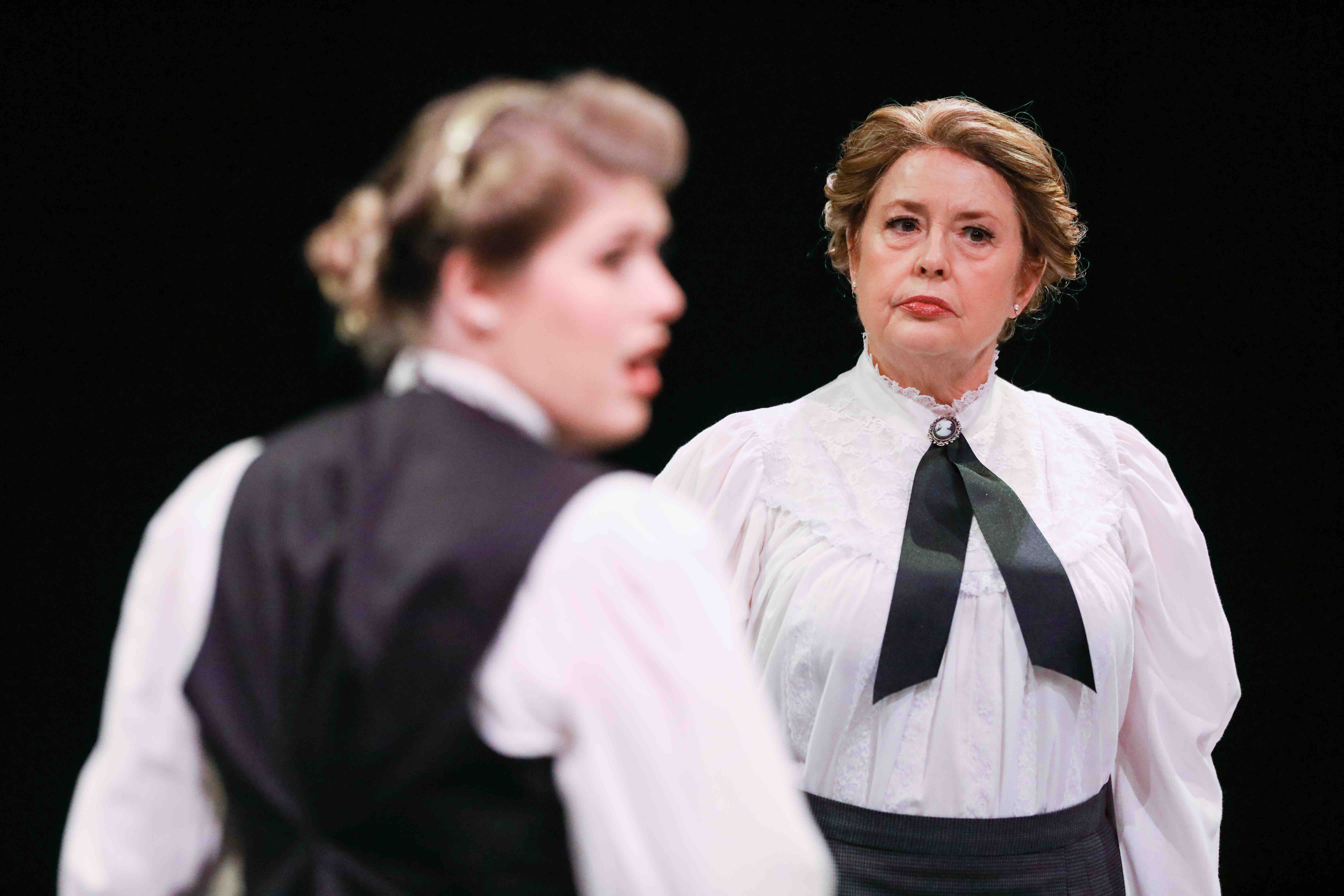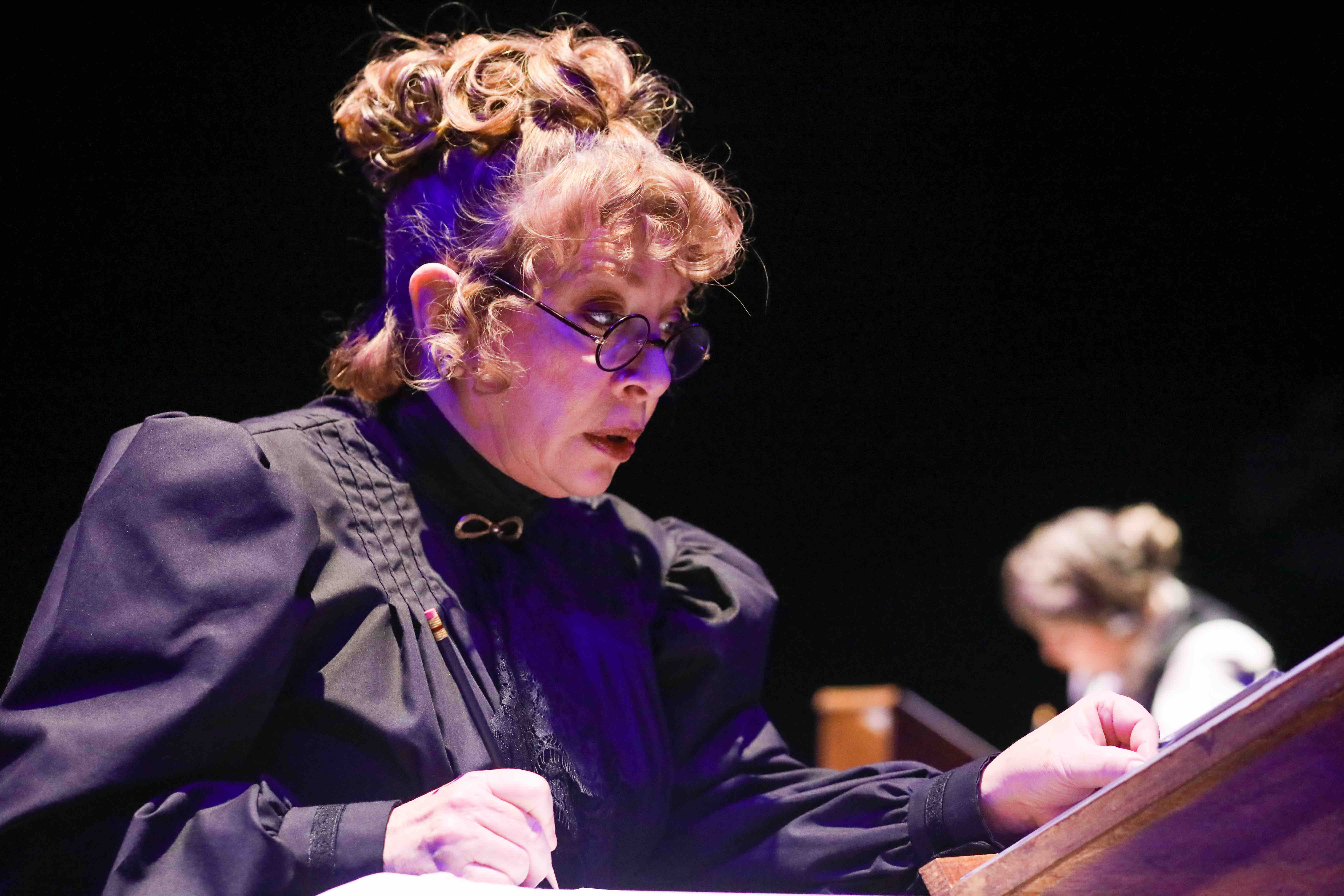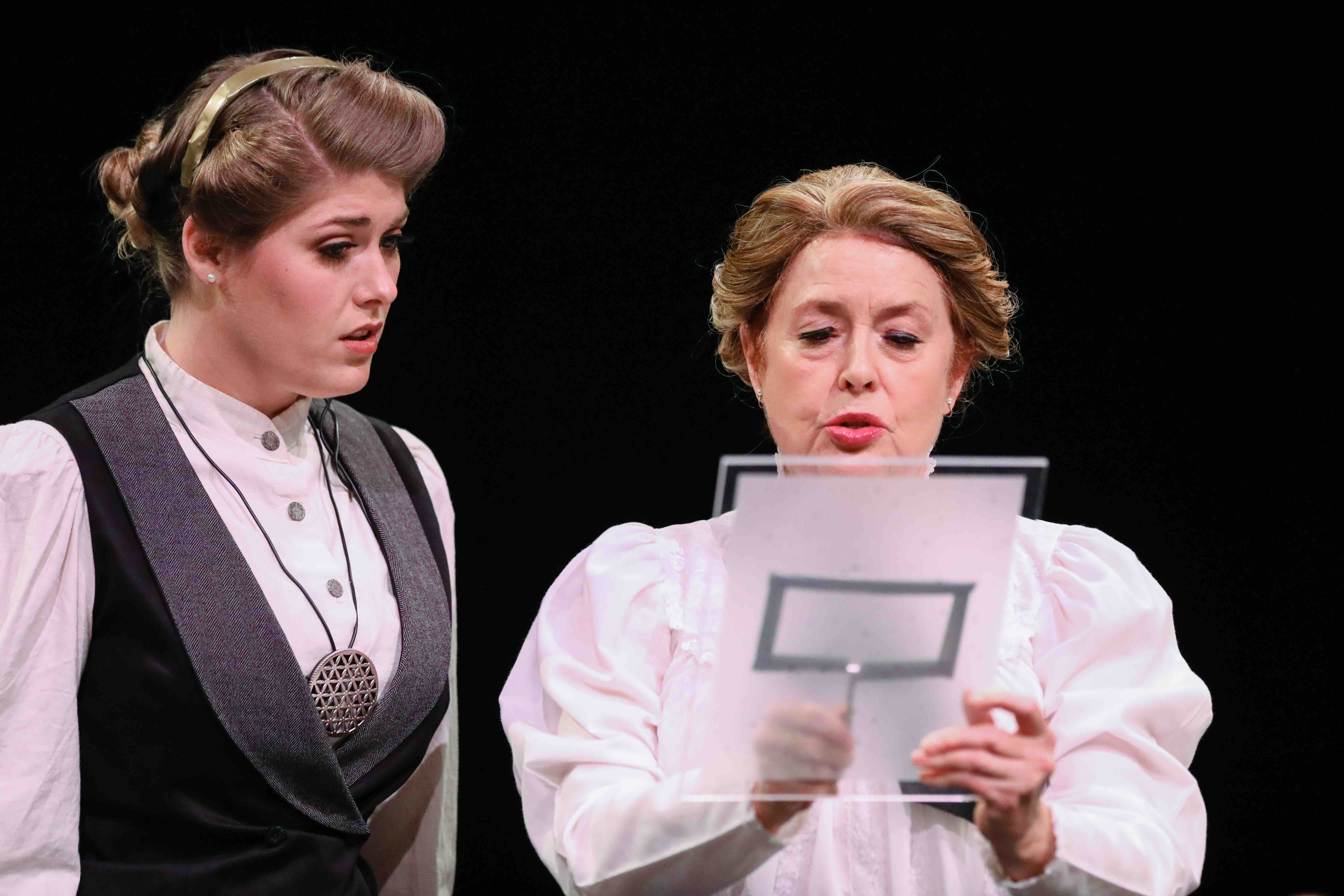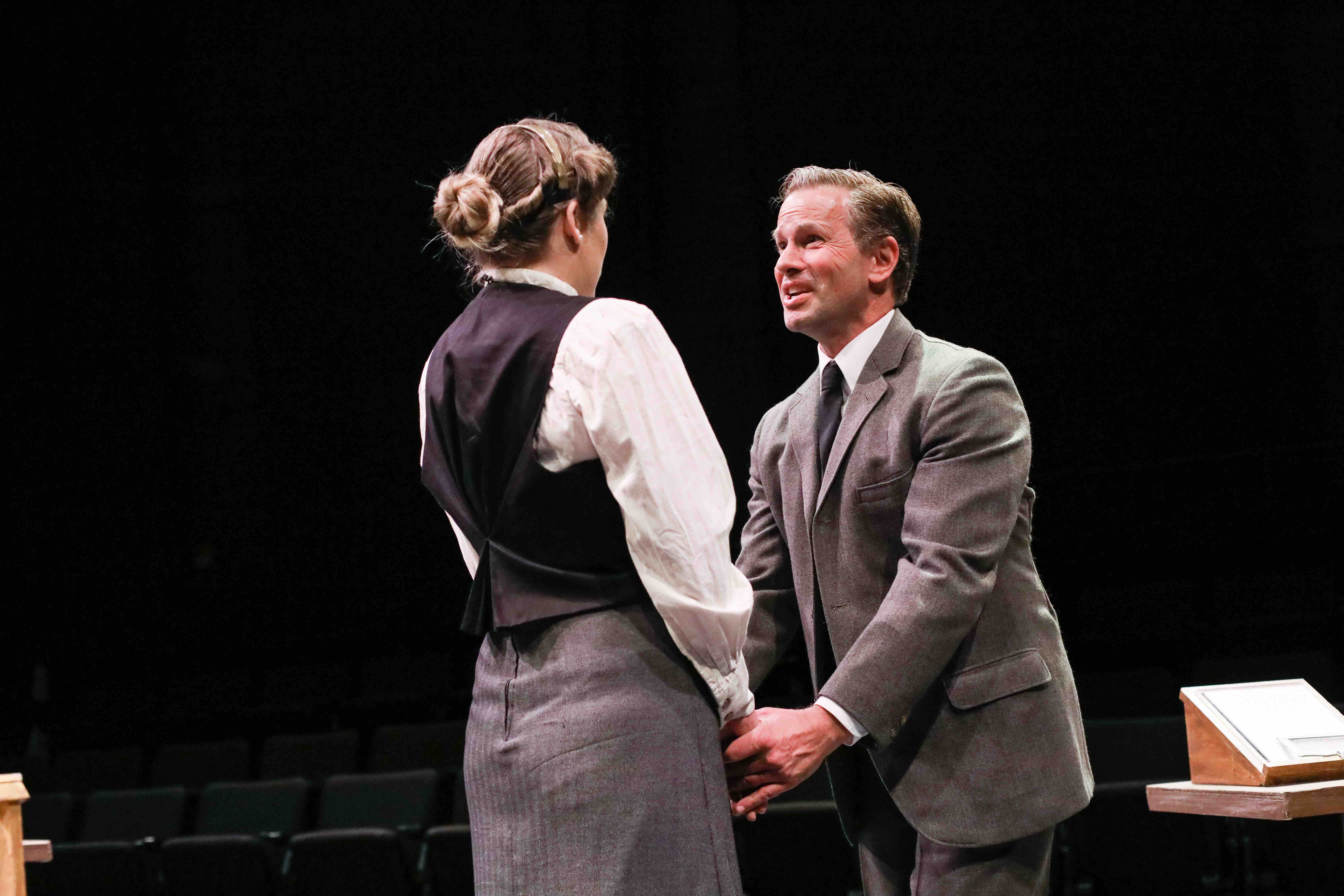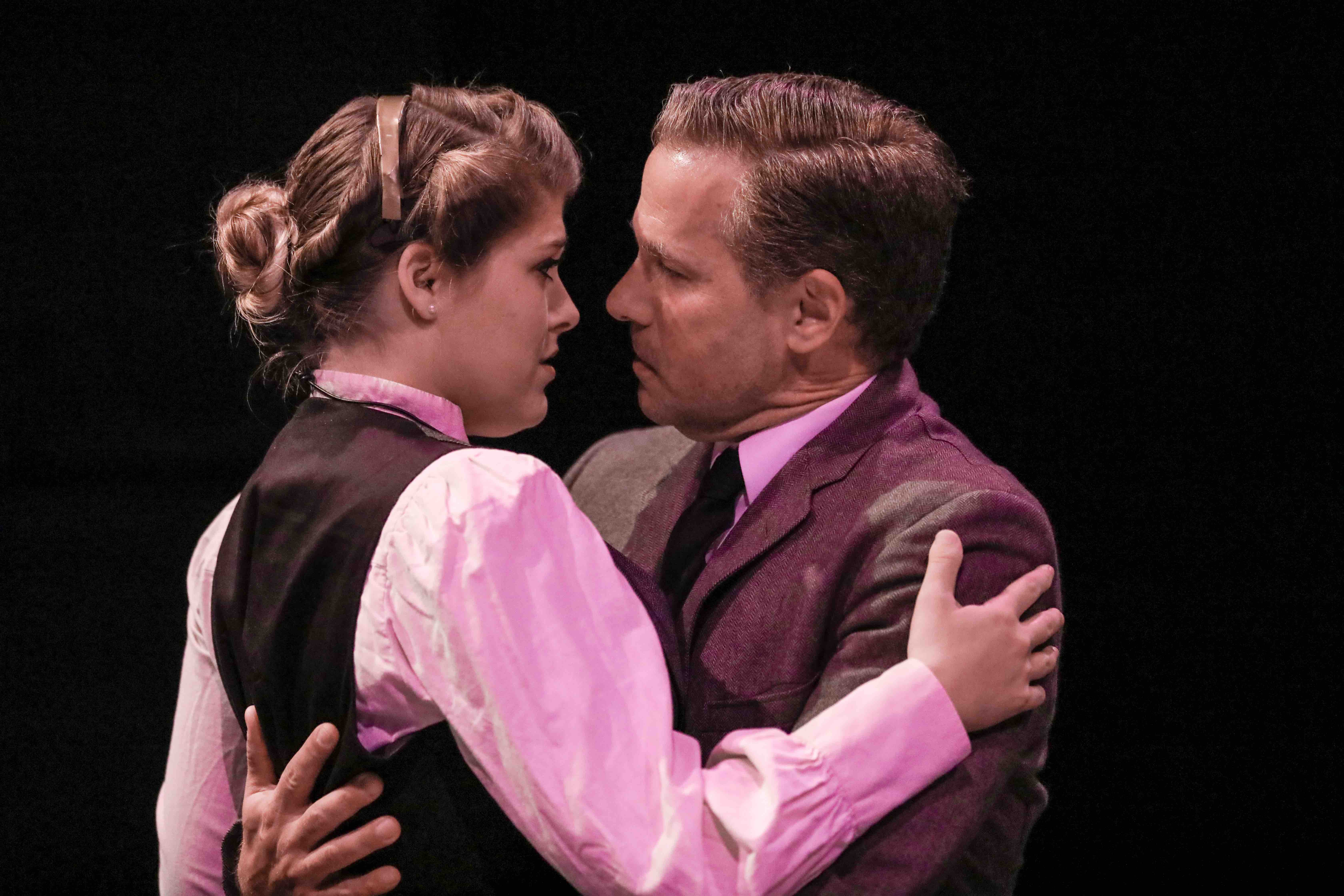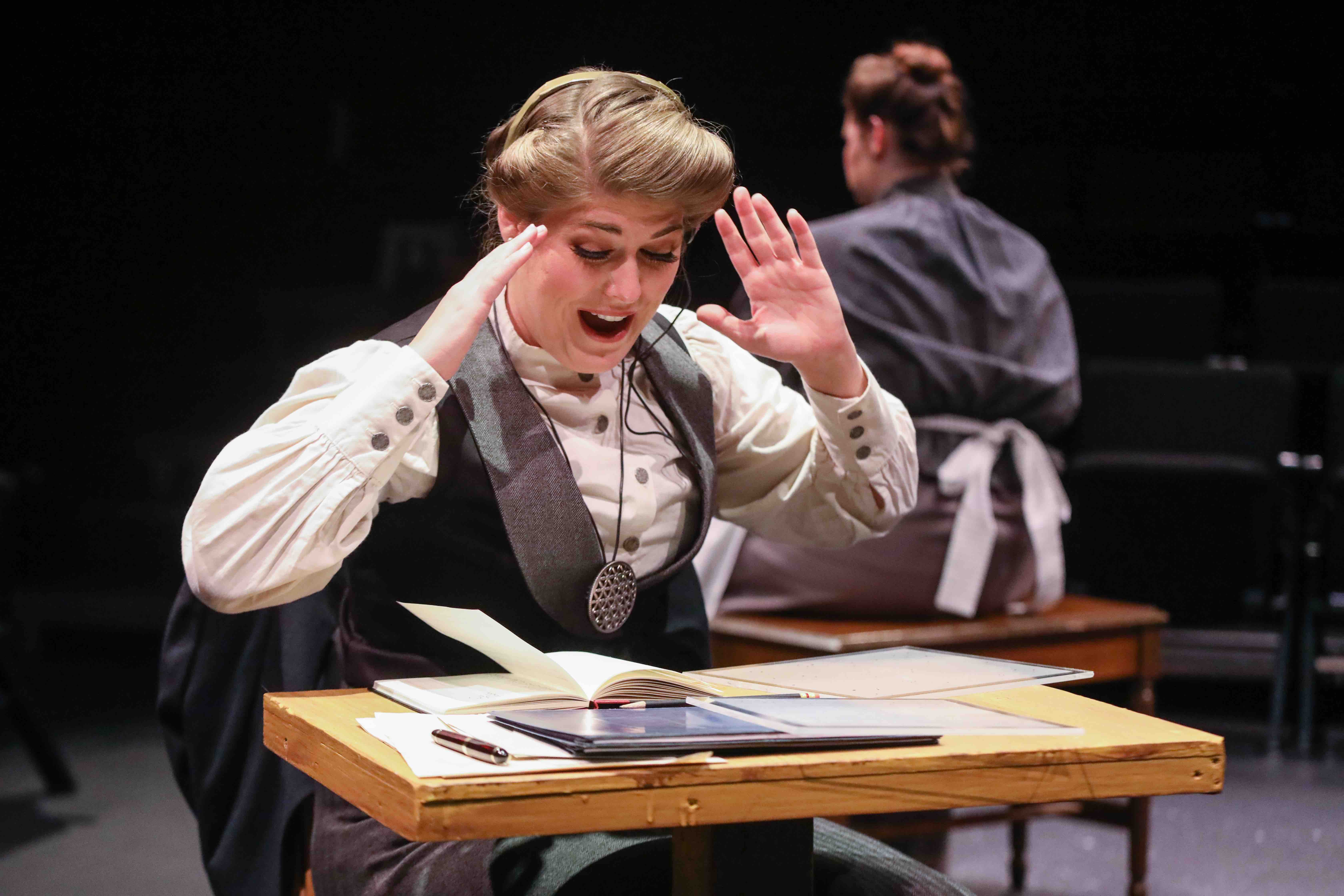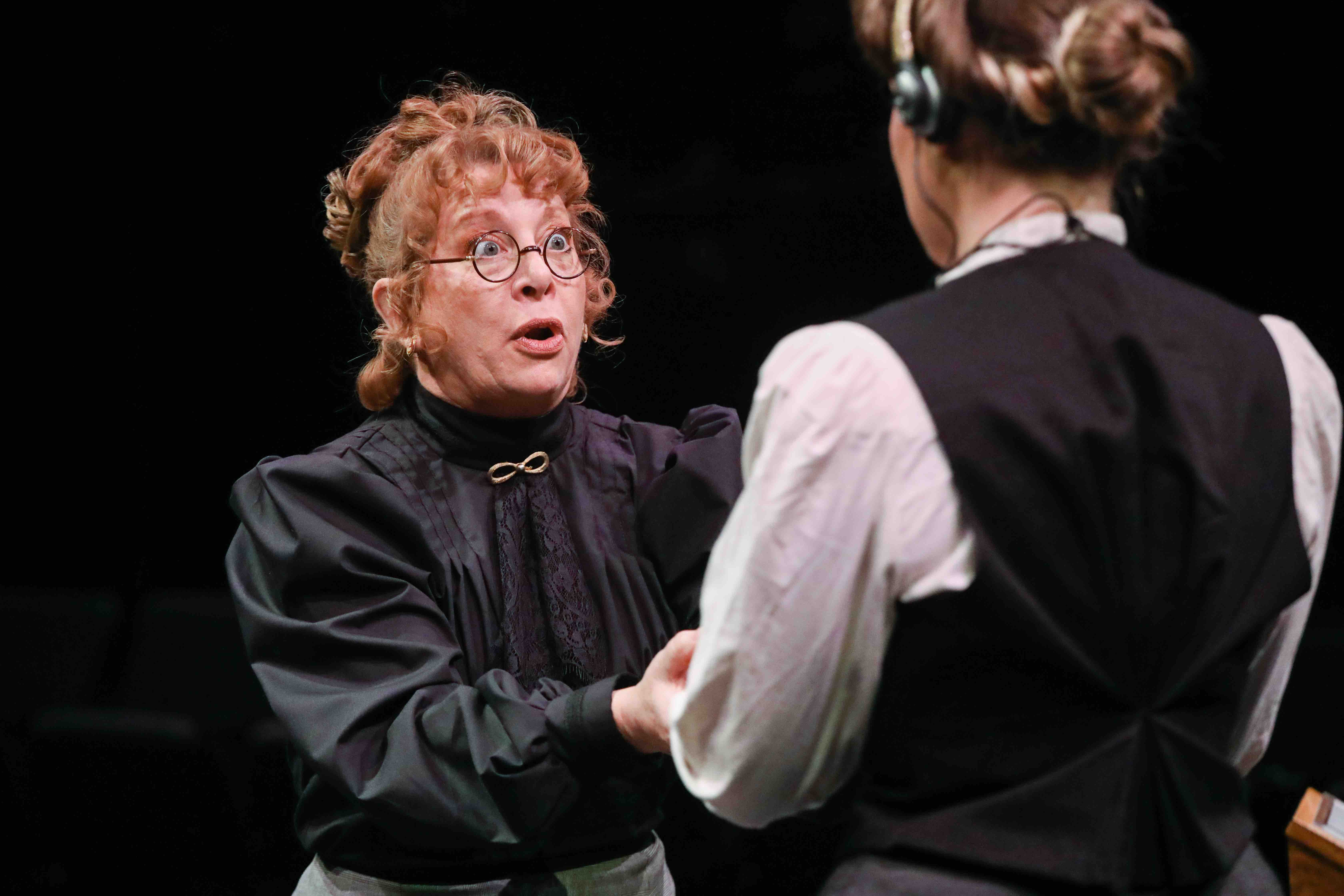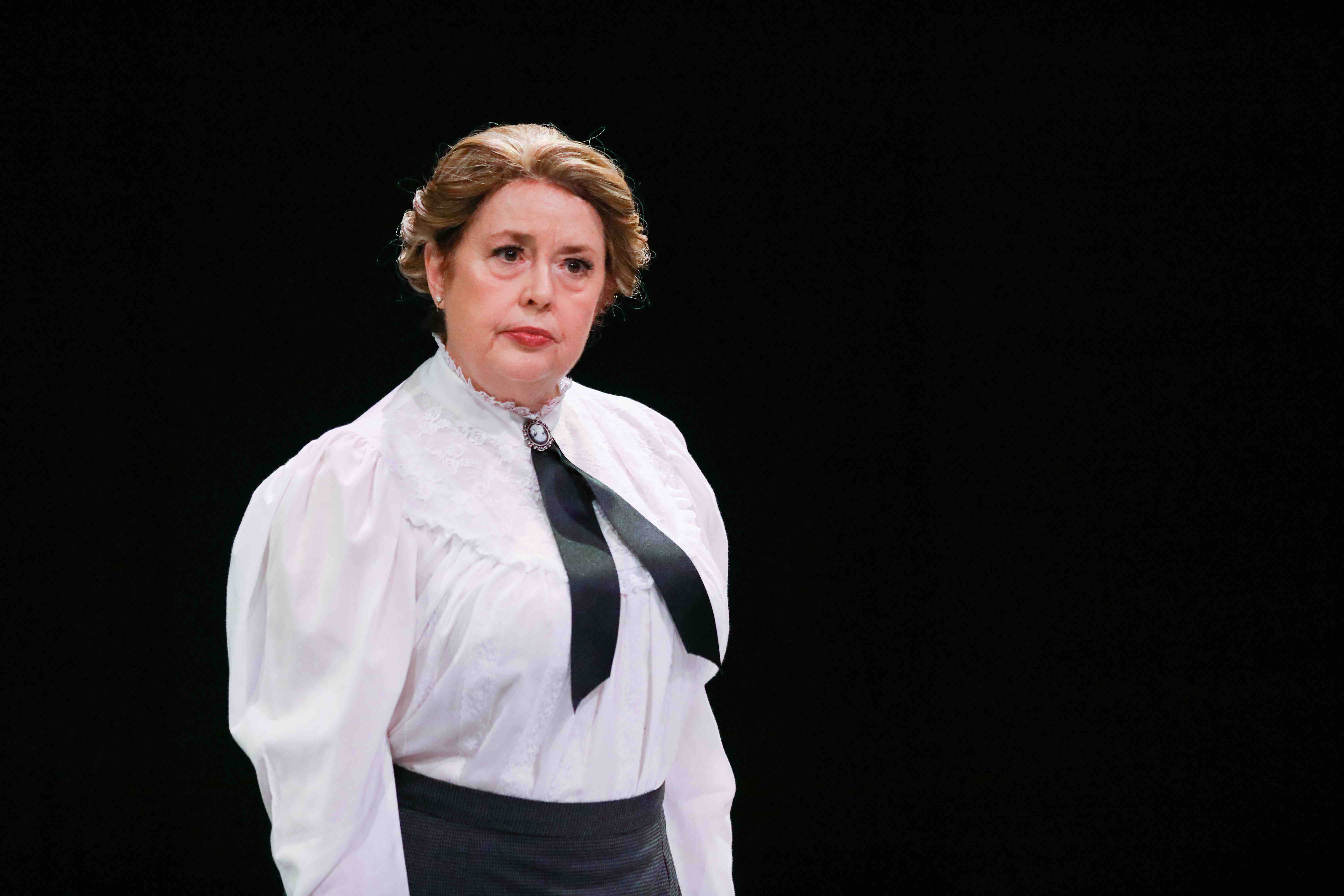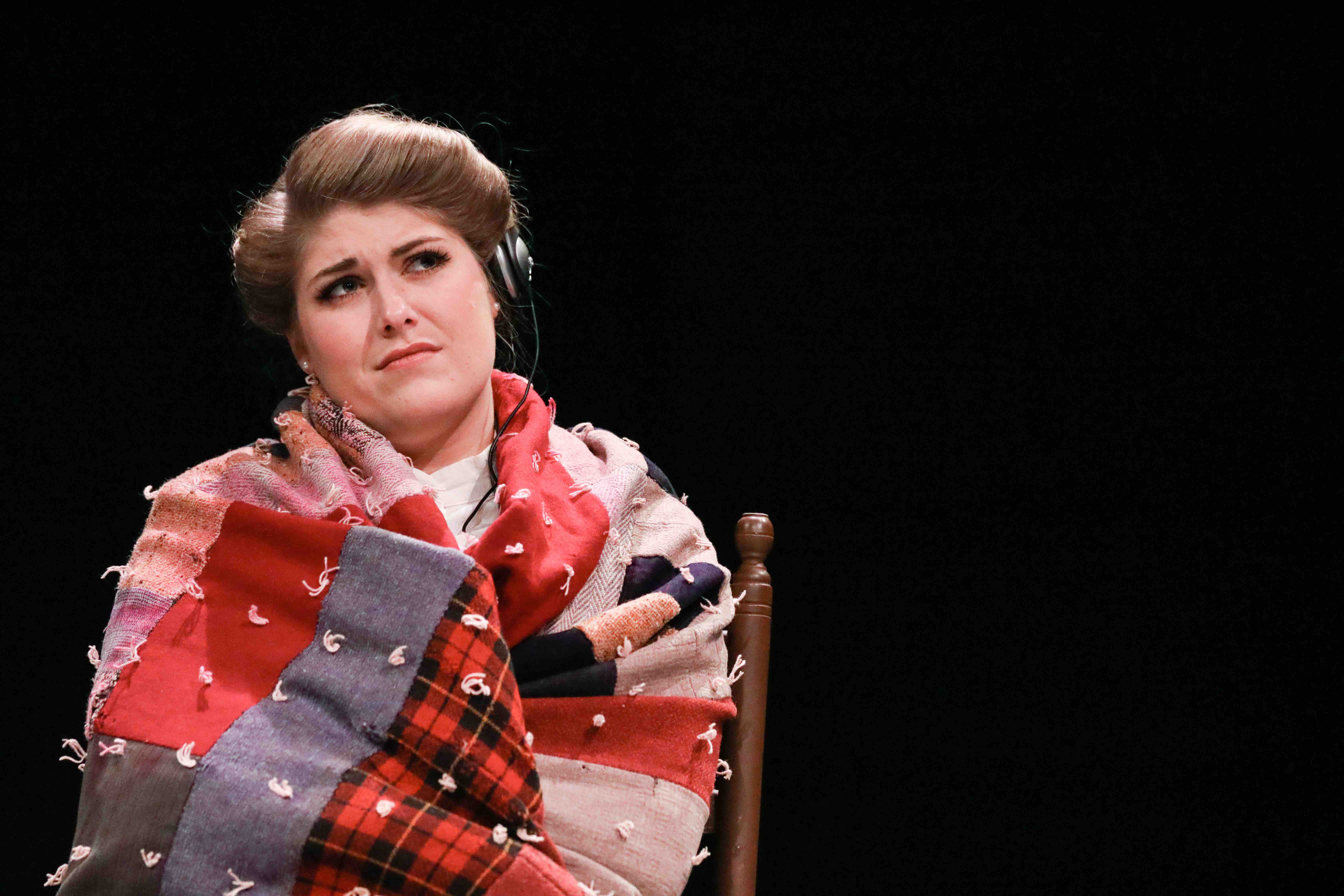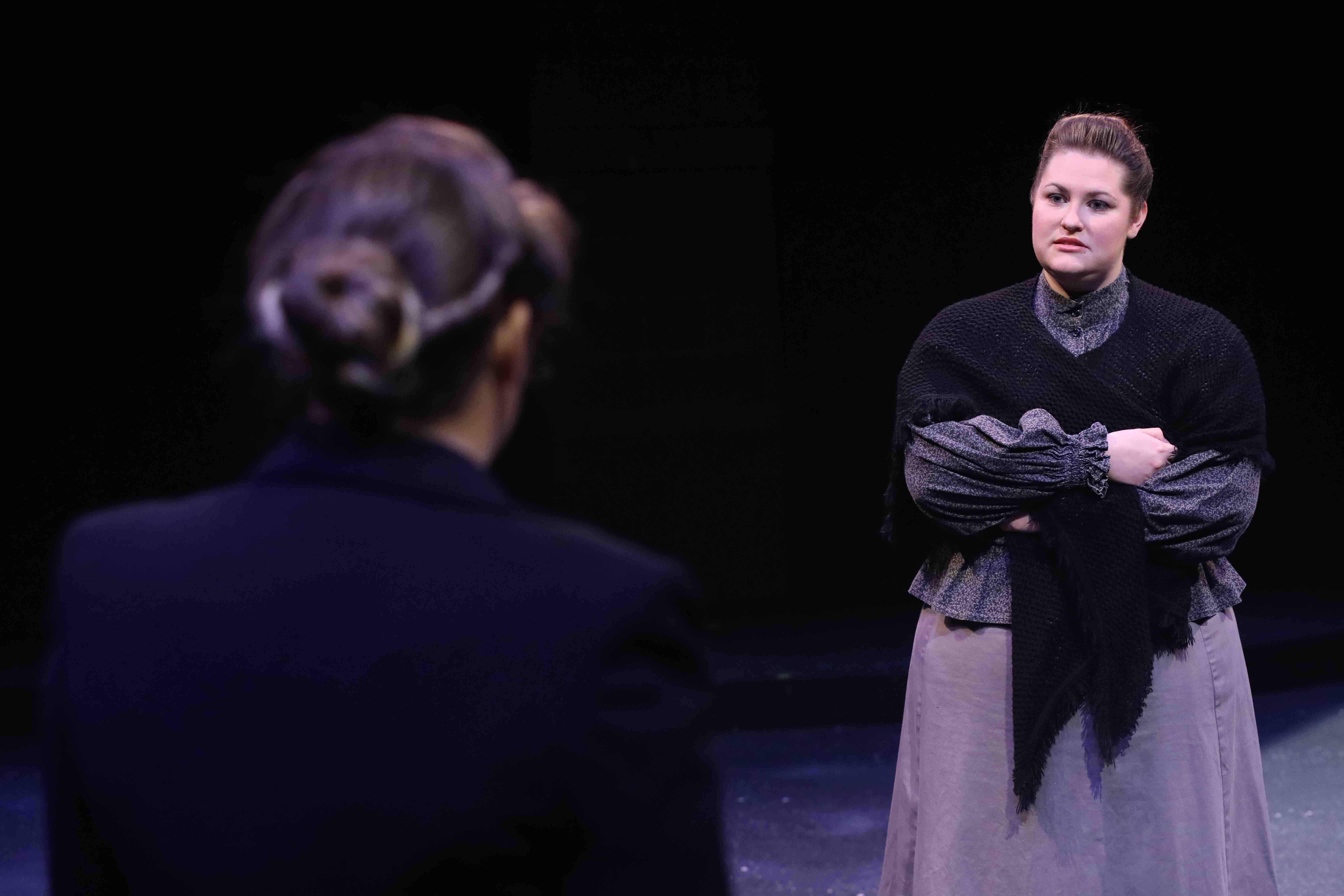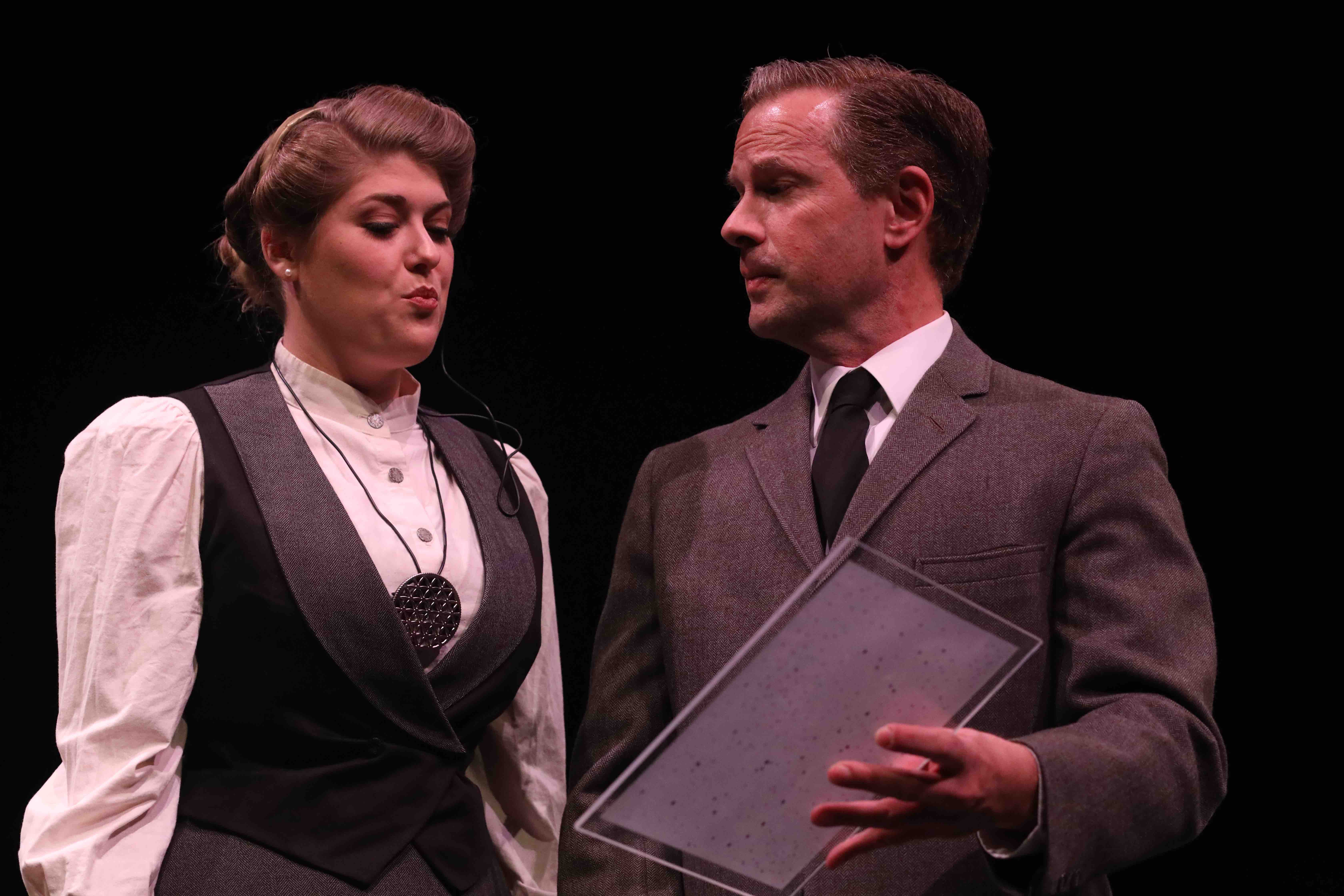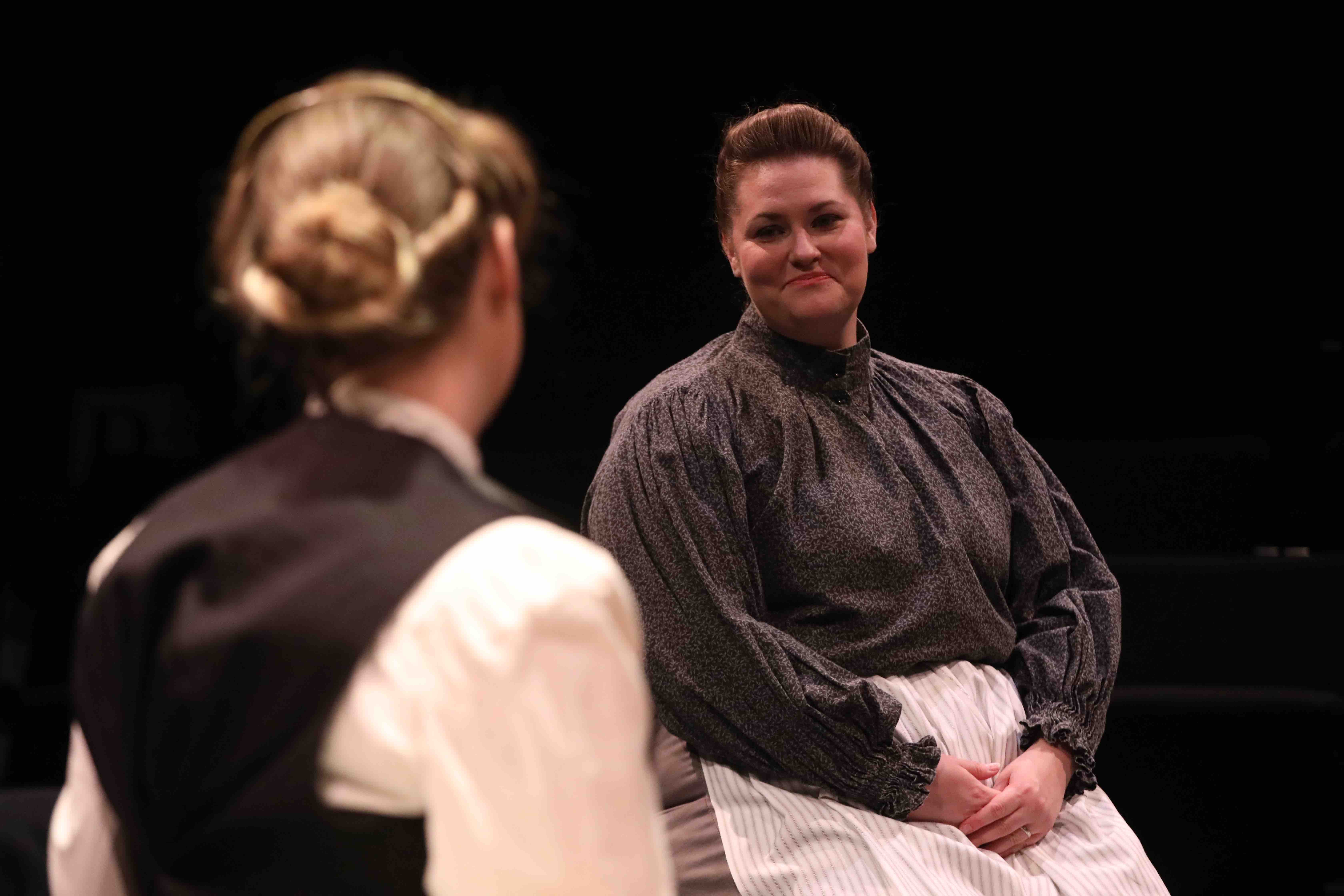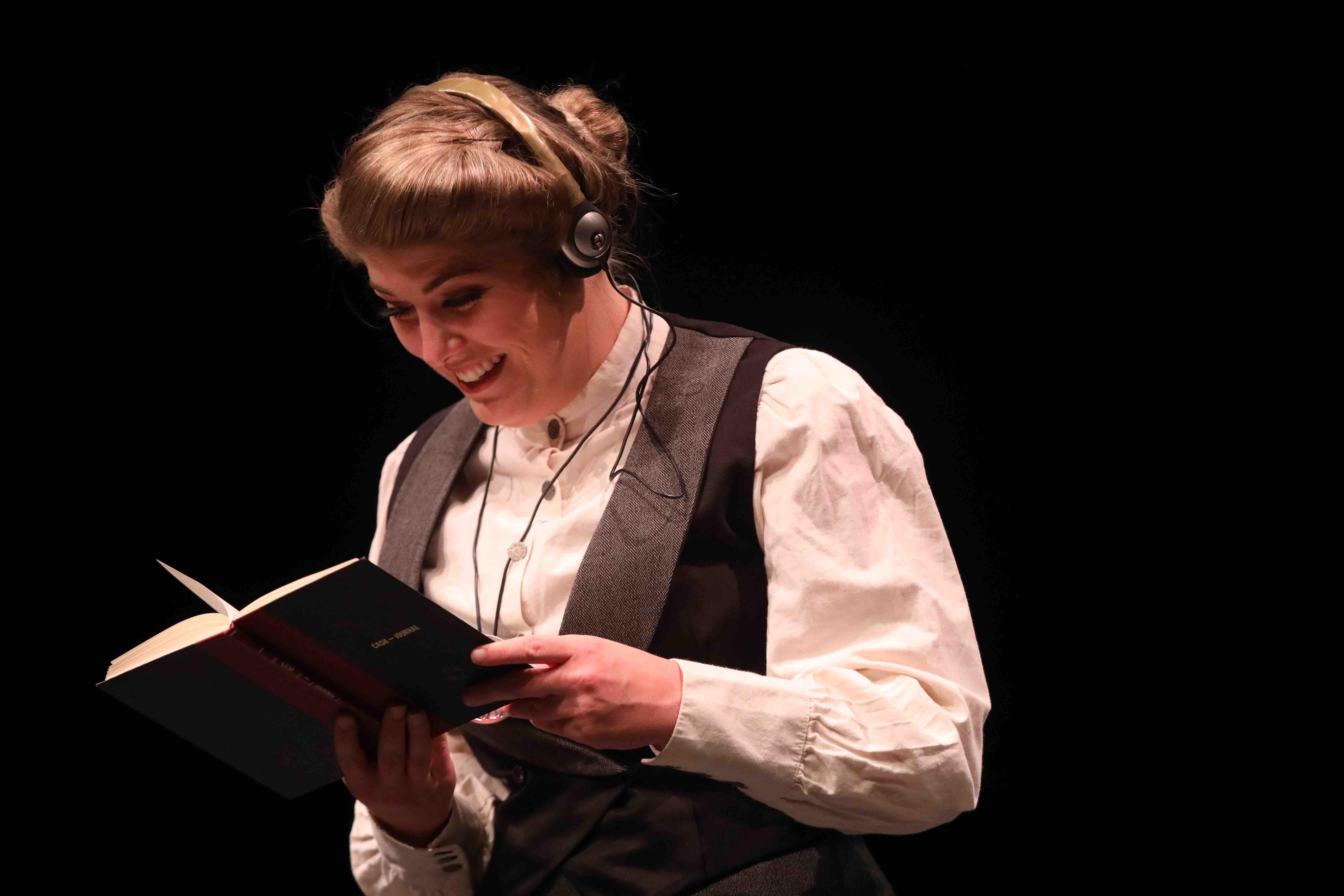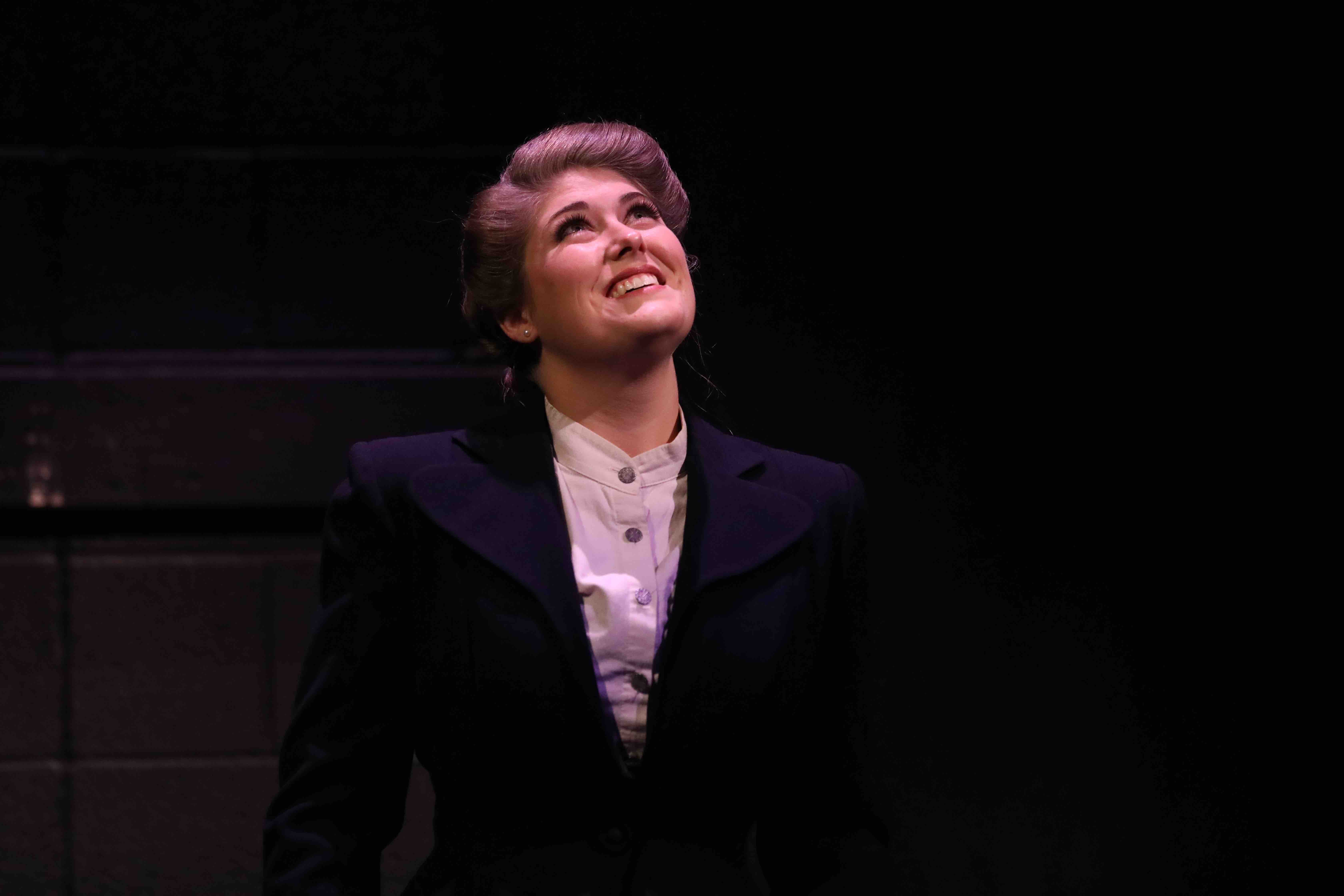 October 19 – November 4, 2018
Sunflower Financial Theatre
---
Silent Sky
By Lauren Gunderson
WOMEN'S WORK TAKES US TO THE STARS!
When the brilliant Henrietta Leavitt goes to work for a renowned astronomer at Harvard, she is given "women's work" in his project. But, it is she and her female co-workers who made discoveries that advance that science even into the 21st century.
Sponsored by COLDWELL BANKER and KCOE ISOM
Henrietta Leavitt: Zoe Rea
Margaret Leavitt: Ellen Fixsen
Peter Shaw: Eric Cole
Annie Jump Cannon: Vicki Price
Williamina Fleming: Vickee Spicer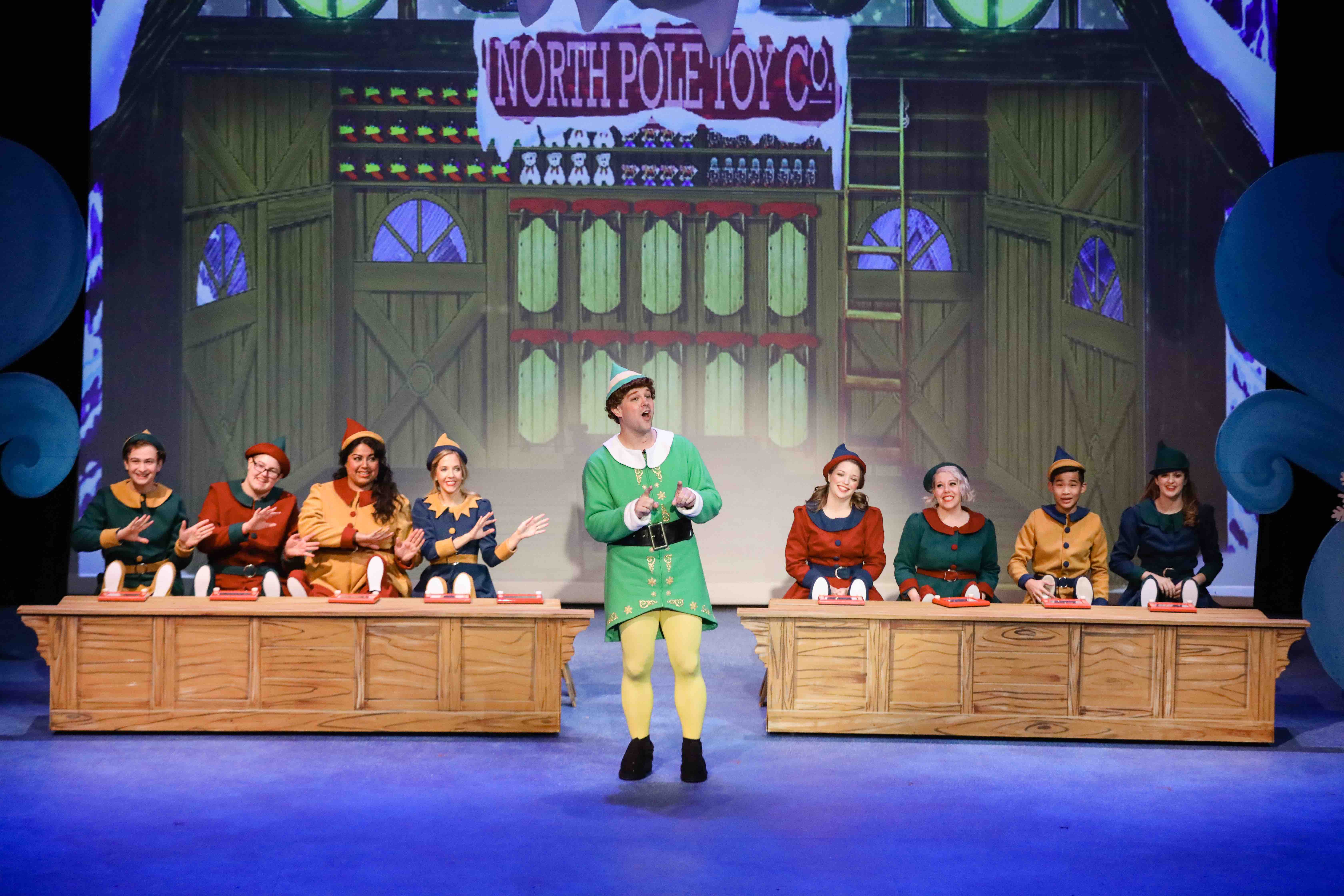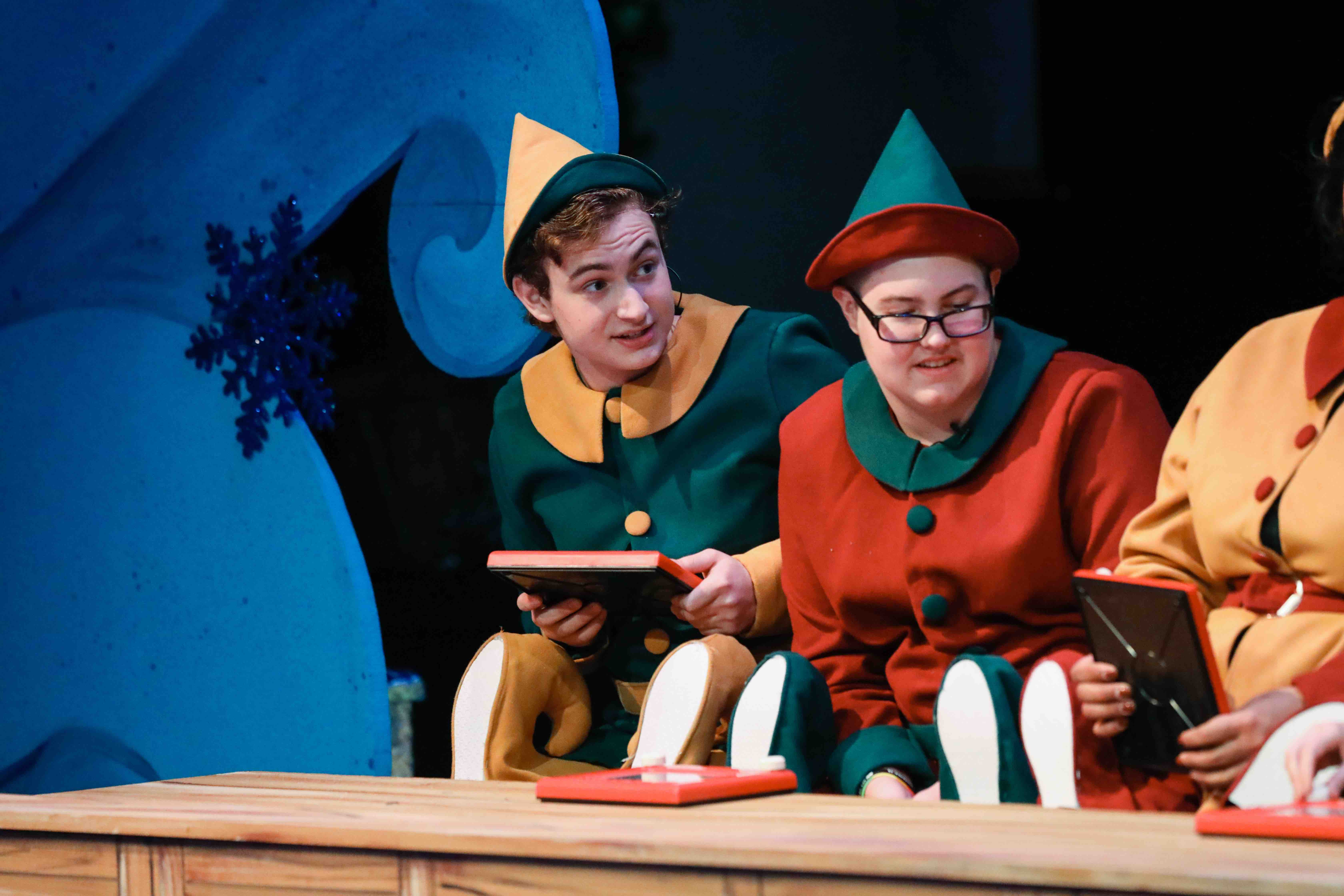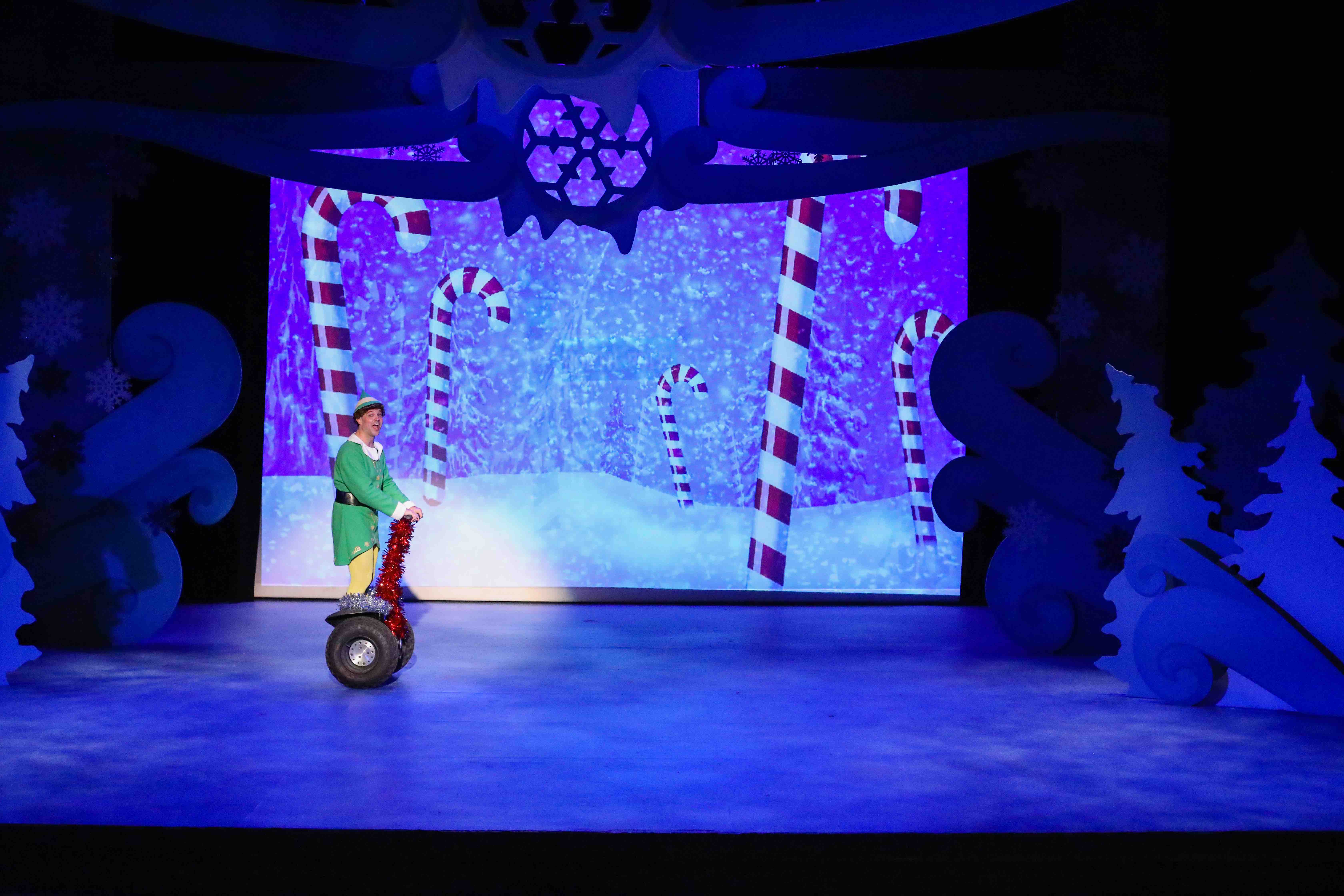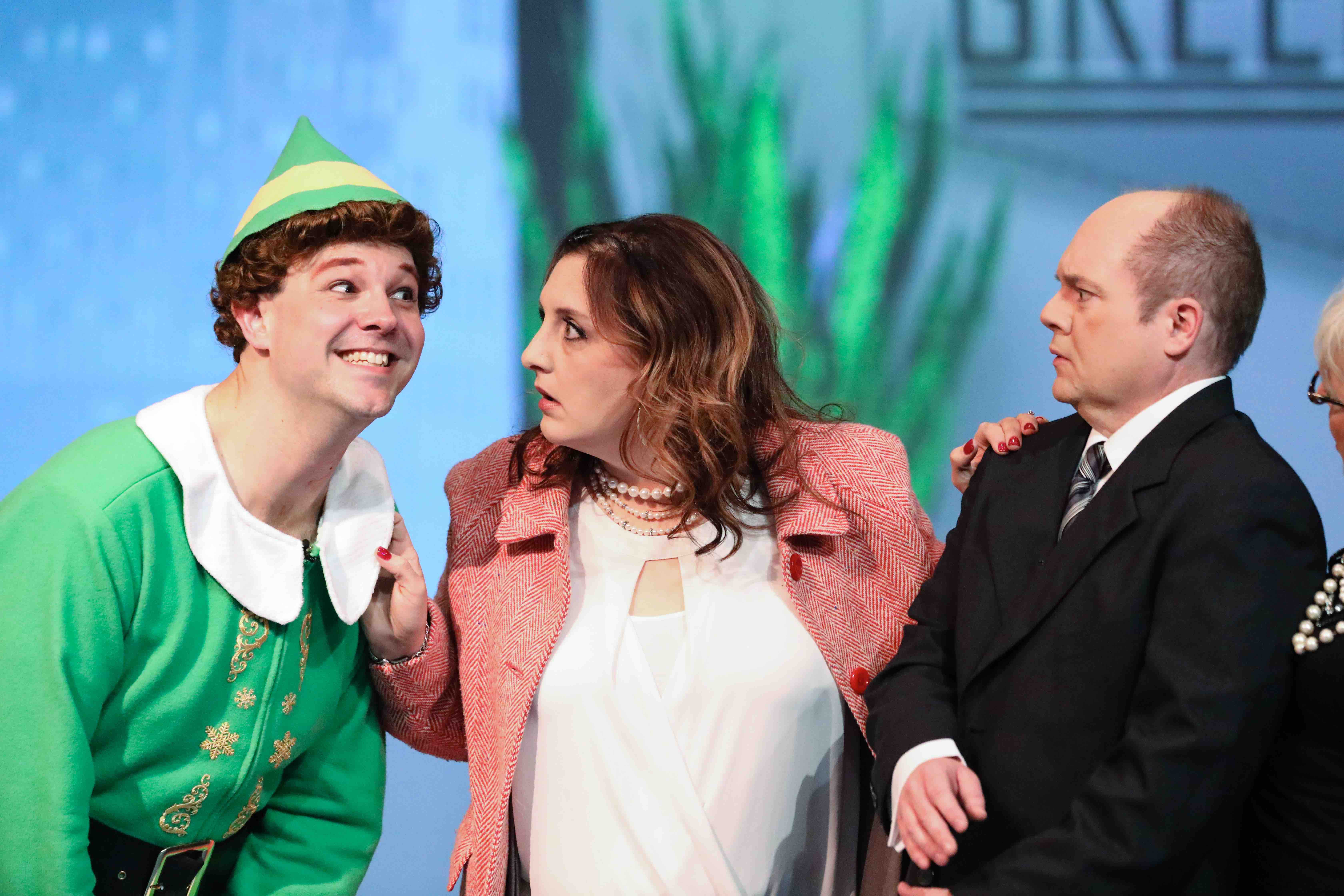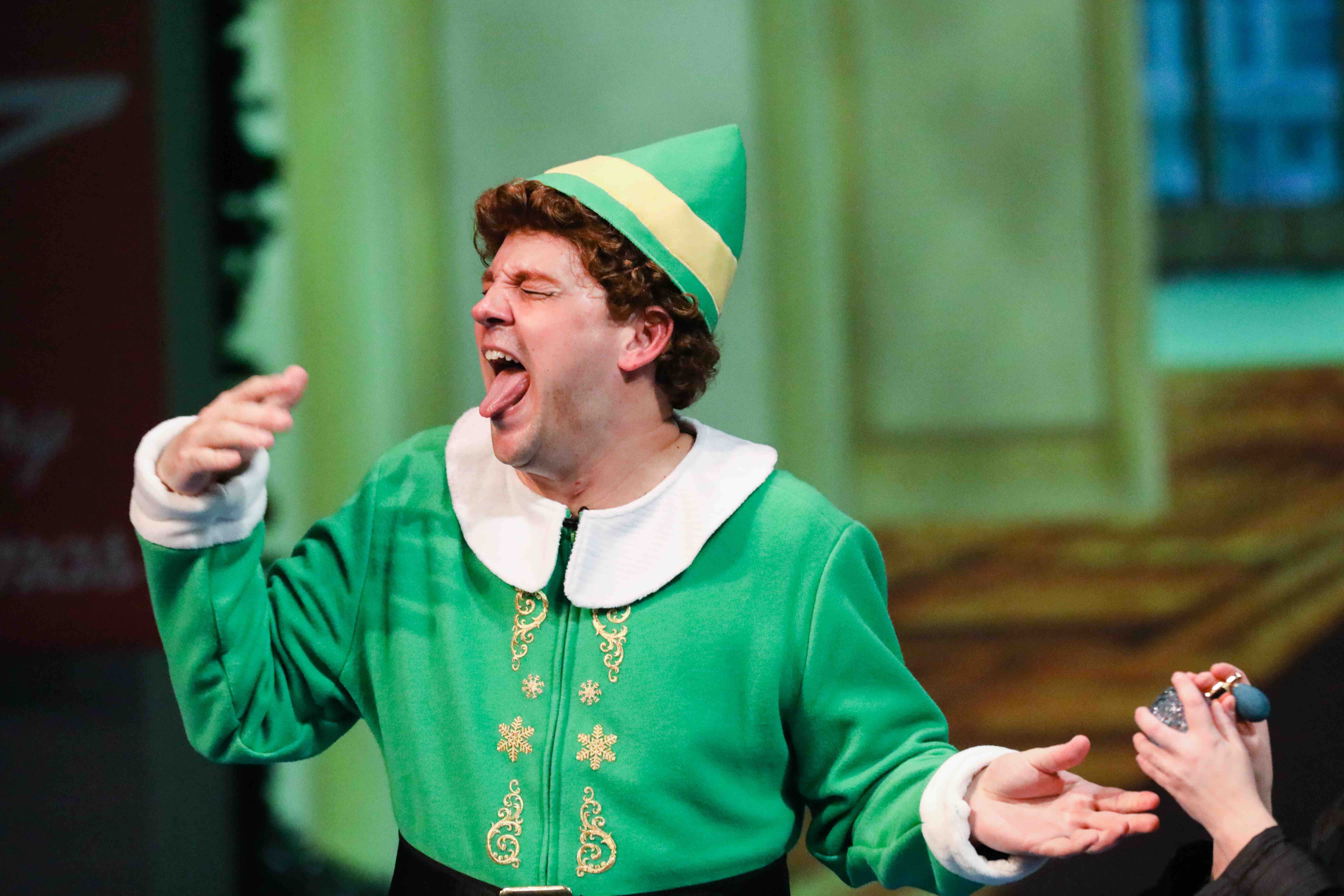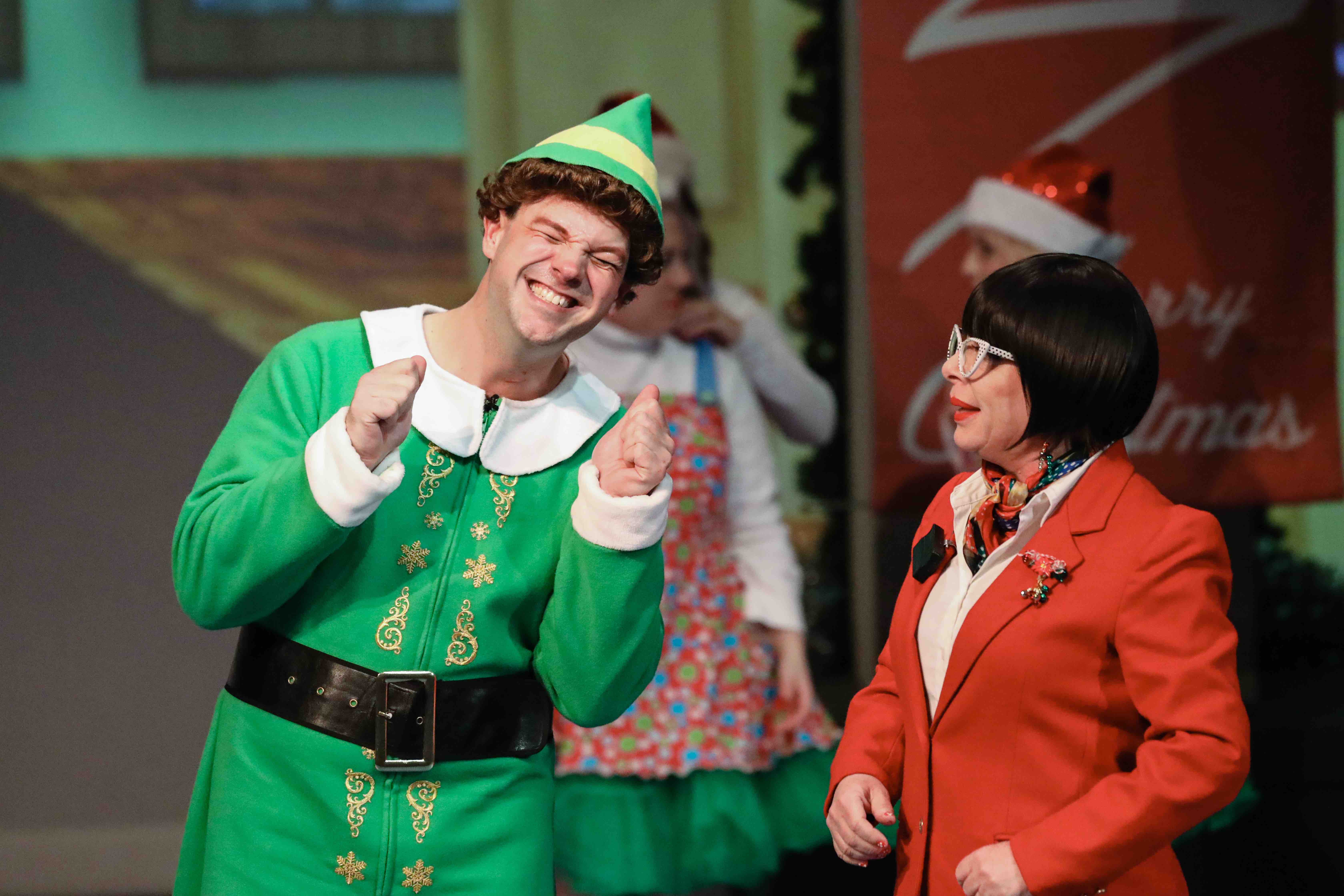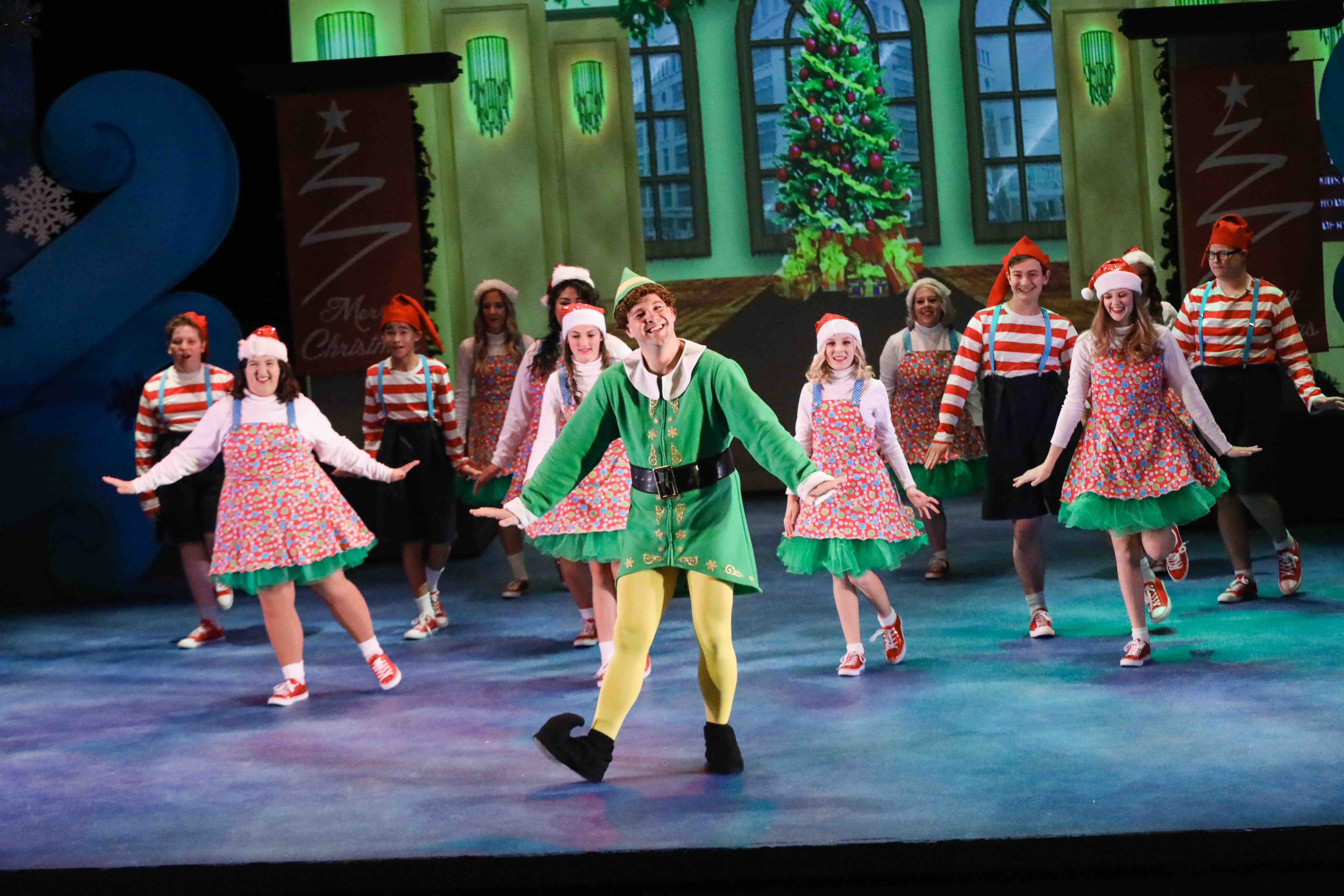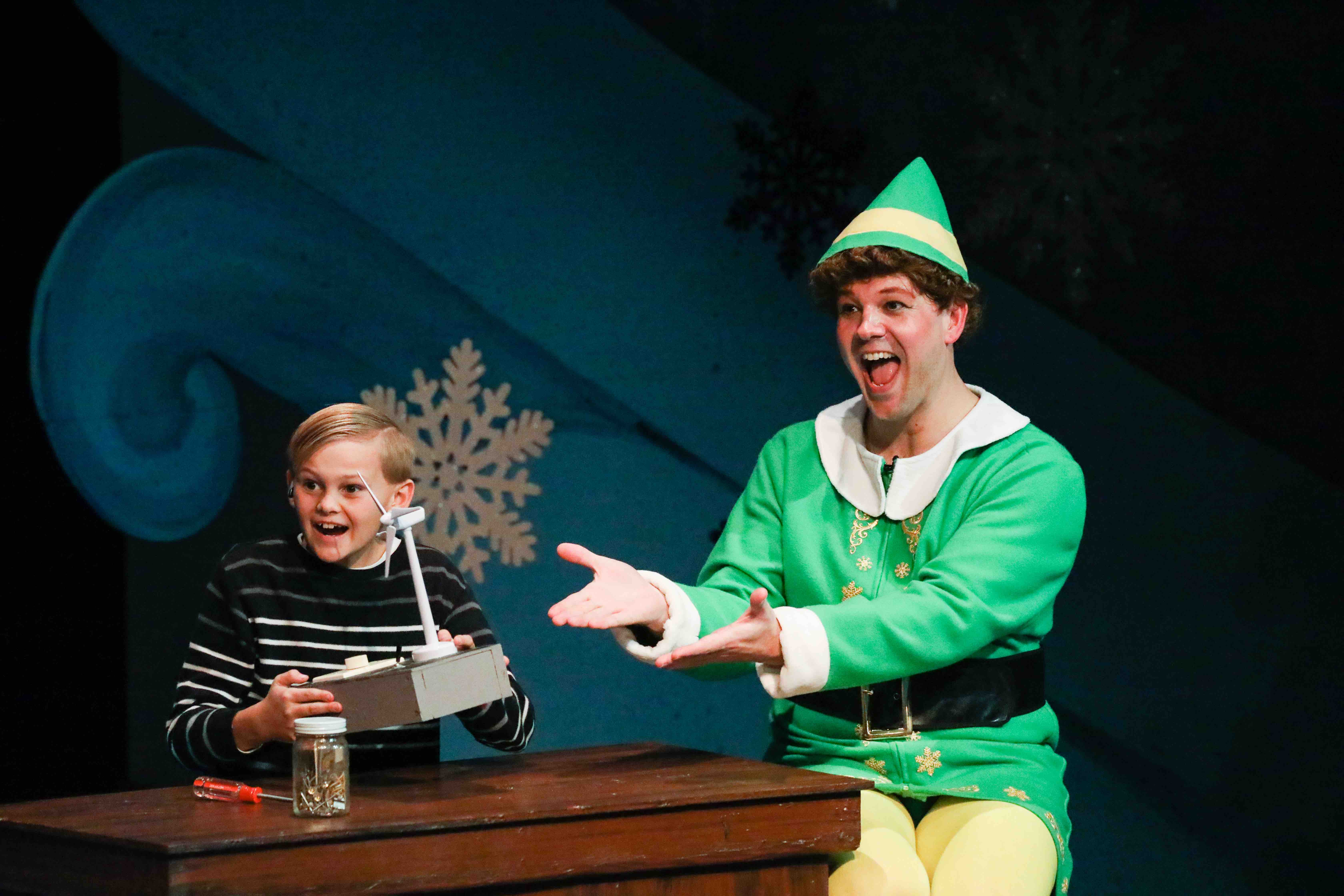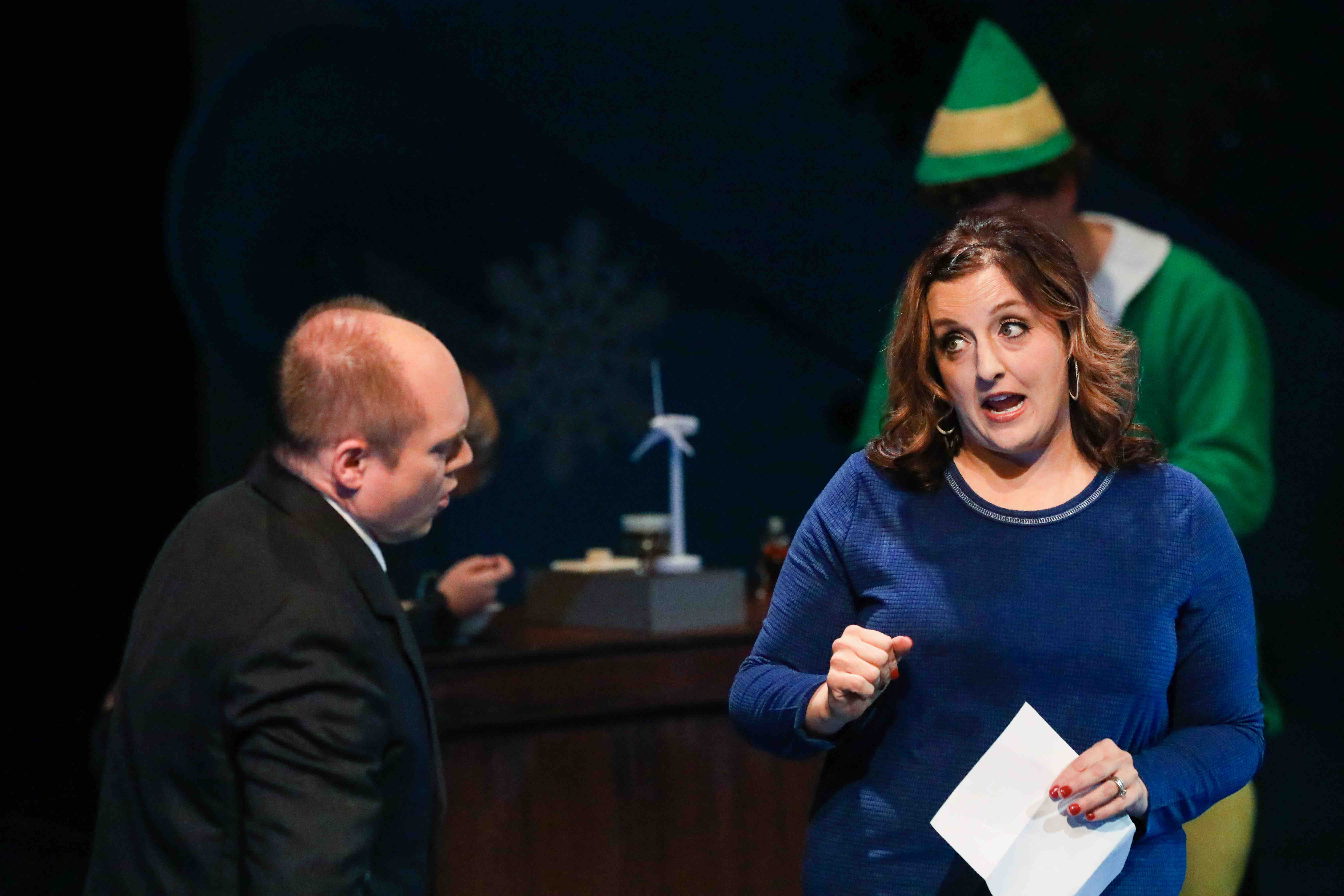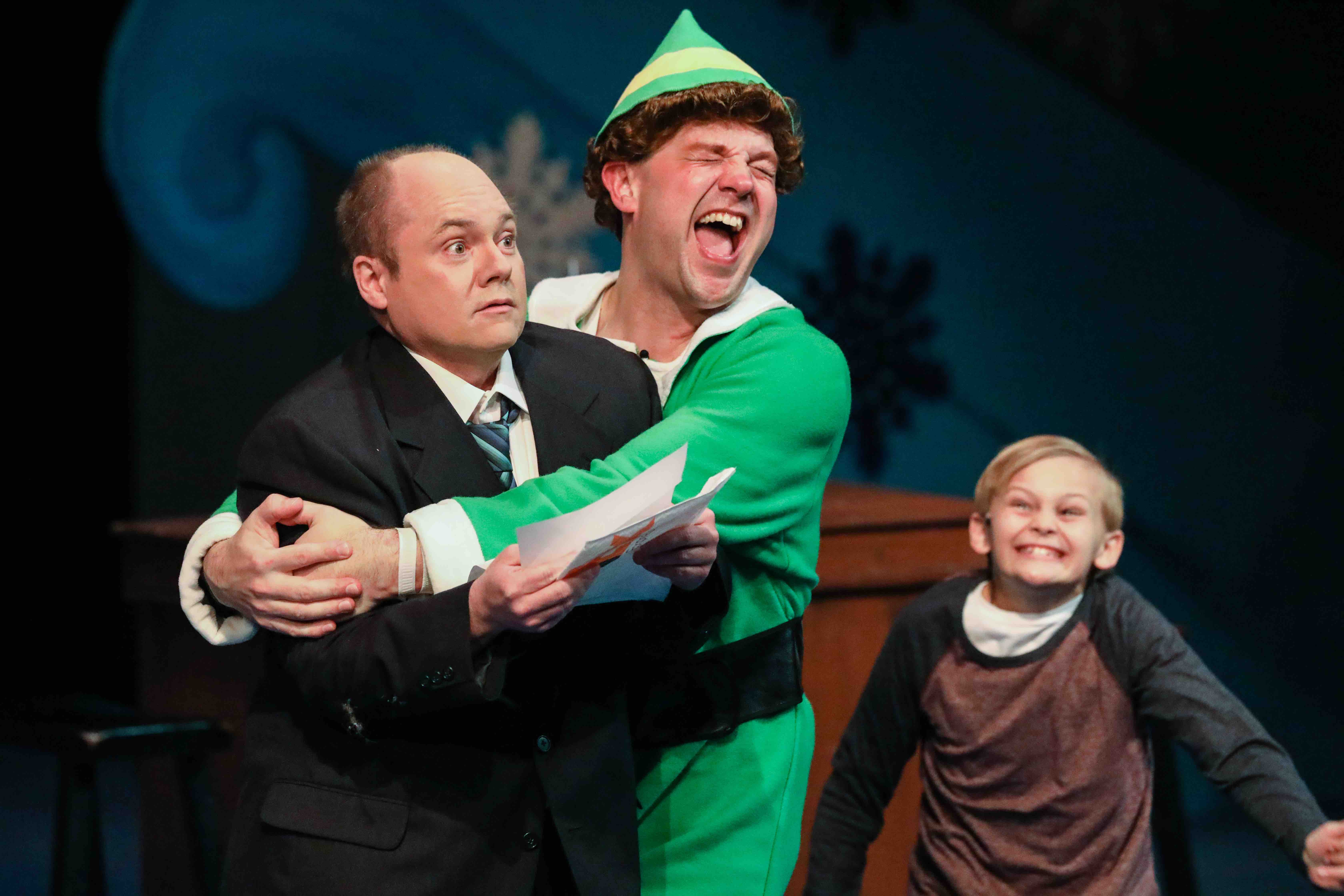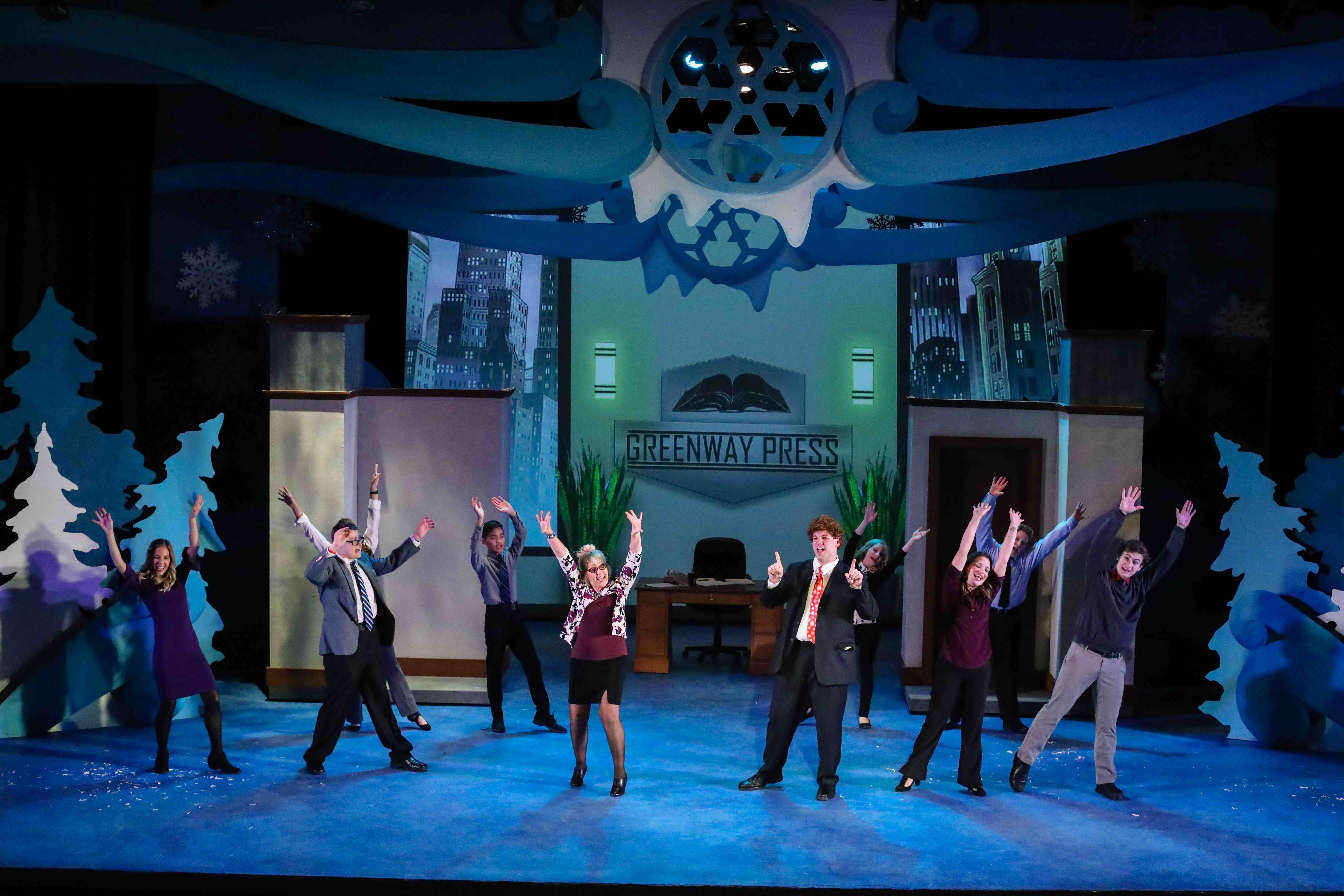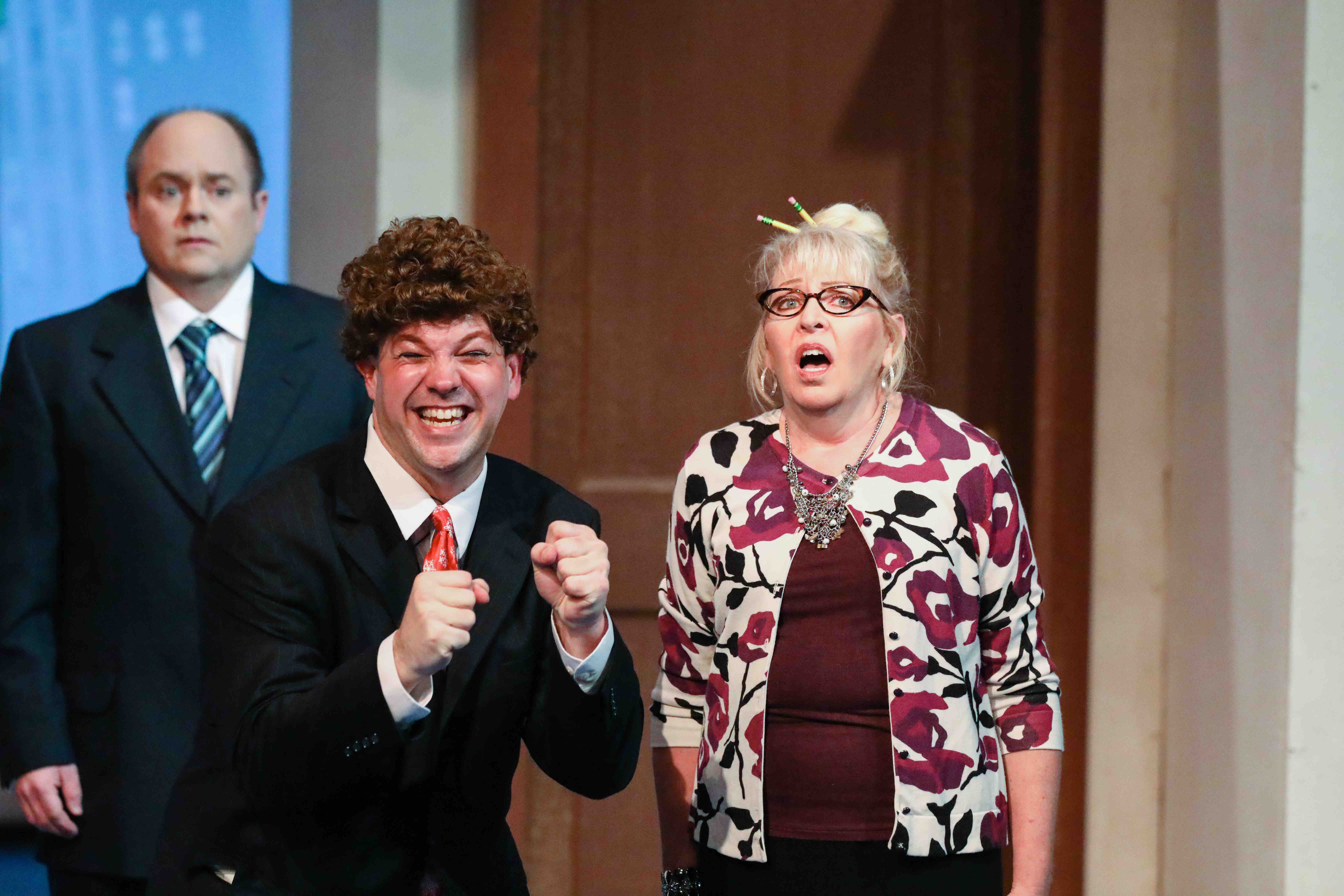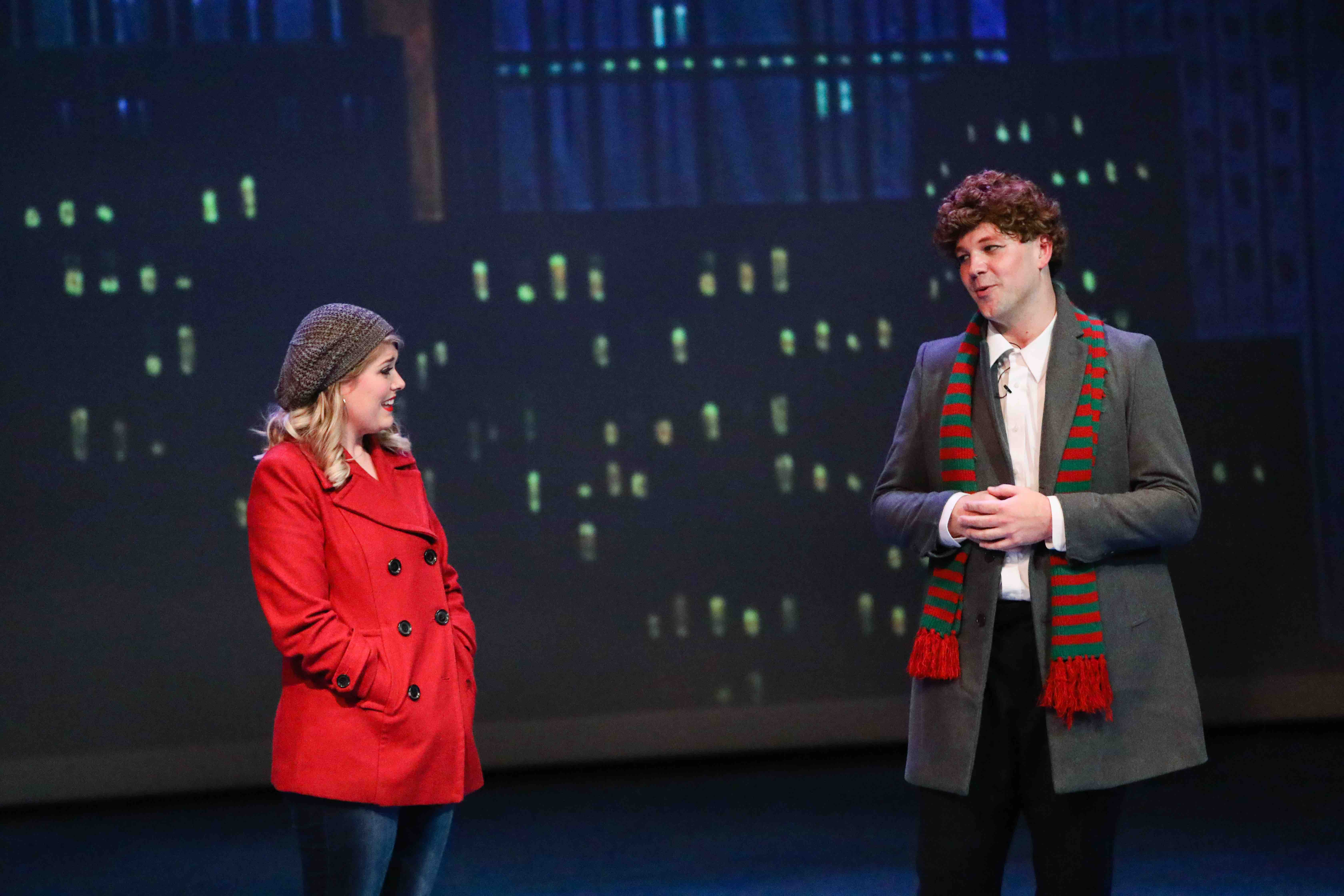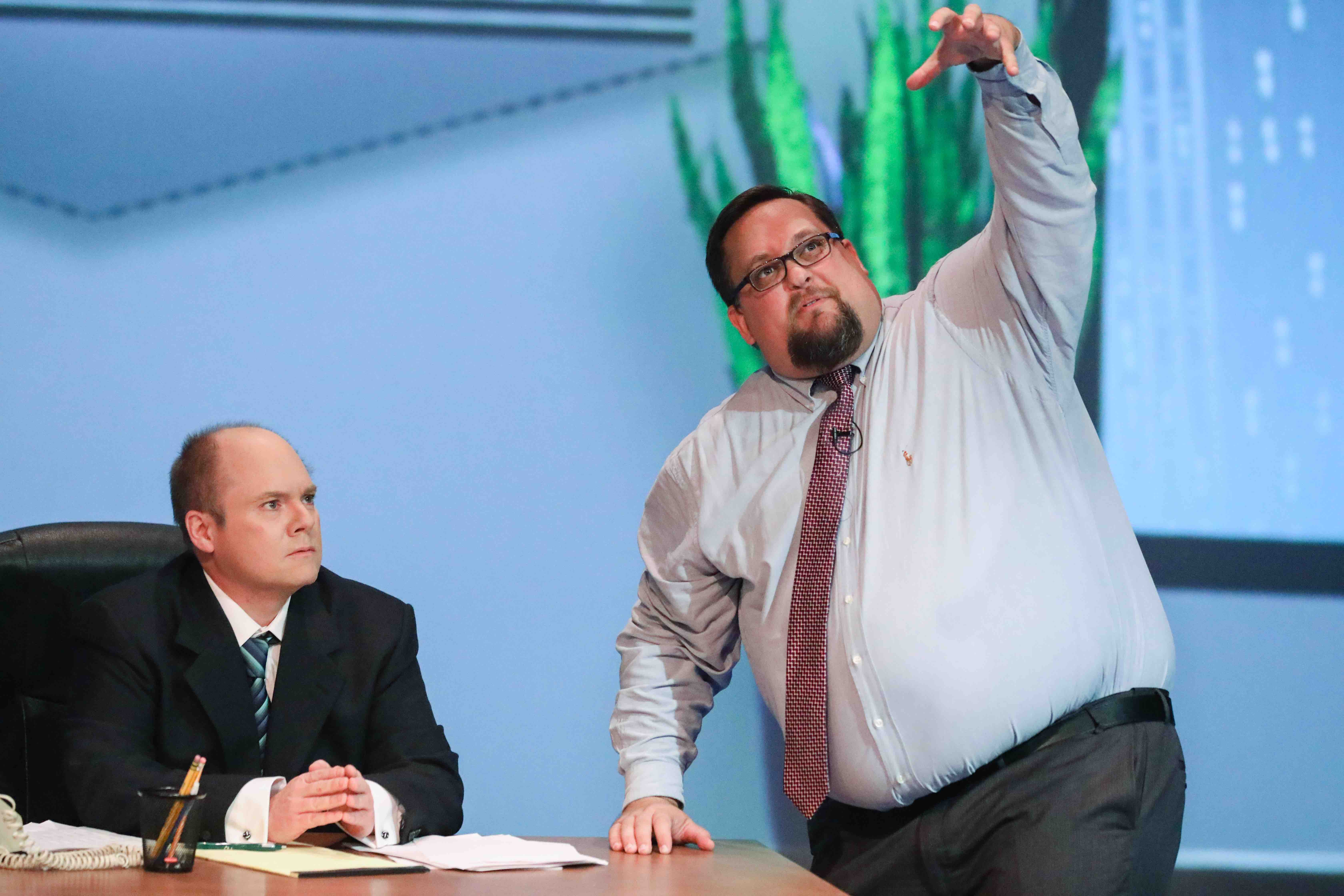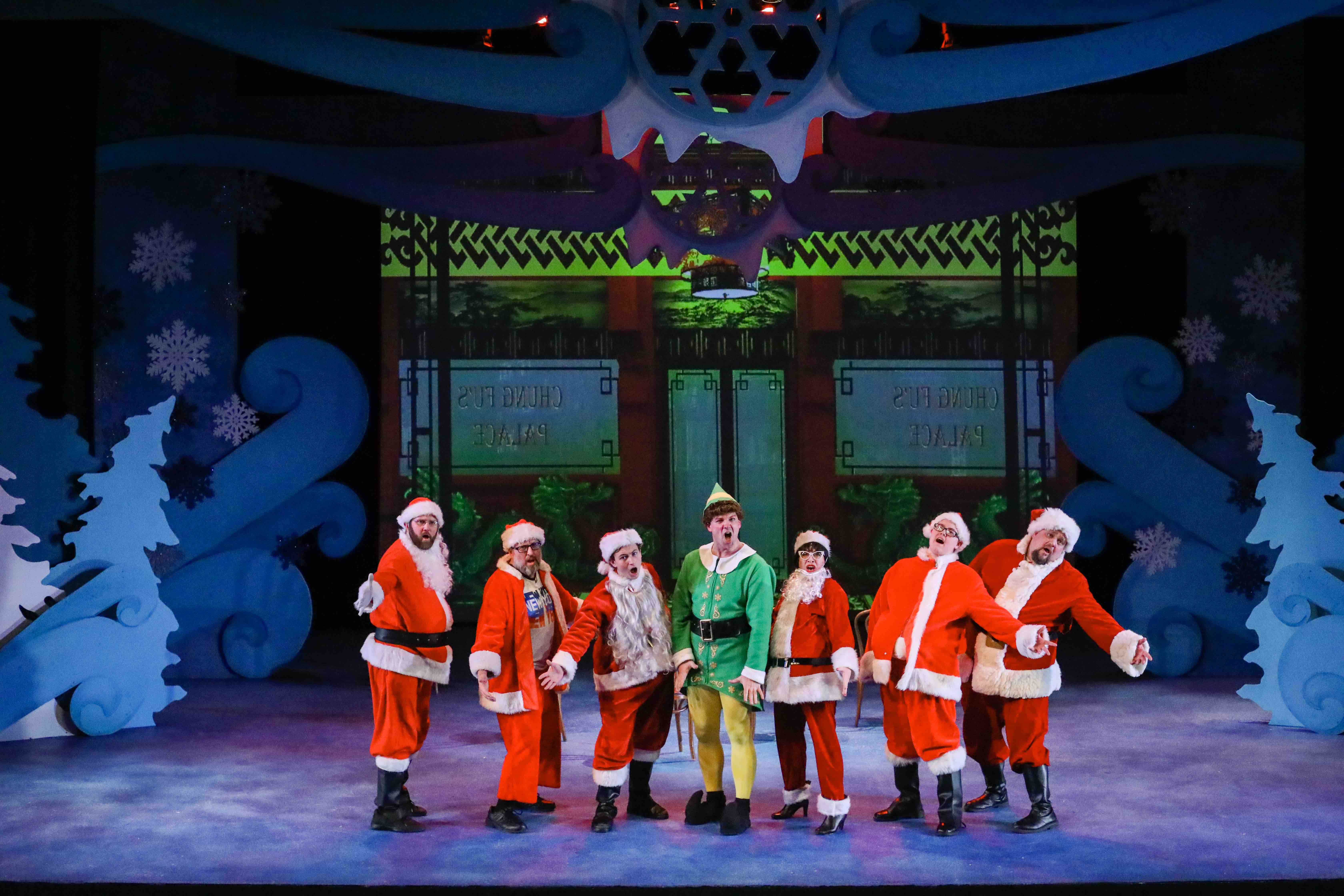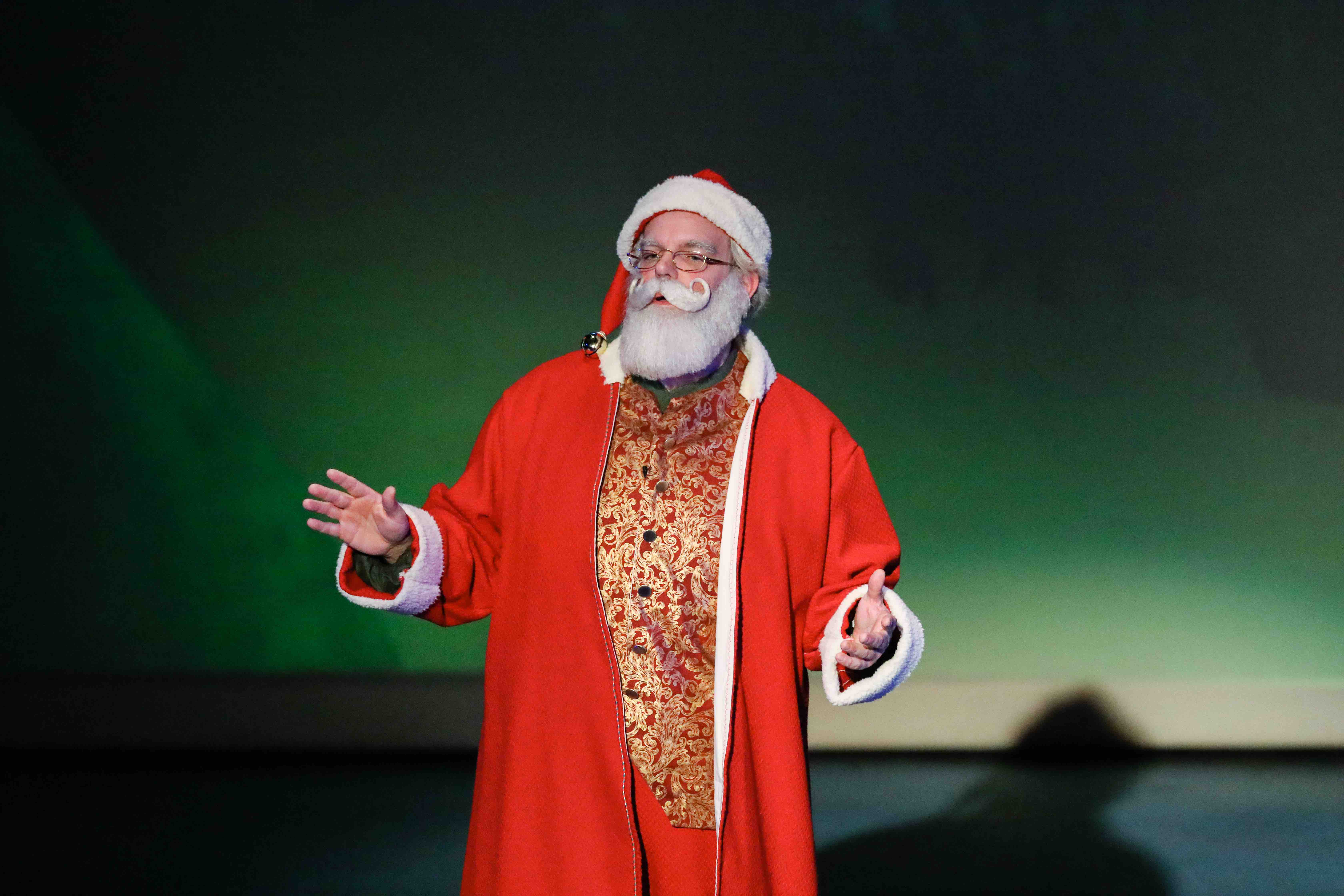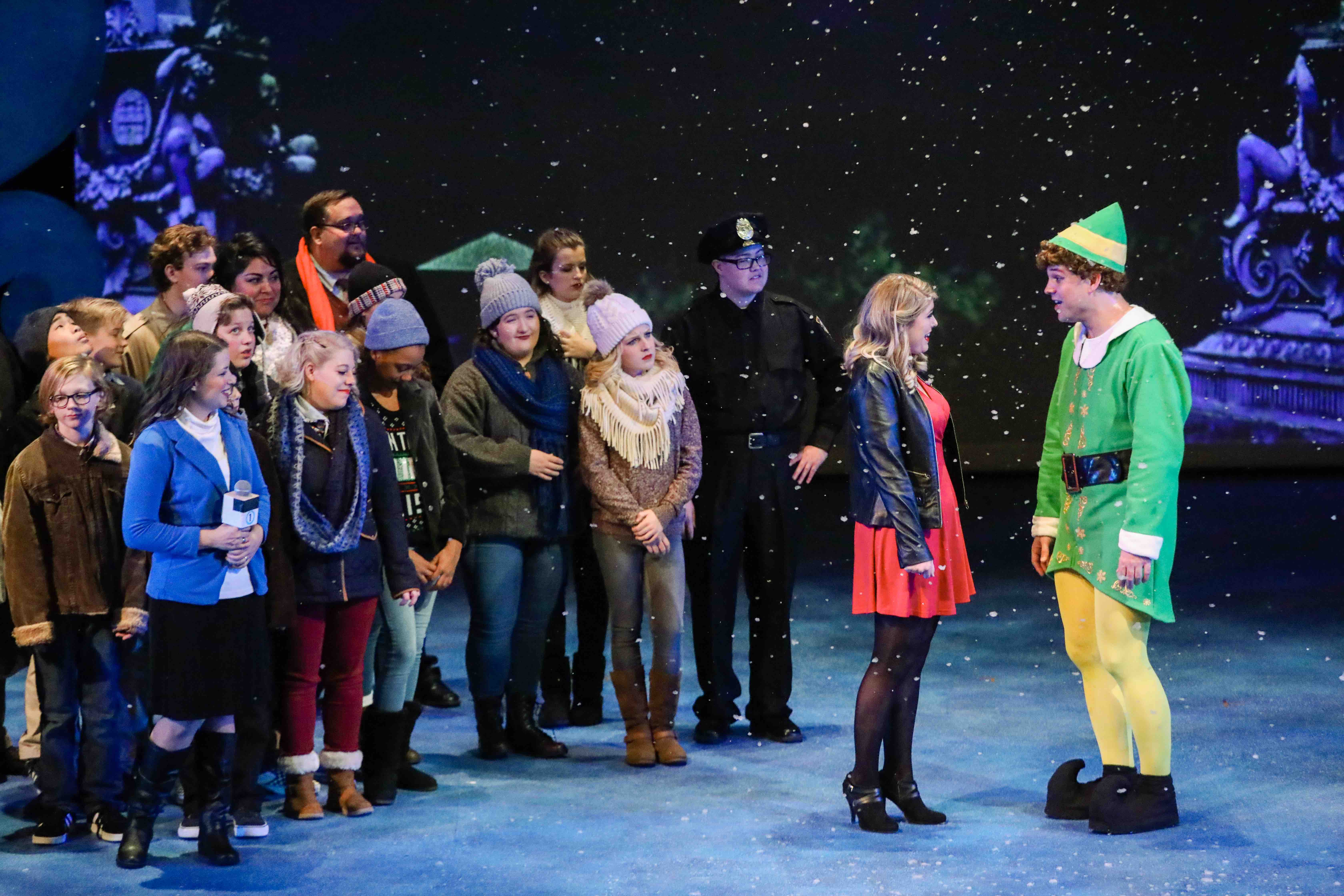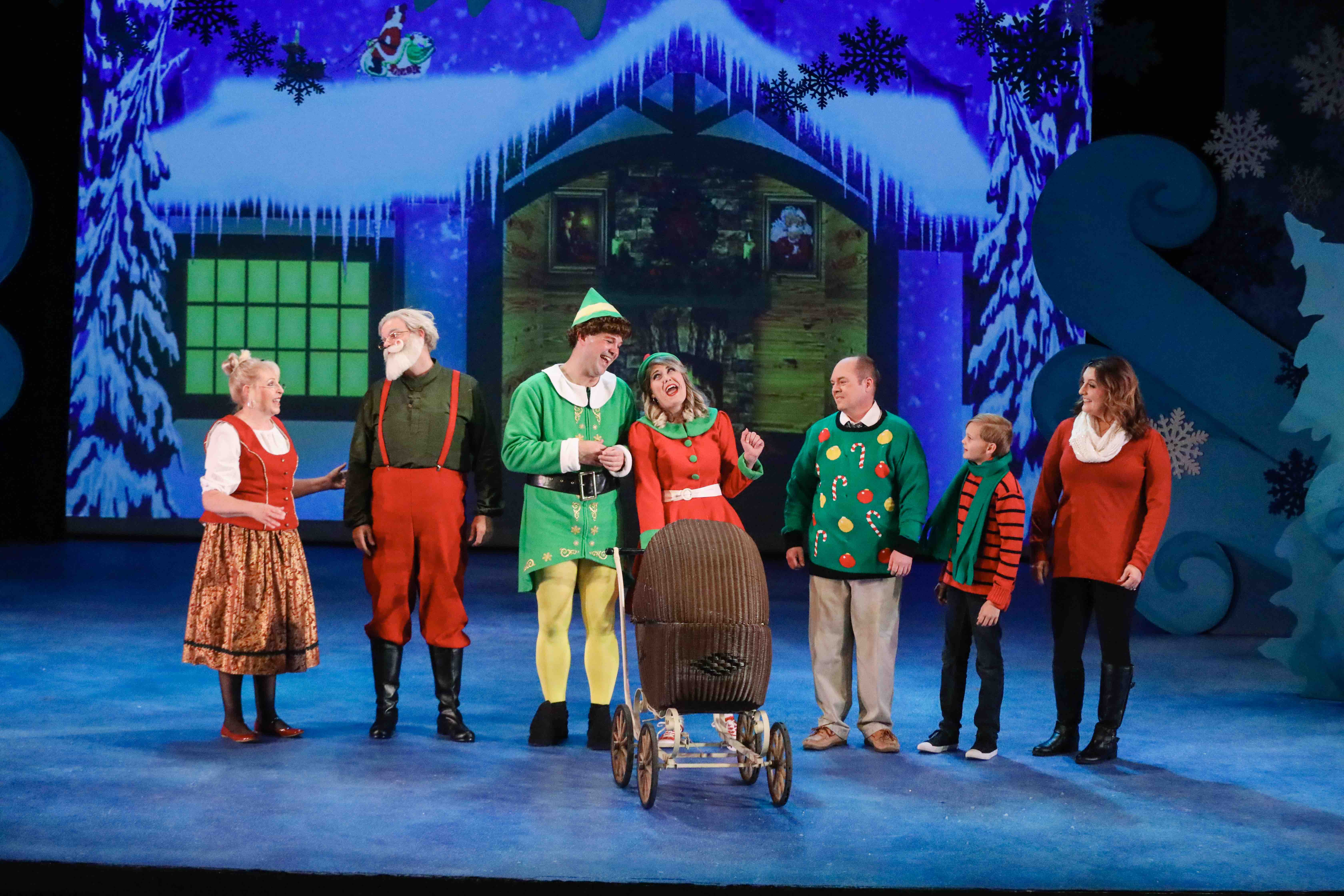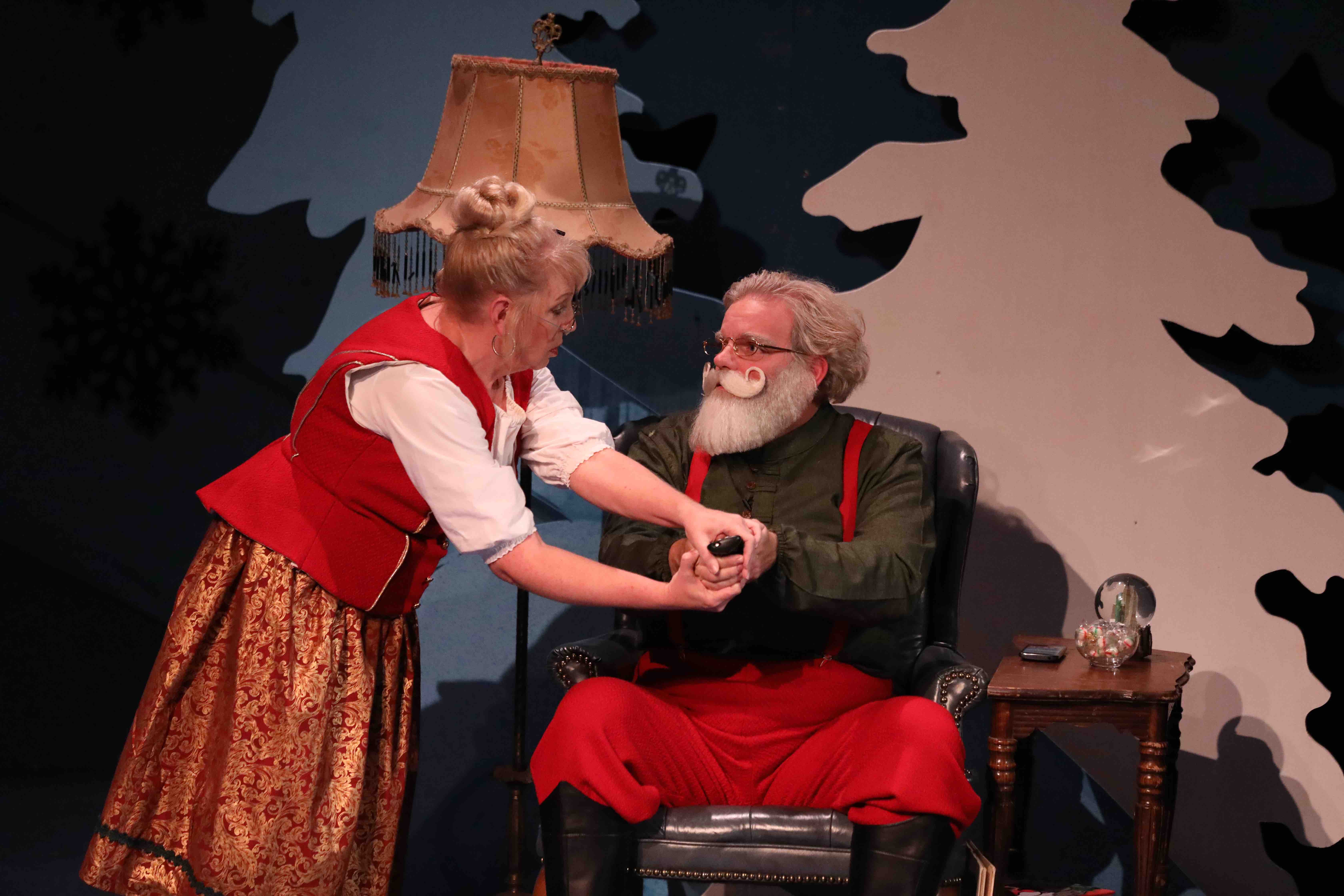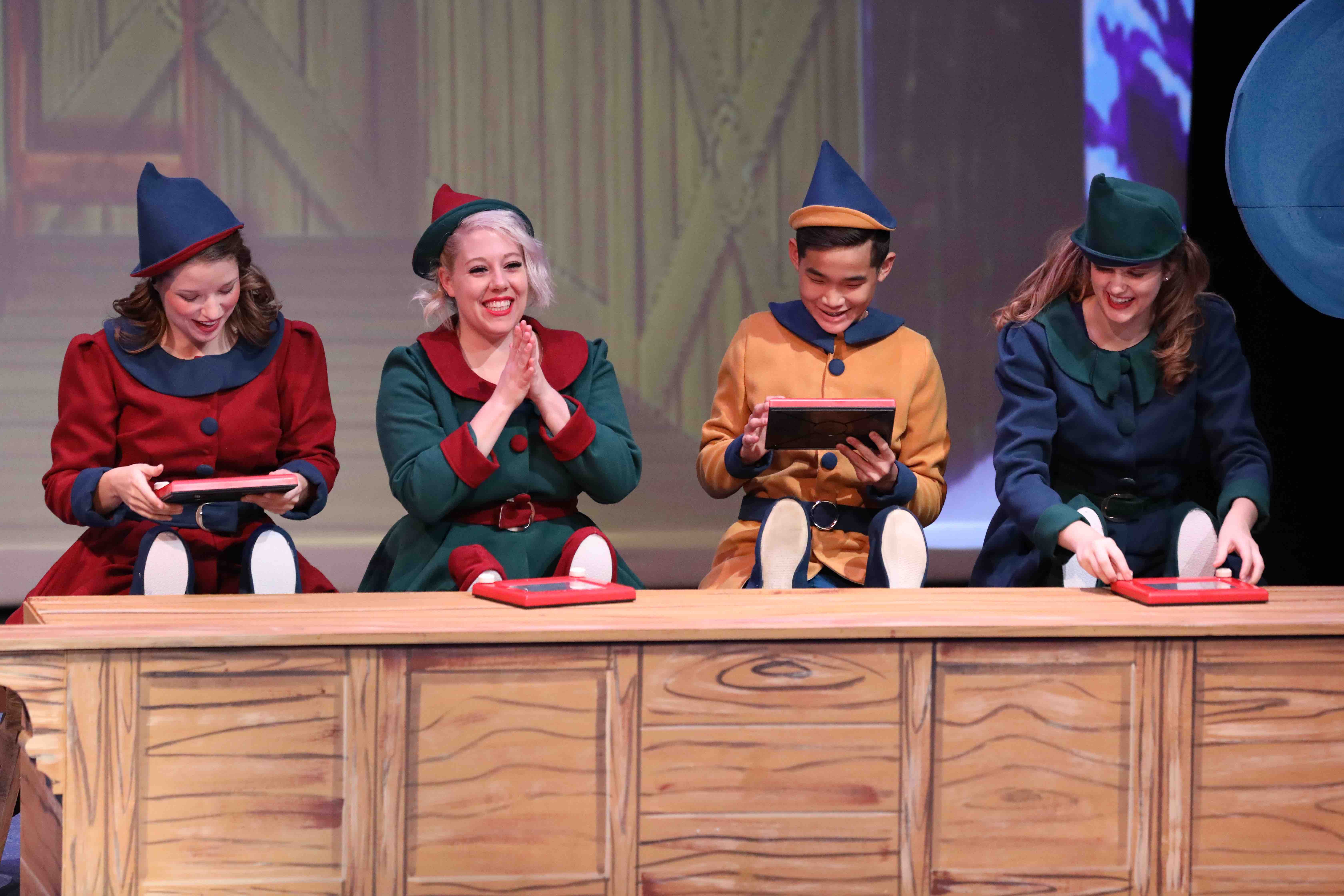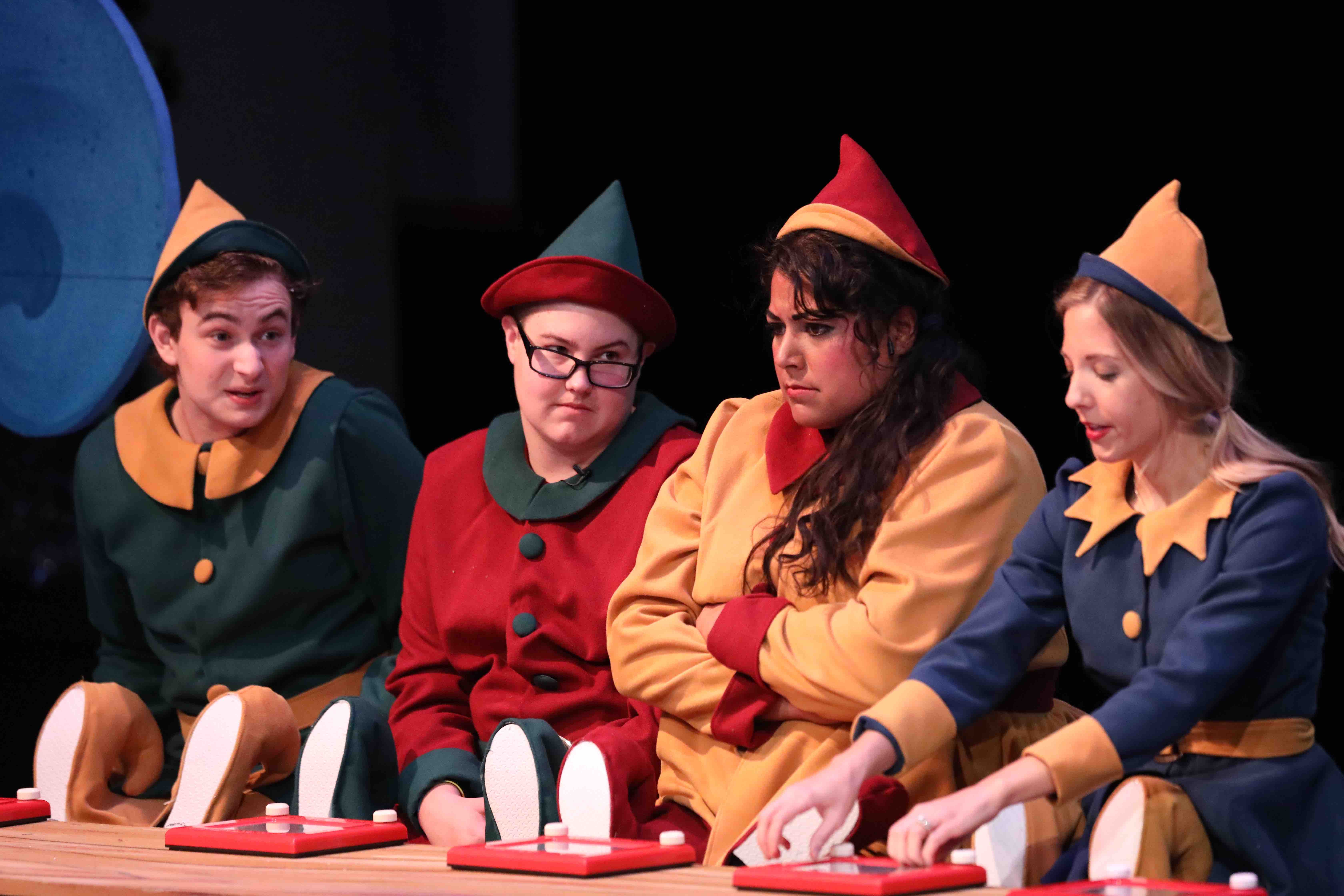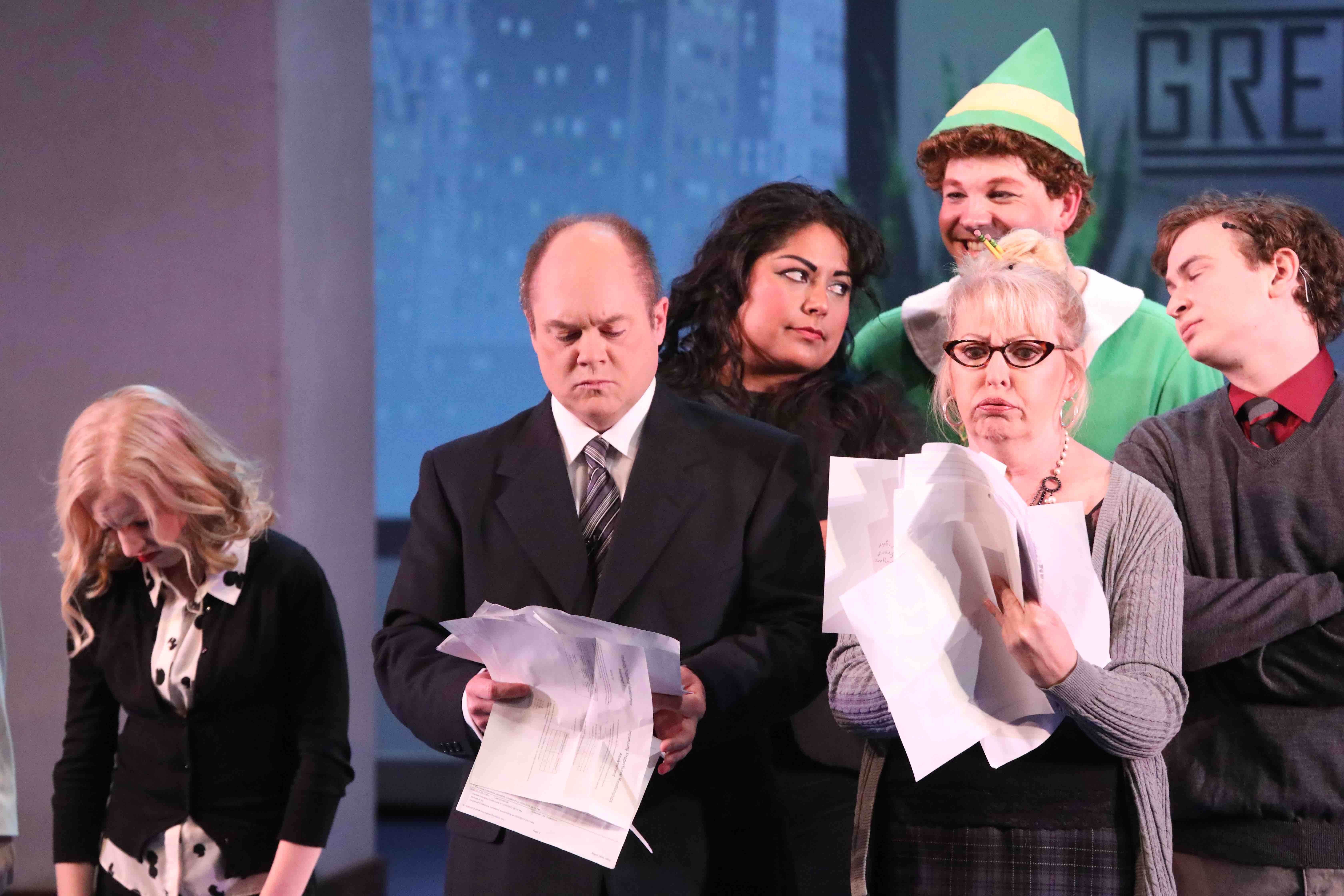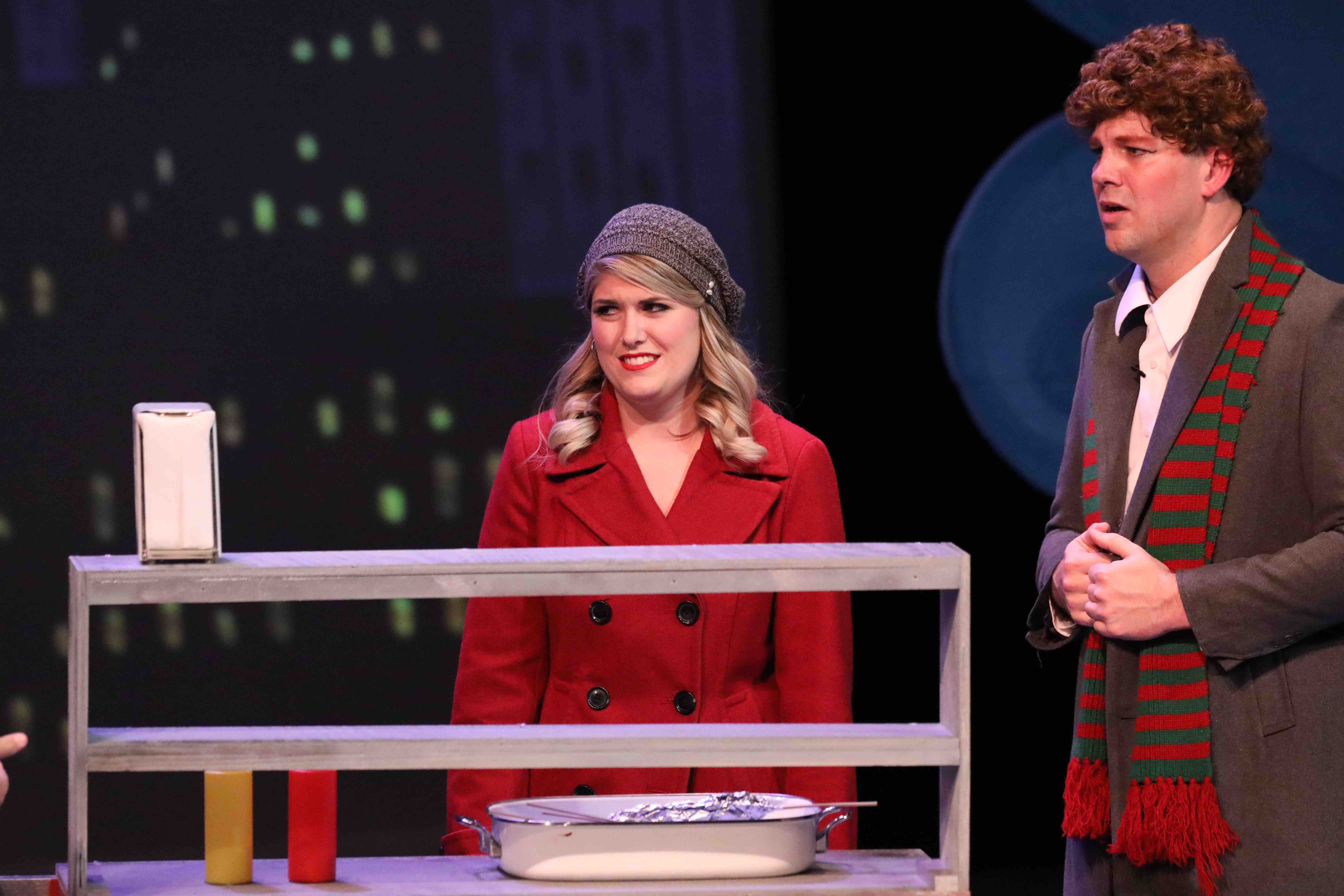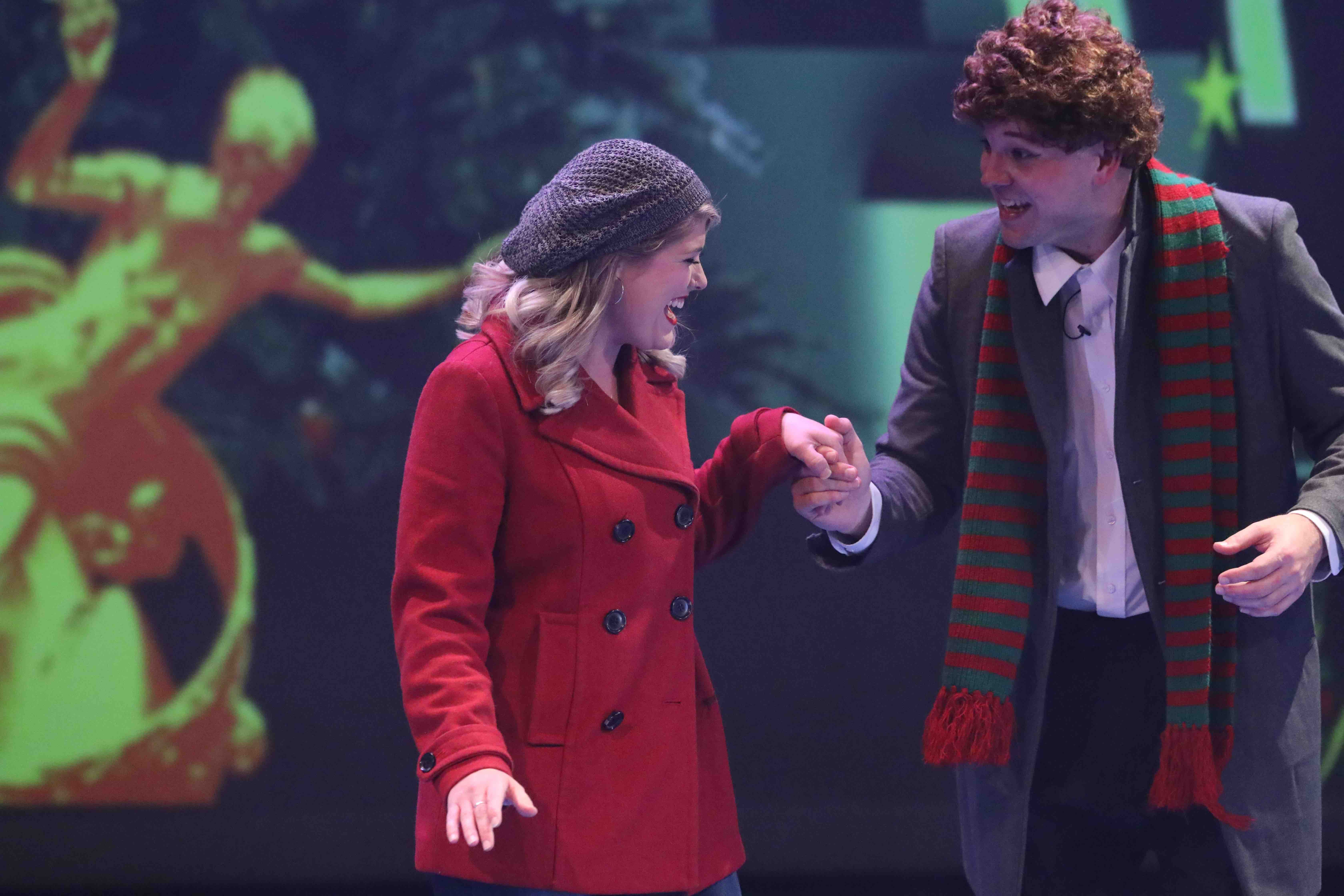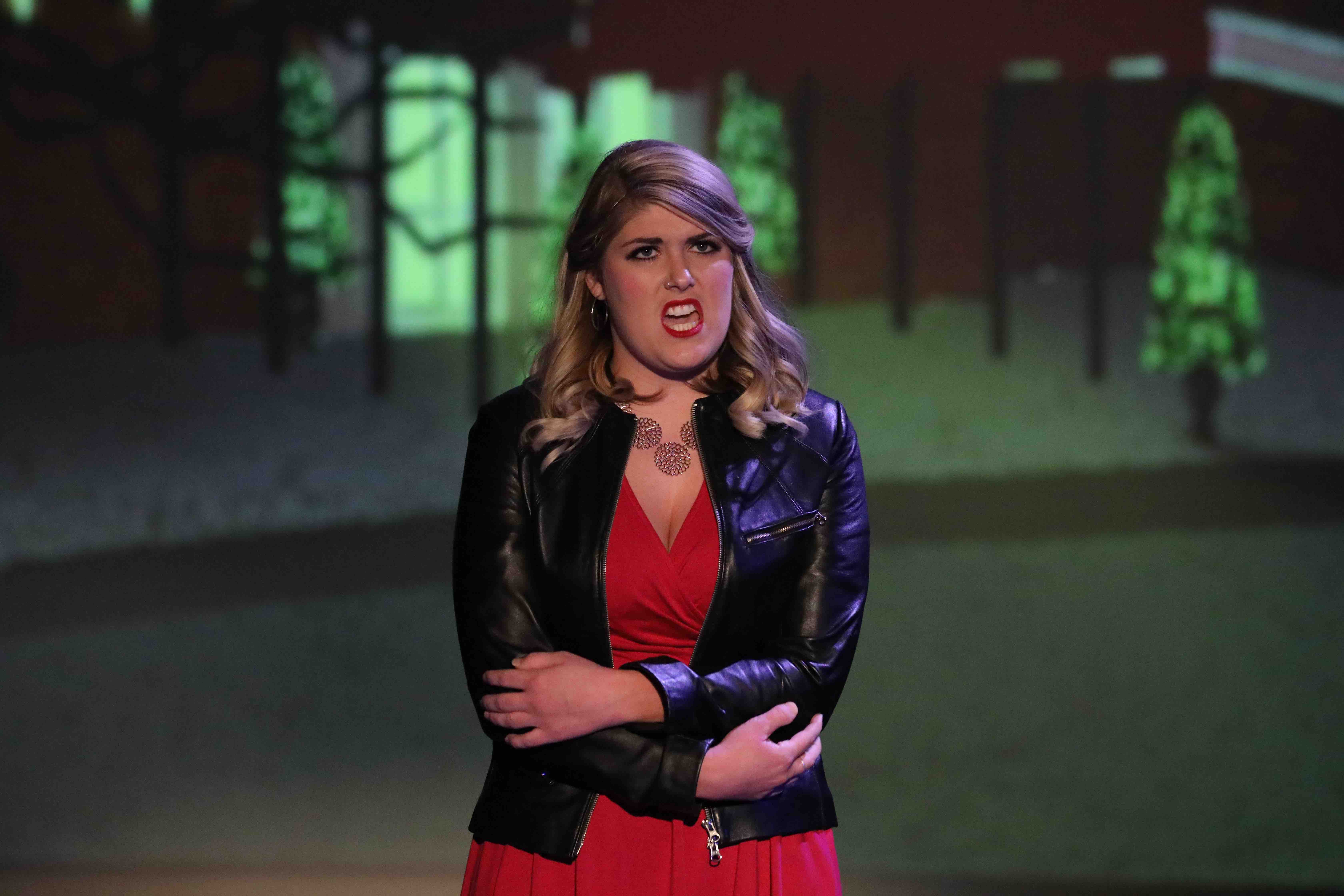 November 16 – December 9, 2018
Kephart Theatre
---
Elf: The Musical
Book by Thomas Meehan and Bob Martin
Music by Matthew Sklar and Lyrics by Chad Beguelin
A REAL ELF CAN ALWAYS SAVE CHRISTMAS!
Buddy, a bit of an odd-sized elf, embarks on a journey from the North Pole to New York City to find his real father. Along the way he discovers his dad and his true love, and still manages to save Christmas for all of us. Make the holidays merrier with songs like SparkleJollyTwinkleJingley, A Christmas Song, and Never Fall in Love with an Elf.
Production sponsored by FIRST BANK KANSAS
Orchestra sponsored by EDWARD JONES
Costumes sponsored by HERITAGE REAL ESTATE ADVISORS
Buddy: Christopher Graber
Jovie: Zoe Rea
Walter: William R. Brown
Emily: Kristina Freeland
Michael: Will Ebel
Deb: Shawna Carter
Manager: Vickee Spicer
Charlie: Nelson Gutsch
Santa Claus: John Hendrick
Mr. Greenway: Brent Fry
Boy: Andrew Graber
Mother: Jaci Brake
Blaise Alderson
John Alderson
Gilda Alvarez
Jaci Brake
Leighton Cline
Rebecca Downing
Jeff Ebel
Gabriel Freeland
Brent Fry
Annaliese Gogadi
Andrew Graber
Brady Hemmer
Braedon Jackson
Emma Kelly
Libby Kierscht
Ella Payne
Corielle Schroeder
Gracie Schroeder
Rachel Tacha
Cora White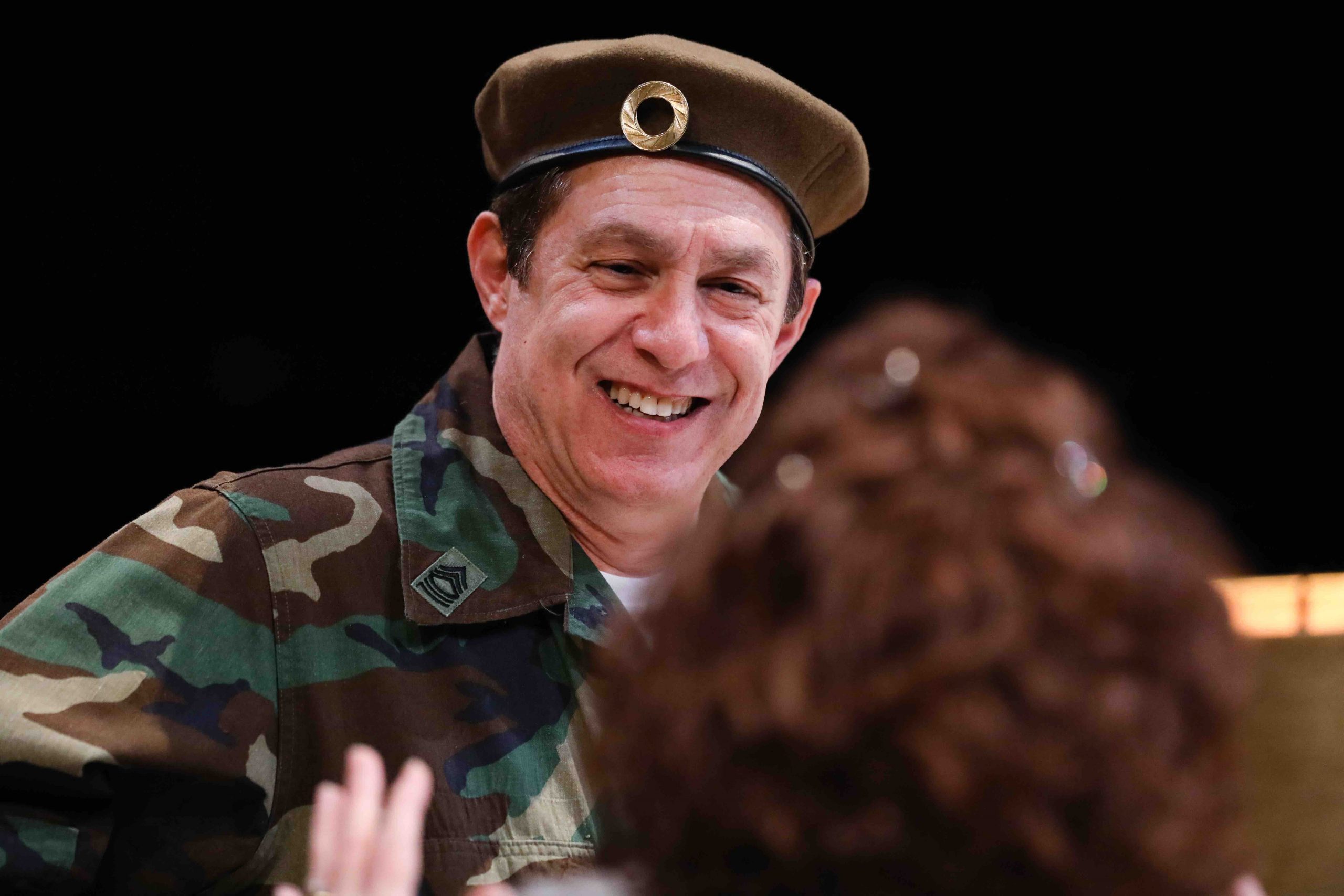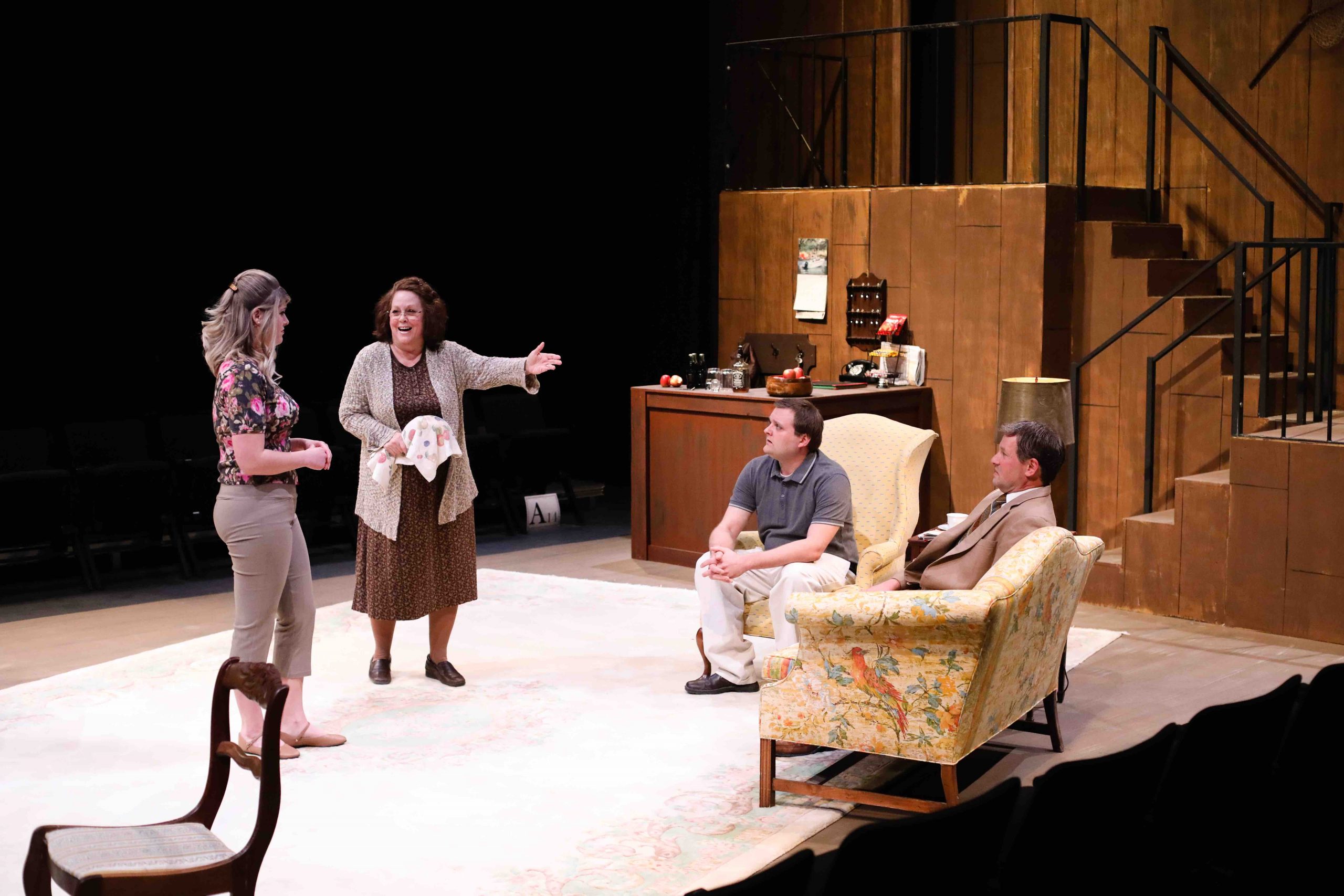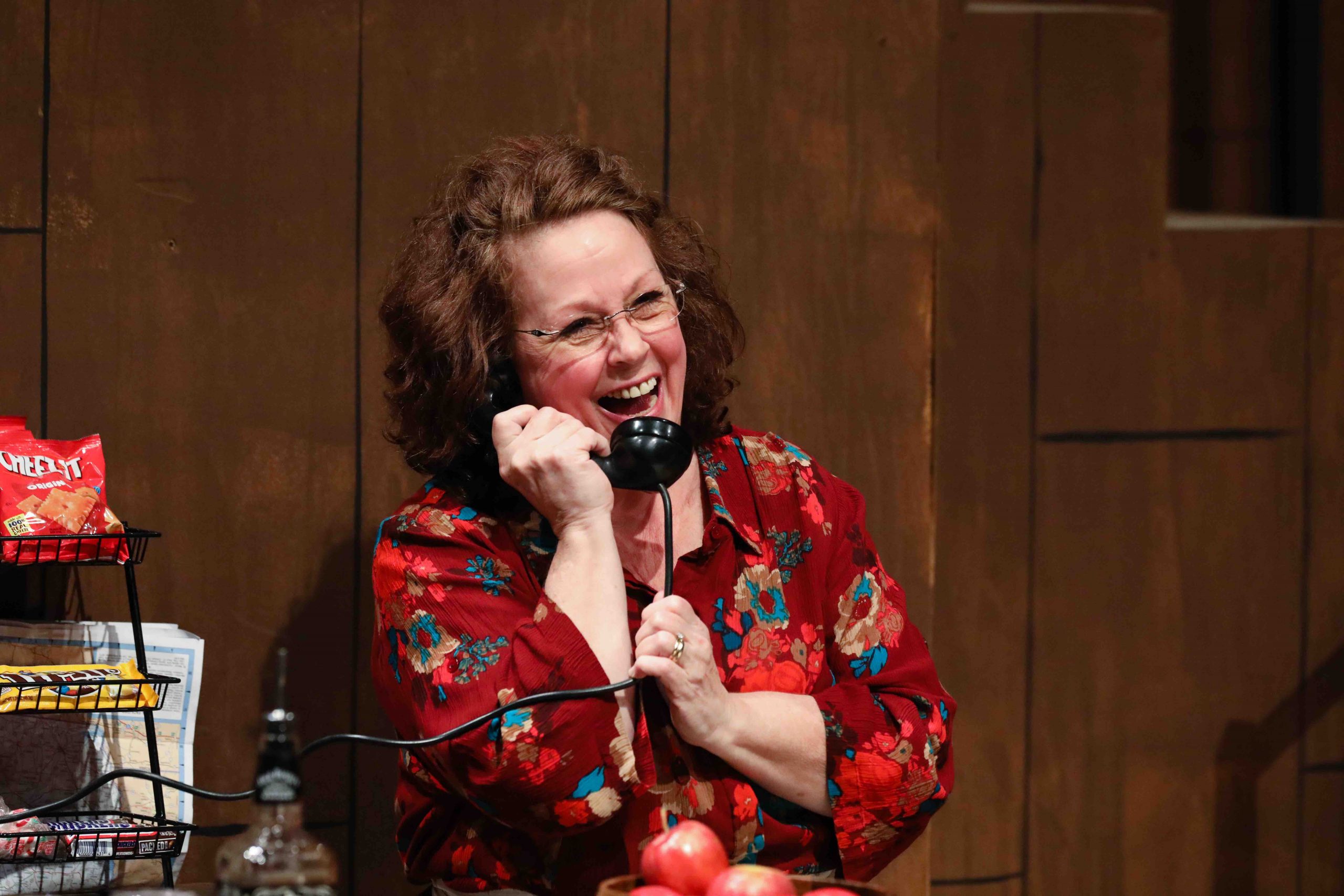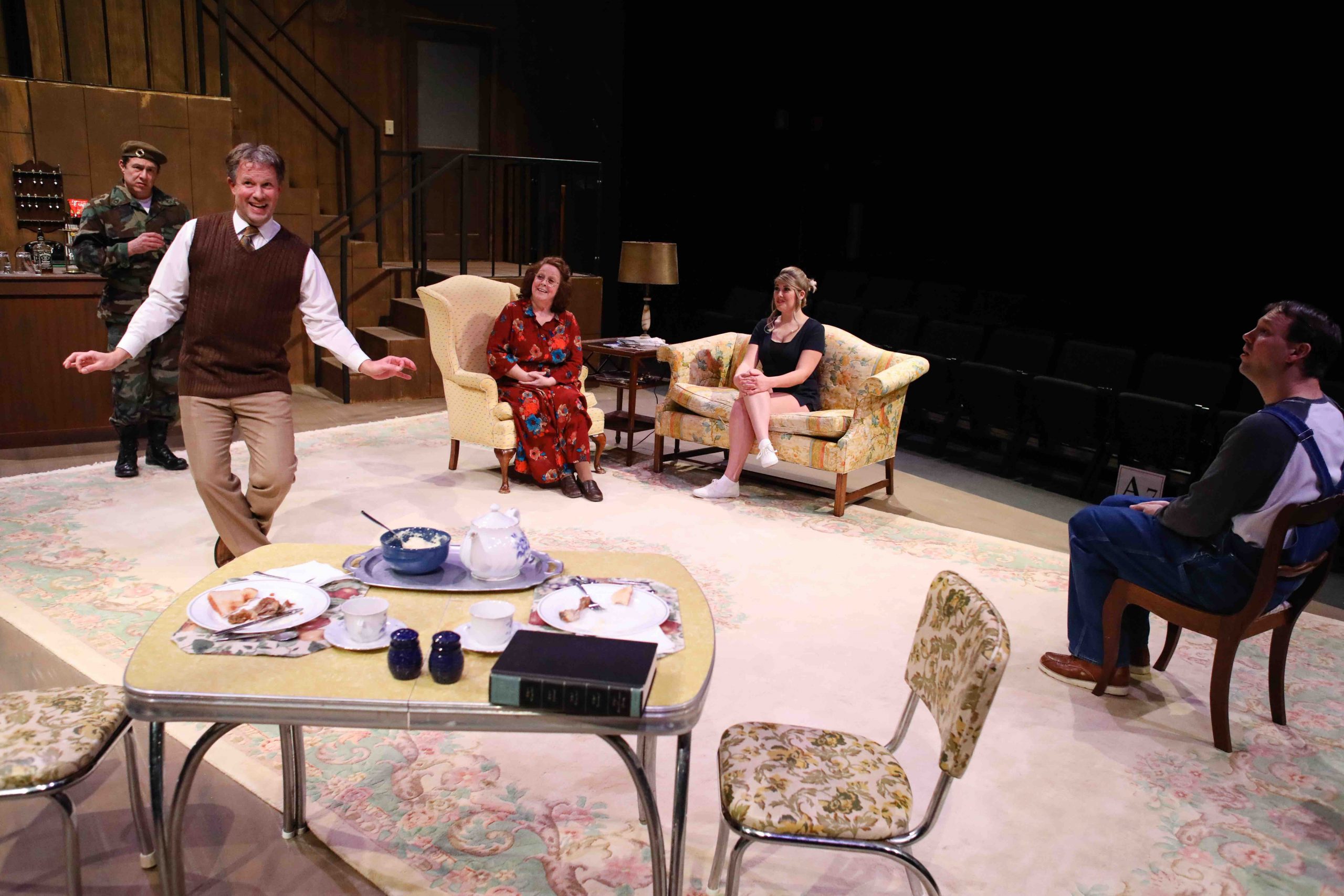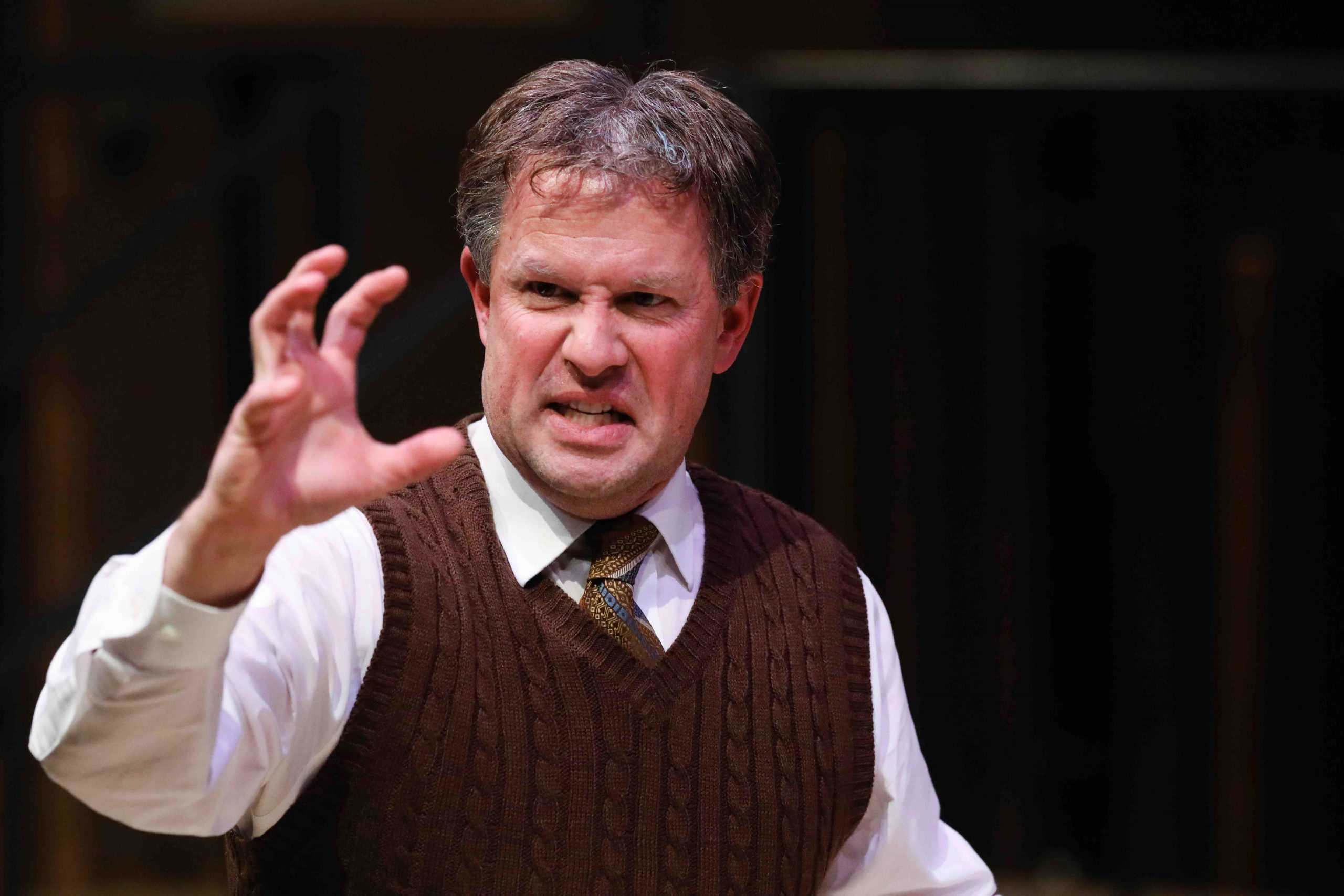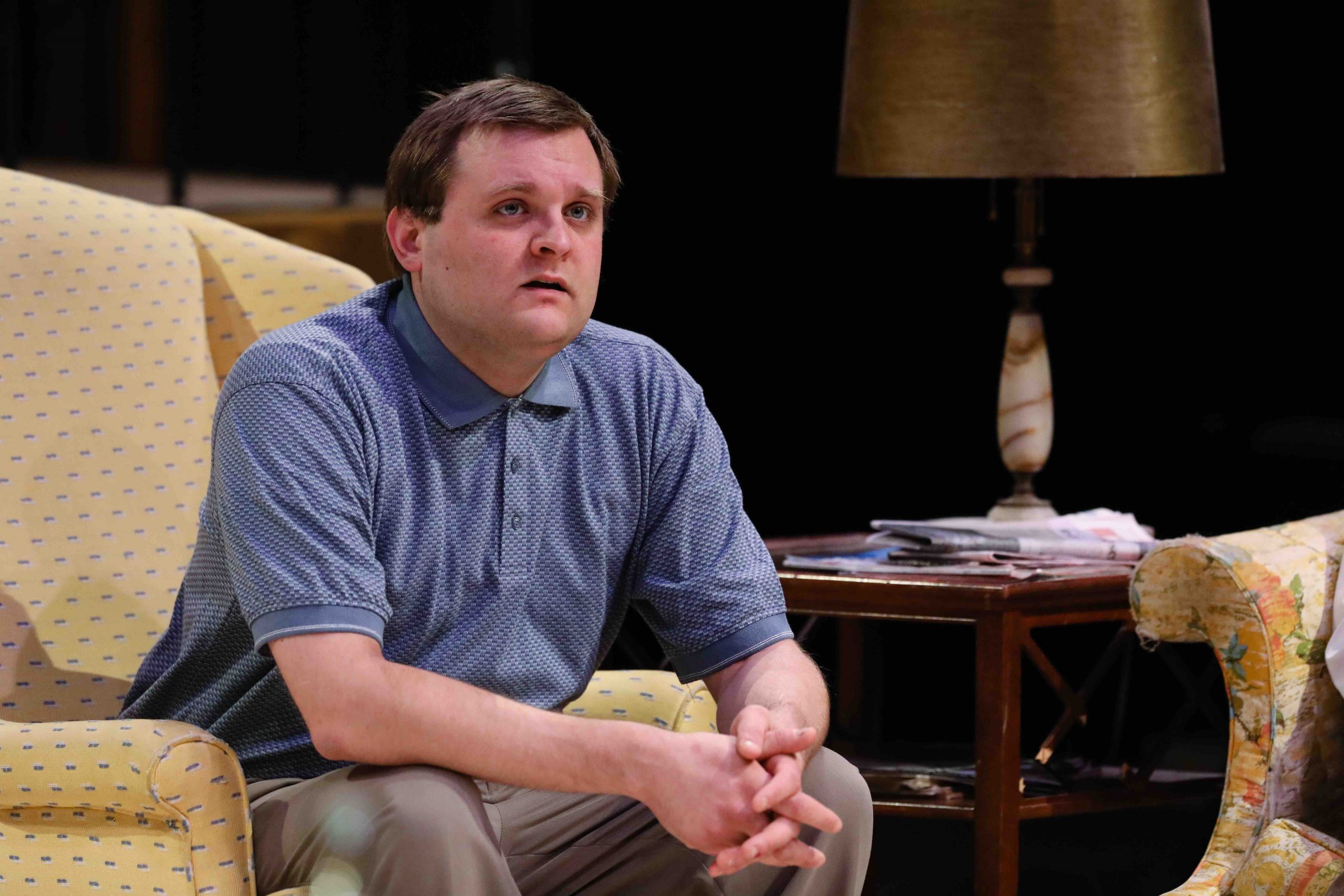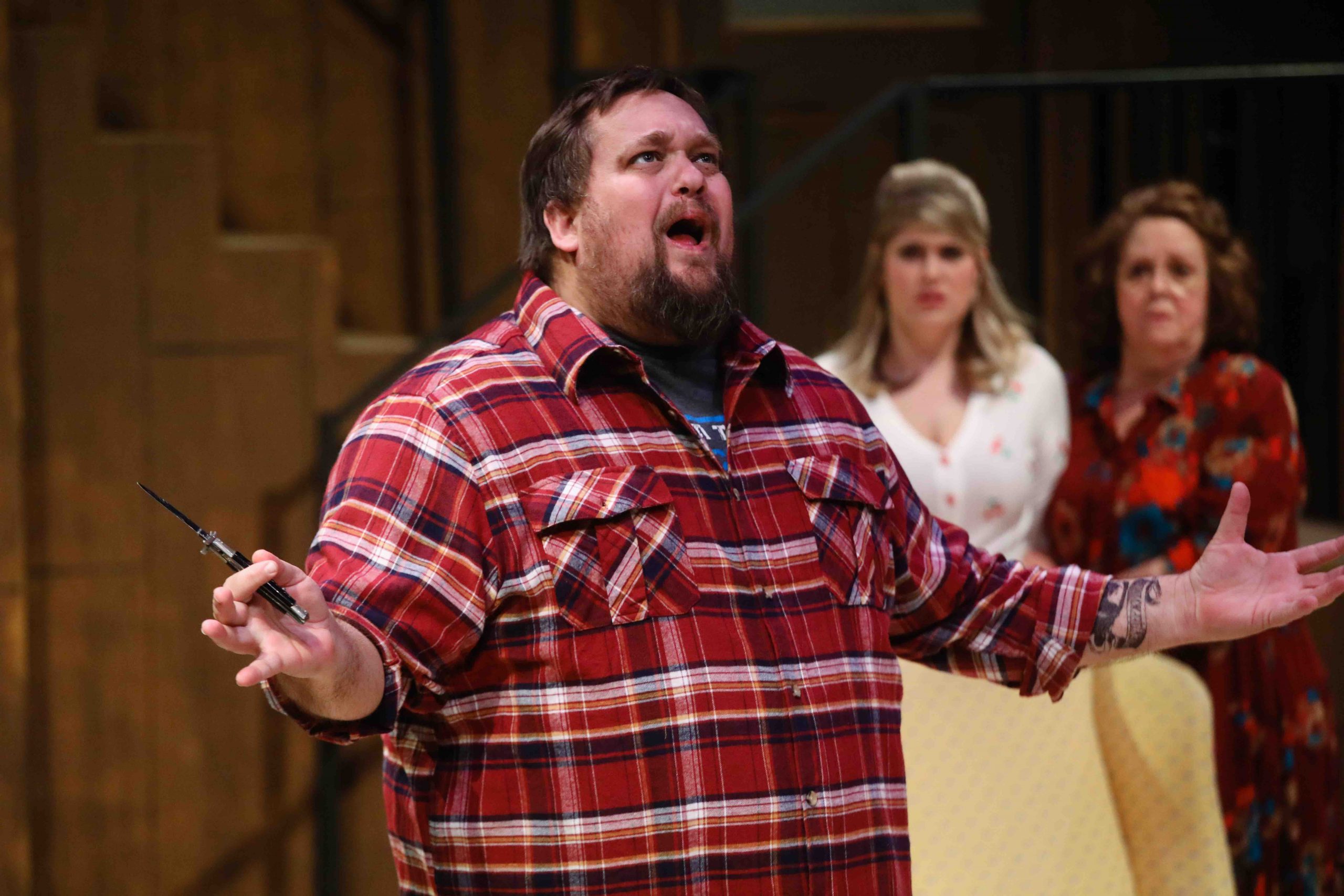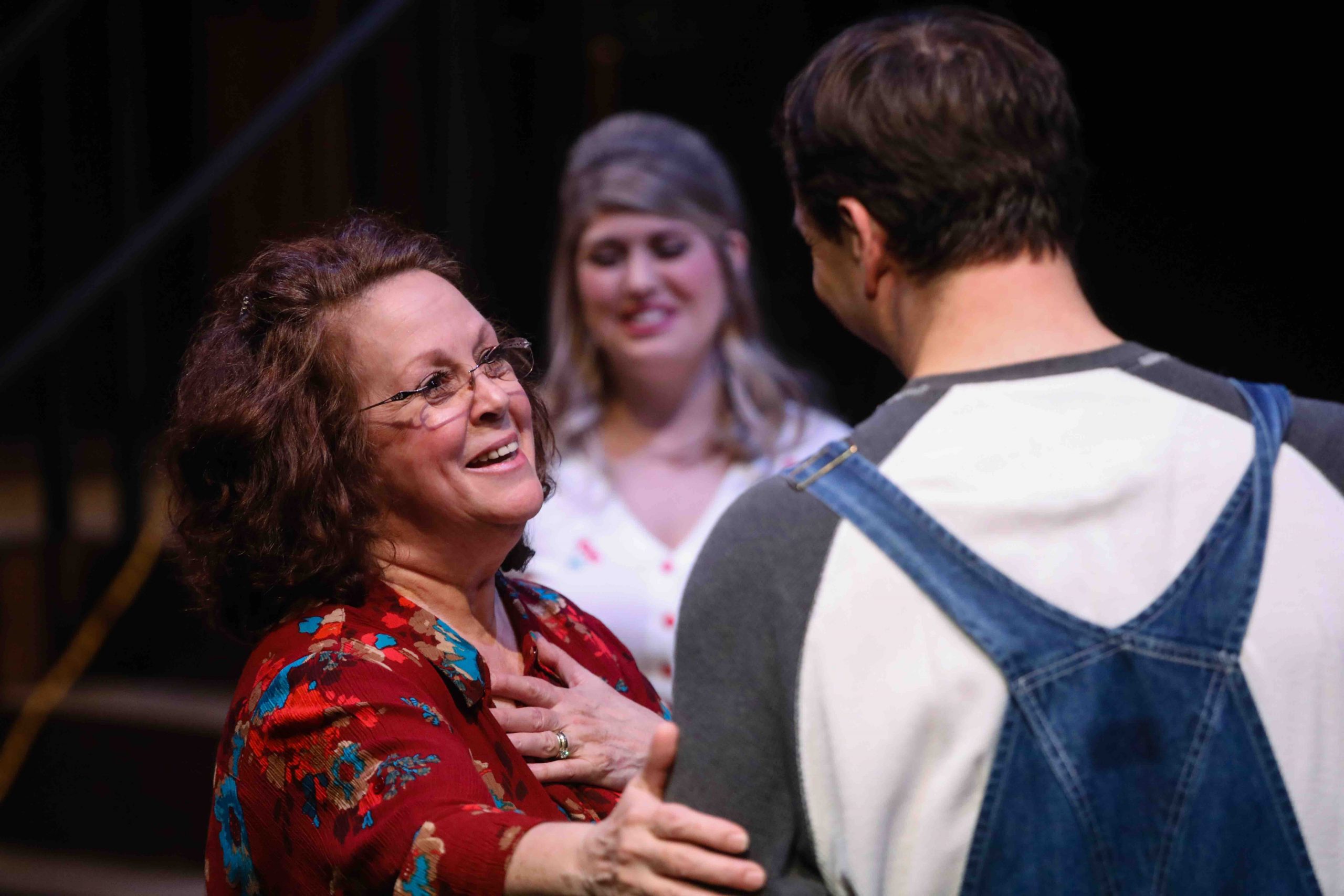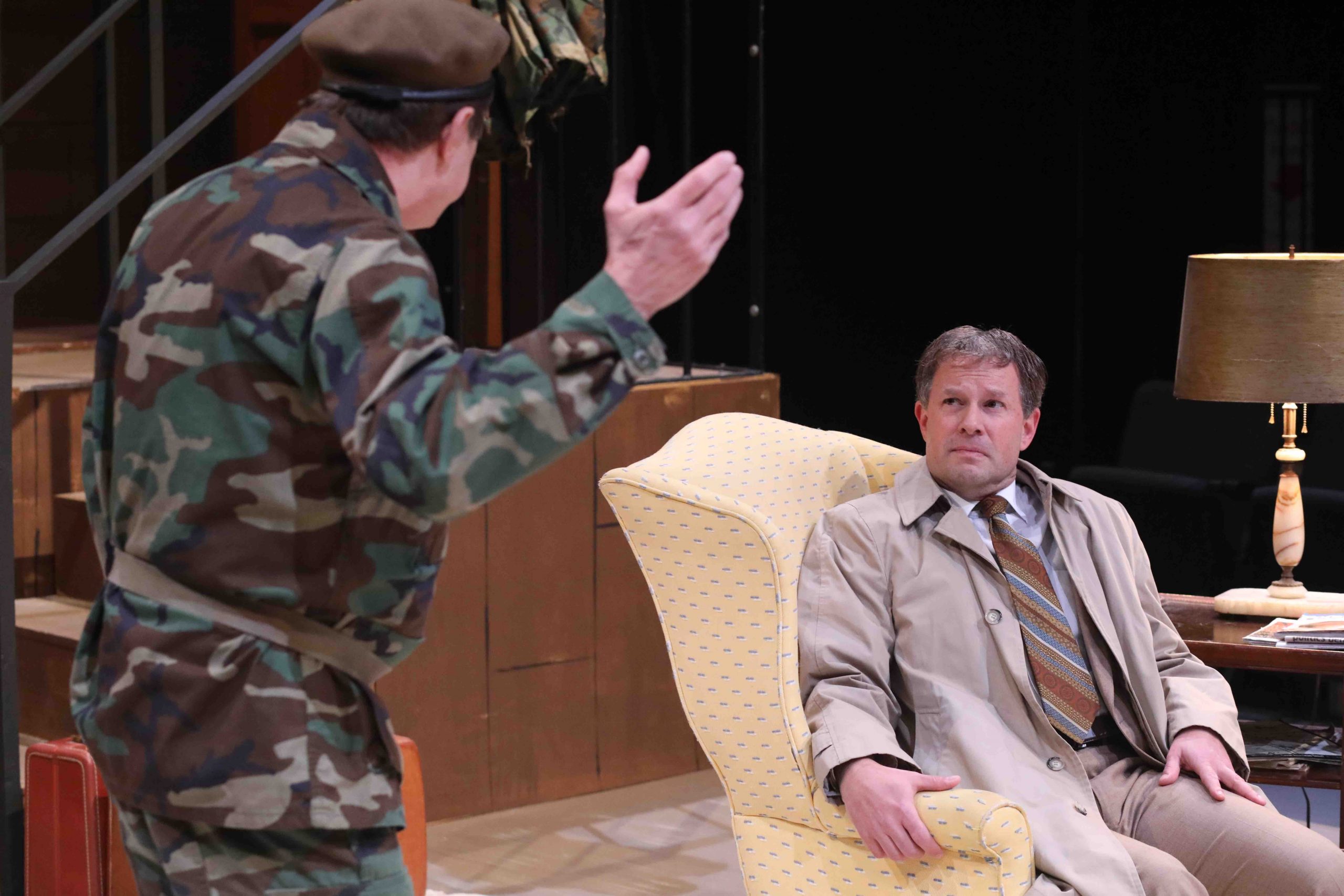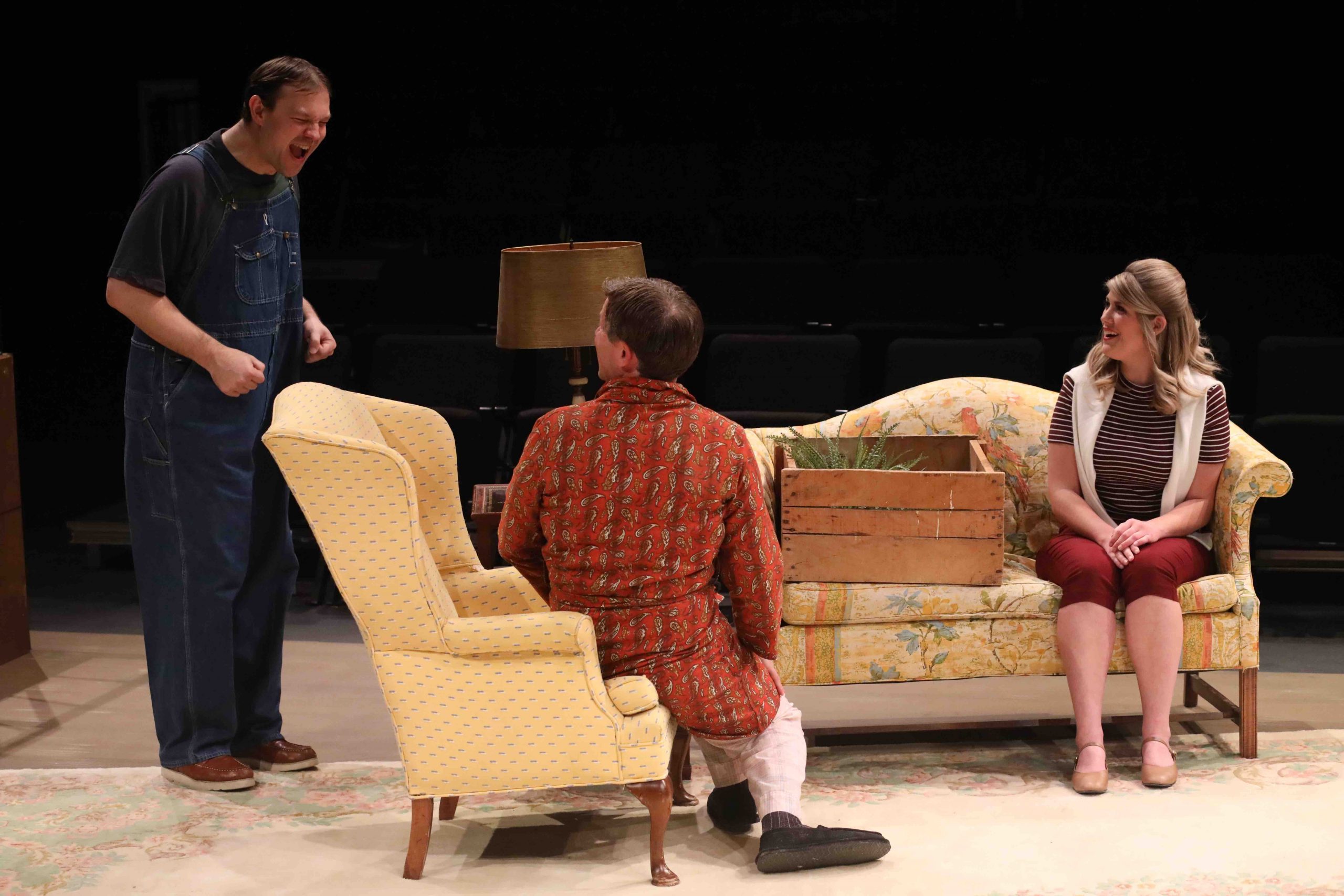 January 4 – 20, 2019
Sunflower Financial Theatre
---
The Foreigner
By Larry Shue
A GOOD PERSON CAN NEVER HIDE FROM DOING THE RIGHT THING!
Sent to a rural Georgia retreat to settle his nerves, Charlie (a demolition expert) pretends not to speak English so he will be left alone. Because of this, he overhears the evil plans of a two-faced preacher and his redneck partner. Charlie does what any overly shy person would do, he SAVES the day!
Sponsored by PKM STEEL
Charlie: Eric Cole
Catherine: Zoe Rea
Ellard: Christopher Graber
Betty: Patti Wood
David: Mike Koetkemeyer
Owen: Jeff Ebel
Froggy: Joe McMurray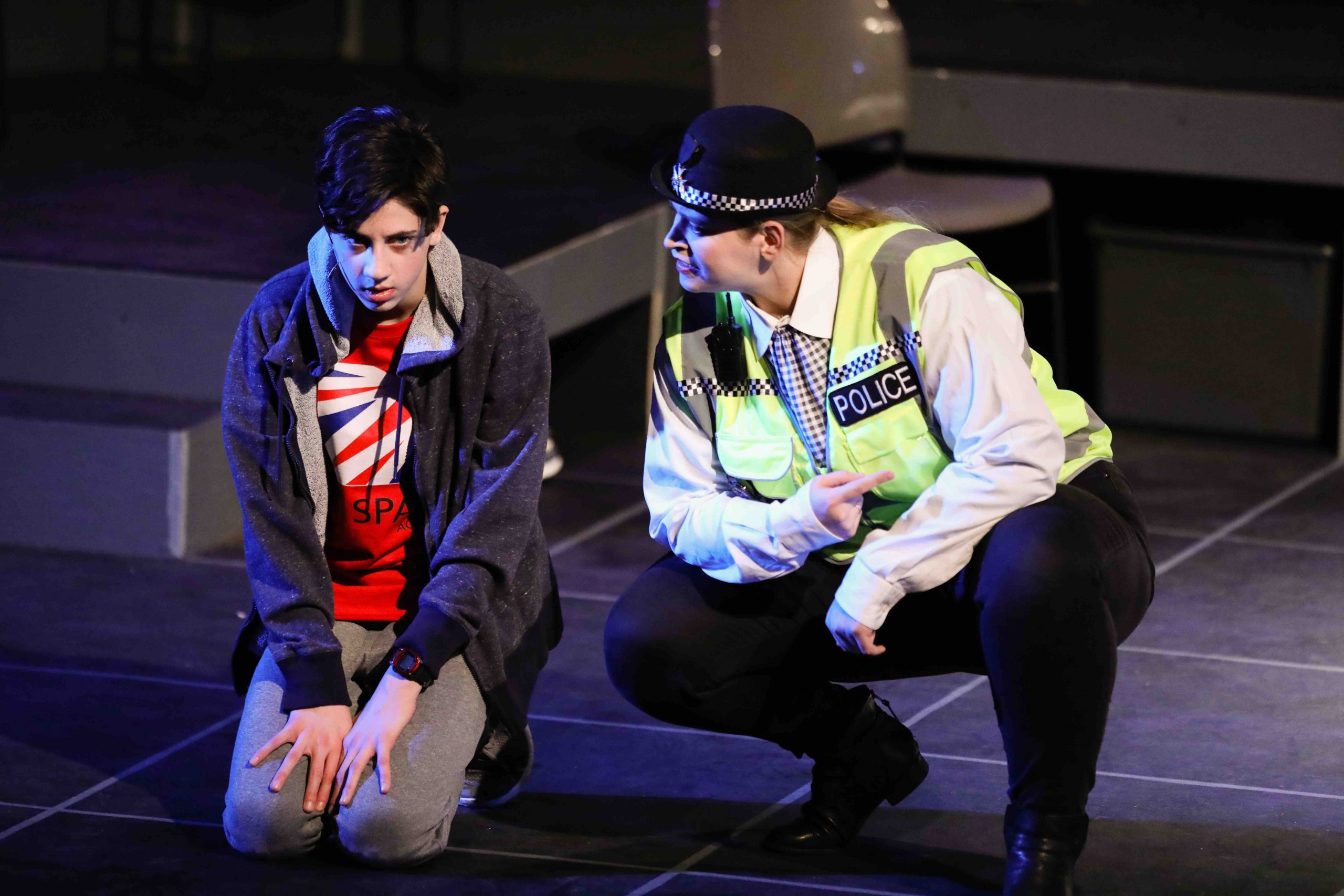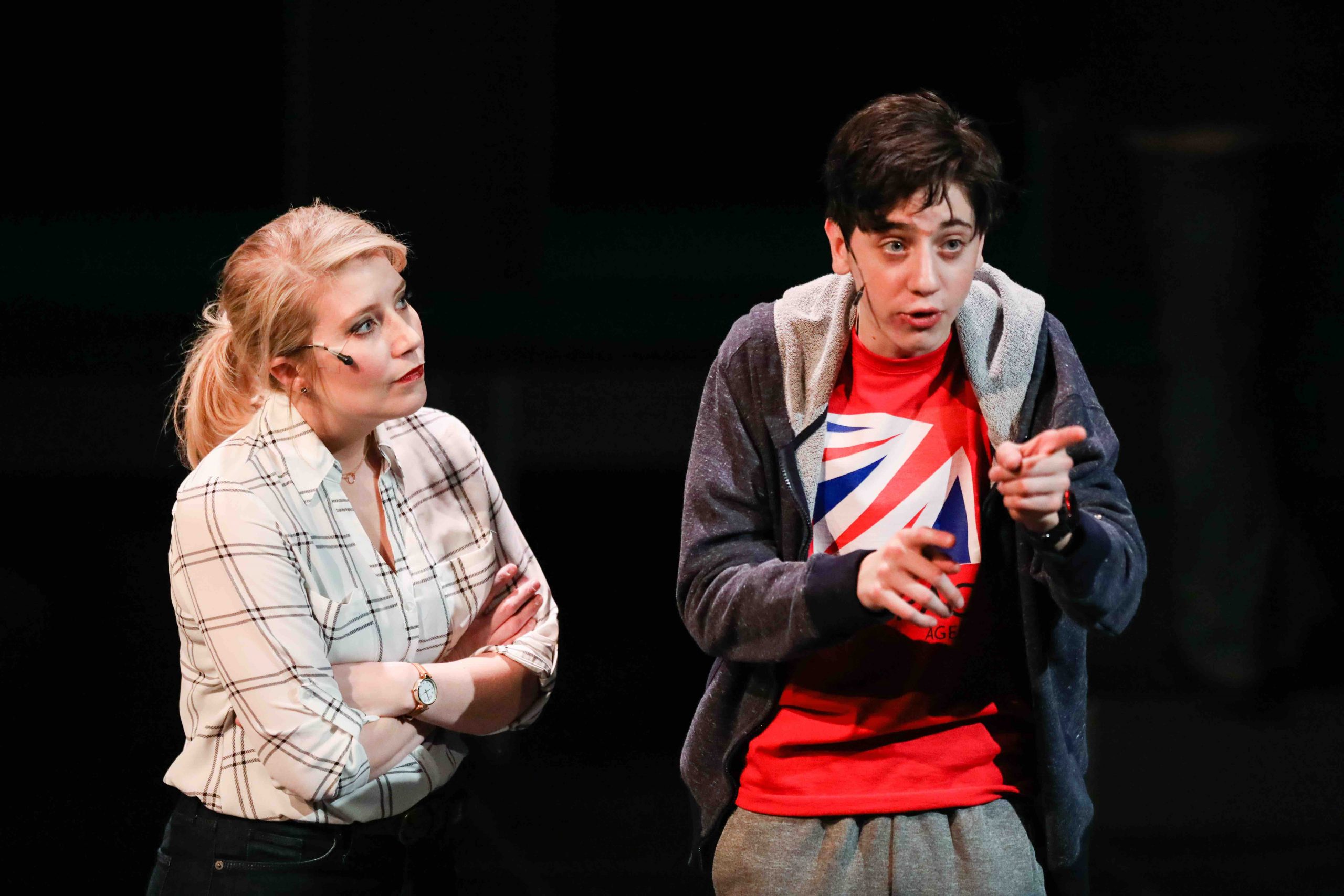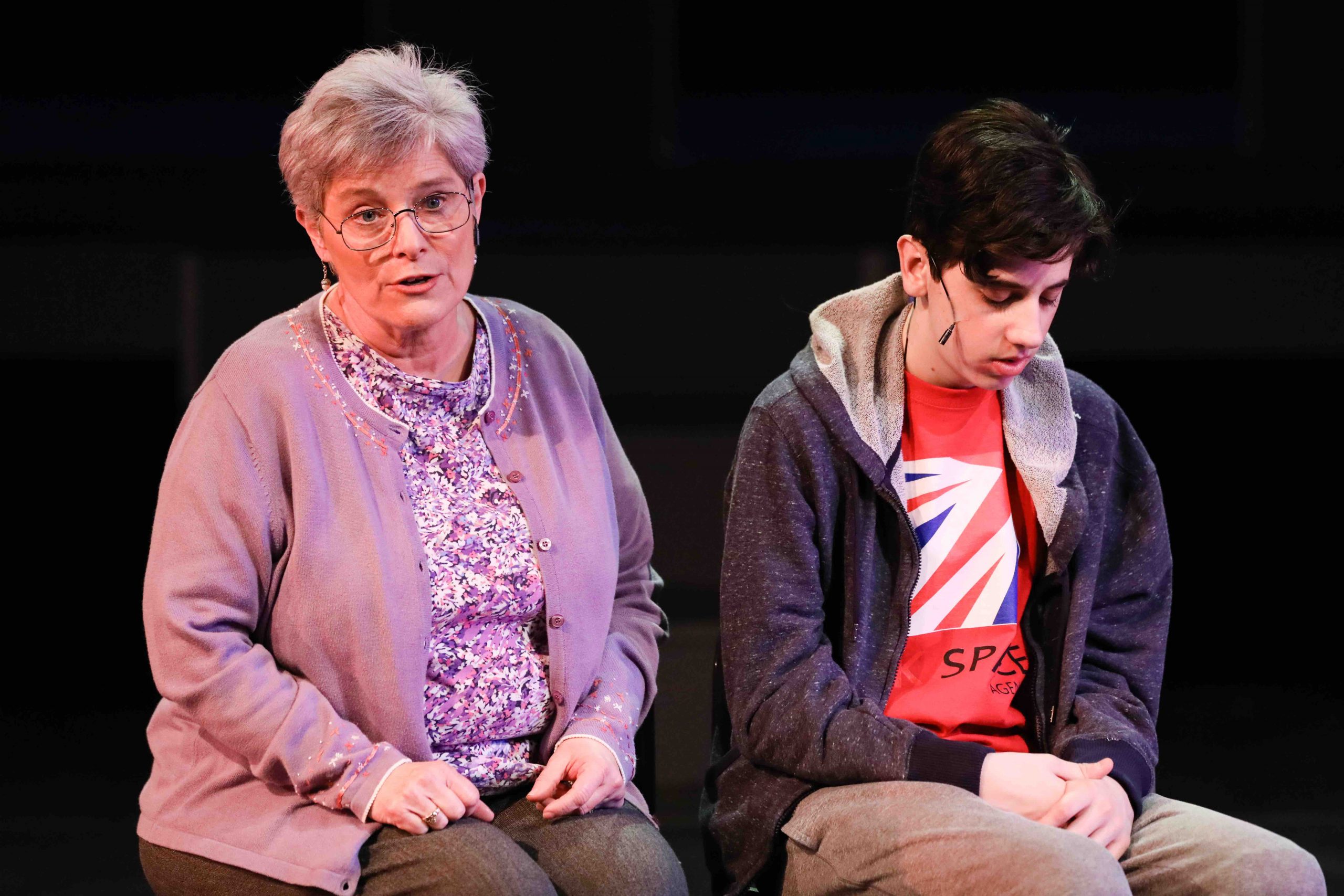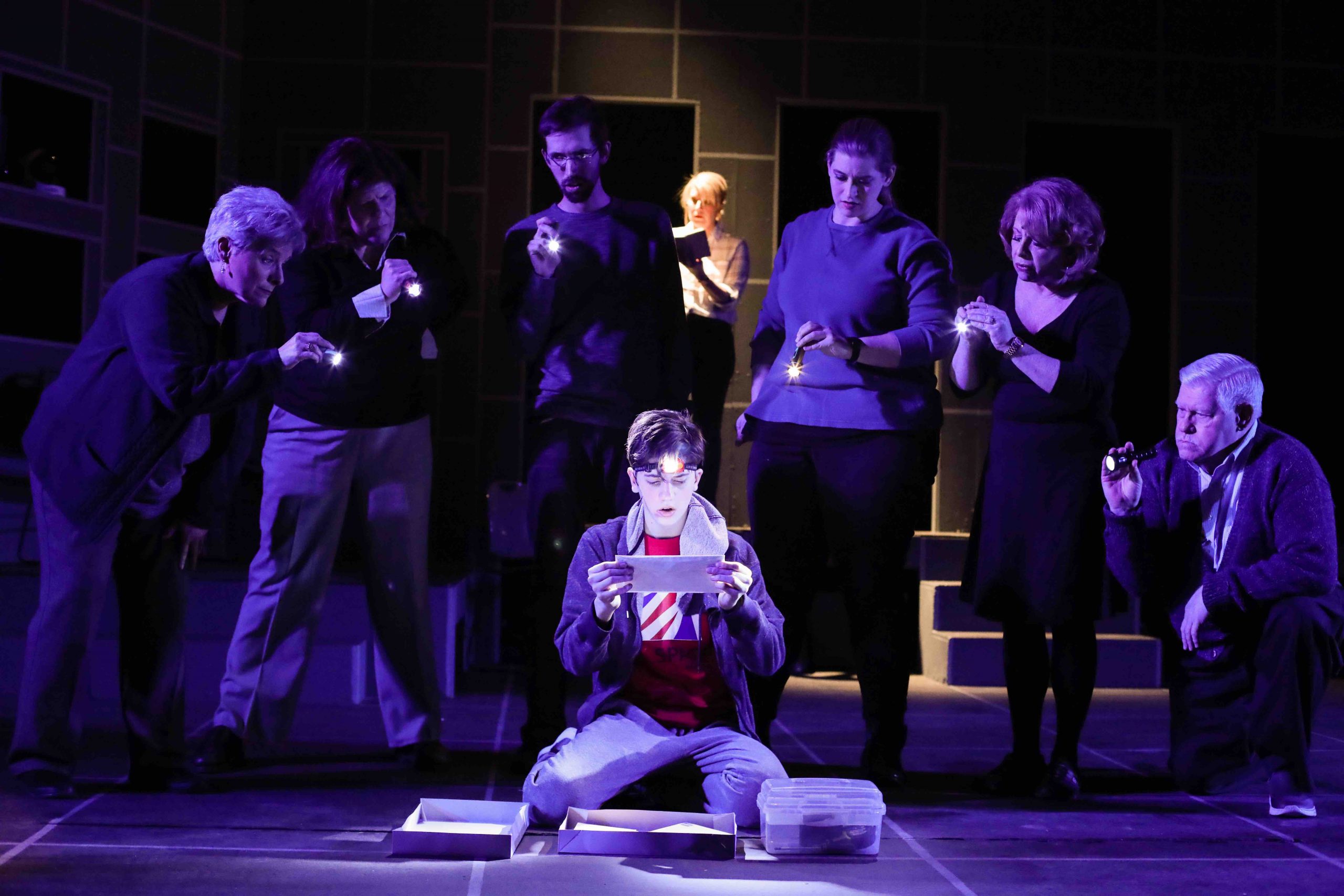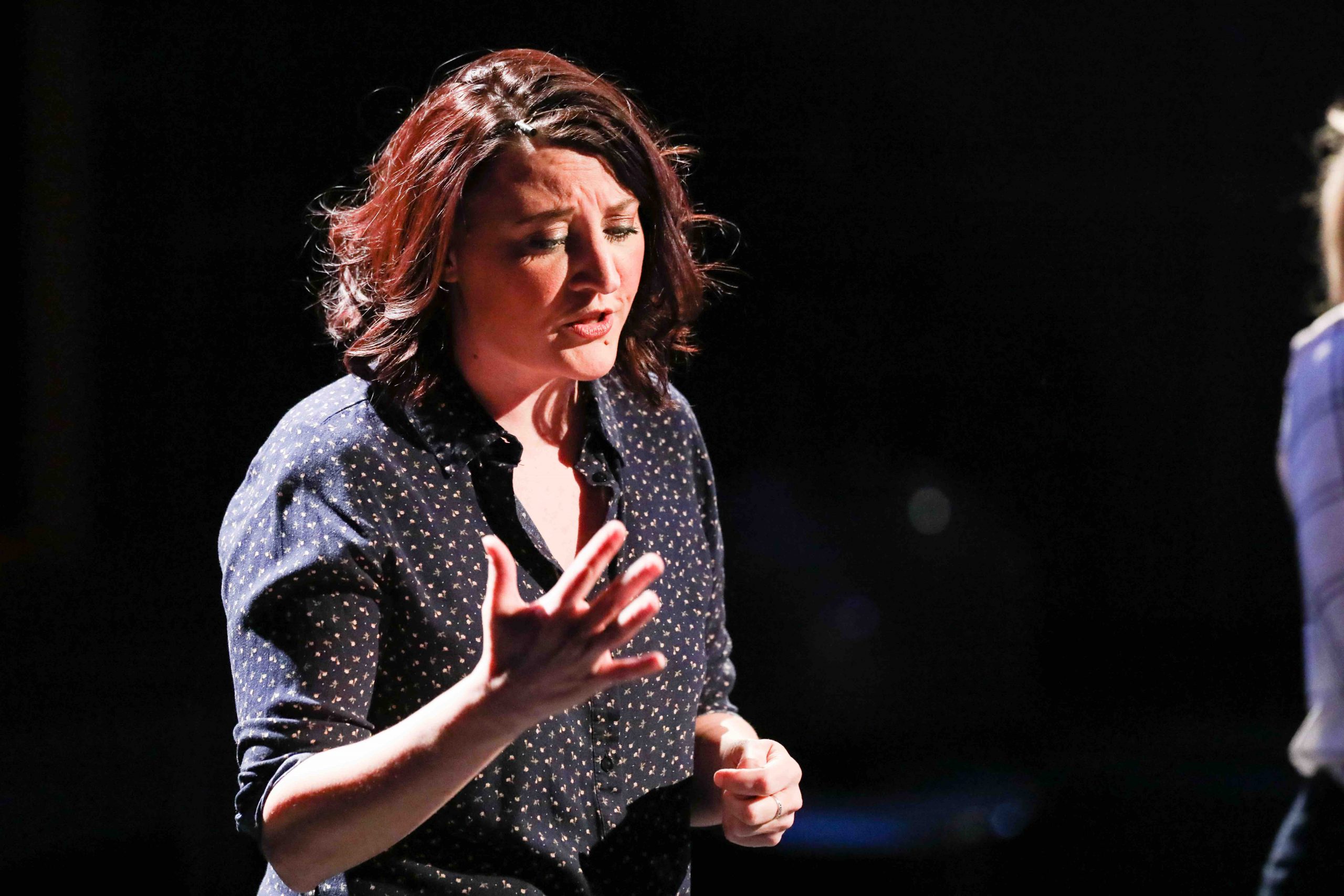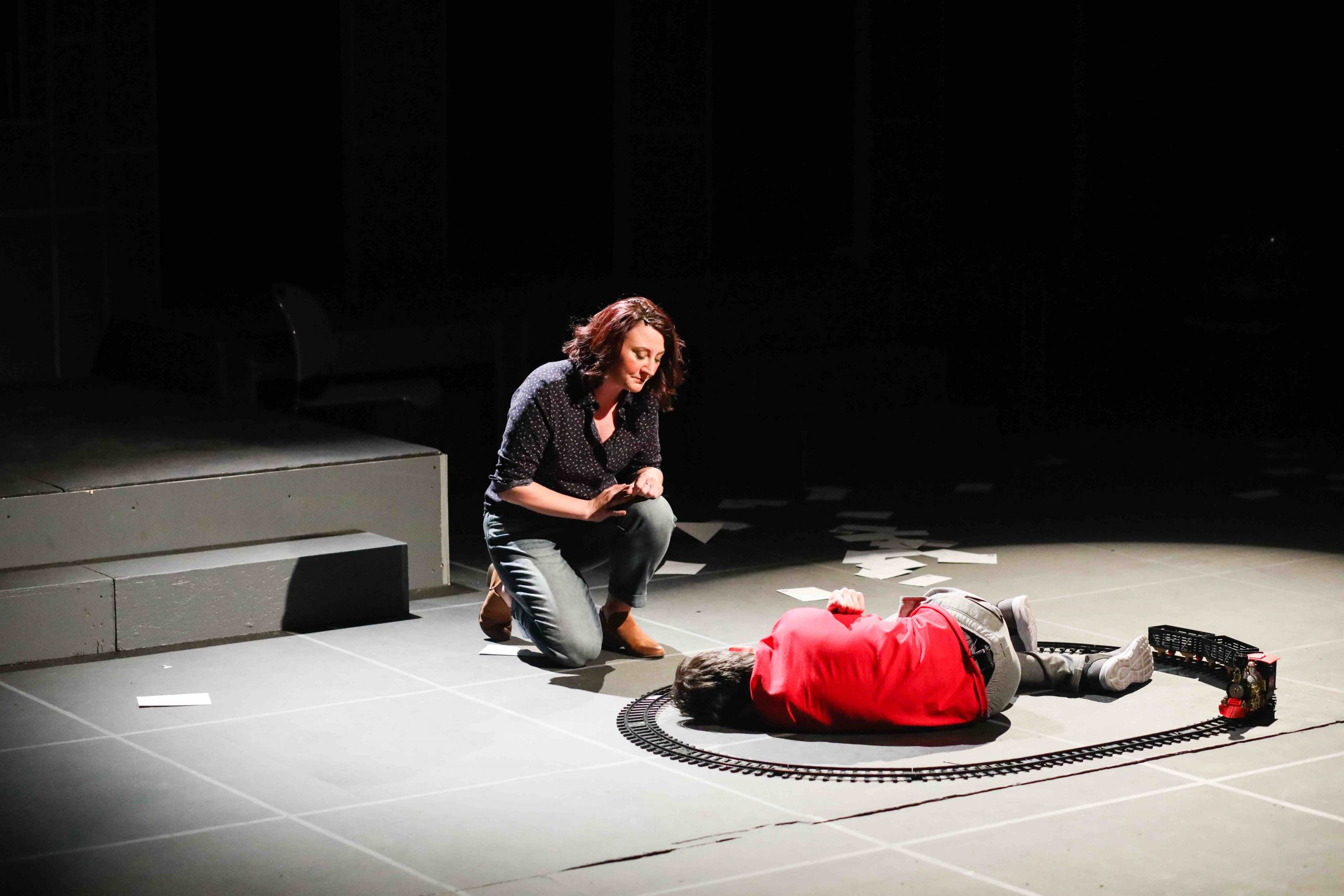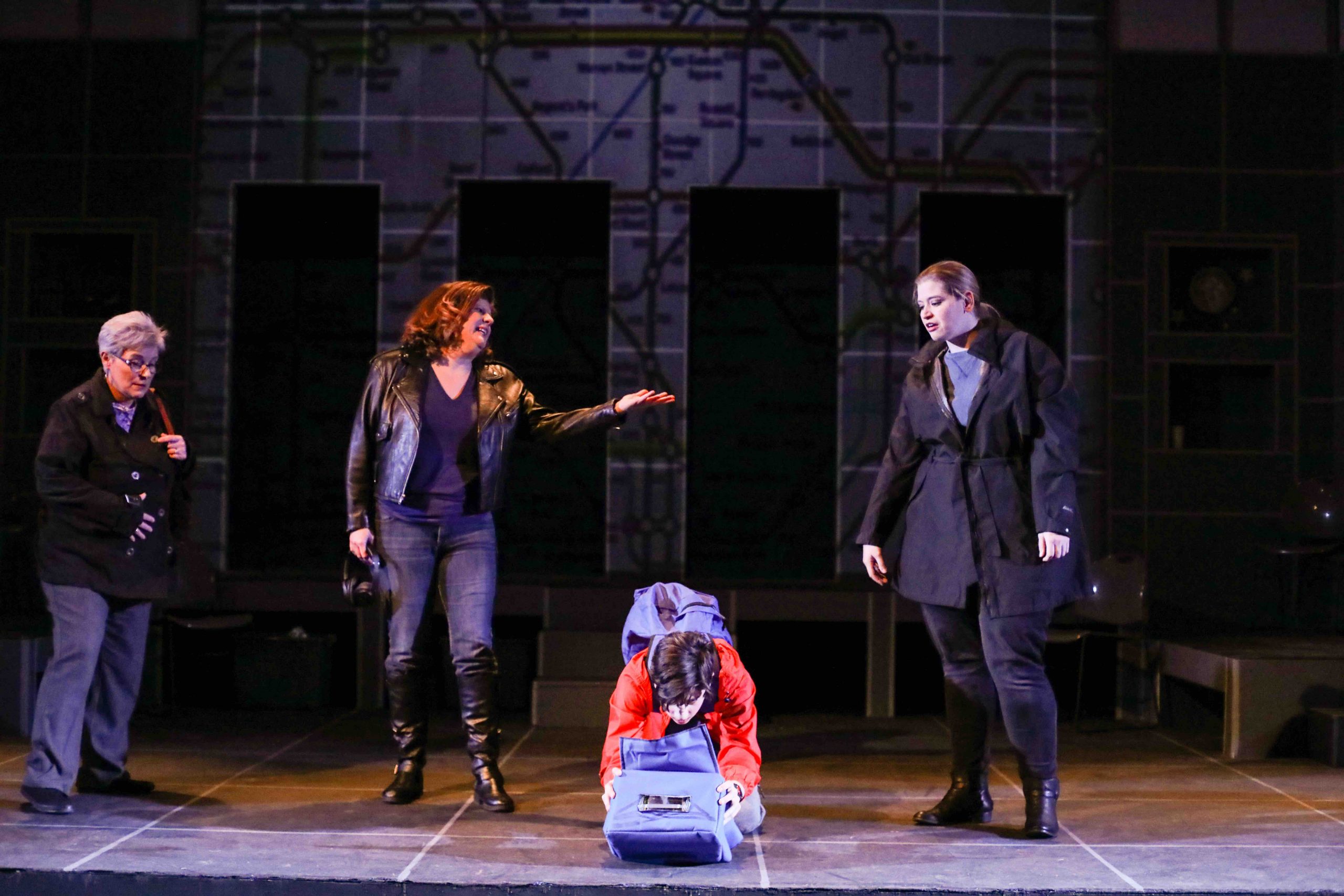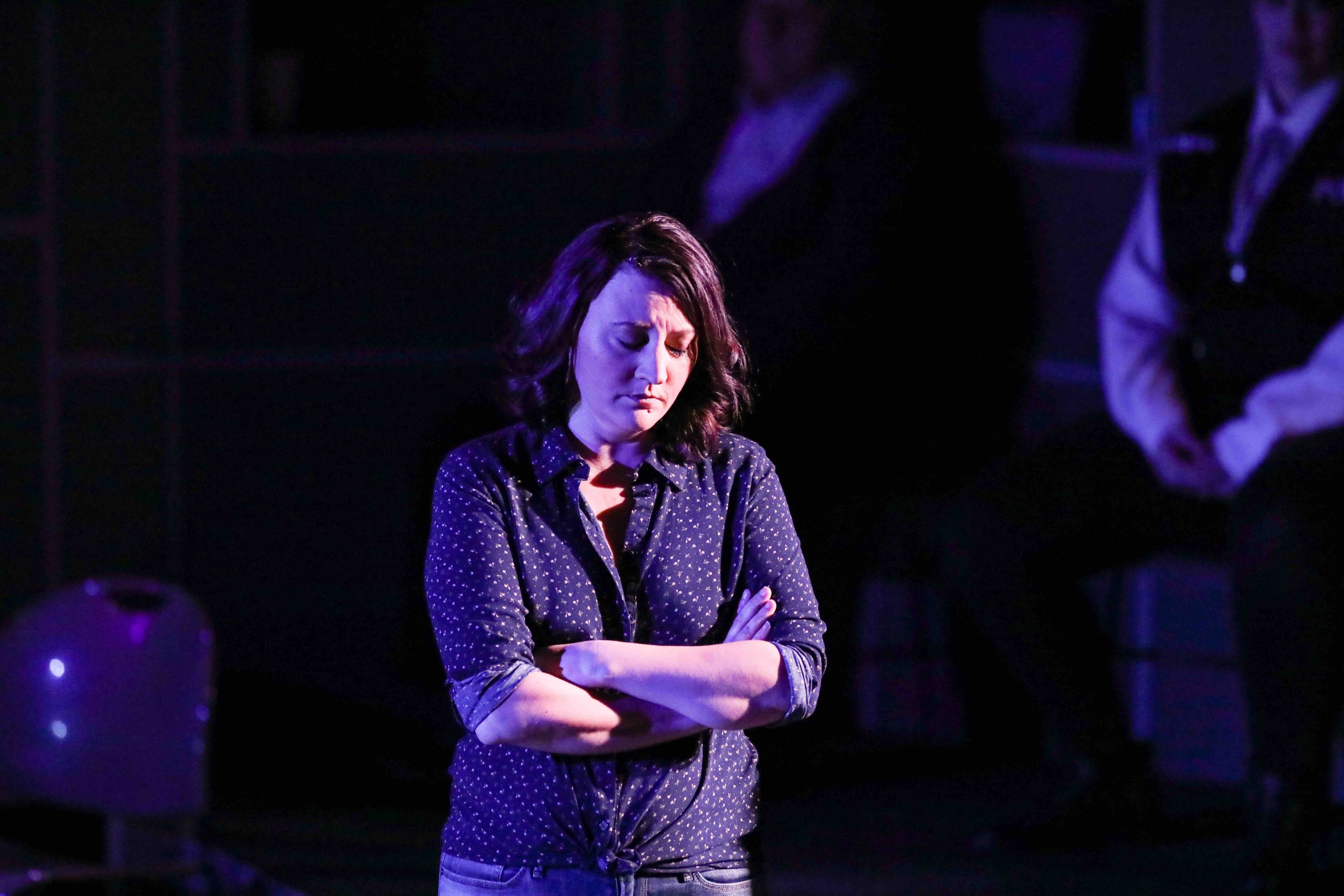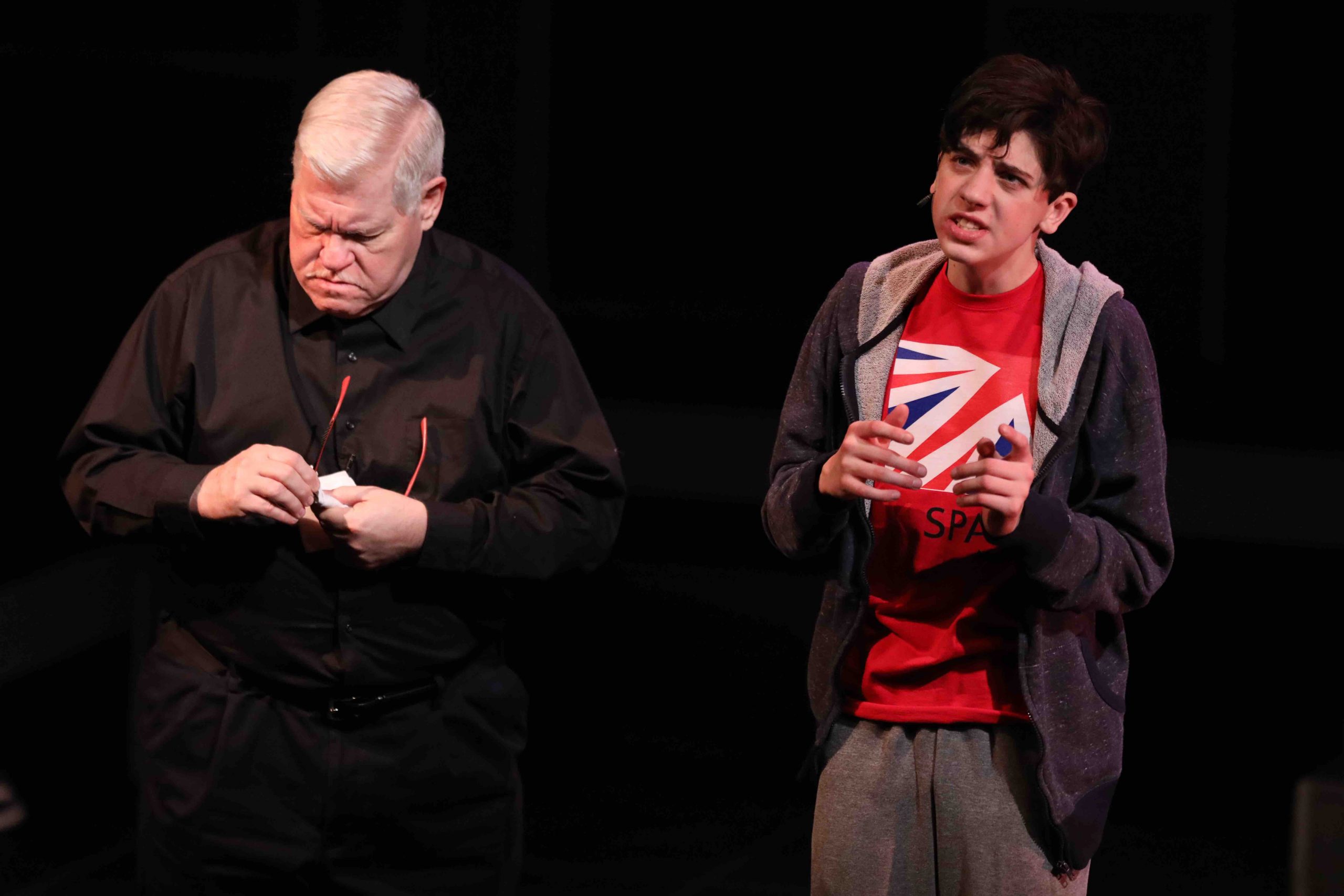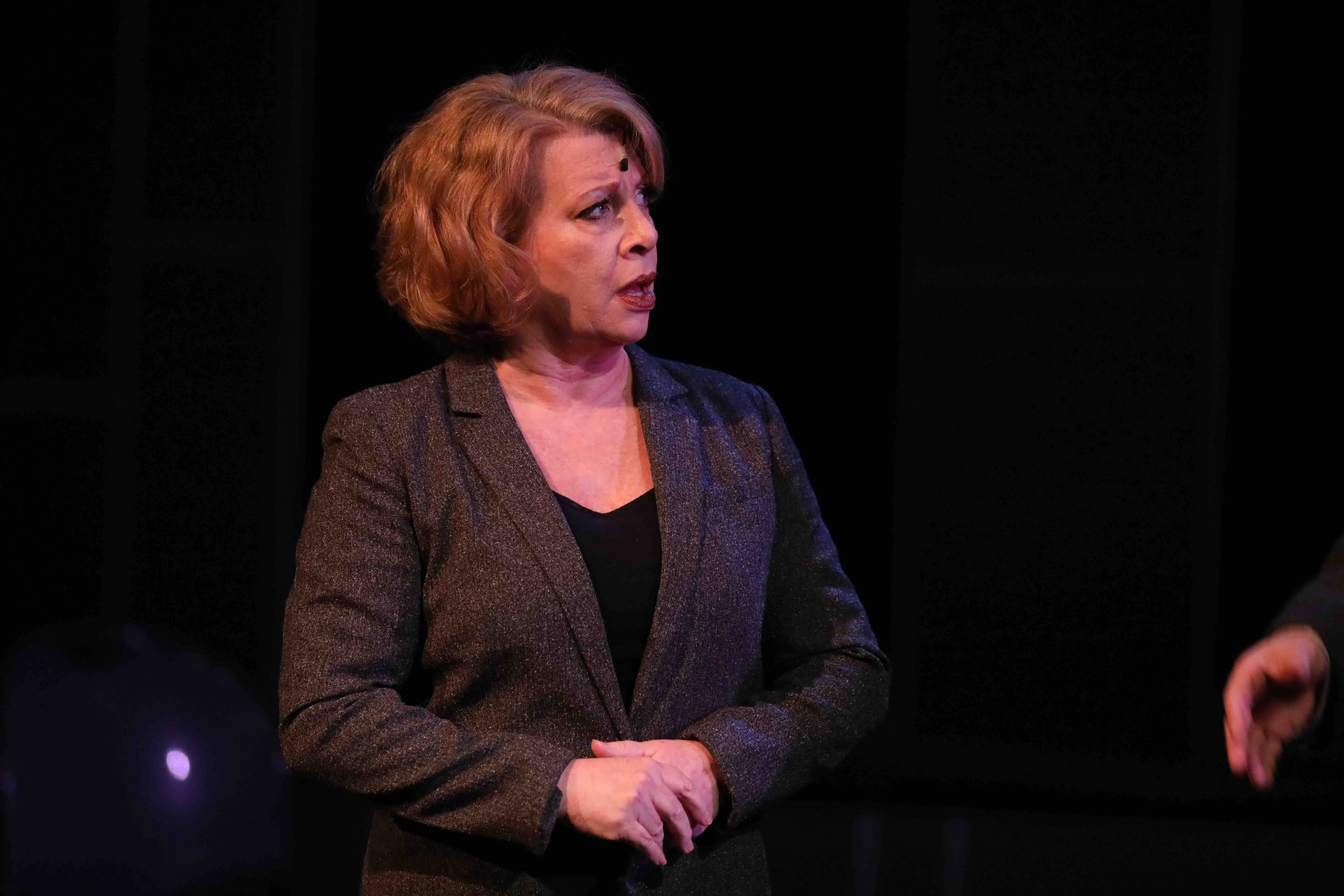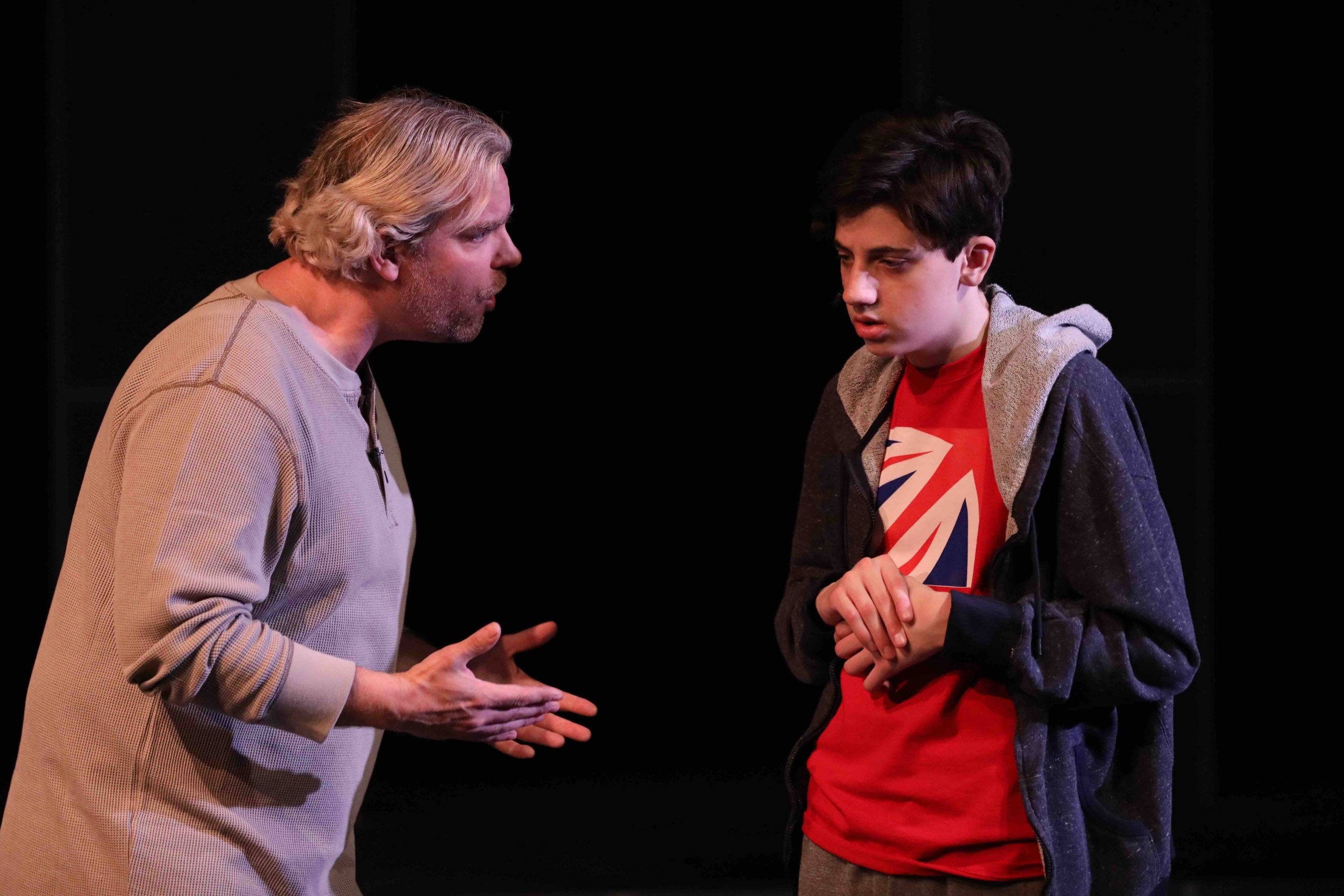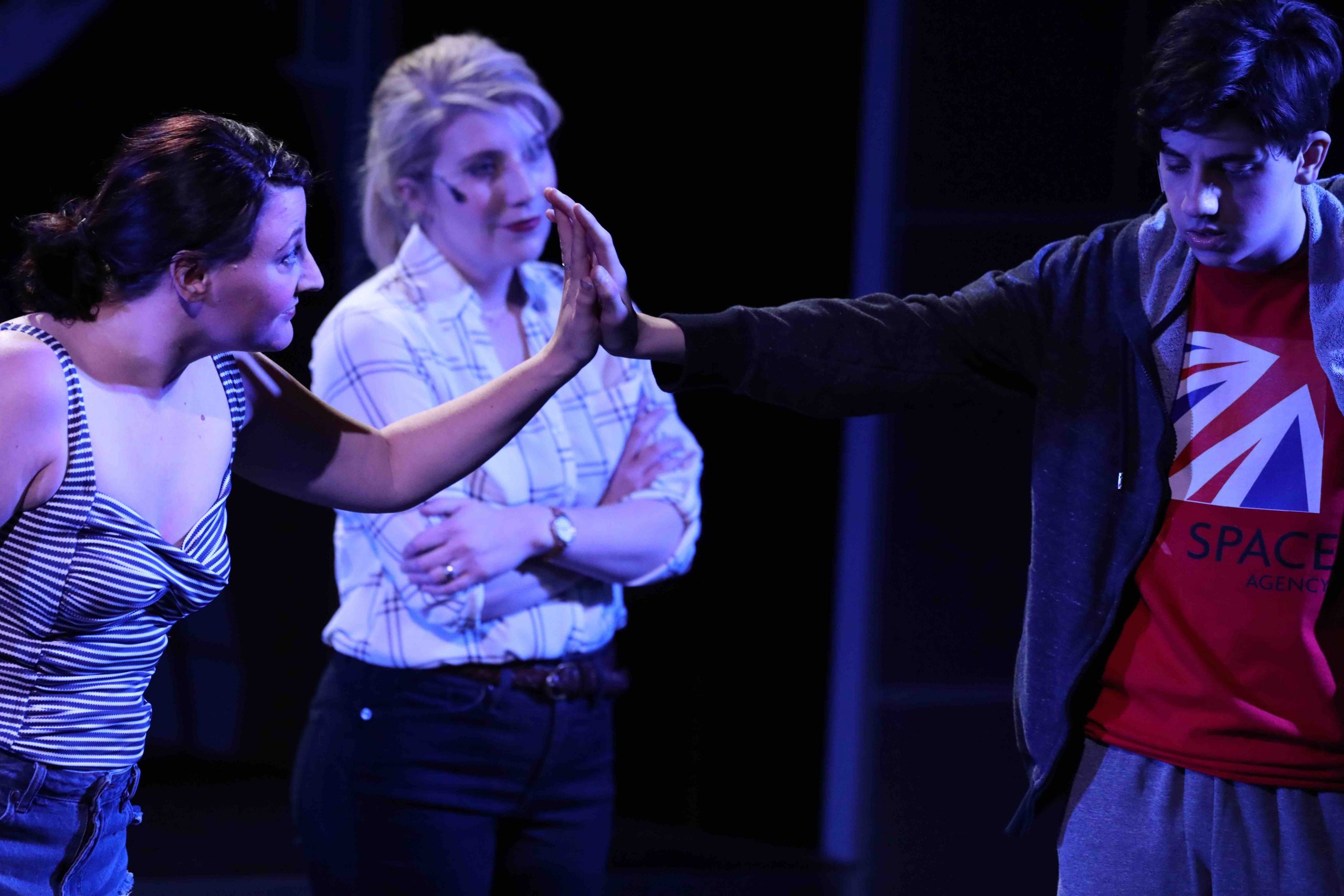 February 8-23, 2019
Kephart Theatre
---
The Curious Incident of the Dog in the Night-Time
Based on the novel by Mark Haddon, adapted by Simon Stephens
BRILLIANCE HIDES. BRILLIANCE SUCCEEDS.
Cristopher is a 15-year-old mathematic savant who is ill-equipped to deal with life in the real world. When his neighbor's dog is killed, he decides he's going to investigate the incident. His journey becomes one not only of discovery of the crime, his family, and his world, but of just how far his own abilities can take him.
SPONSORED BY BENNINGTON STATE BANK
Christopher: Isaac Morris
Siobhan: Lauren Bertram
Ed: John Hendrick
Judy: Jenn Morris
Voice One: Vickee Spicer
Voice Two: Paul Minneman
Voice Three: Erin Gallion
Voice Four: David Greiser
Voice Five: Rachel Pearson
Voice Six: Susan Burchill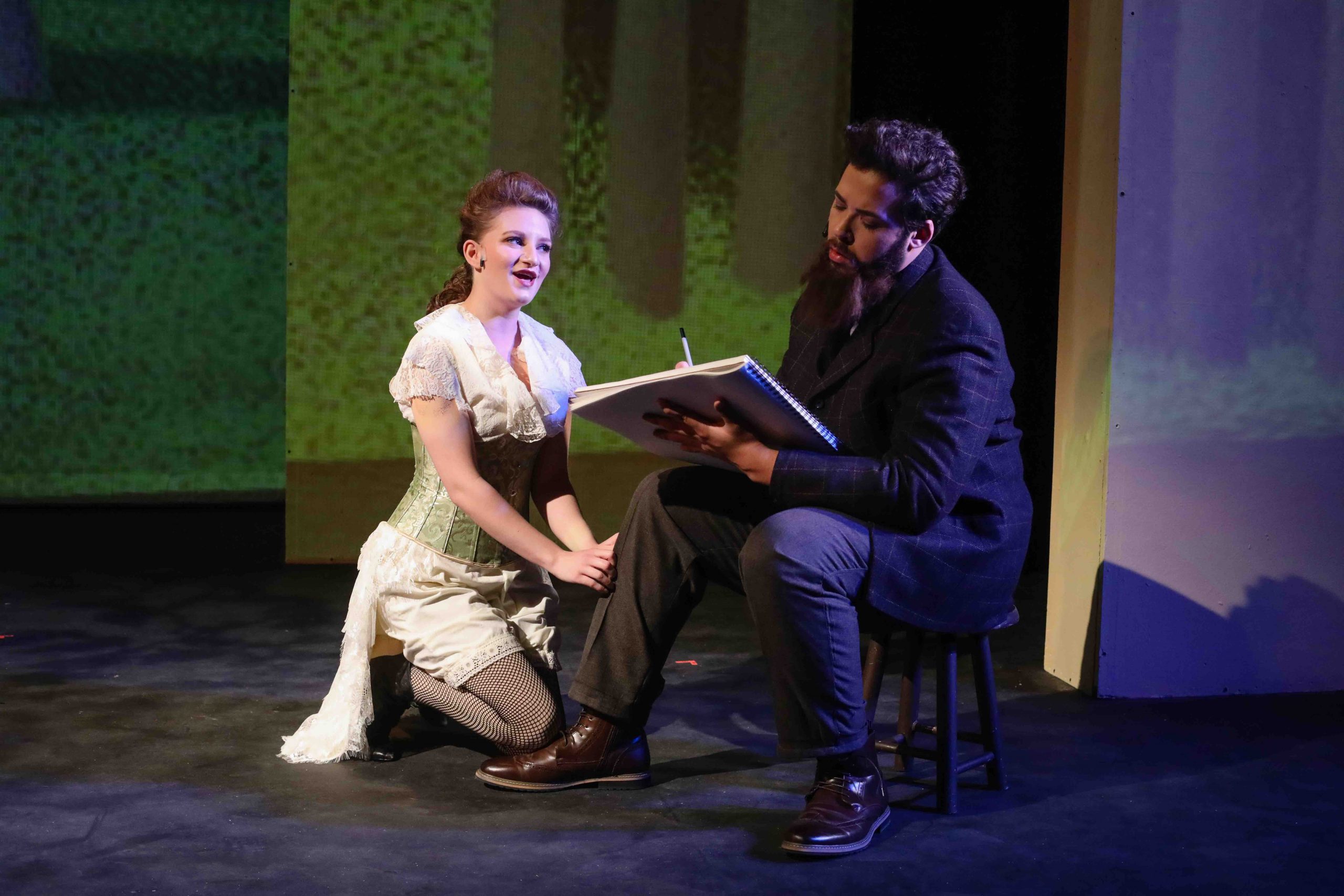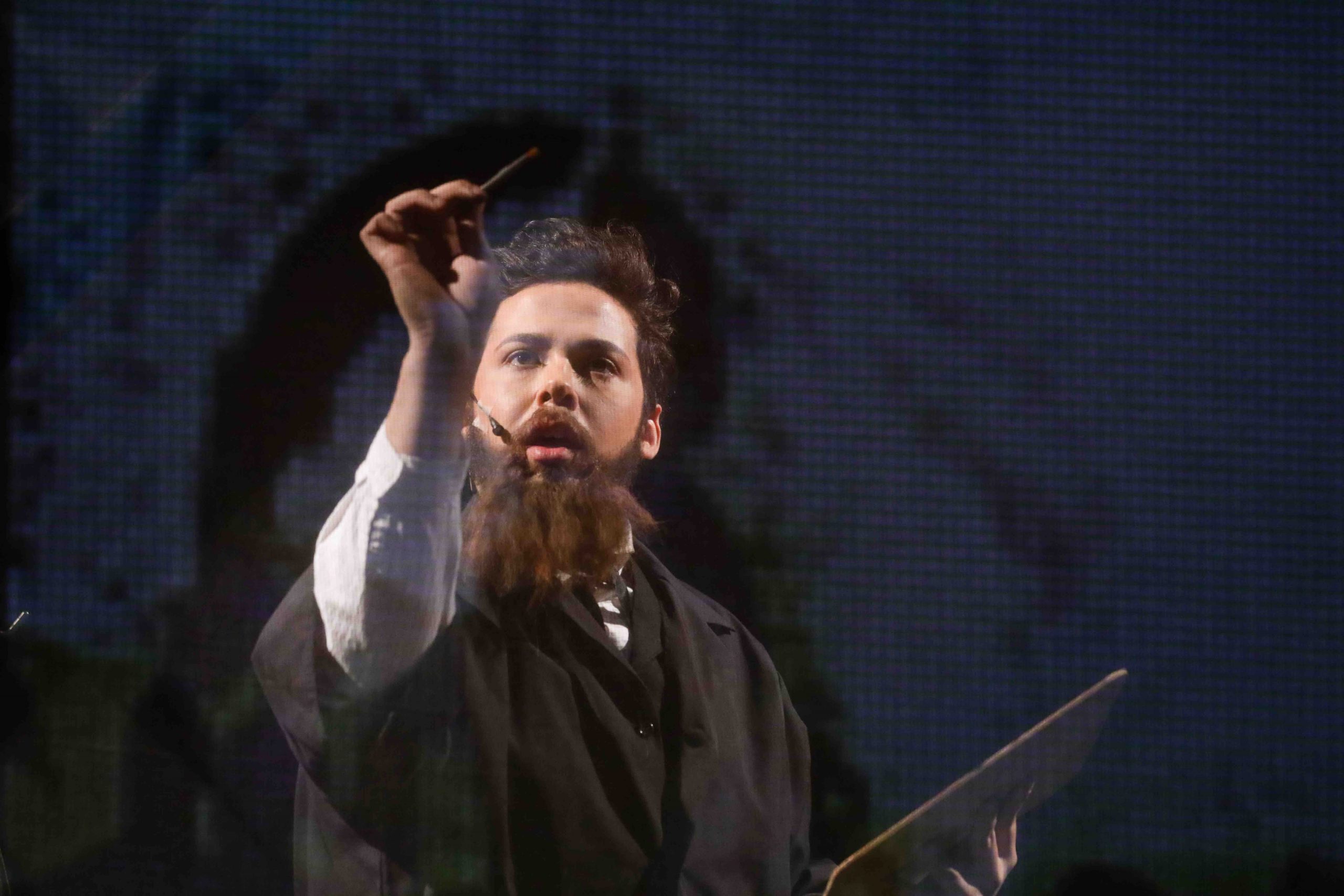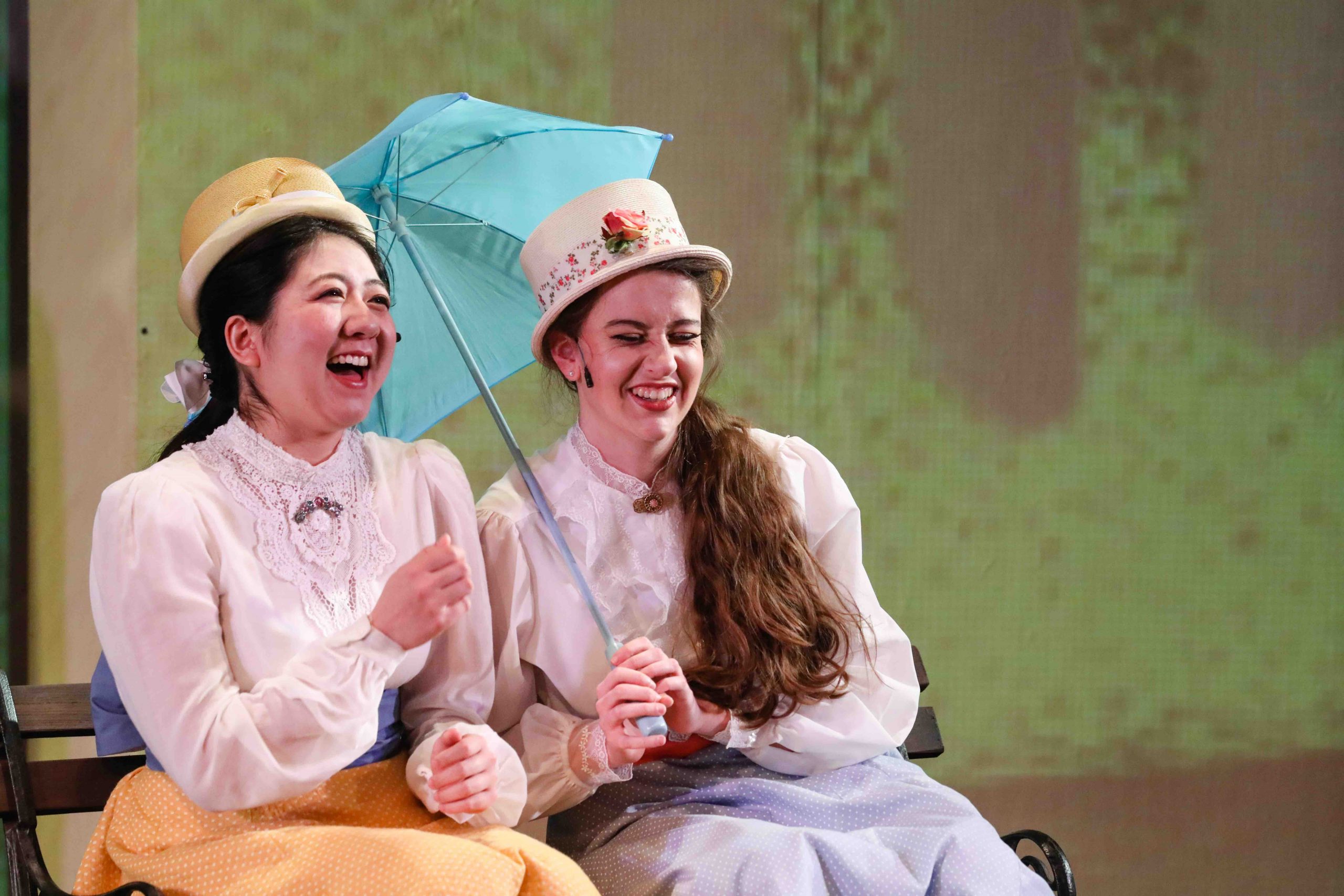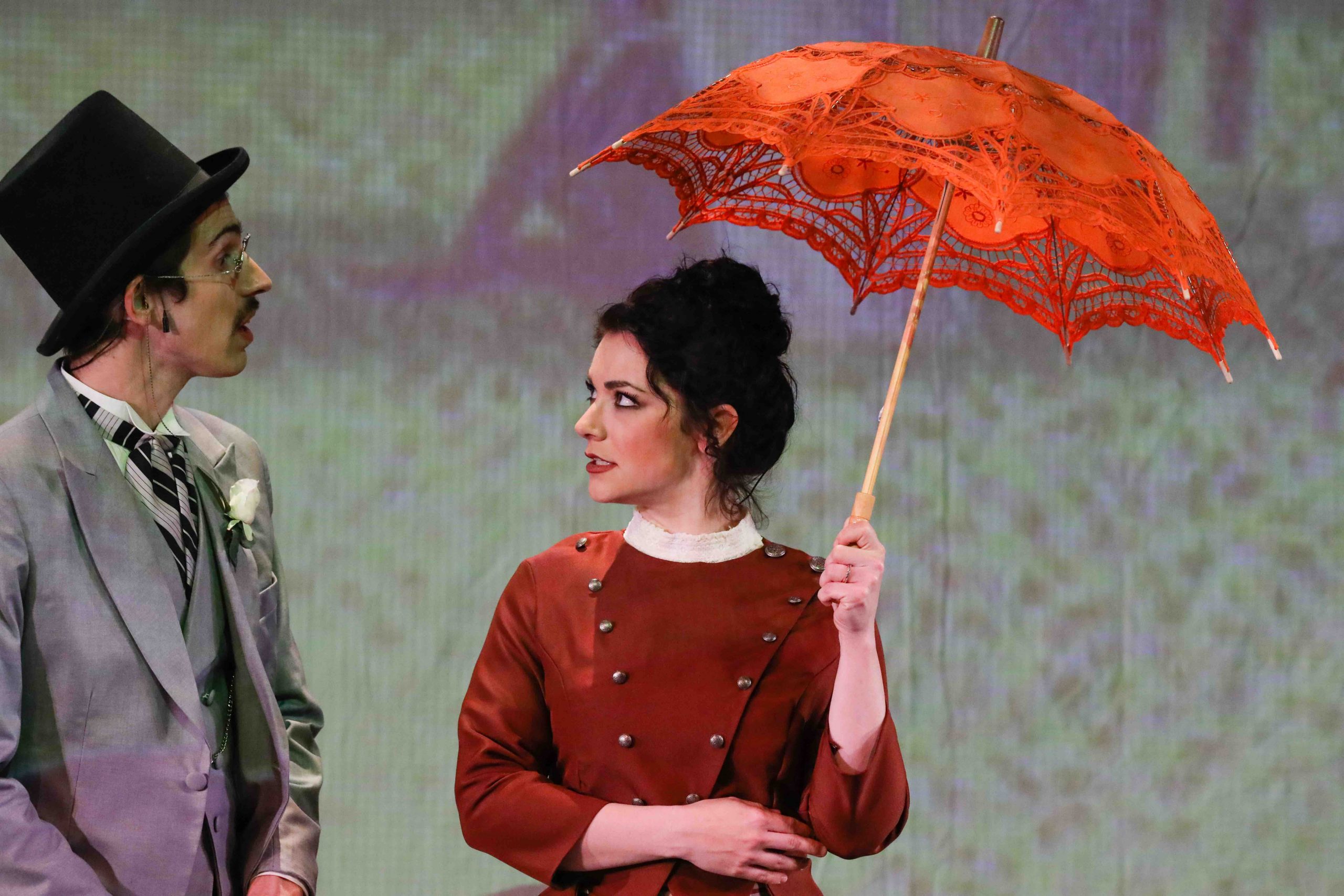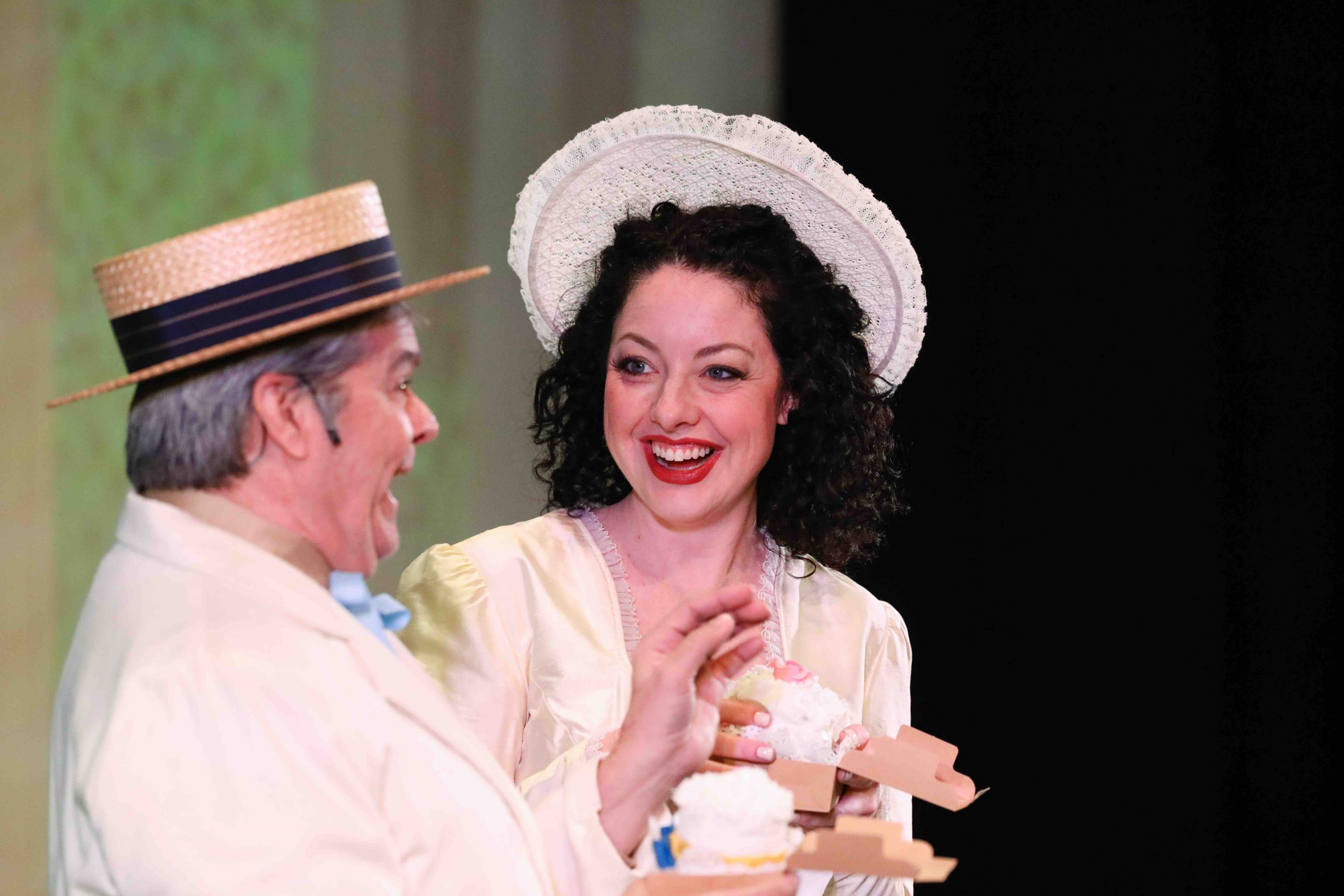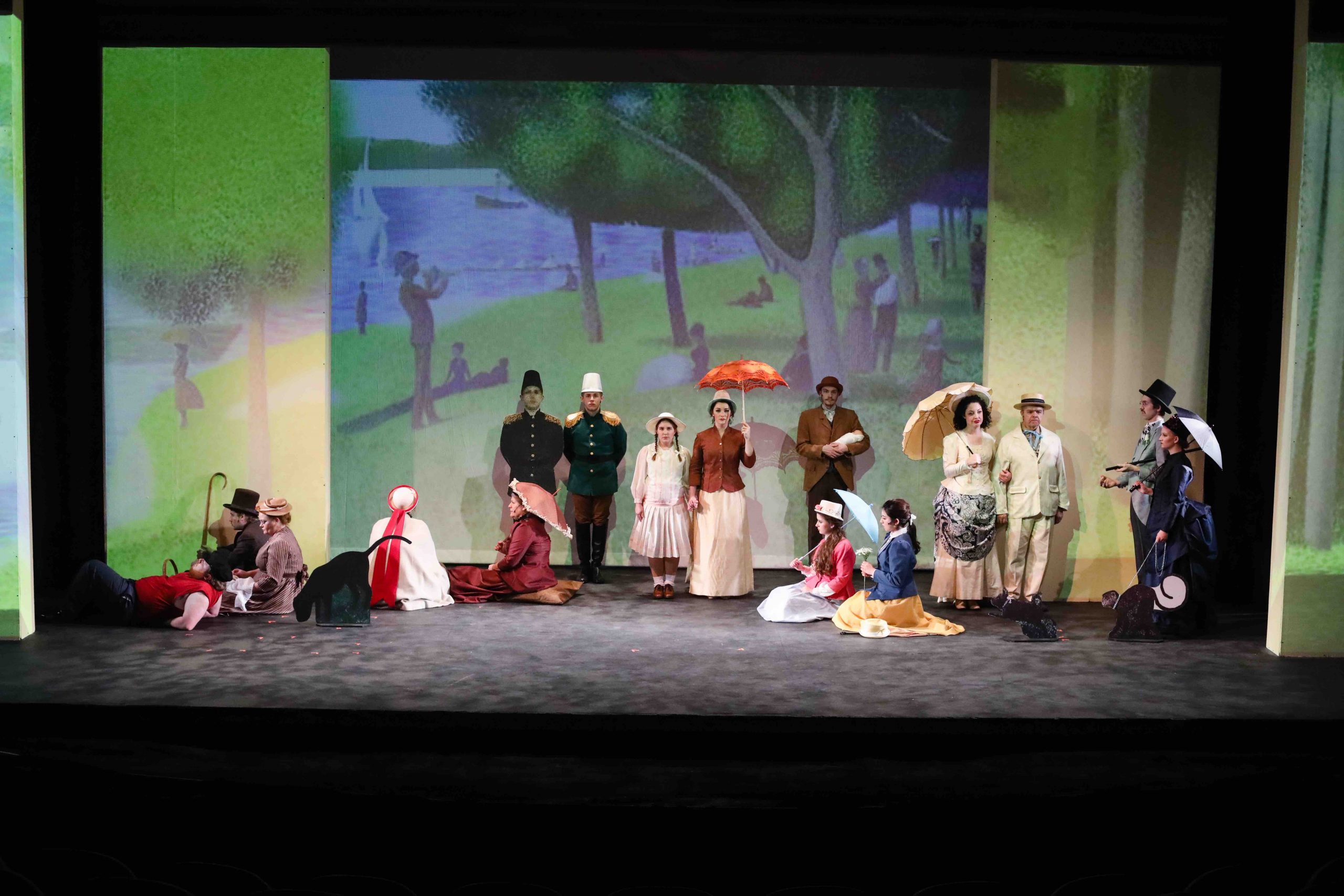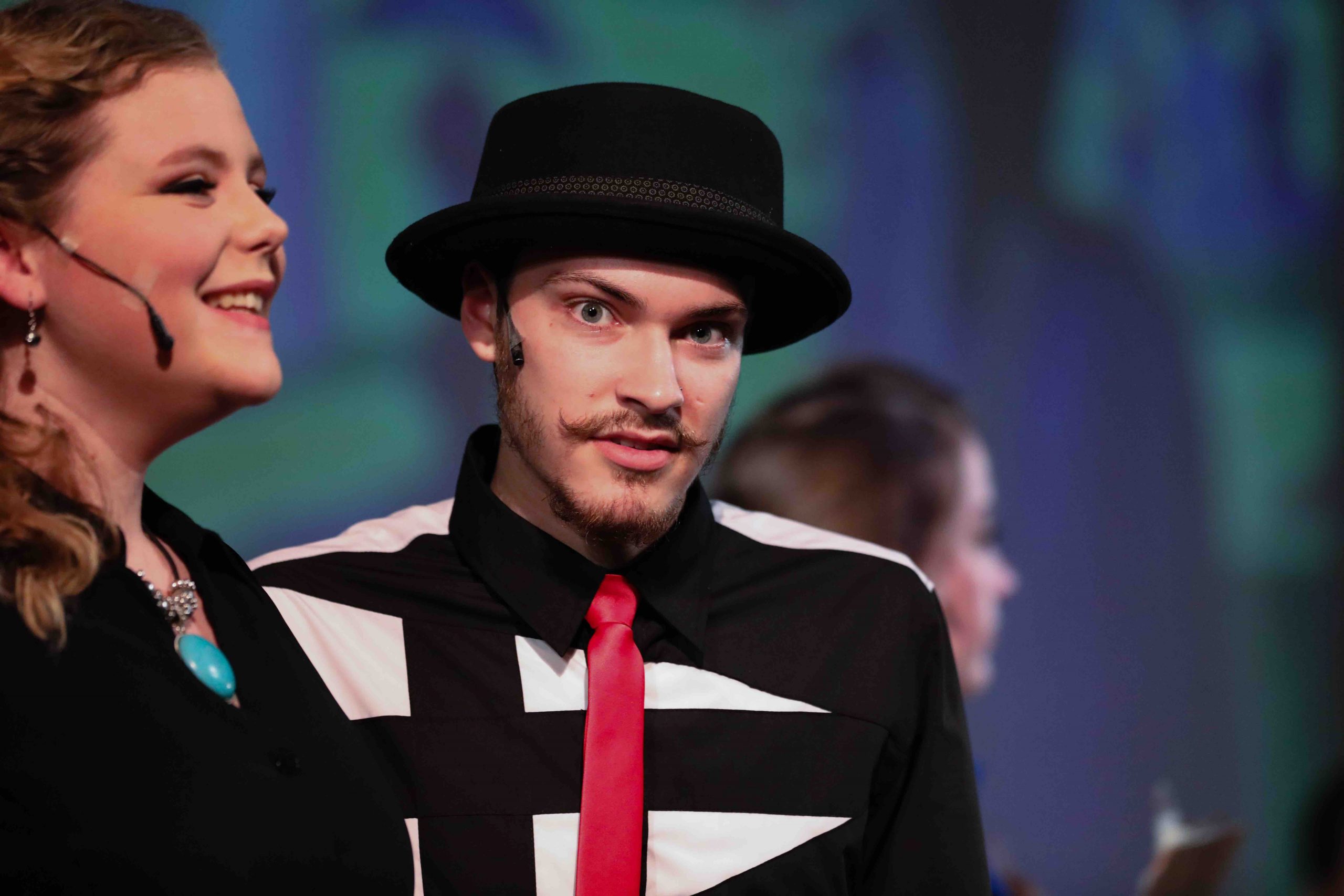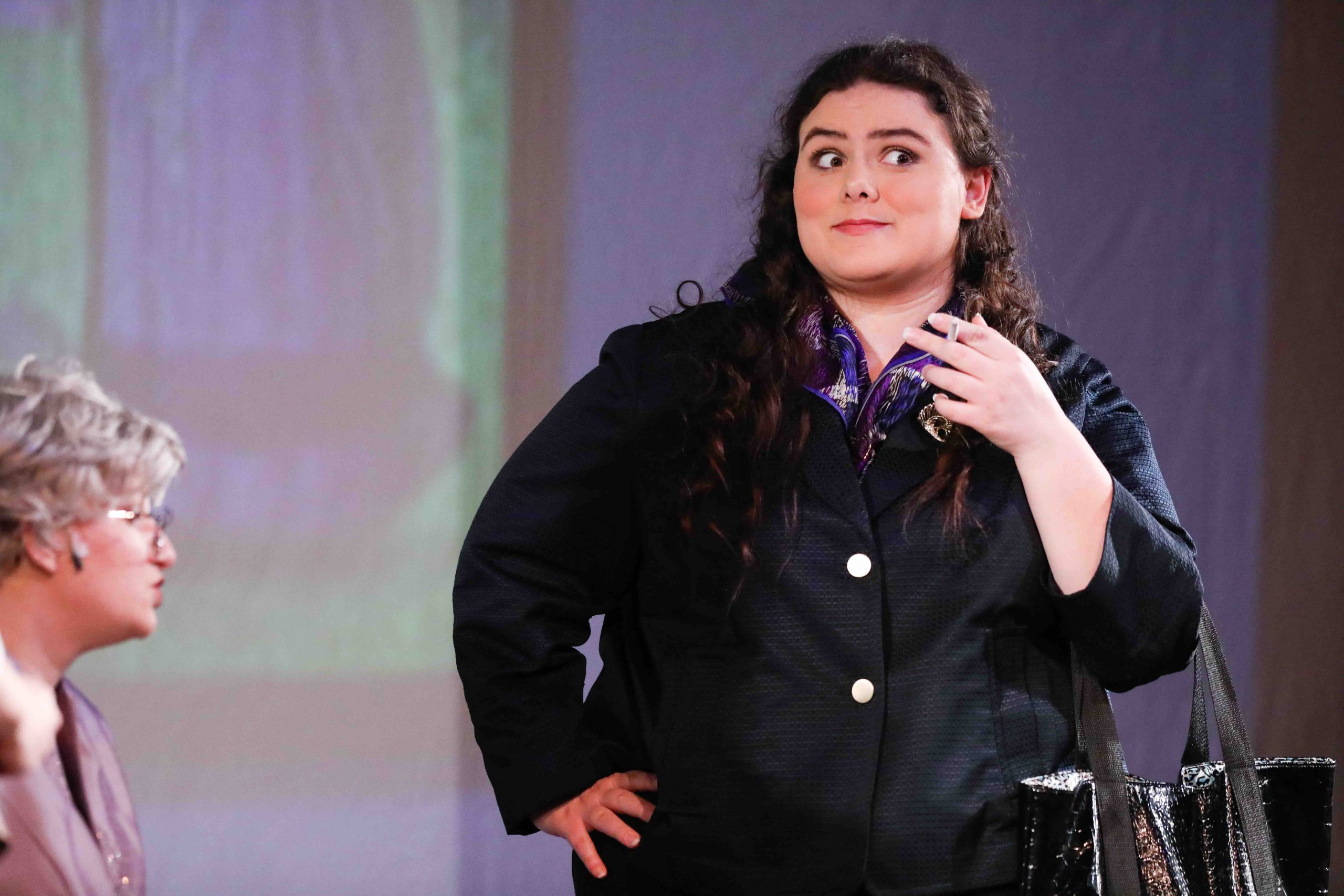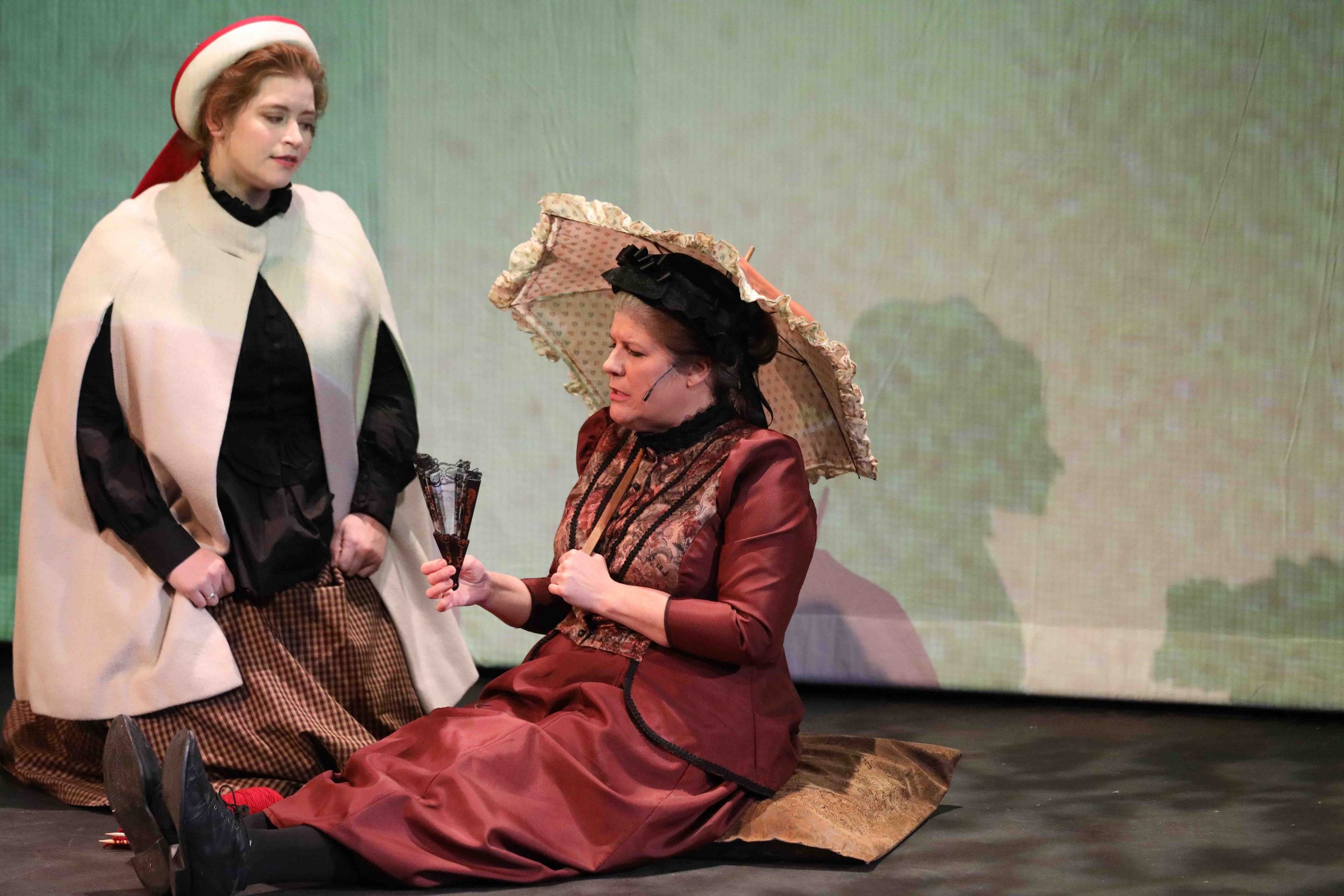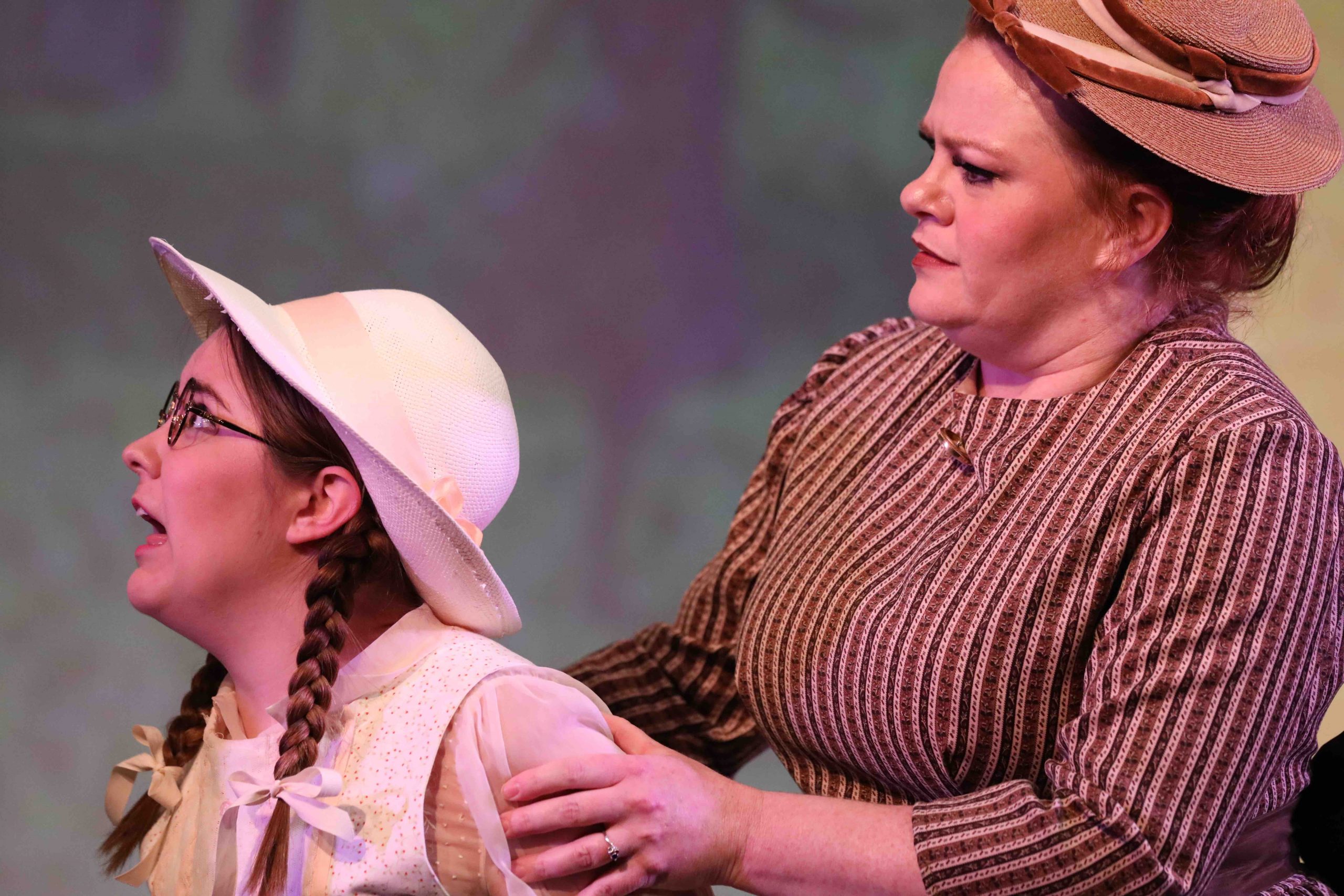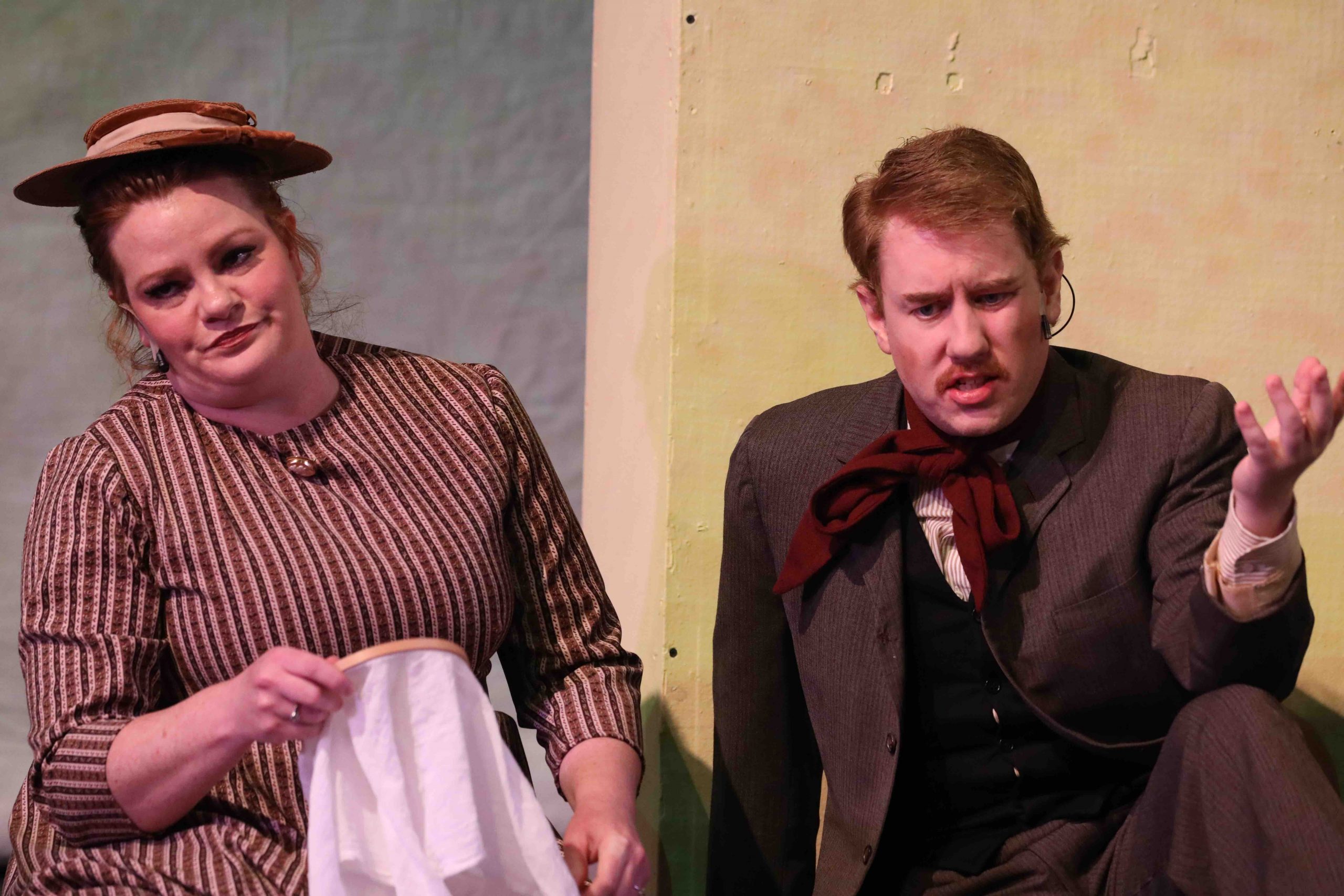 April 5 – 20, 2019
Kephart Theatre
---
Sunday in the Park with George
By Stephen Sondheim and James Lapine
Produced in collaboration with
KANSAS WESLEYAN UNIVERSITY
ART, LIKE LOVE, IS NEVER EASY
Meet George Seurat, the father of post-impressionist pointillism, as he creates his masterpiece "A Sunday Afternoon on the Island of La Grande Jatte", and his love, a beautiful young woman known simply as "Dot." What it takes for each of them to accomplish their love will thrill you through some of the greatest music of the last 100 years.
Sponsored by WELLS FARGO ADVISORS and CROWN DISTRIBUTORS
George: Jaicee Wilson
Dot / Marie: Brianna Anderson
Old Lady: Rachel Pearson
Nurse: Erin Gallion
Jules / Billy Webster: Paul Minneman
Yvonne / Naomi Eisen: Ali Schade
Boatman / Charles Redmond: Brett Baldwin
Celeste #1 / Museum Assistant: Katie Comley
Celeste #2 / Waitress: Karlie Will
Louise: Tasha Deiser
Franz / Bob Greenberg: Joshua Tackett
Frieda: Jill French
Soldier / Young Man Sitting on the Bank / Photographer: Ethan Badders
Mr. / Lee Randolph: Gary DeMuth
Mrs. / Harriet Pawling: Sylvia Kvacik
Boy Bathing in the River / Dennis: Leighton Cline
Man Lying on the Bank / Louis / Alex: Dylan Blackhart
Betty: Dalana Dutton
Blair Daniels: Paula Rolph
Elaine: Mari Uezumi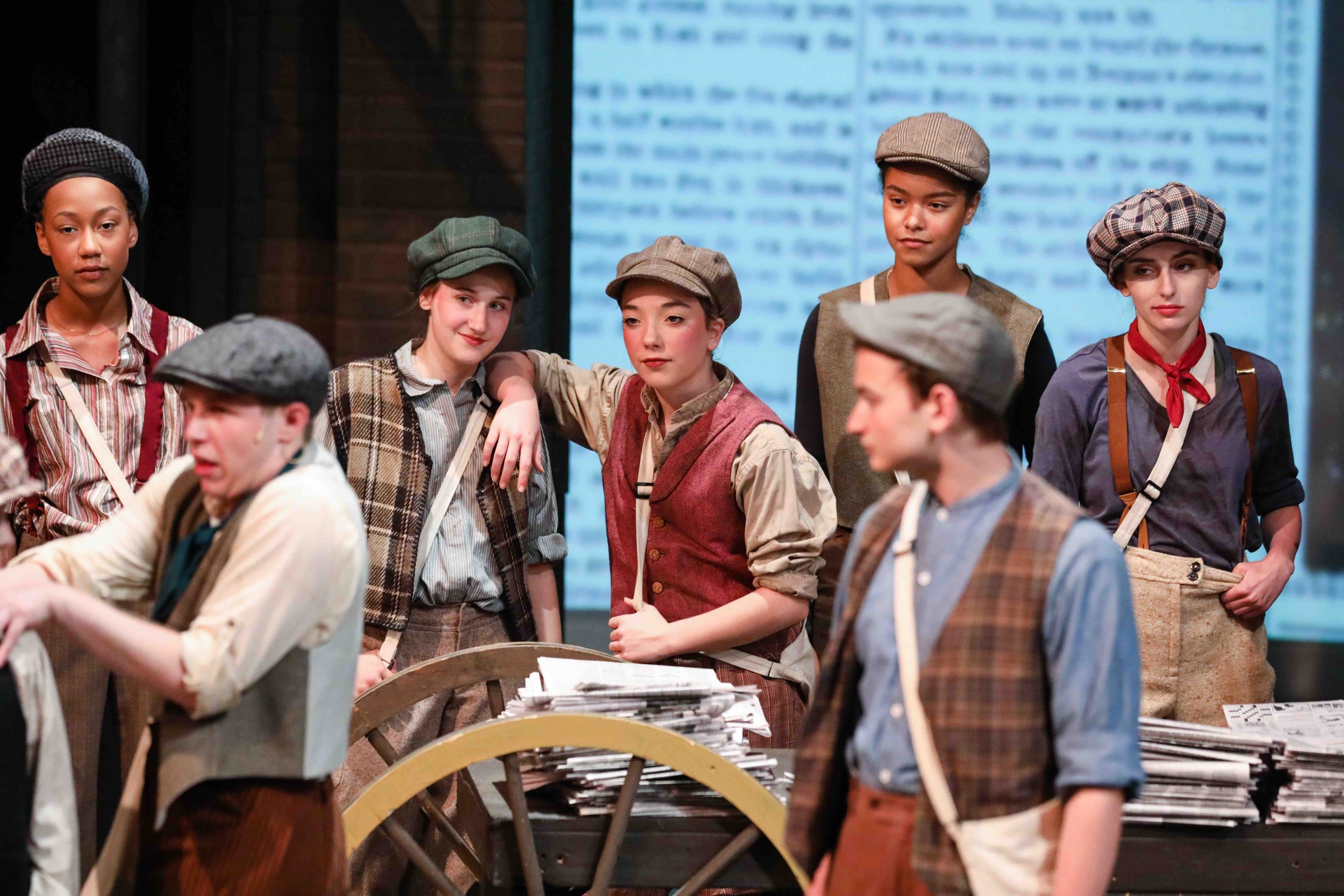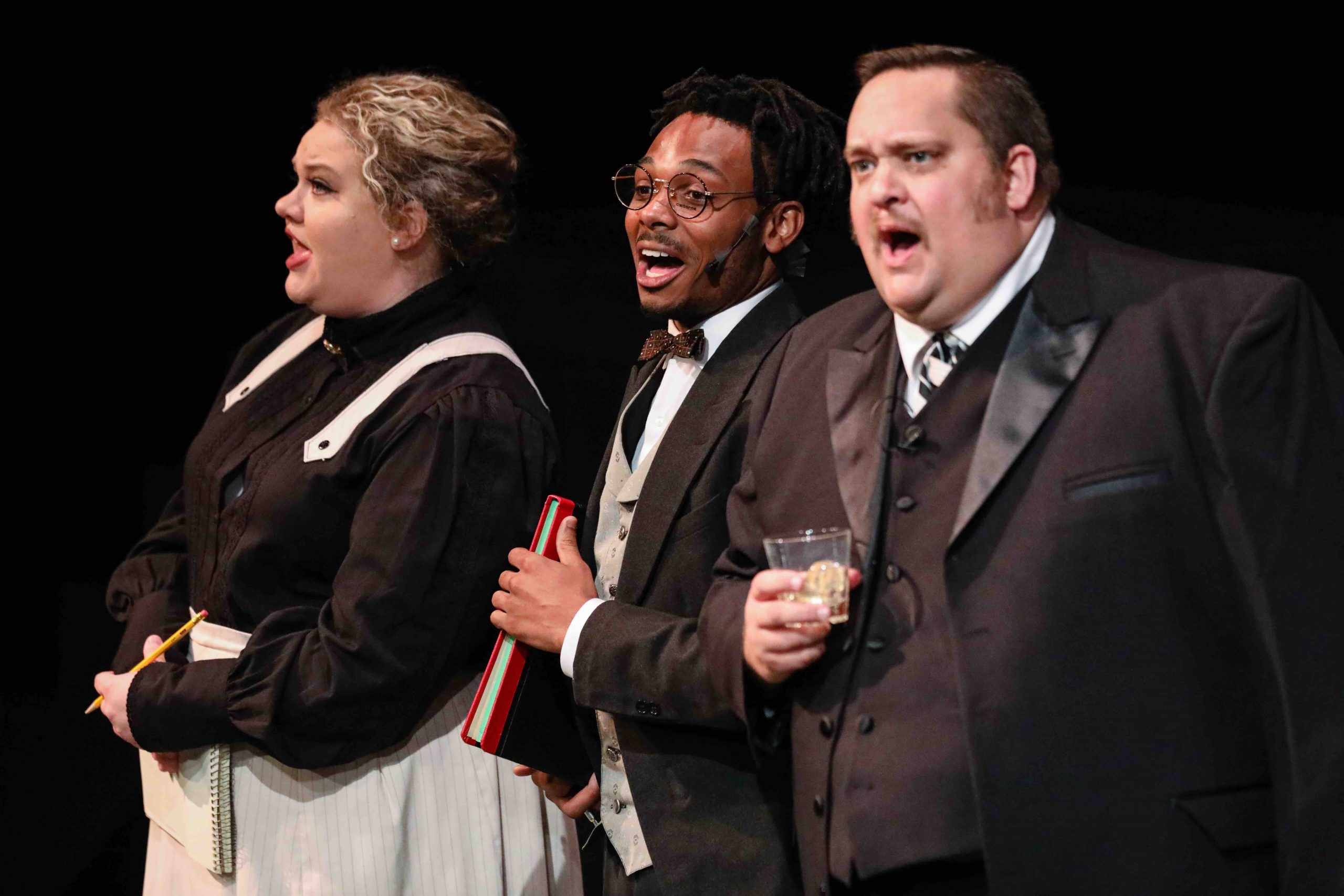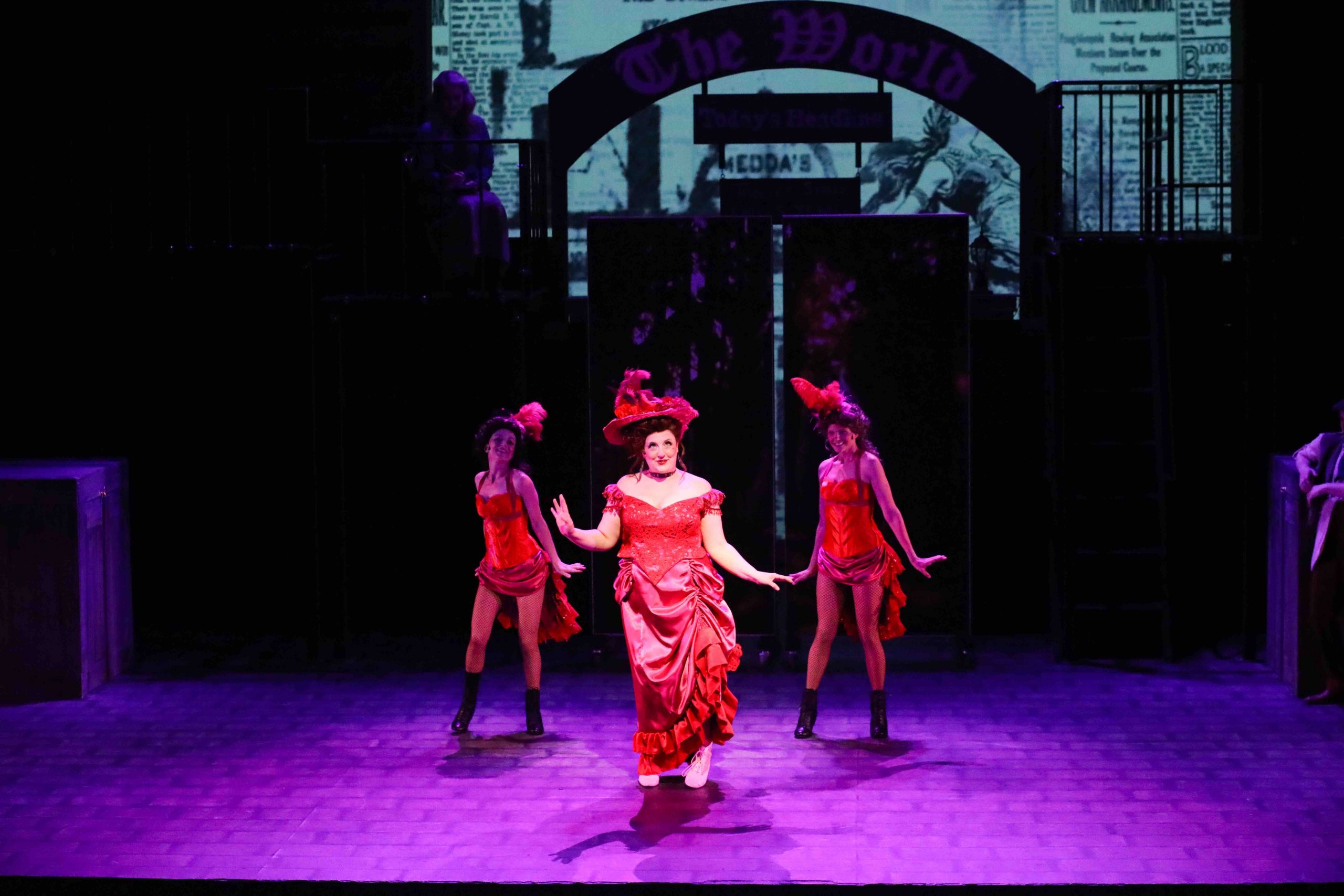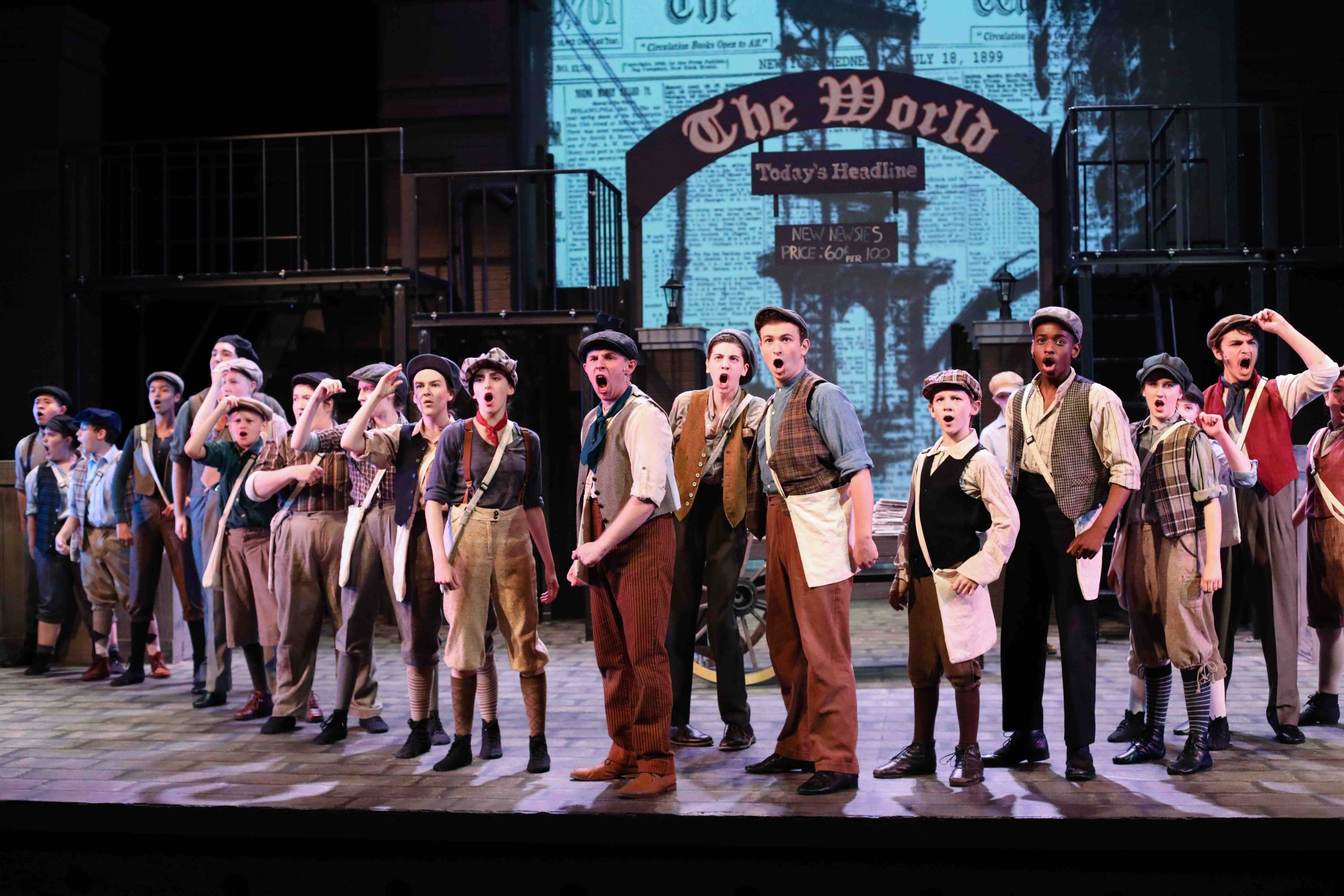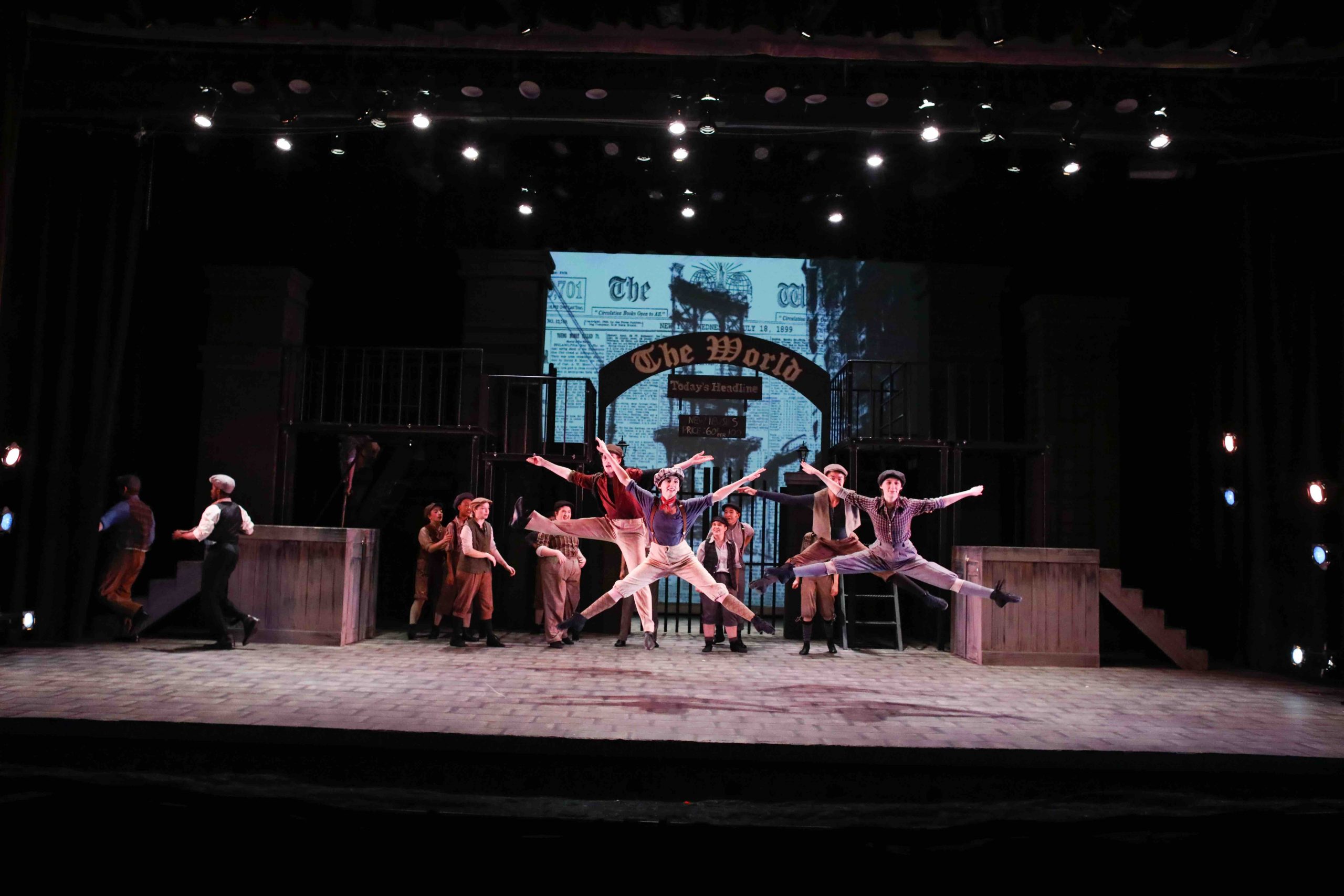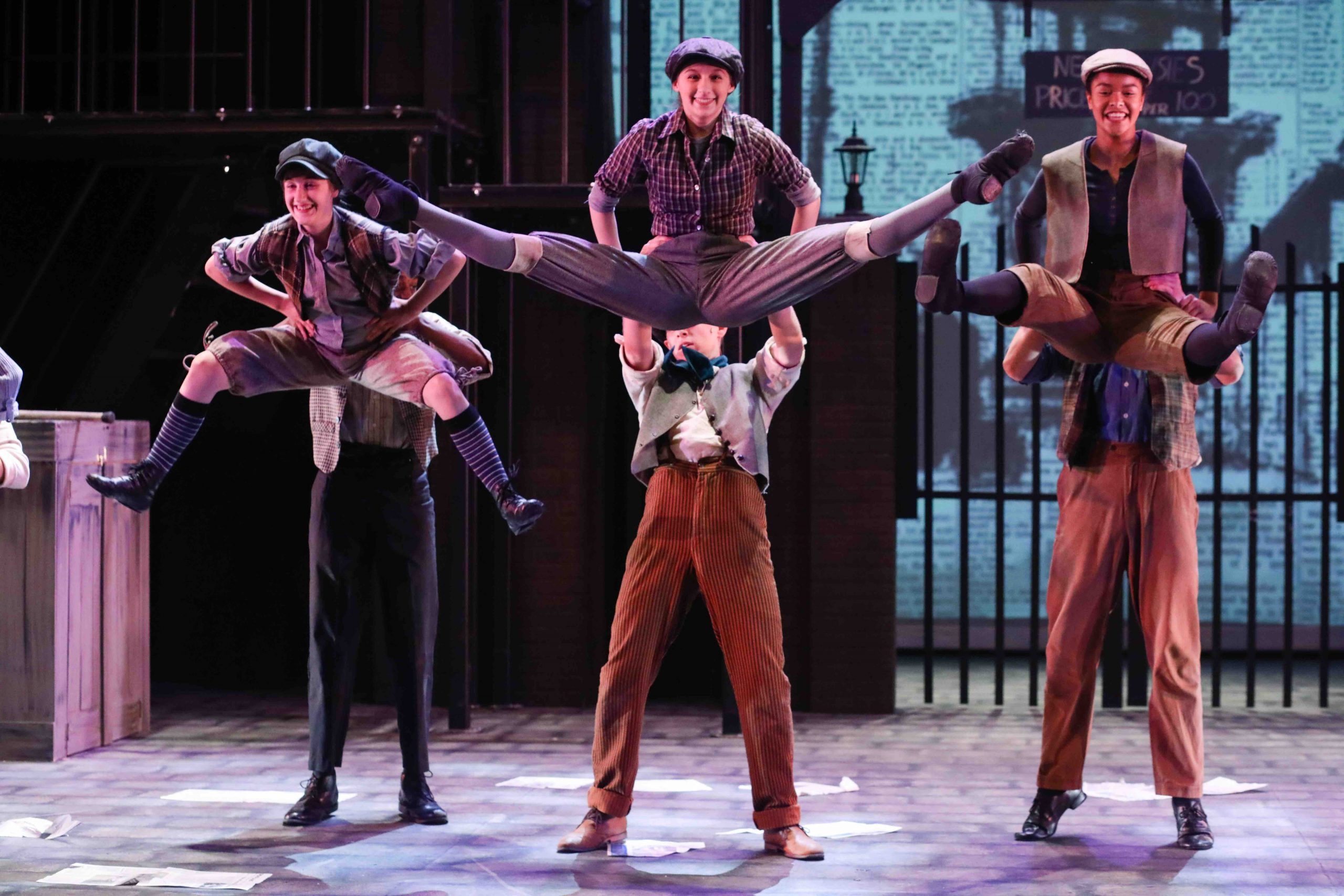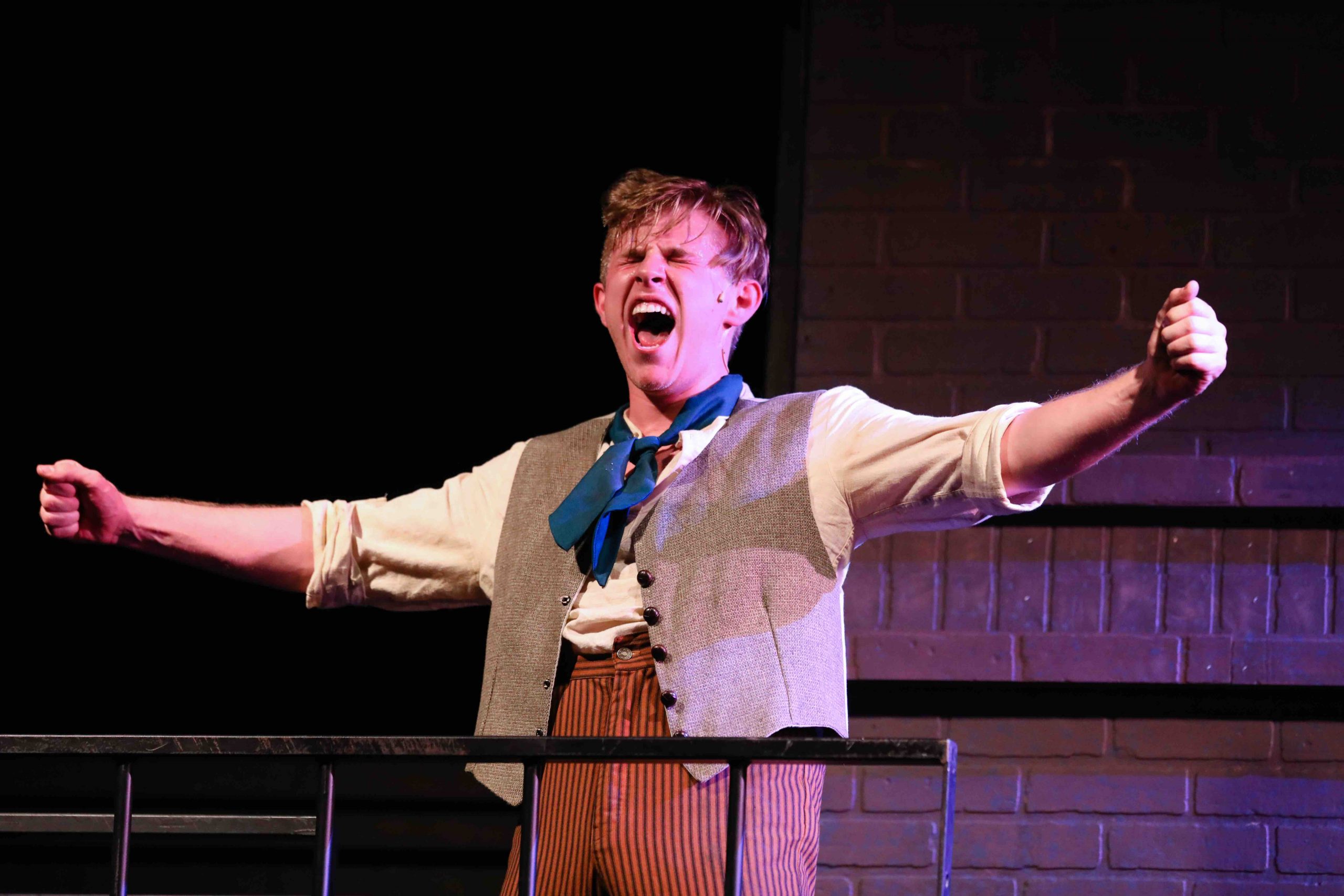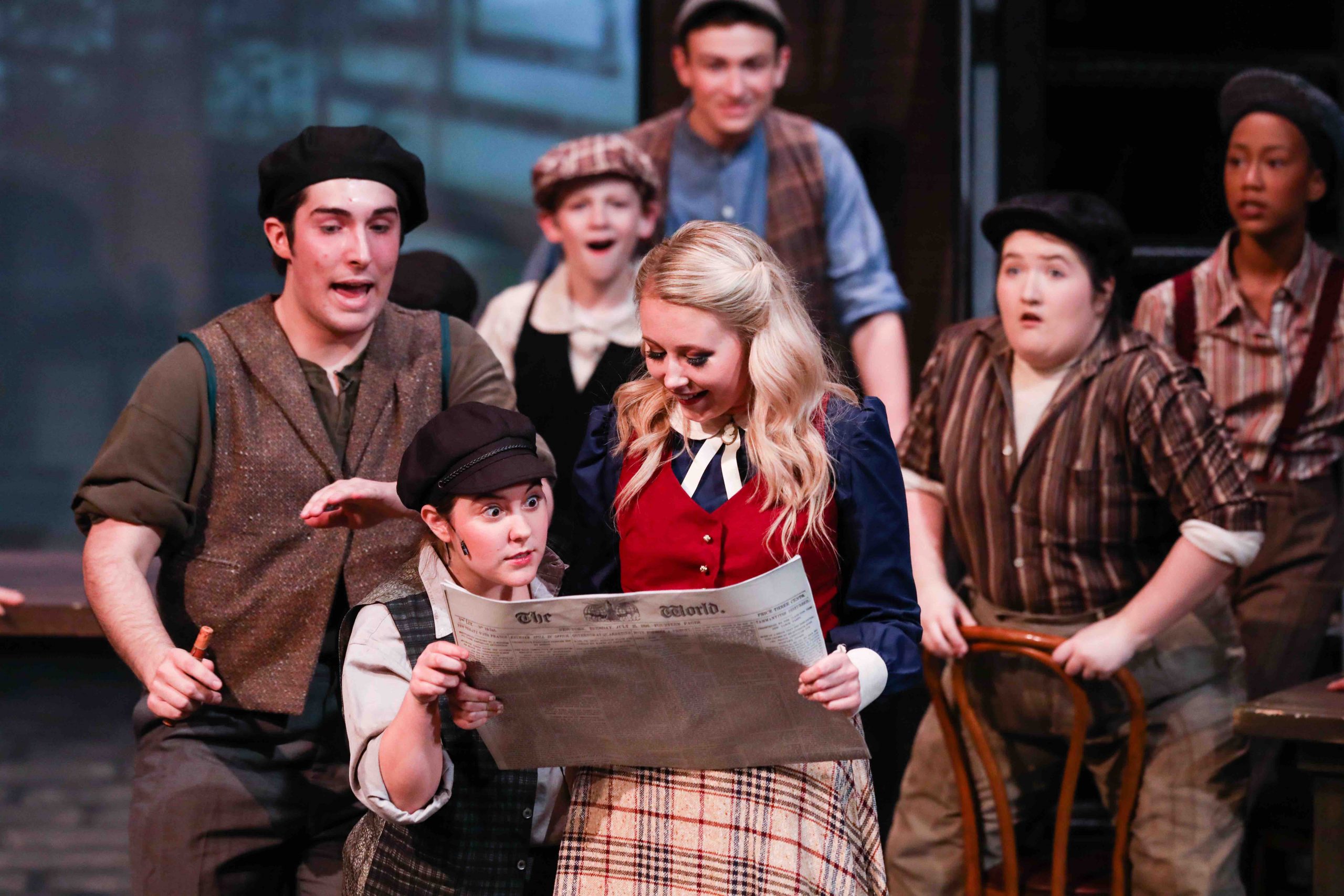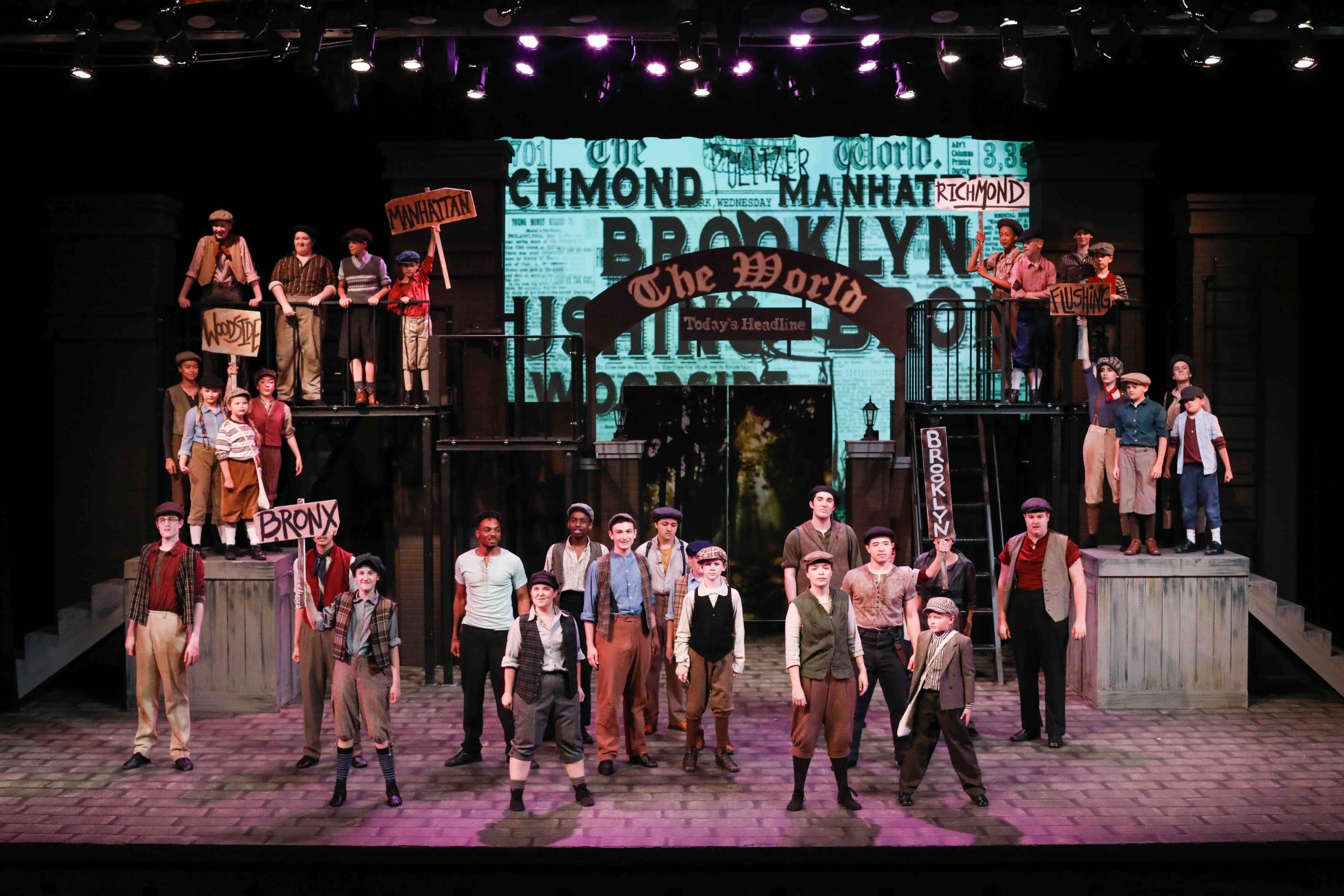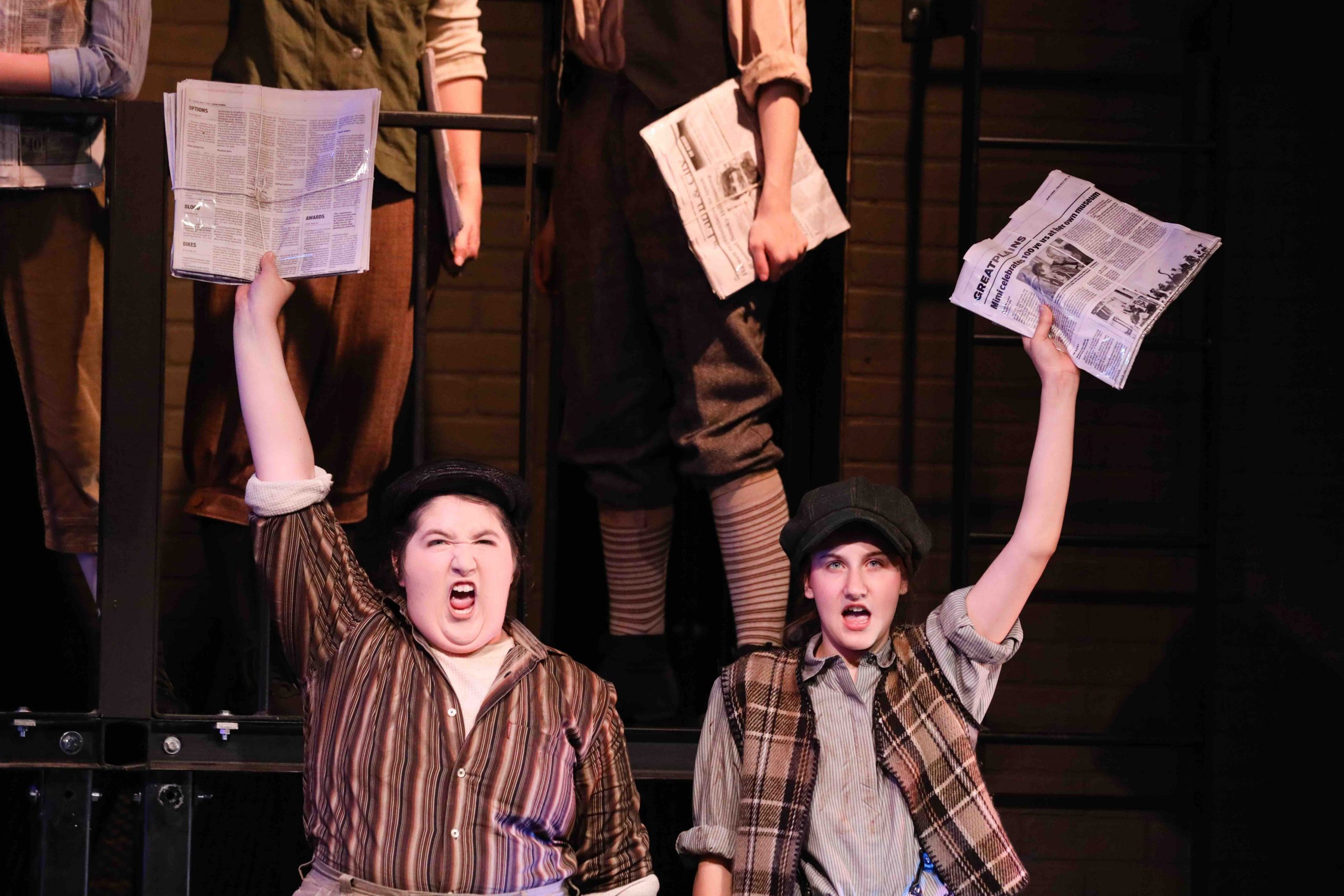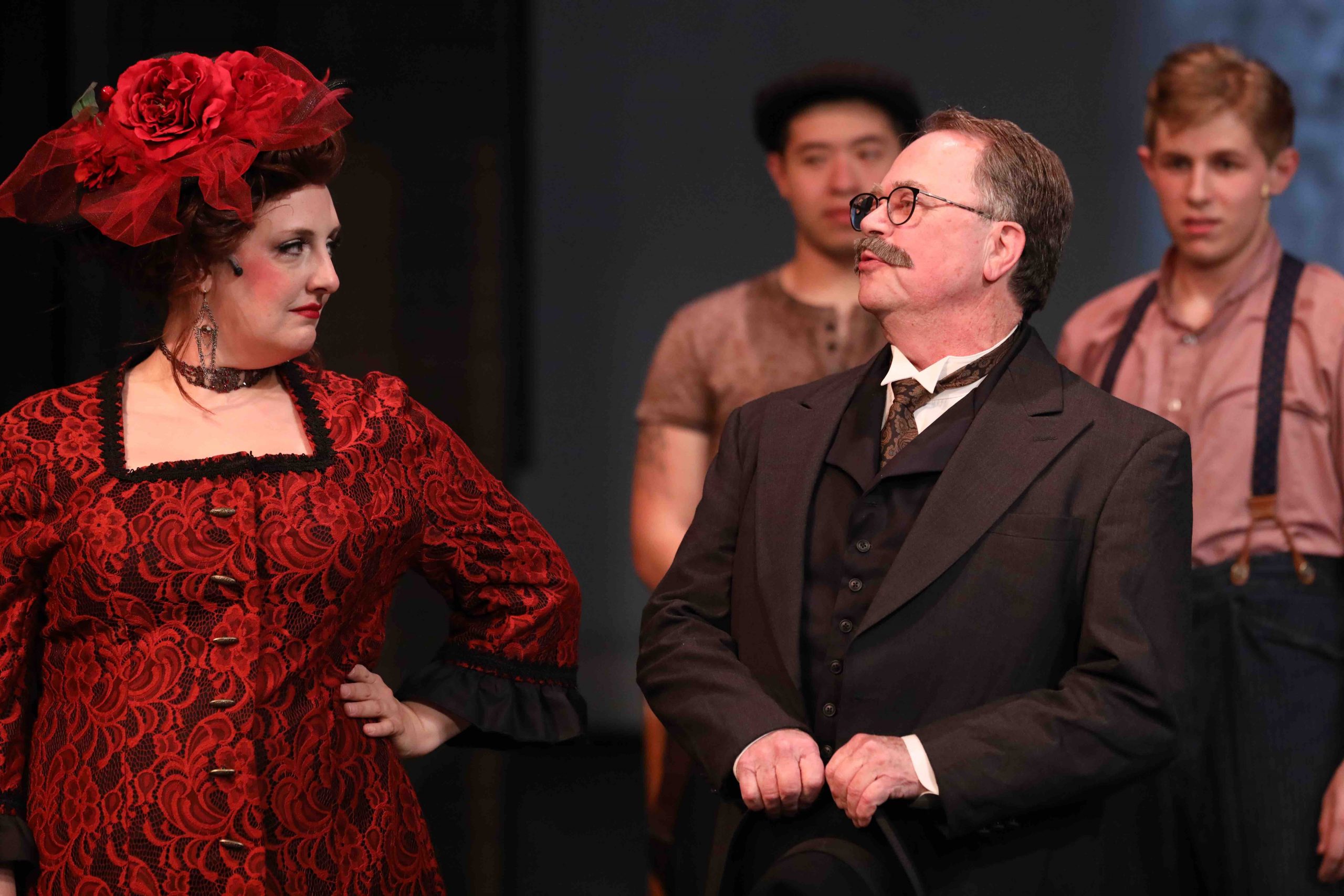 June 7 – 30, 2019
Kephart Theatre
---
Disney's
Newsies: The Musical
Music by Alan Menken, Lyrics by Jack Feldman, and Book by Harvey Fierstein
RISING UP IS THE ONLY WAY TO SUCCEED!
Based on the true story of the newsboy strike at the turn of the 20th century, this exciting and electric Broadway hit introduces you to Jack Kelly and his band of misfits who try to squeeze a nickel out of selling newspapers. But when the cost of the papers is raised, they decide that a strike is the only way for them to ever achieve a fair shake. Great music and amazing dancing will be the perfect end to this great season.
Production sponsored by THE BANK OF TESCOTT
Orchestra sponsored by MOWERY CLINIC
Jack Kelly: Ethan Badders
Crutchie: Isaac Morris
Davey: Nelson Gutsch
Les: Andrew Graber
Spot Conlon/Newsie: Lorenz Rincones
Katherine: Claire Schmidt
Medda Larkin: Kristina Freeland
Wiesel/SM/Jacobi/Mayor: Jeff Leger
Morris Delancey/Guard/Brooklyn Newsie: Leighton Cline
Oscar Delancey/Policeman/Brooklyn Newsie: Jonah Winsky
Pulitzer: Joe McMurray
Seitz/Snyder: Jeff Ebel
Bunsen: Zeke McGhee
Hannah/Nun: Kat Shaft
Roosevelt: Michael Spicer
Nunzio/Bowery Beauty/Nun/Brooklyn Newsie: Sandy Houltberg
Woman/Bowery Beauty/Nun/Brooklyn Newsie: Alyson Raymond
Race: Braydon Boyer
Albert: Thomas Flores
Specs: Nathan Zimmerman
Henry: Joshua Cunningham
Finch: Rebecca Downing
Romeo: Tasha Deiser
Elmer: Hannah Butler
Mush: Ellie Flynn
Buttons: Anna Gutierrez
Splasher: Caroline Stone
Tommy Boy: Emma Kelly
Jo Jo: Brynn Shaft
Mike: Layla Jordan
Ike: Anna Gogadi
Sandy: Sandy Houltberg
Socks: Camille Morris
Sparrow: DJ Chaput
Jr. Newsies:
Will Ebel
Wyatt Angell
Gabriel Freeland
Allen Johnson
Little Newsies:
Jacob Ebel
Dominic Freeland
Larkin French
Camille Graber
Elin Shaft