2022 – 2023
---
Iron Street Dance Company
Captains – Camille Morris* and Audrey Jagodzinske
Brynn Shaft
Mari Brown-Mereles
Andrew Graber
Jocelyn Bailey
*indicates graduating senior
2022 – 2023
---
Stage Door 1 Music Theatre Company
Captains – Carley Pierce
Junior Captain – Addilyn Jagodzinske
Jaspter Carter
Erin Dolezal
Gabriel Freeland
Kaitlyn Geist
Camille Graber
Sloan Homelvig
Mara Mondt
Hollis Murdock
Mac Sheforgen
Oscar Sheforgen
Kinsleigh Showman
October 4 – 8, 2022
Kephart Theatre
---
The Big Bad Musical
A HOWLING COURTROOM COMEDY

By Alec Strum
Music and Lyrics by Bill Francoeur
A courtroom has never been more lively and fun than in The Big Bad Musical!  This smart and wickedly funny musical is great for actors and audiences of any age.  The jury — your audience — must decide the outcome of the biggest trial ever in the fairy-tale world!  The notorious Big Bad Wolf is being slapped with a class-action lawsuit by storybooks of quirky characters who want to get even:  Little Red Riding Hood, her Grandmother, the Three Little Pigs, and the Shepherd in charge of the Boy Who Cried Wolf.  With Sydney Grimm as the commentator on live Court TV, the two greatest legal minds in the Enchanted Forest — the Evil Stepmother and the Fairy Godmother — clash in a trial that will be remembered forever after.  As our wronged fairy tale characters testify, the wolf seems deserving of all that's coming.  Yet, even though the infamous Evil Stepmother resents doing pro-bono work on such an obviously futile defense, Mr. Wolf makes a good case for himself.  Was he born a criminal, or made one?  This musical has it all — audience participation, minimal set and costume requirements, a good balance of stage time for each character, multiple endings to make every performance unique, and Bill Francoeur's toe-tapping tunes!
Narrative by Pioneer Drama
Miss Muffit – Alea Barnaby
Sheperd – Annika Green
Wolfette – Aria Jagodzinske
Bill Woodcutter – Atticus Reynolds
Pig One – Ava Smith
Wolfette – Camille Graber
Boy Who Cried Wolf – Dominic Freeland
Evil Stepmother – Erin Dolezal
Grandmother Hood – Hollis Murdock
Wolfette – Keira Hoffman
Sydney Grimm – Kinsleigh Showman
Fairy Godmother – Larkin French
Little Red Riding Hood – Maya Brown-Mereles
Pig Two – Nathaniel Reynolds
Big Bad Wolf – Oscar Sheforgen
Judge Wise Man – Parker Anderson-Kepley
Pig Three – Ryleigh Showman
Judge Old Man – Sam Reynolds
Wolfette – Sloan Homelvig
Director & Choreographer – Elizabeth-Ali Schade
Music Director – Bradyn Houltberg
Stage Manager – Chloe Highsmith
Assistant Stage Manager – Jasper Carter

Props Chief – Harper Johnston
School Performances: February 28 – March 3, 2023
Public Performance: March 4, 2023
Kephart Theatre
---
Don't Let the Pigeon Drive the Bus
The Musical
By Mo Willems and Mr. Warburton
Lyrics by Mo Willems
Music by Deborah Wicks La Puma
Whatever you do, don't let the Pigeon star in his own musical production! With a script written by Mo Willems, the creator of the #1 New York Times best-selling, Caldecott Honor award-winning "Pigeon" picture books, and featuring music by Deborah Wicks La Puma (Elephant & Piggie's We Are in a Play!), Don't Let the Pigeon Drive the Bus! The Musical! is even more fun than staying up late and having a hot dog party!
It's not easy being the Pigeon-you never get to do ANYTHING! But when the Bus Driver has a crisis that threatens to make her passengers (gasp!) late, maybe that wily bird CAN do something.
Featuring an innovative mix of songs, and feathers, Don't Let the Pigeon Drive the Bus! The Musical! is sure to get everyone's wings flapping.
Narrative by Music Theatre International
Pigeon – Erin Dolezal
Bus Driver – Aria Jagodzinske
Business Woman – Sloane Ryan
Teenager – Lily Leonard*
Bus Engine – Sam Reynolds
Little Old Lady – Camille Graber
Hot Dog Vendor – Nathaniel Reynolds
Bus Driver's Mom – Amelia Lund
Puppy – Molly Zuccarelli*
City Worker – Harper Riekhof*
Duckling – Caroline Hiatt
*Indicates first CTA production
For more information visit our GET INVOLVED page and select "CTA Auditions"
Director – Gin Hoffman
Musical Director – Renee Toms
May 4 – 6, 2023
Kephart Stage
---
CenterStage
Center for Theatre Art's annual spring recital.
This three to four day event features performances from all of our music theatre and dance classes. It is a cumulation of all the work the students have put in through out the year and a way for us to celebrate theatre and dance education.
SummerStage Camp: June 12 – July 6, 2023
SummerStage Performances: July 7 – 9, 2023
Kephart
---
Disney's Finding Nemo Jr.
CTA's 2023 SummerStage
Disney's Finding Nemo JR. is a 60-minute musical adaptation of the beloved 2003 Pixar movie Finding Nemo, with new music by award-winning songwriting team Kristen Anderson-Lopez and Robert Lopez. Marlin, an anxious and over-protective clownfish, lives in the Great Barrier Reef with his kid Nemo, who longs to explore the world beyond their anemone home. But when Nemo is captured and taken to Sydney, Marlin faces his fears and sets off on an epic adventure across the ocean. With the help of lovable characters such as optimistic Dory, laid-back sea turtle Crush, and the supportive Tank Gang, Marlin and Nemo both overcome challenges on their journey to find each other and themselves.
Featuring memorable songs such as "Just Keep Swimming," "Fish Are Friends Not Food," and "Go With the Flow," Finding Nemo JR. brings a vibrant underwater world to life on stage in a story full of family, friendship, and adventure.
Narrative by MTI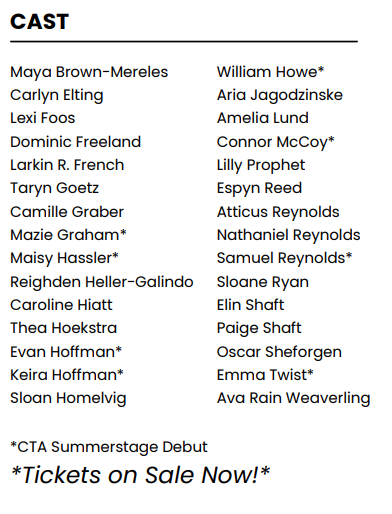 Director – Bradyn Houltberg
Music Director – Gin Hoffman
Choreographer – Shelby Memmott
July 20 -23, 2023
Kephart
---
Head over Heels The Musical
A CTA SecondStage production.

Songs by The Go-Go's
Based upon the Arcadia by Sir Philip Sidney
Adapted by James Magruder
Conceived & Original book by Jeff Whitty
HEAD OVER HEELS is the bold new musical comedy from the visionaries that rocked Broadway with Hedwig and the Angry Inch, Avenue Q and Spring Awakening. This laugh-out-loud love story is set to the music of the iconic 1980's all-female rock band The Go-Go's, including the hit songs, "We Got the Beat," "Our Lips Are Sealed," "Vacation," Belinda Carlisle's "Heaven is a Place on Earth" and "Mad About You."
A hilarious, exuberant celebration of love, HEAD OVER HEELS follows the escapades of a royal family on an outrageous journey to save their beloved kingdom from extinction—only to discover the key to their realm's survival lies within each of their own hearts.
Narrative by BroadwayLicensing.com
PAMELA – Chloe Highsmith
MOPSA – Kaydence Dickson*
PHILOCLEA – Brynn Shaft
MUSIDORUS – Zander Flener*
BASILIUS – Blaise Alderson
GYNECIA – Audrey Jagodzinske
PYTHIO/ORACLE – Carley Pierce
DAMETAS – Jaxson Rutz*
ENSEMBLE/OWL/Pythio Understudy – Wyatt Angell
ENSEMBLE/Mopsa Understudy – Sloan Homelvig
ENSEMBLE/Gynecia Understudy – Mara Mondt
ENSEMBLE/Dametas Understudy – Joseph Zepeda*
ENSEMBLE/Musidorus Understudy – Gabriel Freeland
ENSEMBLE/Basilius Understudy – Elias Torres
ENSEMBLE/Dance Captain – Andrew Graber
ENSEMBLE/Philoclea Understudy – Mari Brown-Mereles
ENSEMBLE/Pamela Understudy – Katie Morgan
ENSEMBLE – Mackenzie Martinez*
ENSEMBLE – Addilyn Jagodzinske
ENSEMBLE – Isabelle Christensen*
* Making their Theatre Salina / CTA performance debut.
Director – Maggie Spicer Brown
Music Director – Jill French
Stage Manager – TBD
Props Chief – TBD
Intimacy Director – Elizabeth-Ali Schade
August 4 – 6, 2023
Sunflower Financial Theatre
---
(R)evlolve
Center for Theatre Art's Annual Contemporary Dance Show
This year are focusing on natural occurrences within the year/seasons and the expansion being how it affects humans. Choreographic themes will include the exploration of summer rain, falling leaves, snow, and monsoon season, and so much more. Fourteen choreographers will come together to create a diverse experience of story telling through dance.
Addilyn Jagodzinske
Alex Engelland
Alison Hiatt
Andrew Graber
Anna Gutierrez
Aria Jagodzinske
Audrey Jagodzinske
Belle Henry
Brynn Shaft
Camille Graber
Camille Morris
Cathie Norris
Christopher Graber
Claire Schmidt
Cora White
Elizabeth-Ali Schade
Ella Payne
Emma Kelly
Erin Dolezal
Gabi Hendricks
Harper Johnston
Hollis Murdock
Jeff Leger
Jess Polzella
Jocelyn Bailey
Katie Morgan
Lauren Dolezal
Lydia Lund
Maggie Spicer Brown
Makayla Halferty
Mari Brown-Mereles
Marley Fry
Mary King
Olivia Jou
Paula Rolph
Renee Toms
Shelby Memmott
Sloan Homelvig
Stacy Jagodzinske
Taryn Goetz
Tasha Dieser
Taylor Hartzell
Tenille Toelle
Vickee Spicer
NEXT TIME IT COULD BE YOU!
For more information visit our GET INVOLVED page and select "CTA Auditions"
Director – Maggie Spicer Brown
Stage Manager – Mandi Graber
Consent Coordinator – Elizabeth-Ali Schade
Logo Artwork – Shelby Memmott
Choreographers
Alison Hiatt
Audrey Jagodzinske
Camille Morris
Cathie Norris
Claire Schmidt
Cora White
Ella Payne
Elizabeth-Ali Schade
Harper Johnston
Jeff Ledger
Jess Polzella
Maggie Spicer Brown
Shelby Memmott
Tasha Deiser